Abstract
Introduction
Adrenocortical carcinoma (ACC) is a rare malignancy with poor prognosis. It is vitally important to predict prognosis and restrict unnecessary adjuvant treatments for patients with ACC. This study aims to confirm the prognostic value of Ki-67 and provide a prognostic evaluation on ACC after primary surgery.
Methods
A total of 66 patients satisfied the inclusion criteria and their complete data were collected and reviewed. The correlation between Ki-67 index and clinicopathologic variables was analyzed using chi-square tests and Pearson's or Spearman's test. Survival curves were generated by Kaplan–Meier analysis and compared with the log-rank test. The Cox regression model was performed to estimate hazard ratios for univariate and multivariate analyses.
Results
Of the 66 patients, recurrence was observed in 30 patients (45.5%) and 26 patients (39.4%) died of progressive ACC. The evaluated median overall survival (OS) of the entire study population was 16.5 (range 1–104) months and recurrence-free survival (RFS) was 9.0 (range 0–104) months. Increased Ki-67 expression (> 20% and > 3%) was negatively correlated with OS and RFS (chi-square, P = 0.006 and 0.044, respectively). In multivariate analysis, the Ki-67 index with 20% and 3% cutoff as an independent prognostic factor for OS and RFS was validated [hazard ratio (HR) 3.289; 95% CI 1.345–8.042; P = 0.009 and HR 4.471; 95% CI 1.086–18.410; P = 0.038, respectively].
Conclusions
Ki-67 is a reliable, convenient, and independent prognostic marker for ACC. Additionally, as an indicator with a divergent prognostic role at different cutoff values (20% and 3%), Ki-67 could be used for stratifying patients with a high risk of death or rapid recurrence.
Access options
Buy single article
Instant access to the full article PDF.
USD 39.95
Price includes VAT (USA)
Tax calculation will be finalised during checkout.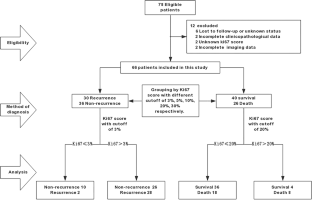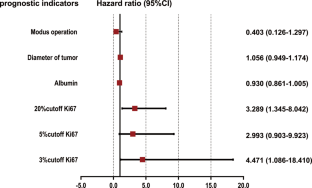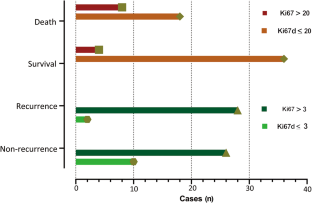 References
1.

Fassnacht M, Terzolo M, Allolio B, et al. Combination chemotherapy in advanced adrenocortical carcinoma. N Engl J Med. 2012;366(23):2189–97.

2.

Sharma E, Dahal S, Sharma P, et al. The characteristics and trends in adrenocortical carcinoma: a United States population based study. J Clin Med Res. 2018;10(8):636–40.

3.

Kim Y, Margonis GA, Prescott JD, et al. Curative surgical resection of adrenocortical carcinoma: determining long-term outcome based on conditional disease-free probability. Ann Surg. 2017;265:197–204.

4.

Kroiss M, Quinkler M, Lutz WK, et al. Drug interactions with mitotane by induction of CYP3A4 metabolism in the clinical management of adrenocortical carcinoma. Clin Endocrinol (Oxf). 2011;75:585–91.

5.

Postlewait LM, Ethun CG, Tran TB, et al. Outcomes of adjuvant mitotane after resection of adrenocortical carcinoma: a 13-institution study by the US Adrenocortical Carcinoma Group. J Am Coll Surg. 2016;222:480–90.

6.

Sabolch A, Feng M, Griffith K, et al. Adjuvant and definitive radiotherapy for adrenocortical carcinoma. Int J Radiat Oncol Biol Phys. 2011;80:1477–84.

7.

Habra MA, Ejaz S, Feng L, et al. A retrospective cohort analysis of the efficacy of adjuvant radiotherapy after primary surgical resection in patients with adrenocortical carcinoma. J Clin Endocrinol Metab. 2013;98:192–7.

8.

Atallah S, Al-Assaf H, Xu Y, et al. Adrenocortical carcinoma: patterns of care and role of adjuvant radiation therapy—a population-based study and review of the literature. Curr Oncol. 2017;24:e316–22.

9.

van't Sant HP, Bouvy ND, Kazemier G, et al. The prognostic value of two different histopathological scoring systems for adrenocortical carcinomas. Histopathology. 2007;51:239–45.

10.

Mete O, Gucer H, Kefeli M, et al. Diagnostic and prognostic biomarkers of adrenalcortical carcinoma. Am J Surg Pathol. 2017;48:201–13.

11.

Zheng S, Cherniack AD, Dewal N, et al. Comprehensive pan-genomic characterization of adrenocortical carcinoma. Cancer Cell. 2016;30:363.

12.

Cuylen S, Blaukopf C, Politi AZ, et al. Ki-67 acts as a biological surfactant to disperse mitotic chromosomes. Nature. 2016;535(7611):308–12.

13.

Sun X, Kaufman PD. Ki-67: more than a proliferation marker. Chromosoma. 2018;127(2):175–86.

14.

Varghese J, Habra MA. Update on adrenocortical carcinoma management and future directions. Curr Opin Endocrinol Diabetes Obes. 2017;24:208–14.

15.

Fassnacht M, Dekkers OM, Else T, et al. European Society of Endocrinology Clinical Practice Guidelines on the management of adrenocortical carcinoma in adults, in collaboration with the European Network for the Study of Adrenal Tumors. Eur J Endocrinol. 2018;179(4):G1–46.

16.

Poli G, Ruggiero C, Cantini G, et al (2018) Fascin-1 is a novel prognostic biomarker associated with tumor invasiveness in adrenocortical carcinoma. J Clin Endocrinol Metab. 2019;104(5):1712–24.

17.

Kreipe H. Ki67: biological intertumor variance versus variance of assay. Pathologe. 2018;39(Suppl 2):271–7.

18.

Fisher G, Yang ZH, Kudahetti S, et al. Prognostic value of Ki-67 for prostate cancer death in a conservatively managed cohort. Br J Cancer. 2013;108(2):271–7.

19.

Goltz D, Montani M, Braun M, et al. Prognostic relevance of proliferation markers (Ki-67, PHH3) within the cross-relation of ERG translocation and androgen receptor expression in prostate cancer. Pathology. 2015;47(7):629–36.

20.

Yoshioka T, Hosoda M, Yamamoto M, et al. Prognostic significance of pathologic complete response and Ki67 expression after neoadjuvant chemotherapy in breast cancer. Breast Cancer. 2015;22(2):185–91.

21.

Constantinou C, Papadopoulos S, Karyda E, et al. Expression and clinical significance of Claudin-7, PDL-1, PTEN, c-Kit, c-Met, c-Myc, ALK, CK5/6, CK17, p53, EGFR, Ki67, p63 in triple-negative breast cancer–a single centre prospective observational study. In Vivo. 2018;32(2):303–11.

22.

Beuschlein F, Weigel J, Saeger W, et al. Major prognostic role of Ki67 in localized adrenocortical carcinoma after complete resection. J Clin Endocrinol Metab. 2015;100:841–9.

23.

Libé R, Borget I, Ronchi CL, et al. Prognostic factors in stage III–IV adrenocortical carcinomas (ACC): an European Network for the Study of Adrenal Tumor (ENSAT) study. Ann Oncol. 2015;26(10):2119–25.

24.

Abiven G, Coste J, Groussin L, et al. Clinical and biological features in the prognosis of adrenocortical cancer: poor outcome of cortisol-secreting tumors in a series of 202 consecutive patients. J Clin Endocrinol Metab. 2006;91:2650–5.

25.

Berruti A, Fassnacht M, Haak H, et al. Prognostic role of overt hypercortisolism in completely operated patients with adrenocortical cancer. Eur Urol. 2014;65:832–8.

26.

Poorman CE, Ethun CG, Postlewait LM, et al. A novel T-stage classification system for adrenocortical carcinoma: proposal from the US Adrenocortical Carcinoma Study Group. Ann Surg Oncol. 2018;25(2):520–7.

27.

Lughezzani G, Sun M, Perrotte P, et al. The European Network for the Study of Adrenal Tumors staging system is prognostically superior to the International Union Against Cancer-staging system: a North American validation. Eur J Cancer. 2010;46(4):713–9.

28.

Bilimoria KY, Shen WT, Elaraj D, et al. Adrenocortical carcinoma in the United States: treatment utilization and prognostic factors. Cancer. 2008;113(11):3130–6.

29.

Papathomas TG, Pucci E, Giordano TJ, et al. An international Ki67 reproducibility study in adrenal cortical carcinoma. Am J Surg Pathol. 2016;40(4):569–76.

30.

Sabolch A, Else T, Griffith KA, et al. Adjuvant radiation therapy improves local control after surgical resection in patients with localized adrenocortical carcinoma. Int J Radiat Oncol Biol Phys. 2015;92:252–9.

31.

Berruti A, Grisanti S, Pulzer A, et al. Long-term outcomes of adjuvant mitotane therapy in patients with radically resected adrenocortical carcinoma. J Clin Endocrinol Metab. 2017;102(4):1358–65.
Acknowledgements
We thank the participants of the study in addition to Chuan Zhou and Jiayu Liang for their contributions to the collection of data and revision of the manuscript.
Funding
This study and its publishing expenses including Rapid Service fee were funded by the 1.3.5 project for disciplines of excellence, West China Hospital, Sichuan University and the Science and Technology Foundation of the Sichuan Province (2017SZ0123 to Zhihong Liu).
Authorship
All named authors meet the International Committee of Medical Journal Editors (ICMJE) criteria for authorship for this article, take responsibility for the integrity of the work as a whole, and have given their approval for this version to be published. Fan Zhang and Zhihong Liu contributed equally to this study.
Disclosures
All named authors, Fuxun Zhang, Fan Zhang, Zhihong Liu, Kan Wu, Yuchun Zhu, and Yiping Lu, have nothing to disclose.
Compliance with Ethics Guidelines
This article is based on previously collected data and does not contain any new studies with human participants or animals performed by any of the authors. The institutional review board of West China Hospital had approved this study and all patients included in this study provided informed consent for the use and publication of their data.
Data Availability
The datasets analyzed during the current study are available from the corresponding author on reasonable request.
About this article
Cite this article
Zhang, F., Zhang, F., Liu, Z. et al. Prognostic Role of Ki-67 in Adrenocortical Carcinoma After Primary Resection: A Retrospective Mono-Institutional Study. Adv Ther 36, 2756–2768 (2019). https://doi.org/10.1007/s12325-019-01050-0
Received:

Published:

Issue Date:
Keywords
Adrenocortical carcinoma

Cutoff value

Ki-67

Marker

Prognosis