Abstract
Introduction
To explore the effect of a second thyroid cancer (TC) on ovarian cancer (OC) patient survival, we compared OC patients with or without a second primary TC using data from the Surveillance, Epidemiology, and End Results (SEER) database.
Methods
Data for OC only, female TC only and OC patients with a second TC (OC2TC) from two periods, 2000–2014 and 1980–1994, were extracted from the SEER database. Differences in clinicopathological and treatment characteristics were analysed using the chi-square test. Cox regression analyses were used to identify risk factors associated with OC survival. Disease-specific survival (DSS) and overall survival (OS) curves were compared using the log-rank test.
Results
There were 109 OC2TC patients from 2000 to 2014, and significant differences (P < 0.001) in the mean age at OC diagnosis, TNM stage and surgical history were found between OC and OC2TC patients. Several factors, including age, grade, TNM stage, histological type and surgical history, influenced OC survival (P < 0.001). OC2TC patients showed better survival than OC patients from 2000 to 2014, regardless of age, TNM stage or surgical history. However, this superiority was not significant in cases from 1980 to 1994 (P = 0.222 for OS).
Conclusion
Survival was better with OC2TC than with OC from 2000 to 2014 rather than 1980–1994, suggesting that TC improved the survival of OC patients from 2000 to 2014.
Access options
Buy single article
Instant access to the full article PDF.
USD 39.95
Price includes VAT (USA)
Tax calculation will be finalised during checkout.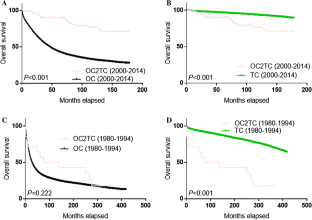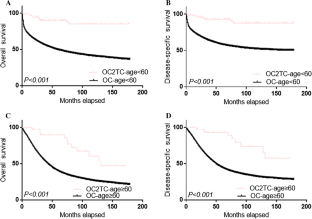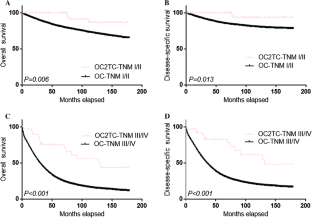 References
1.

Siegel RL, Miller KD, Jemal A. Cancer statistics, 2017. CA Cancer J Clin. 2017;67(1):7–30. https://doi.org/10.3322/caac.21387.

2.

Howlader N, Noone A, Krapcho M, et al. SEER Cancer Statistics review, 1975–2014, based on November 2016 SEER data submission, posted to the SEER web site, April 2017. MD: National Cancer Institute Bethesda; 2017.

3.

NCCN. National Comprehensive Cancer Network (NCCN) guidelines for OC, version 4.2017. 2017. https://www.nccn.org/professionals/physician_gls/pdf/ovarian.pdf. Accessed 9 Nov 2017.

4.

Choi JH, Wong AS, Huang HF, Leung PC. Gonadotropins and ovarian cancer. Endocr Rev. 2007;28(4):440–61. https://doi.org/10.1210/er.2006-0036.

5.

Jonsson JM, Skovbjerg Arildsen N, Malander S, et al. Sex steroid hormone receptor expression affects ovarian cancer survival. Transl Oncol. 2015;8(5):424–33. https://doi.org/10.1016/j.tranon.2015.09.002.

6.

Zhao D, Zhang F, Zhang W, He J, Zhao Y, Sun J. Prognostic role of hormone receptors in ovarian cancer: a systematic review and meta-analysis. Int J Gynecol Cancer. 2013;23(1):25–33. https://doi.org/10.1097/IGC.0b013e3182788466.

7.

Shi LF, Wu Y, Li CY. Hormone therapy and risk of ovarian cancer in postmenopausal women: a systematic review and meta-analysis. Menopause. 2016;23(4):417–24. https://doi.org/10.1097/GME.0000000000000550.

8.

Minlikeeva AN, Freudenheim JL, Cannioto RA, et al. History of thyroid disease and survival of ovarian cancer patients: results from the Ovarian Cancer Association Consortium, a brief report. Br J Cancer. 2017;117(7):1063–9. https://doi.org/10.1038/bjc.2017.267.

9.

Journy NMY, Bernier MO, Doody MM, Alexander BH, Linet MS, Kitahara CM. Hyperthyroidism, hypothyroidism, and cause-specific mortality in a large cohort of women. Thyroid. 2017;27(8):1001–100. https://doi.org/10.1089/thy.2017.0063.

10.

Agarwal R, Kaye SB. Prognostic factors in ovarian cancer: how close are we to a complete picture? Ann Oncol. 2005;16(1):4–6. https://doi.org/10.1093/annonc/mdi104.

11.

Clark TG, Stewart ME, Altman DG, Gabra H, Smyth JF. A prognostic model for ovarian cancer. Br J Cancer. 2001;85(7):944–52. https://doi.org/10.1038/sj.bjc.6692030.

12.

Hsieh MT, Wang LM, Changou CA, et al. Crosstalk between integrin alphavbeta3 and ERalpha contributes to thyroid hormone-induced proliferation of ovarian cancer cells. Oncotarget. 2017;8(15):24237-49. https://doi.org/10.18632/oncotarget.10757.

13.

Shinderman-Maman E, Cohen K, Weingarten C, et al. The thyroid hormone-alphavbeta3 integrin axis in ovarian cancer: regulation of gene transcription and MAPK-dependent proliferation. Oncogene. 2016;35(15):1977–87. https://doi.org/10.1038/onc.2015.262.

14.

Shinderman-Maman E, Cohen K, Moskovich D, et al. Thyroid hormones derivatives reduce proliferation and induce cell death and DNA damage in ovarian cancer. Sci Rep. 2017;7(1):16475. https://doi.org/10.1038/s41598-017-16593-x.

15.

Shinderman-Maman E, Weingarten C, Moskovich D, et al. Molecular insights into the transcriptional regulatory role of thyroid hormones in ovarian cancer. Mol Carcinog. 2017. https://doi.org/10.1002/mc.22735.

16.

Mazzaferri EL, Jhiang SM. Long-term impact of initial surgical and medical therapy on papillary and follicular thyroid cancer. Am J Med. 1994;97(5):418–28.

17.

Singer PA, Cooper DS, Daniels GH, et al. Treatment guidelines for patients with thyroid nodules and well-differentiated thyroid cancer American Thyroid Association. Arch Intern Med. 1996;156(19):2165–72.

18.

Cooper DS, Doherty GM, Haugen BR, et al. Management guidelines for patients with thyroid nodules and differentiated thyroid cancer. Thyroid. 2006;16(2):109–42. https://doi.org/10.1089/thy.2006.16.109.

19.

American Thyroid Association Guidelines Taskforce on Thyroid Nodules and Differentiated Thyroid Cancer, Cooper DS, Doherty GM, et al. Revised American Thyroid Association management guidelines for patients with thyroid nodules and differentiated thyroid cancer. Thyroid. 2009;19(11):1167-214. https://doi.org/10.1089/thy.2009.0110.

20.

Silva EG, Tornos C, Malpica A, Deavers MT, Tortolero-Luna G, Gershenson DM. The association of benign and malignant ovarian adenofibromas with breast cancer and thyroid disorders. Int J Surg Pathol. 2002;10(1):33–9. https://doi.org/10.1177/106689690201000106.

21.

Carrera MP, Ramirez-Exposito MJ, Valenzuela MT, et al. Pyrrolidon carboxypeptidase activities in the hypothalamus–pituitary–thyroid and hypothalamus–pituitary–ovary axes of rats with mammary gland cancer induced by N-methyl nitrosourea. Horm Metab Res. 2005;37(2):74-8. https://doi.org/10.1055/s-2005-861158.

22.

Schneider G, Kopach K, Ohanian H, Bonnefond V, Mittler JC, Ertel NH. The hypothalamic-pituitary-gonadal axis during hyperthyroidism in the rat. Endocrinology. 1979;105(3):674–9. https://doi.org/10.1210/endo-105-3-674.
Acknowledgements
Funding
This study was funded by the Natural Science Foundation of Zhejiang Province of China (grant numbers LY13H160039 and LY18H160039) and the Traditional Chinese Medicine Science and Technology Project of Zhejiang Province of China (grant number C-2013-W209). The sponsors also partially funded the article processing charges.
Editorial Assistance
This manuscript was edited for proper English language, grammar, punctuation, spelling, and overall style by one or more of the highly qualified native English-speaking editors at American Journal Experts.
Authorship
All named authors meet the International Committee of Medical Journal Editors (ICMJE) criteria for authorship for this article, take responsibility for the integrity of the work as a whole, and have given their approval for this version to be published.
Disclosures
Qiong Yang, Zhiyong Wu, Xujun He, Leibo Yu, Xiaofei Zhang and Kefeng Lei have nothing to disclose.
Compliance with Ethics Guidelines
All SEER data were accessed with approval from the SEER database and, as such, this article does not contain any studies with human participants or animals performed by any of the authors.
Data Availability
The datasets analysed during the current study are available from the corresponding author on reasonable request.
Electronic supplementary material
Below is the link to the electronic supplementary material.
About this article
Cite this article
Yang, Q., Wu, Z., He, X. et al. Thyroid Cancer Benefits the Prognosis of Ovarian Cancer: A SEER-Based Study. Adv Ther 36, 1211–1220 (2019). https://doi.org/10.1007/s12325-019-00918-5
Received:

Published:

Issue Date:
Keywords
Ovarian cancer

Survival

Thyroid cancer

TSH suppression therapy