Abstract
Introduction
To assess the cost-effectiveness of alectinib versus crizotinib as first-line treatments for advanced anaplastic lymphoma kinase (ALK)-positive non-small cell lung cancer (NSCLC) patients from the perspective of China's healthcare system.
Methods
A Markov model was developed to assess the clinical outcomes and costs of alectinib and crizotinib, which included five health states: progression-free (PF) without central nervous system (CNS) progression, PF with CNS progression, post-progression (PP) without CNS progression, PP with CNS progression, and death. Clinical data for transition probabilities were obtained from the ALEX trial at the updated data cutoff. Healthcare resource utilization and costs were derived from clinical expert opinions and published literature. One-way sensitivity analysis and probabilistic sensitivity analysis were conducted to assess the uncertainty of the results. Scenario analyses were conducted including using clinical data from the ALESIA trial in Asian patients, using utilities from the ALEX trial, and choosing different parametric survival models.
Results
In base case analysis, alectinib yielded an additional 1.04 quality-adjusted life years (QALYs) with incremental costs of $54,827, resulting in an incremental cost-effectiveness ratio (ICER) of $52,869/QALY. In scenario analysis, the ICER was $56,787/QALY using clinical data from the ALESIA trial. In probabilistic sensitivity analysis, the probabilities of alectinib being cost-effective were 0.4% and 43.7% when the willingness-to-pay (WTP) thresholds were $28,109/QALY and $50,000/QALY, respectively.
Conclusion
Alectinib could prolong the mean time of PF and delay the time to CNS progression. However, because of its high drug cost, alectinib was unlikely to be cost-effective for untreated ALK-positive NSCLC patients in China.
Access options
Buy single article
Instant access to the full article PDF.
USD 39.95
Price excludes VAT (USA)
Tax calculation will be finalised during checkout.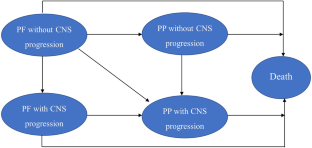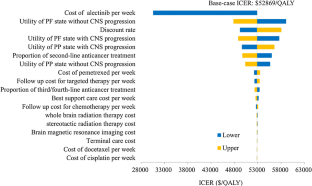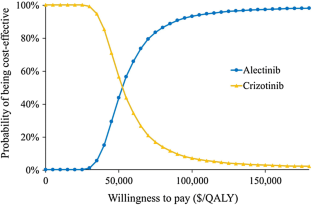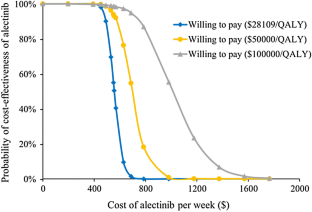 References
Chen WQ, Sun KX, Zheng RS, et al. Report of cancer incidence and mortality in different areas of China, 2014. China Cancer. 2018;27:1–14.

Kilgoz HO, Bender G, Scandura JM, Viale A, Taneri B. KRAS and the reality of personalized medicine in non-small cell lung cancer. Mol Med. 2016;22:380–7.

Solomon BJ, Mok T, Kim DW, et al. First-line crizotinib versus chemotherapy in ALK-positive lung cancer. N Engl J Med. 2014;371:2167–77.

Dagogo-Jack I, Shaw AT. Crizotinib resistance: implications for therapeutic strategies. Ann Oncol. 2016;27(Suppl 3):iii42–iii50.

Novello S, Mazières J, Oh IJ, et al. Alectinib versus chemotherapy in crizotinib-pretreated anaplastic lymphoma kinase (ALK)-positive non-small-cell lung cancer: results from the phase III ALUR study. Ann Oncol. 2018;29:1409–16.

Hida T, Nokihara H, Kondo M, et al. Alectinib versus crizotinib in patients with ALK-positive non-small-cell lung cancer (J-ALEX): an open-label, randomised phase 3 trial. Lancet. 2017;390:29–39.

Peters S, Camidge DR, Shaw AT, et al. Alectinib versus crizotinib in untreated ALK-positive non-small-cell lung cancer. N Engl J Med. 2017;377:829–38.

Camidge DR, Peters S, Mok T, et al. Updated efficacy and safety data from the global phase III ALEX study of alectinib (ALC) vs crizotinib (CZ) in untreated advanced ALK + NSCLC. J Clin Oncol. 2018;36(15_suppl):9043.

Zhou C, Lu Y, Kim S-W, et al. Primary results of ALESIA: a randomised, phase III, open-label study of alectinib vs crizotinib in Asian patients with treatment-naïve ALK + advanced NSCLC. Ann Oncol. 2018; 29(suppl_8): mdy424.062.

Carlson JJ, Suh K, Orfanos P, Wong W. Cost-effectiveness of alectinib vs. crizotinib in first-line anaplastic lymphoma kinase-positive advanced non-small-cell lung cancer. Pharmacoeconomics. 2018;36:495–504.

Carlson JJ, Canestaro W, Ravelo A, Wong W. The cost-effectiveness of alectinib in anaplastic lymphoma kinase-positive (ALK+) advanced NSCLC previously treated with crizotinib. J Med Econ. 2017;20:671–7.

National Healthcare Security Administration. Notice on reimbursement decisions on including 17 cancer drugs in national reimbursement drug list by national healthcare security administration. http://www.gov.cn/xinwen/2018-10/10/content_5328891.htm. Accessed 10 Oct 2018.

Chinese Society of Clinical Oncology (CSCO). Primary lung cancer treatment guidelines (2018 version). http://guide.medlive.cn/guideline/16783. Accessed 23 July 2018.

Guyot P, Ades AE, Ouwens MJ, Welton NJ. Enhanced secondary analysis of survival data: reconstructing the data from published Kaplan-Meier survival curves. BMC Med Res Methodol. 2012;12:9.

National Bureau of Statistics of China. China population and employment statistics yearbook 2017. Beijing: China Statistics Press; 2017.

Ying GZ, Chang JS, Cui LS, et al. Third-line therapy in advanced non-small cell lung cancer. J BUON. 2013;18:899–907.

Lu S, Ye M, Ding L, Tan F, Fu J, Wu B. Cost-effectiveness of gefitinib, icotinib, and pemetrexed-based chemotherapy as first-line treatments for advanced non-small cell lung cancer in China. Oncotarget. 2017;8:9996–10006.

Shi Y, Sun Y, Yu J, et al. China experts consensus on the diagnosis and treatment of brain metastases of lung cancer (2017 version). Zhongguo Fei Ai Za Zhi. 2017;20:1–13.

Beijing Municipal Commission of Development and Reform. Medical service items and price list. http://fgw.beijing.gov.cn/bjpc/mediprice/medical_price_table.jsp#top. Accessed 18 Oct 2018.

Liu B. Comparison of the cost of 4 kinds of second-line drug treatment regimes for non-small cell lung cancer. China Pharm. 2010;21:2403–6.

Cao HT, Wang JQ. Survey of the advanced cancer patients' medical costs in registered hospice care agencies in five provinces and municipalities. Chin Gen Pract. 2010;13:3544–6. https://doi.org/10.3969/j.issn.1007-9572.2010.31.023.

Lu S, Zhang J, Ye M, Wang B, Wu B. Economic analysis of ALK testing and crizotinib therapy for advanced non-small-cell lung cancer. Pharmacogenomics. 2016;17:985–94.

Gordon L. China guidelines for pharmacoeconomic evaluation and manual. 2015th ed. Beijing: Science Press; 2015.

Shen Y, Wu B, Wang X, Zhu J. Health state utilities in patients with advanced non-small-cell lung cancer in China. J Comp Eff Res. 2018;7:443–52.

Roughley A, Damonte E, Taylor-Stokes G, Rider A, Munk VC. Impact of brain metastases on quality of life and estimated life expectancy in patients with advanced non-small cell lung cancer. Value Health. 2014;17:A650.
Acknowledgements
Funding
No funding or sponsorship was received for this study or publication of this article. The article processing charges were funded by the authors.
Authorship
All named authors meet the International Committee of Medical Journal Editors (ICMJE) criteria for authorship for this article, take responsibility for the integrity of the work as a whole, and have given their approval for this version to be published.
Disclosures
Haijing Guan, Yanan Sheng, Wanjie Guo, Sheng Han, and Luwen Shi declare no conflicts of interest.
Compliance with Ethics Guidelines
This article is based on previously conducted studies and does not contain any studies with human participants or animals performed by any of the authors
Data Availability
All data generated or analyzed during this study are included in this published article/as supplementary information files.
Electronic supplementary material
Below is the link to the electronic supplementary material.
About this article
Cite this article
Guan, H., Sheng, Y., Guo, W. et al. Cost-Effectiveness of Alectinib for Patients with Untreated ALK-Positive Non-Small Cell Lung Cancer in China. Adv Ther 36, 1114–1125 (2019). https://doi.org/10.1007/s12325-019-00908-7
Received:

Published:

Issue Date:

DOI: https://doi.org/10.1007/s12325-019-00908-7
Keywords
Alectinib

ALK

China

Cost-effectiveness

NSCLC