Abstract
Introduction
With evolving treatment guidelines for germline BRCA1/2 mutation (gBRCAm) in breast cancer, we present the latest gBRCA testing rates among metastatic breast cancer (mBC) patients with hormone receptor-positive/human epidermal growth factor receptor 2-negative (HR+/HER2−) or triple-negative breast cancer (TNBC). Among these patients with gBRCAm, we analyzed clinical outcomes, treatment patterns, and health resource utilization (HRU).
Methods
The Flatiron Health electronic health record database was used to assess gBRCA testing rates in a real-world retrospective analysis of US patients at least 18 years old with HR+/HER2− or TNBC, and with mBC diagnosed from January 2011 to February 2018. Outcomes were compared between gBRCAm patients with HR+/HER2− vs TNBC, adjusting for imbalances utilizing inverse probability treatment weighting; effects of HR+/HER2− vs TNBC on overall survival (OS) were assessed, antineoplastic treatments summarized, and HRU analyzed using t tests.
Results
The study included 12,021 mBC patients (HR+/HER2−, 10,291; TNBC, 1730). Results for gBRCA testing were available for 2005 (16.7%) patients (HR+/HER2−, 1587; TNBC, 418). A total of 229 (1.9%) patients (HR+/HER2−, 165; TNBC, 64) had gBRCAm. Significantly worse OS in gBRCAm mBC was observed in TNBC vs HR+/HER2− [hazard ratio (95% confidence interval), 0.45 (0.27–0.74); p = 0.002]. Estimated median and 4-year OS rates for gBRCAm mBC patients with either HR+/HER2− or TNBC were 38.0 months, 23.4 months and 35.6%, 21.2% respectively. The most common first-line treatment post diagnosis for gBRCAm HR+/HER2− was letrozole (8%) vs capecitabine (14%) for gBRCAm TNBC. The number of HRU treatment visits per patient per year was significantly (p < 0.05) higher among gBRCAm mBC patients with TNBC vs HR+/HER2−.
Conclusion
Among HER2− mBC patients, gBRCA testing rates are low. Among gBRCAm HER2− mBC patients, the poor OS and HRU burden observed, especially in patients with TNBC, demonstrate an unmet need for more efficacious, targeted, and less HRU-intensive treatment options.
Funding
Pfizer.
Access options
Buy single article
Instant access to the full article PDF.
USD 39.95
Price includes VAT (USA)
Tax calculation will be finalised during checkout.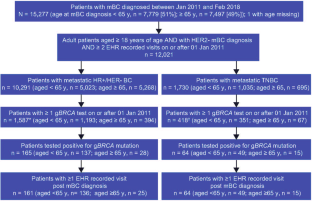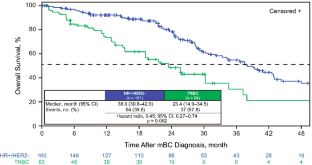 References
1.

International Agency for Research on Cancer. GLOBOCAN 2012: Estimated cancer incidence, mortality and prevalence worldwide in 2012. Lyon: IARC; 2018. http://globocan.iarc.fr/Pages/fact_sheets_population.aspx. Accessed 11 Jun 18.

2.

Kohler BA, Sherman RL, Howlader N, et al. Annual report to the nation on the status of cancer, 1975–2011, featuring incidence of breast cancer subtypes by race/ethnicity, poverty, and state. J Natl Cancer Inst. 2015;107(6):djv048.

3.

Engel C, Fischer C. Breast cancer risks and risk prediction models. Breast Care (Basel). 2015;10(1):7–12.

4.

National Institute for Health and Care Excellence. Familial breast cancer: classification, care and managing breast cancer and related risks in people with a family history of breast cancer. NICE clinical guideline CG164. Manchester: NICE; 2013. https://www.nice.org.uk/guidance/cg164. Accessed 30 Nov 17.

5.

Greenup R, Buchanan A, Lorizio W, et al. Prevalence of BRCA mutations among women with triple-negative breast cancer (TNBC) in a genetic counseling cohort. Ann Surg Oncol. 2013;20(10):3254–8.

6.

http://www.nccn.org/professionals/physician_gls/pdf/breast.pdf. Accessed 30 Oct 2018.

7.

Berger ML, Curtis MD, Smith G, Harnett J, Abernethy AP. Opportunities and challenges in leveraging electronic health record data in oncology. Future Oncol. 2016;12(10):1261–74.

8.

Khozin S, Abernethy AP, Nussbaum NC, et al. Characteristics of real-world metastatic non-small cell lung cancer patients treated with nivolumab and pembrolizumab during the year following approval. Oncologist. 2018;23(3):328–36.

9.

Austin PC, Stuart EA. Moving towards best practice when using inverse probability of treatment weighting (IPTW) using the propensity score to estimate causal treatment effects in observational studies. Stat Med. 2015;34(28):3661–79.

10.

Childers CP, Childers KK, Maggard-Gibbons M, Macinko J. National estimates of genetic testing in women with a history of breast or ovarian cancer. J Clin Oncol. 2017;35(34):3800–6.

11.

Gabai-Kapara E, Lahad A, Kaufman B, et al. Population-based screening for breast and ovarian cancer risk due to BRCA1 and BRCA2. Proc Natl Acad Sci. 2014;111(39):14205–10.

12.

King M, Levy-Lahad E, Lahad A. Population-based screening for BRCA1 and BRCA2: 2014 Lasker Award. JAMA. 2014;312(11):1091–2.

13.

Cardoso F, Senkus E, Costa A, et al. 4th ESO-ESMO international consensus guidelines for advanced breast cancer (ABC 4). Ann Oncol. 2018;29(8):1634–57.

14.

Paluch-Shimon S, Pagani O, Partridge AH, et al. ESO-ESMO 3rd international consensus guidelines for breast cancer in young women (BCY3). Breast. 2017;35:203–17.

15.

https://www.fda.gov/Drugs/InformationOnDrugs/ApprovedDrugs/ucm623540.htm. Accessed 30 Oct 2018.

16.

https://www.fda.gov/drugs/informationondrugs/approveddrugs/ucm592357.htm. Accessed 30 Oct 2018.
Acknowledgements
On October 16, 2018, Pfizer Inc. received approval from the US Food and Drug Administration regarding talazoparib, a poly(ADP-ribose) polymerase (PARP) inhibitor, for patients with deleterious or suspected deleterious germline BRCA-mutated (gBRCAm), HER2− negative locally advanced or metastatic breast cancer. We thank the participants whose data contributed to this study.
Funding
This study was sponsored by Pfizer Inc. Pfizer Inc. also funded the article processing charges associated with this publication. All authors had full access to all of the data in this study and take complete responsibility for the integrity of the data and accuracy of the data analysis.
Medical Writing and Editorial Assistance
Editorial and medical writing support was provided by Edwin Thrower, PhD, and Mary Kacillas at Ashfield Healthcare Communications and was funded by Pfizer Inc.
Authorship
All named authors meet the International Committee of Medical Journal Editors (ICMJE) criteria for authorship for this article, take responsibility for the integrity of the work as a whole, and have given their approval for this version to be published.
Disclosures
Ruben G. W. Quek and Jack Mardekian are employees of Pfizer Inc.
Compliance with Ethics Guidelines
IRB approval is not required because the study does not involve the collection, use, or transmittal of individual identifiable data. Both the datasets and the security of the offices where the analysis was completed (and where the datasets are kept) meet the requirements of the HIPAA of 1996. This article is based on previously conducted studies and does not contain any studies with human participants or animals performed by any of the authors.
Data Availability
The datasets generated and analyzed during the current study are not publicly available based on the licensing agreement between Flatiron Health and Pfizer Inc.
Electronic supplementary material
Below is the link to the electronic supplementary material.
About this article
Cite this article
Quek, R.G.W., Mardekian, J. Clinical Outcomes, Treatment Patterns, and Health Resource Utilization Among Metastatic Breast Cancer Patients with Germline BRCA1/2 Mutation: A Real-World Retrospective Study. Adv Ther 36, 708–720 (2019). https://doi.org/10.1007/s12325-018-0867-x
Received:

Published:

Issue Date:
Keywords
Electronic health records

Germline BRCA mutation

Metastatic breast cancer