Abstract
Introduction
Metformin tablets may be challenging to swallow not only for those patients with dysphagia but also for children and the elderly. A metformin solution was developed for easier administration and flexible dose adjustment mantained with the same bioavailability of tablets. The objective of this study was to assess the single-dose oral bioavailability of metformin hydrochloride administered as an oral solution (500 mg/5 mL) compared with metformin hydrochloride 500 mg tablets in fasting Mexican healthy volunteers.
Methods
A randomized, single dose, two-period, two-sequence, crossover study design with a 7-day washout interval was conducted. Subjects were randomly assigned to receive a single dose of 500 mg metformin hydrochloride, either as an oral solution (test drug) or as a tablet (reference drug), after 10 h of fasting. Plasma samples (16) were collected over a 16-h period after drug administration. Bioequivalence was declared when the ratio for the 90% confidence intervals (CI) of the difference in the means of the log-transformed area under the concentration–time curve from time 0 to the last observed concentration time (AUC0–t), the area under the concentration–time curve extrapolated to infinite time (AUC0–∞), and the maximum plasma concentration (Cmax) of the two products were within 0.80 and 1.25 interval. Plasma concentrations were analyzed using reverse phase chromatography by tandem mass spectrometry (LC–MS/MS). Safety and tolerability of metformin were also assessed in all subjects.
Results
24 subjects were enrolled and completed the study (15 female and 9 male). Test and reference metformin hydrochloride were bioequivalent during the extent of exposure since AUC0–t and Cmax 90% CIs corresponded to 89.77–101.08% and 89.63–102.48%, respectively, both being within the pre-specified acceptance range criteria (80–125%). There were two adverse events (AE) with the reference formulation that were not related to the study drug.
Conclusions
Bioequivalence in healthy volunteers in fasting conditions of the two metformin hydrochloride formulations (oral solution and tablets) was established, being the difference in means of AUC0–t, AUC0–∞ and Cmax within the acceptance range (80–125%). Oral solution formulation could offer the advantages of allowing adjusted doses and easier swallowing for every patient.
Plain Language Summary
Plain language summary is available for this article.
Trial Registration
National Clinical Trials Registry (RNEC by its Spanish acronym), BD METF-Sil No. 86-15. Mexican Medicine Agency (COFEPRIS) Registry: 153300410B0368.
Funding
Laboratorios Silanes, S.A. de C.V.
Access options
Buy single article
Instant access to the full article PDF.
USD 39.95
Price excludes VAT (USA)
Tax calculation will be finalised during checkout.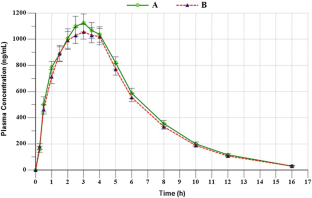 References
Brunton L, Chabner B, Knollmann B. Gilman and Goodman: the pharmacological basis of therapeutics. 12a. Ed. Chapter 43: endocrine pancreas and pharmacotherapy of diabetes mellitus and hypoglycemia. New York: McGrawHill; 2011.

General Health Council. Federal Government. General Practice Guide. Diagnosis, ambulatory control goals, oportune reference of diabetes mellitus type 2 in adults in first level of attention. SS-093-0.CENETEC, 2013.

US Food and Drug Administration. RIOMET® monograph. 2016. http://www.accessdata.fda.gov/drugsatfda_docs/label/2008/021591s004lbl.pdf. Accessed Apr 2016.

Scheen A. Clinical Pharmacokinetic of metformin. Clin Pharmacokinet. 1996;30:359–71

Alemón R, Chávez J, Ramírez B, Rivera L, García R. Estabilidad fisicoquímica de tres marcas genéricas de metformina en solución. Acta Pediátr México. 2014;35:104–10.

Rivera L, Pérez G, Chávez J, Torres L, Juárez H, Alemón R. Farmacocinética comparada de metformina, en forma sólida y en formulación extemporánea líquida para pediatría, en voluntarios adultos sanos. Acta Pediátr México 2016;37(4):191–203.

Cuesta G, Holguín M, Archbold J, Ruiz Restrepo, Peña A, Montoya B, Ríos T, Correa C. Bioequivalencia de dos formulaciones de metformina, tabletas de 850 mg, en voluntarios sanos colombianos. Iatreia. 2005;18:289–301.

Merck. Rubros de la IPPA: DABEX. Medicamentos PLM... 2016.https://www.medicamentosplm.com/home/productos/dabex_tabletas/115/101/7102/210. Accessed Apr 2016.

Lacy C, et al. Drug information handbook, a comprehensive resource for all clinicians and health care professionals. Lexi-Comp, APha, 17th Ed, 2008–2009.

Wright D, Chapman N, Foundling M, Greenwall R, Griffith R, Guyon A, Merriman H. Guideline of medication management of adults with swallowing difficulties. Rosemont Pharm Ltd. 2013;1:3–7.

World Medical Association Declaration of Helsinki: ethical principle for medical research involving human subjects [WMA Web site]. Adopted by the 18th WMA General Assembly, Helsinki, Finland, June 1964, and amended by the 52nd WMA General Assembly, Edinburgh, October 7, 2000. https://www.wmanet/e/policy/b3.htm. Accessed Apr 2016.

European Agency for the Evaluation of Medicinal Products. International Conference on Harmonisation- World Health Organization. Guideline for Good Clinical Practice [EMEA Web site]. ICH topic E6. Geneva, Switzerland: WHO. 2002. http://www.emea.europa.eu. Accessed Apr 2016.

Food and Drug Administration. Guidance for industry. Bioavailability and bioequivalence studies submitted in NDAs or INDs- General Considerations. Center for Drug Evaluation and Research (CDER). 2014. p. 1–26.

US Food and Drug Administration's in vivo bioequivalence guidances. Pharmacopeial Forum. 1993;19:6501–08.

European Medicines Agency. Guideline on the Investigation of Bioequivalence. Committee for Medicinal Products for Human Use. 2010. p. 2–27.

Health Secretary. Official Mexican Norm NOM-177-SSA1-2013. DOF: 20.09.2013. México. http://www.dof.gob.mx/nota_detalle.php?codigo=5314833&fecha=20/09/2013. Accessed Apr 2016.

Montoya-Eguía S, Garza-Ocañas L, Badillo-Castañeda C, de la Tamez OT, Zanatta-Calderón T, Gómez-Meza M, Garza-Uloa H. Comparative pharmacokinetic study among 3 metformin formulations in healthy Mexican volunteers: a single-dose, randomized, open label, 3 period crossover study. Curr Ther Res. 2015;77:18–23.

Schuirmann D. A comparison of the two one-sided tests procedure and the power approach for assessing the equivalence of average bioavailability. J Pharmacokinet Biopharm. 1987;715:657–80.

Pro WinNonlin, Ver.6.03, Pharsight Corporation, Mountain View, California 94040. 2015.
Acknowledgements
The authors would like to thank the volunteers and every participant involved in this study for their dedication and effort.
Funding
This study was supported in its entirety by Laboratorios Silanes, S.A. de C.V., including article processing charges and open access fee. All authors had full access to all of the data in this study and take complete responsibility for the integrity of the data and accuracy of the data analysis.
Editorial Assistance
All authors thank Dr. Walter García Ubbelohde, from the Research and Development Department of Laboratorios Silanes, for his help with English style and grammar of the manuscript.
Authorship
All named authors meet the International Committee of Medical Journal Editors (ICMJE) criteria for authorship for this article, take responsibility for the integrity of the work as a whole, and have given final approval of the version to be published.
Disclosures
Universidad Autónoma de Nuevo León was contracted by Laboratorios Silanes for the development of this study.
Lourdes Garza-Ocañas is an employee of Universidad Autónoma de Nuevo León.
Eduardo Tamez is an employee of Universidad Autónoma de Nuevo León.
Christian Badillo-Castañeda is an employee of Universidad Autónoma de Nuevo León.
Marco Vinicio Gómez-Meza is an employee of Universidad Autónoma de Nuevo León.
Jorge González-Canudas works part time in a Mexican public health institution and is R&D Director of Laboratorios Silanes, S.A. de C.V.
Yulia Romero-Antonio is an employee of Laboratorios Silanes, S.A. de C.V.
Aarón Molina-Pérez is an employee of Laboratorios Silanes, S.A. de C.V.
Ana Gabriela Amador-Hernández is an employee of Laboratorios Silanes, S.A. de C.V.
Compliance with Ethics Guidelines
The protocol and informed consent were approved by the institutional review board of the University Hospital "Dr. Jose E. Gonzalez" Universidad Autonoma de Nuevo Leon (U.A.N.L.) and by the Mexican Health Authorities (COFEPRIS, Ministry of Health, Mexico City). All procedures performed in studies involving human participants were in accordance with the ethical standards of the institutional and/or national research committee, the 1964 Helsinki declaration [11] and its later amendments or comparable ethical standards, Good Clinical Practice [12], Guidance for Industry, Bioavailability and bioequivalence studies submitted in NDAs or INDs (FDA) [13], Administration's in vivo bioequivalence guidances [14], Guideline on the Investigation of Bioequivalence (EMA) [15] and Mexican bioequivalence guideline [16]. Informed consent was obtained from all individual participants included in the study.
Data Availability
The datasets generated and/or analyzed during the current study are available from the corresponding author on reasonable request.
Open Access
This article is distributed under the terms of the Creative Commons Attribution-NonCommercial 4.0 International License (http://creativecommons.org/licenses/by-nc/4.0/), which permits any noncommercial use, distribution, and reproduction in any medium, provided you give appropriate credit to the original author(s) and the source, provide a link to the Creative Commons license, and indicate if changes were made.
About this article
Cite this article
Garza-Ocañas, L., González-Canudas, J., Tamez-de la O, E. et al. Comparative Bioavailability of Metformin Hydrochloride Oral Solution Versus Metformin Hydrochloride Tablets in Fasting Mexican Healthy Volunteers. Adv Ther 36, 407–415 (2019). https://doi.org/10.1007/s12325-018-0853-3
Received:

Published:

Issue Date:

DOI: https://doi.org/10.1007/s12325-018-0853-3
Keywords