Abstract
Introduction
A significant bronchodilator response is commonly defined as a 12% or greater and 200 ml or greater change in FEV1 from baseline according to the 2005 American Thoracic Society (ATS)/European Respiratory Society (ERS) criterion. A number of studies have shown that the ATS/ERS criterion has limitations in asthma diagnosis, and some experts have argued for correcting the criteria. The aim of this study is to investigate the diagnostic value of acute bronchodilator response for asthma in a Southern Chinese population.
Methods
We prospectively evaluated 805 patients with obstructive lung disease (309 for asthma, 496 for non-asthma). Spirometry was performed according to the ATS/ERS guidelines. Data were analyzed by SPSS 18.0. The receiver-operating characteristic (ROC) curve was drawn to assess the diagnostic accuracy of the ATS/ERS criterion based on FEV1. Linear regression was used to analyze the factors of FEV1 change.
Results
The sensitivity and specificity of the acute bronchodilator test when judged by the ATS/ERS criteria (200 ml or higher and 12% improvement) were 68.6% and 78.2%, respectively. For the ATS/ERS criteria, the Youden Index, which comprehensively reflects the authenticity of a diagnostic test, was 46.8%. The absolute change of FEV1 positively correlated with baseline FEV1 and weight and negatively with age, while the percentage change of FEV1 was negatively correlated with baseline FEV1, age and height and positively with weight. Compared with the different diagnostic values, when ∆FEV1 was 195 ml and ∆FEV1i% was 14%, the Youden Index was the largest (48.2%) and the diagnostic capability of the test the biggest.
Conclusions
The ATS/ERS criterion for acute bronchodilator response might not be completely suitable for asthma in the Chinese population.
Trial Registration
Chinese Clinical Trial Registry (Registry ID: ChiCTR-DDT-14004976).
Funding
This work was supported by the National Natural Science Foundation of China (grant nos. 81670027, 81270080).
Access options
Buy single article
Instant access to the full article PDF.
USD 39.95
Price excludes VAT (USA)
Tax calculation will be finalised during checkout.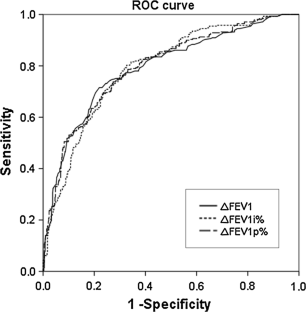 References
Pellegrino R, Viegi G, Brusasco V, et al. Interpretative strategies for lung function tests. Eur Respir J. 2005;26:948–68.

Global Strategy for Asthma Management and Prevention: update 2018, Global Initiative for Asthma. 2018. http://ginasthma.org.

Gjevre JA, Hurst TS, Taylor-Gjevre RM, Cockcroft DW. The American Thoracic Society's spirometric criteria alone is inadequate in asthma diagnosis. Can Respir J. 2006;13:433–7.

Calverley PM, Albert P, Walker PP. Bronchodilator reversibility in chronic obstructive pulmonary disease: use and limitations. Lancet Respir Med. 2013;1:564–73.

Kainu A, Lindqvist A, Sarna S, Ck BL, Rvi AS. FEV1 response to bronchodilation in an adult urban population. Chest. 2008;134:387–93.

Fingleton J, Weatherall M, Beasley R. Bronchodilator responsiveness: interpret with caution. Thorax. 2012;67:667–8.

Hansen JE, Sun XG, Adame D, Wasserman K. Argument for changing criteria for bronchodilator responsiveness. Resp Med. 2008;102:1777–83.

Appleton SL, Adams RJ, Wilson DH, et al. Spirometric criteria for asthma: adding further evidence to the debate. J Allergy Clin Immunol. 2005;116:976–82.

Richter DC, Joubert JR, Nell H, et al. Diagnostic value of post-bronchodilator pulmonary function testing to distinguish between stable, moderate to severe COPD and asthma. Int J COPD. 2008;3:693–9.

Montes De Oca M, Perez-Padilla R, Tallamo Carlos, et al. Acute bronchodilator responsiveness in subjects with and without airflow obstruction in five Latin American cities: the PLATINO study. Pulm Pharmacol Ther. 2010;23:29–35.

Tan WC, Vollmer WM, Lamprecht B, BOLD Collaborative Research Group, et al. Worldwide patterns of bronchodilator responsiveness: results from the Burden of Obstructive Lung Disease study. Thorax. 2012;67:718–26.

Tweeddale PM, Alexander F, McHardy GJ. Short term variability in FEV1 and bronchodilator responsiveness in patients with obstructive ventilatory defects. Thorax. 1987;42:487–90.

American Thoracic Society. Lung function testing: selection of reference values and interpretative strategies. Am Rev Respir Dis. 1991;144:1202–18.

Hansen JE, Porszasz J. Counterpoint: is an increase in FEV1 and/or FVC >/= 12% of Control and >/= 200 mL the best way to assess positive bronchodilator response? No. Chest. 2014;146:538–41.
Acknowledgements
We sincerely thank all the patients who participated in this study.
Funding
This work was supported by the National Natural Science Foundation of China (grant nos. 81670027, 81270080). The associated article processing charges were funded by the authors.
Authorship
All named authors meet the International Committee of Medical Journal Editors (ICMJE) criteria for authorship for this article, take responsibility for the integrity of the work as a whole and have given their approval for this version to be published.
Disclosures
All named authors (Shichuan Zhang, Chengping Hu, Rongli Lu, Ruichao Niu, Xinyue Hu, Ling Qin, Ruoxi He and Juntao Feng) have nothing to disclose.
Compliance with Ethics Guidelines
This study was approved by the Ethics Committee of Xiangya Hospital of Central South University and registered in the Chinese Clinical Trial Registry (Registry ID: ChiCTR-DDT-14004976). All participants gave informed consent, and all work was conducted in accordance with the Declaration of Helsinki (1964).
Data Availability
The data sets generated during and/or analyzed during the current study are available from the corresponding author on reasonable request.
About this article
Cite this article
Zhang, S., Hu, C., Lu, R. et al. Diagnostic Accuracy of Bronchodilator Response for Asthma in a Population of South China. Adv Ther 35, 1578–1584 (2018). https://doi.org/10.1007/s12325-018-0783-0
Received:

Published:

Issue Date:

DOI: https://doi.org/10.1007/s12325-018-0783-0
Keywords
Asthma

ATS/ERS criterion

Bronchodilator response

Chinese population