Abstract
Introduction
Anticoagulants are effective for stroke prevention in atrial fibrillation (AF). Data on population health-related cardiovascular outcomes by race/ethnicity and gender are not well described. The aim was to assess the impact of patient diversity on associated cardiovascular outcomes related to warfarin anticoagulation in Medicare beneficiaries with AF.
Methods
Medicare administrative claims data for years 2000–2010 were used to calculate AF prevalence and rates of new AF cases. Three 20% sample cohorts of new AF beneficiaries for years 2000, 2005, and 2007 were extracted and analyzed in a longitudinal study design. The impact of warfarin on associated cardiovascular outcomes was measured with respect to race/ethnicity and gender. Measured outcomes included the risk of stroke, mortality and hospitalization after adjusting for age, gender, race/ethnicity, CHADS2 score and warfarin.
Results
AF prevalence and warfarin use increased while stroke and mortality rates declined across race/ethnicity and gender from 2000 to 2010. Analyses comparing Whites to non-Whites highlighted several disparities: (1) Blacks were 40% (p < 0.0001) more likely to have a stroke even after adjustment for warfarin; (2) in 2007, Hispanics had a 35% (p < 0.01) higher prevalence of stroke and warfarin did not reduce the risk; and (3) Asians had better outcomes. Warfarin reduced stroke less well in women who had a lower risk of death and hospitalization. Despite a > 70% (p < 0.0001) reduction in mortality for warfarin users, Blacks had a 25% (p < 0.0001) higher mortality risk than Whites.
Conclusions
Differences in population health metrics across race/ethnicity and gender exist in AF. Across all metrics, Blacks had comparatively worse outcomes. Patient diversity should be a focus for future investigations in AF to improve outcomes in the whole population.
Funding
National Minority Quality Forum.
Access options
Buy single article
Instant access to the full article PDF.
USD 39.95
Price excludes VAT (USA)
Tax calculation will be finalised during checkout.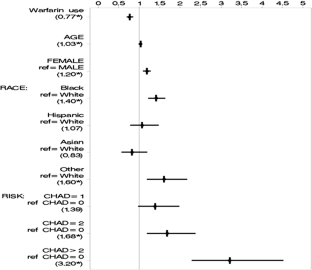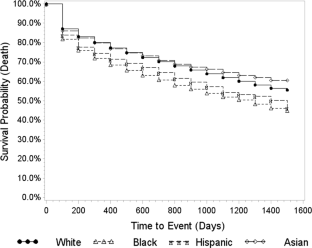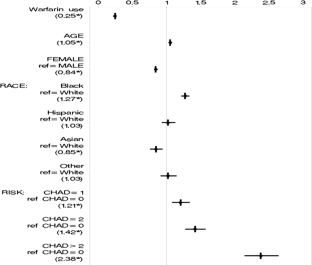 References
Miyasaka Y, Barnes ME, Gersh BJ, Cha SS, Bailey KR, Abhayaratna WP, Seward JB, Tsang TSM. Secular trends in incidence of atrial fibrillation in Olmsted County, Minnesota, 1980–2000, and implications on the projections for future prevalence. Circulation. 2006;114:119–25.

Wattigney WA, Mensah GA, Croft JB. Increasing trends in hospitalization for atrial fibrillation in the United States, 1985 through 1999. Circulation. 2003;108:711–6.

Benjamin EJ, Wolf PA, D'Agostino RB, Silbershatz H, Kannel WB, Levy D. Impact of atrial fibrillation on the risk of death: the framingham heart study. Circulation. 1998;98:946–52.

Hart RG, Pearce LA, Aguilar MI. Meta-analysis: anti-thrombotic therapy to prevent stroke in patients who have nonvalvular atrial fibrillation. Ann Intern Med. 2007;146:857–67.

Kim MH, Johnston SS, Chu BC, Dalal MR, Schulman KL. Estimation of total incremental healthcare costs in patients with atrial fibrillation in the United States. Circ Cardiovasc Qual Outcomes. 2011;4:313–20.

Kim MH, Lin J, Hussein M, Kreilick C, Battleman D. Cost of atrial fibrillation in United States managed care organizations. Adv Ther. 2009;26(9):847–57.

January CT, Wann LS, Alpert JS, Calkins H, Cleveland JC, Cigarroa JE, Conti JB, Ellinor PT, Ezekowitz MD, Field ME, Murray KT, Sacco RL, Stevenson WG, Tchou PJ, Tracy CM, Yancy CW. AHA/ACC/HRS guideline for the management of patients with atrial fibrillation: a report of the American college of cardiology/American heart association task force on practice guidelines and the heart rhythm society. J Am Coll Cardiol. 2014;2014:2246–80.

Lakshminarayan K, Solid CA, Collins AJ, Anderson DC, Herzog CA. Atrial fibrillation and stroke in the general medicare population: a 10-year perspective (1992–2002). Stroke. 2006;37:1969–74.

Shroff GR, Solid CA, Herzog CA. Atrial fibrillation, stroke, and anticoagulation in medicare beneficiaries: trends by age, sex, and race, 1992–2010. J Am Heart Assoc. 2014;3:e000756. https://doi.org/10.1161/JAHA.113.000756.

Piccini JP, Hammill BG, Sinner MF, Jensen PN, Hernandez AF, Heckbert SR, Benjamin EJ, Curtis LH. Incidence and prevalence of atrial fibrillation and associated mortality among Medicare beneficiaries: 1993–2007. Circ Cardiovasc Qual Outcomes. 2012;5:85–93.

Piccini JP, Simon DN, Steinberg BA, Thomas L, Allen LA, Fonarow GC, Gersh B, Hylek E, Kowey PR, Reiffel JA, Naccarelli GV, Chan PS, Spertus JA, Peterson ED, For the outcomes registry for better informed treatment of atrial fibrillation (orbit-af) investigators and patients. Differences in clinical and functional outcomes of atrial fibrillation in women and men: two-year results from the ORBIT-AF Registry. JAMA Cardiol. 2016;1(3):282–91.

Connolly SJ, Ezekowitz MD, Yusuf S, Eikelboom J, Oldgren J, Parekh A, Pogue J, Reilly PA, Themeles E, Varrone J, Wang S, Ailings M, Xavier D, Zhu J, Diaz R, Lewis BS, Darius H, Diener HC, Joyner CD, Wallentin L, the RE-LY Steering Committee and Investigators. Dabigatran versus warfarin in patients with atrial fibrillation. New Engl J Med. 2009;361:1139–51.

Granger CB, Alexander JH, McMurray JJV, Lopes RD, Hylek EM, Hanna M, Al-Khalidi HR, Ansell J, Atar D, Avezum A, Bahit C, Diaz R, Easton JD, Ezekowitz JA, Flaker G, Garcia D, Geraldes M, Gersh BJ, Golitsyn S, Goto S, Hermosillo AG, Hohnloser SH, Horowitz J, Mohan P, Jansky P, Lewis BS, Lopez-Sendon JL, Pais P, Parkhomenko A, Verheugt FWA, Zhu J, Wallentin L, The ARISTOTLE Committees and Investigators. Apixaban versus warfarin in patients with atrial fibrillation. New Engl J Med. 2011;365:981–92.

Patel MR, Mahaffey KW, Garg J, Pan G, Singer DE, Hacke W, Breithardt G, Halperin JL, Hankey GJ, Piccini JP, Becker RC, Nessel CC, Paolini JF, Berkowitz SD, Fox KAA, Califf RM, and the ROCKET AF Steering Committee, for the ROCKET AF Investigators. Rivaroxaban versus warfarin in non-valvular atrial fibrillation. New Engl J Med. 2011;365:883–91.

Giugliano RP, Ruff CT, Braunwald E, Murphy SA, Wiviott SD, Halperin JL, Waldo AL, Ezekowitz MD, Weitz JI, Spinar J, Ruzyllo W, Ruda M, Koretsune Y, Betcher J, Shi M, Grip LT, Patel SP, Patel I, Hanyok JJ, Mercuri M. Antman EM for the ENGAGE AF-TIMI 48 Investigators. N Engl J Med. 2013;369:2093–104.

Birman-Deych E, Radford MJ, Nilasena DS, Gage BF. Use and effectiveness of warfarin in Medicare beneficiaries with atrial fibrillation. Stroke. 2006;37:1070–4.

Shen AY, Yao JF, Brar SS, Jorgensen MB, Chen W. Racial/ethnic differences in the risk of intracranial hemorrhage among patients with atrial fibrillation. J Am Coll Cardiol. 2007;50:309–15.

Chen LY, Sotoodehnia N, Buzkova P, Lopez FL, Yee LM, Heckbert SR, Prineas R, Soliman EZ, Adabag S, Konety S, Folsom AR, Siscovick D, Alonso A. Atrial fibrillation and the risk of sudden cardiac death: the Atherosclerosis Risk in Communities Study and Cardiovascular Health Study. JAMA Intern Med. 2013;173(1):29–35.

Jones MR, Horner RD, Edwards LJ, Hoff J, Armstrong SB, Smith-Hammond CA, Matchar DB, Oddone EZ. Racial variation in initial stroke severity. Stroke. 2000;31:563–7.

Thomas KL, Piccini JP, Liang L, Fonarow GC, Yancy CW, Peterson ED, Hernandez AF, for the Get With the Guidelines Steering Committee and Hospitals. Racial differences in the prevalence and outcomes of atrial fibrillation among patients hospitalized with heart failure. J Am Heart Assoc. 2013;2:e000200. https://doi.org/10.1161/jaha.113.000200.

Bush D, Martin LW, Leman R, Chandler M, Haywood LJ, and the NHLBI AFFIRM Investigators. Atrial fibrillation among African Americans, Hispanics, and Caucasians: clinical features and outcomes from the AFFIRM Trial. J Natl Med Assoc. 2006;98(3):330–9.

Shen AY, Yao JF, Brar SS, Jorgensen MB, Wang X, Chen W. Racial/Ethnic differences in ischemic stroke rates and the efficacy of warfarin among patients with atrial fibrillation. Stroke. 2008;39:2736–43.

United States. Agency for healthcare research and quality. National healthcare disparities report 2011. Available at http://www.ahrq.gov/research/findings/nhqrdr. Accessed 31 Oct 2016.
Acknowledgements
Funding
Article processing charges were paid by the National Minority Quality Forum.
Authorship
All named authors meet the International Committee of Medical Journal Editors (ICMJE) criteria for authorship for this article, take responsibility for the integrity of the work as a whole, and have given their approval for this version to be published.
Prior Presentation
These data were presented as abstract presentations at the American Heart Association Quality of Care and Outcomes Research Meeting in 2013 as an oral presentation. Data were also presented in poster format at the American Heart Association Scientific Sessions in the session "Best of the American Heart Association" in 2013.
Disclosures
Gary Puckrein is an employee of the National Minority Quality Forum. Liou Xu is an employee of the National Minority Quality Forum. Michael H. Kim has nothing to disclose.
Compliance with Ethics Guidelines
This article is based on administrative claims data and does not contain any direct contact with human participants or animals performed by any of the authors.
About this article
Cite this article
Kim, M.H., Xu, L. & Puckrein, G. Patient Diversity and Population Health-Related Cardiovascular Outcomes Associated with Warfarin Use in Atrial Fibrillation: An Analysis Using Administrative Claims Data. Adv Ther 35, 2069–2080 (2018). https://doi.org/10.1007/s12325-018-0782-1
Received:

Published:

Issue Date:

DOI: https://doi.org/10.1007/s12325-018-0782-1
Keywords
Anticoagulation

Atrial fibrillation

Cardiology

Disparity

Diversity

Outcomes

Warfarin