Abstract
Introduction
Predictors for the effect of sodium glucose co-transporter 2 (SGLT2) inhibitors at lowering hemoglobin A1c (HbA1c) levels in type 2 diabetes mellitus patients remain unclear. We therefore aimed to elucidate these predictors in type 2 diabetes patients after 3 months of SGLT2 treatment.
Methods
A total of 302 consecutive type 2 diabetes patients who had been treated with SGLT2 inhibitors as monotherapy or add-on therapy to existing antidiabetic treatments were enrolled retrospectively. After excluding 27 patients whose HbA1c levels could not be evaluated 3 months after treatment, the glucose-lowering effects of SGLT2 inhibitors were assessed in 275 patients by measuring HbA1c levels before and 3 months after treatment. The predictors for changes in HbA1c levels after 3 months of treatment were evaluated.
Results
SGLT2 inhibitor treatment for 3 months decreased HbA1c levels from 7.8 ± 1.2% to 7.4 ± 1.0% (p < 0.0001). A multiple regression analysis showed that the independent determinants for SGLT2 inhibitor treatment effect included decreased HbA1c levels after 1 month of treatment, high baseline HbA1c levels, and a high estimated glomerular filtration rate (eGFR).
Conclusion
We show that type 2 diabetes patients who received the greatest glucose-lowering effect with SGLT2 inhibitor treatment were those with preserved renal function (high baseline eGFR) and high baseline HbA1c levels. Moreover, SGLT2 inhibitor treatment efficacy could be predicted by the patients' initial response to treatment.
This is a preview of subscription content,
to check access.
Access this article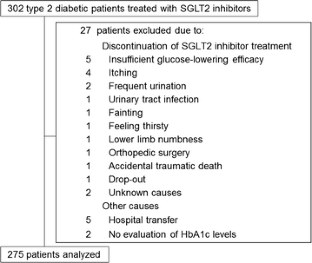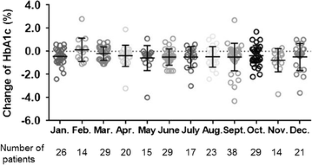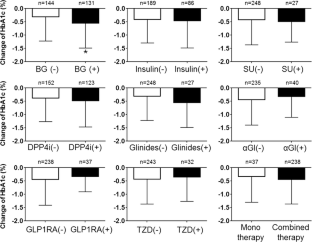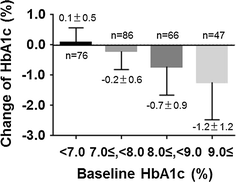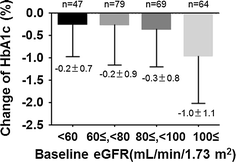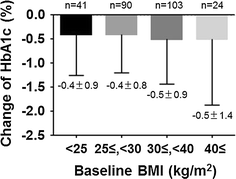 Similar content being viewed by others
References
Tanaka A, Node K. Emerging roles of sodium-glucose cotransporter 2 inhibitors in cardiology. J Cardiol. 2017;69:501–7.

Zinman B, Wanner C, Lachin JM, et al. Empagliflozin, cardiovascular outcomes, and mortality in type 2 diabetes. N Engl J Med. 2015;373:2117–28.

Inzucchi SE, Zinman B, Wanner C, et al. SGLT-2 inhibitors and cardiovascular risk: proposed pathways and review of ongoing outcome trials. Diabetes Vasc Dis Res. 2015;12:90–100.

Salim HM, Fukuda D, Yagi S, Soeki T, Shimabukuro M, Sata M. Glycemic control with ipragliflozin, a novel selective SGLT2 inhibitor, ameliorated endothelial dysfunction in streptozotocin-induced diabetic mouse. Front Cardiovasc Med. 2016;3:43.

American Diabetes A. Standards of medical care in diabetes—2016 abridged for primary care providers. Clin Diabetes. 2016;34:3–21.

Sha S, Polidori D, Farrell K, et al. Pharmacodynamic differences between canagliflozin and dapagliflozin: results of a randomized, double-blind, crossover study. Diabetes Obes Metab. 2015;17:188–97.

Iemitsu K, Iizuka T, Takihata M, et al. Factors influencing changes in hemoglobin A1c and body weight during treatment of type 2 diabetes with ipragliflozin: interim analysis of the ASSIGN-K study. J Clin Med Res. 2016;8:373–8.

Kalra S. Sodium glucose co-transporter-2 (SGLT2) inhibitors: a review of their basic and clinical pharmacology. Diabetes Ther Res Treat Educ Diabetes Relat Disord. 2014;5:355–66.

Bloomgarden ZT, Dodis R, Viscoli CM, Holmboe ES, Inzucchi SE. Lower baseline glycemia reduces apparent oral agent glucose-lowering efficacy: a meta-regression analysis. Diabetes Care. 2006;29:2137–9.

Yagi S, Aihara K, Akaike M, et al. Predictive factors for efficacy of dipeptidyl peptidase-4 inhibitors in patients with type 2 diabetes mellitus. Diabetes Metab J. 2015;39:342–7.

Abdul-Ghani MA, DeFronzo RA, Norton L. Novel hypothesis to explain why SGLT2 inhibitors inhibit only 30–50% of filtered glucose load in humans. Diabetes. 2013;62:3324–8.

Kohan DE, Fioretto P, Tang WH, List JF. Long-term study of patients with type 2 diabetes and moderate renal impairment shows that dapagliflozin reduces weight and blood pressure but does not improve glycemic control. Kidney Int. 2014;85:962–71.

Rosenstock J, Jelaska A, Frappin G, et al. Improved glucose control with weight loss, lower insulin doses, and no increased hypoglycemia with empagliflozin added to titrated multiple daily injections of insulin in obese inadequately controlled type 2 diabetes. Diabetes Care. 2014;37:1815–23.

Sakai S, Kaku K, Seino Y, et al. Efficacy and safety of the SGLT2 inhibitor luseogliflozin in Japanese patients with type 2 diabetes mellitus stratified according to baseline body mass index: pooled analysis of data from 52-Week phase III trials. Clin Ther. 2016;38(843–62):e9.

Han S, Hagan DL, Taylor JR, et al. Dapagliflozin, a selective SGLT2 inhibitor, improves glucose homeostasis in normal and diabetic rats. Diabetes. 2008;57:1723–9.

Satoh J, Takahashi K, Takizawa Y, et al. Secondary sulfonylurea failure: comparison of period until insulin treatment between diabetic patients treated with gliclazide and glibenclamide. Diabetes Res Clin Pract. 2005;70:291–7.

Maegawa H, Tobe K, Tabuchi H, Nakamura I. Baseline characteristics and interim (3-month) efficacy and safety data from STELLA-LONG TERM, a long-term post-marketing surveillance study of ipragliflozin in Japanese patients with type 2 diabetes in real-world clinical practice. Expert Opin Pharmacother. 2016;17:1985–94.

Ghezzi C, Hirayama BA, Gorraitz E, Loo DD, Liang Y, Wright EM. SGLT2 inhibitors act from the extracellular surface of the cell membrane. Physiol Rep. 2014;2:e12058.

Ishii H, Suzuki H, Baba T, Nakamura K, Watanabe T. Seasonal variation of glycemic control in type 2 diabetic patients. Diabetes Care. 2001;24:1503.

Furuta M, Tomisaka R, Yamana A, et al. Evaluation of seasonal changes in hemoglobin A1c in diabetic patients. Rinsho byori Jpn J Clin Pathol. 2012;60:599–604.

Yanai H, Katsuyama H, Hamasaki H, et al. Sodium-glucose cotransporter 2 inhibitors: possible anti-atherosclerotic effects beyond glucose lowering. J Clin Med Res. 2016;8:10–4.

Mosley JF 2nd, Smith L, Everton E, Fellner C. Sodium-glucose linked transporter 2 (SGLT2) inhibitors in the management of type-2 diabetes: a drug class overview. P T. 2015;40:451–62.

Clar C, Gill JA, Court R, Waugh N. Systematic review of SGLT2 receptor inhibitors in dual or triple therapy in type 2 diabetes. BMJ Open. 2012;2:e001007.

Yabe D, Nishikino R, Kaneko M, Iwasaki M, Seino Y. Short-term impacts of sodium/glucose co-transporter 2 inhibitors in Japanese clinical practice: considerations for their appropriate use to avoid serious adverse events. Expert Opin Drug Saf. 2015;14:795–800.
Acknowledgements
This work was partially supported by JSPS Kakenhi Grants (Grant numbers 16H05299 and 26248050), GSK Japan Research Grant, The Uehara Memorial Foundation, and Takeda Science Foundation. Article processing charges were funded by the authors. We thank the staff of the Hospital Information Center at Tokushima University Hospital and Masato Mori for extracting clinical data from medical records. We would like to thank Editage (http://www.editage.jp) for English language editing. All named authors meet the International Committee of Medical Journal Editors (ICMJE) criteria for authorship for this manuscript, take responsibility for the integrity of the work as a whole, and have given final approval for the version to be published.
Disclosures
M. Matsuhisa received research funding and lecture fees from Sanofi, Takeda Pharmaceutical Company Ltd., Eli-Lilly, Novo Nordisk Pharma, Astelas Pharma Inc., Boehringer Ingelheim, Daiichi Sankyo Co. Ltd., Tanabe-Mitsubishi Pharma, Novartis Pharmaceuticals Corporation. M. Shimabukuro received research funding from AstraZeneca and lecture fees from Astellas Pharma Inc., Ono Pharmaceutical Company Ltd, Taisho Toyama Pharmaceutical Co., Ltd., Kowa Company, Ltd., Nippon Boehringer Ingelheim, AstraZeneca, and Daiichi Sankyo Co. Ltd. M. Sata received research funding from Tanabe-Mitsubishi, Takeda, Astellas, Bayer Healthcare, Daiichi-Sankyo, MSD, and Ono, and lecture fees from Astellas, Boehringer Ingelheim, Bayer Healthcare, Mochida, Takeda, Tanabe-Mitsubishi, Novartis, AstraZeneca, MSD, and Shionogi. The Department of Cardio-Diabetes Medicine, Tokushima University Graduate School, is supported in part by unrestricted research grants from Actelion, Boehringer Ingelheim, Kowa, and Tanabe-Mitsubishi. Shusuke Yagi, Ken-ichi Aihara, Takeshi Kondo, Kiyoe Kurahashi, Sumiko Yoshida, Itsuro Endo, Daiju Fukuda, Yutaka Nakaya, Kin-ichiro Suwaki, Takashi Takeji, Toshihiro Wada, Hotimah Masdan Salim, Saori Hama, Tomomi Matsuura, Takayuki Ise, Kenya Kusunose, Koji Yamaguchi, Takeshi Tobiume, Hirotsugu Yamada, Takeshi Soeki, Tetsuzo Wakatsuki and Masashi Akaiki have nothing to disclose.
Compliance with Ethics Guidelines
All procedures were in accordance with the ethical standards of the responsible committee on human experimentation (institutional and national) and with the Helsinki Declaration of 1964, as revised in 2013. The study protocol was approved by the Ethics Committee of Tokushima University Hospital (No. 2432) and Shikoku Central Hospital (No. 25).
Data Availability
The datasets during and/or analyzed during the current study are available from the corresponding author on reasonable request.
Electronic supplementary material
Below is the link to the electronic supplementary material.
About this article
Cite this article
Yagi, S., Aihara, Ki., Kondo, T. et al. Predictors for the Treatment Effect of Sodium Glucose Co-transporter 2 Inhibitors in Patients with Type 2 Diabetes Mellitus. Adv Ther 35, 124–134 (2018). https://doi.org/10.1007/s12325-017-0639-z
Received:

Published:

Issue Date:

DOI: https://doi.org/10.1007/s12325-017-0639-z
Keywords