Abstract
Introduction
The objective of this study was to report outcome measures with third-generation pre-attached scrotal port adjustable transobturator male system (ATOMS) for male stress urinary incontinence (SUI) after radical prostatectomy.
Methods
A prospective open study was conducted on consecutive patients. Evaluation included cough test, urethroscopy, filling and voiding cystometry, 24-h pad count and pad test, patient-reported outcomes (ICIQ-SF, IIQ-7, PGI, GRA, and VAS), complications according to the Clavien–Dindo system, operative results, number of adjustments, and filling of the system.
Results
Thirty-four patients with median pad test 510 (170–1225) ml were operated on. Preoperative SUI was mild (5.9%), moderate (17.6%), and severe (76.5%). At median 18.5 (12–26) months follow-up distribution of SUI was none (85.3%), mild (8.8%), and moderate (5.9%). Median intraoperative filling was 14 (8–17) ml, number of adjustments 1 (0–5), and total filling 17.5 (11–33.5) ml. At 3 months, median ICIQ-SF (p = 0.0001) and IIQ-7 (p < 0.0001) decreased. At 12 months, 24-h pad count and pad test decreased (both p < 0.0001), residual volume slightly increased (p = 0.018), PGI-I was 1 (1–3), GRA 6 (3–6), and 97% were satisfied with treatment. Continence (p = 0.016) and satisfaction (p = 0.09) were worse in irradiated patients. Median operative time was 67 (35–120) min, hospital stay 1 (1–3) days, and VAS for pain on postoperative day 1 was 0 (0–2). Complications presented in 14.7% (8.8% grade I and 5.9% grade III).
Conclusion
Treatment of severe male SUI after radical prostatectomy with pre-attached scrotal port ATOMS is safe and very effective in the short term. A positive cough test before implant and intraoperative overfilling of the system may optimize patient selection and results.
This is a preview of subscription content, log in to check access.
Access options
Buy single article
Instant access to the full article PDF.
US$ 39.95
Price includes VAT for USA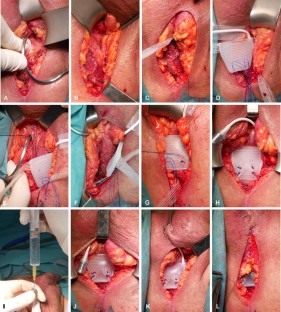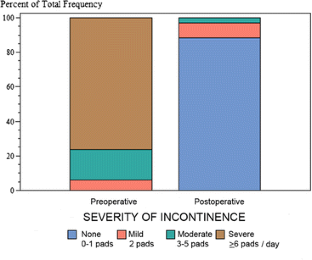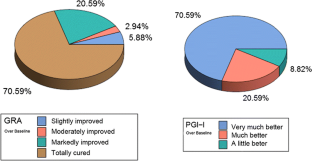 References
1.

Benoit RM, Naslund MJ, Cohen JK. Complications after radical prostatectomy in the medicare population. Urology. 2000;56:116–20.

2.

Crivellaro S, Morlacco A, Bodo G, et al. Systematic review of surgical treatment of post radical prostatectomy stress urinary incontinence. Neurourol Urodyn. 2016;35:875–81.

3.

Yaxley JW, Coughlin GD, Chambers SK, et al. Robot-assisted laparoscopic prostatectomy versus open radical retropubic prostatectomy: early outcomes from a randomised controlled phase 3 study. Lancet. 2016;388:1057–66.

4.

Mandel P, Preisser F, Graefen M, et al. High Chance of late recovery of urinary and erectile function beyond 12 months after radical prostatectomy. Eur Urol. 2016. doi: 10.1016/j.eururo.2016.09.030.

5.

Silva LA, Andriolo RB, Atallah ÁN, da Silva EM. Surgery for stress urinary incontinence due to presumed sphincter deficiency after prostate surgery. Cochrane Database Syst Rev. 2014;(9):CD008306. doi:10.1002/14651858.CD008306.pub3.

6.

Van Bruwaene S, De Ridder D, Van der Aa F. The use of sling vs sphincter in post-prostatectomy urinary incontinence. BJU Int. 2015;116:330–42.

7.

Andreasson A, Fall M, Persson E, Stranne J, Peeker R. High revision rate following artificial urethral sphincter implantation. Scand J Urol. 2014;48:544–8.

8.

Kim JC, Cho KJ. Current trends in the management of post-prostatectomy incontinence. Korean J Urol. 2012;53:511–8.

9.

Vakalopoulos I, Kampantais S, Laskaridis L, Chachopoulos V, Koptsis M, Toutziaris C. New artificial urinary sphincter devices in the treatment of male iatrogenic incontinence. Adv Urol. 2012;2012:439372. doi:10.1155/2012/439372.

10.

Collado Serra A, Resel Folkersma L, Domínguez-Escrig JL, Gómez-Ferrer A, Rubio-Briones J, Solsona Narbón E. AdVance/AdVance XP transobturator male slings: preoperative degree of incontinence as predictor of surgical outcome. Urology. 2013;81:1034–9.

11.

Galiano M, Guillot-Tantay C, Sivaraman A, et al. Superficial implantation of the I-stop TOMS transobturator sling in the treatment of postprostatectomy urinary incontinence: description of a novel technique and 1-year outcomes. Urology. 2016;90:195–8.

12.

Navalón-Monllor V, Ordoño-Domínguez F, Pallás-Costa Y, et al. Long-term follow-up for the treatment of male urinary incontinence with the Remeex system. Actas Urol Esp. 2016;40:585–91.

13.

Bauer W, Karik M, Schramek P. The self-anchoring transobturator male sling to treat stress urinary incontinence in men: a new sling, a surgical approach and anatomical findings in a cadaveric study. BJU Int. 2005;95:1364–6.

14.

Seweryn J, Bauer W, Ponholzer A, Schramek P. Initial experience and results with a new adjustable transobturator male system for the treatment of stress urinary incontinence. J Urol. 2012;187:956–61.

15.

Hoda MR, Primus G, Fischereder K, et al. Early results of a European multicentre experience with a new self-anchoring adjustable transobturator system for treatment of stress urinary incontinence in men. BJU Int. 2013;111:296–303.

16.

Hoda MR, Primus G, Schumann A, et al. Treatment of stress urinary incontinence after radical prostatectomy: adjustable transobturator male system—results of a multicenter prospective observational study. Urologe A. 2012;51:1576–83.

17.

González SP, Cansino JR, Portilla MA, Rodriguez SC, Hidalgo L, De la Peña J. First experience with the ATOMS(®) implant, a new treatment option for male urinary incontinence. Cent Eur J Urol. 2014;67:387–91.

18.

Krause J, Tietze S, Behrendt W, Nast J, Hamza A. Reconstructive surgery for male stress urinary incontinence: experiences using the ATOMS(®) system at a single center. GMS Interdiscip Plast Reconstr Surg DGPW. 2014;3:Doc15. doi:10.3205/iprs000056.

19.

Friedl A, Bauer W, Rom M, Kivaranovic D, Lüftenegger W, Brössner C. Sexuality and erectile function after implantation of an adjustable transobturator male system (ATOMS) for urinary stress incontinence. A multi-institutional prospective study. Arch Ital Urol Androl. 2016;87:306–11.

20.

Mühlstädt S, Friedl A, Mohammed N, et al. Five-year experience with the adjustable transobturator male system for the treatment of male stress urinary incontinence: a single-center evaluation. World J Urol. 2017;35:145–51.

21.

Friedl A, Mühlstädt S, Rom M, et al. Risk factors for treatment failure with the adjustable transobturator male system incontinence device: who will succeed, who will fail? Results of a multicenter study. Urology. 2016;90:189–94.

22.

Friedl A, Mühlstädt S, Zachoval R, et al. Long-term outcome of the adjustable transobturator male system (ATOMS): results of a European multicenter study. BJU Int. 2016;. doi:10.1111/bju.13684.

23.

Bauer RM, Gozzi C, Roosen A, et al. Impact of the 'repositioning test' on postoperative outcome of retroluminar transobturator male sling implantation. Urol Int. 2013;90:334–8.

24.

Papa Petros PE, Ulmsten U. An analysis of rapid pad testing and the history for the diagnosis of stress incontinence. Acta Obstet Gynecol Scand. 1992;71:529–36.

25.

Twiss CO, Fischer MC, Nitti VW. Comparison between reduction in 24-hour pad weight, International Consultation on Incontinence-Short Form (ICIQ-SF) score, International Prostate Symptom Score (IPSS), and Post-Operative Patient Global Impression of Improvement (PGI-I) score in patient evaluation after male perineal sling. Neurourol Urodyn. 2007;26(1):8–13.

26.

Caremel R, Corcos J. Incontinence after radical prostatectomy: anything new in its management? Can Urol Assoc J. 2014;8:202–12.
Acknowledgements
This study has been partly presented at the EAU 2017 Meeting in London (in the session "Complications and functional outcomes after radical prostatectomy"). No funding or sponsorship was received for this study or publication of this article. The article processing charges were funded by the authors. All named authors meet the International Committee of Medical Journal Editors (ICMJE) criteria for authorship for this manuscript, take responsibility for the integrity of the work as a whole, and have given final approval for the version to be published. The authors acknowledge José Domínguez for iconography.
Disclosures
Javier C. Angulo, Ignacio Arance, Cristina Esquinas, Juan F. Dorado, João P. Marcelino, and Francisco E. Martins declare that they have no personal, financial, commercial, or academic conflicts of interest regarding the publication of this article.
Compliance with Ethics Guidelines
All procedures followed were in accordance with the ethical standards of the responsible committee on human experimentation (institutional and national) and with the Helsinki Declaration of 1964, as revised in 2013. Informed consent was obtained from all patients for being included in the study.
Data Availability
The datasets during and/or analyzed during the current study are available from the corresponding author on reasonable request.
Author Contributions
JCA: protocol/project development. IA, CE, and JPM: data collection or management. JFD: data analysis. JCA and FEM: manuscript writing/editing.
About this article
Cite this article
Angulo, J.C., Arance, I., Esquinas, C. et al. Outcome Measures of Adjustable Transobturator Male System with Pre-attached Scrotal Port for Male Stress Urinary Incontinence After Radical Prostatectomy: A Prospective Study. Adv Ther 34, 1173–1183 (2017). https://doi.org/10.1007/s12325-017-0528-5
Received:

Published:

Issue Date:
Keywords
Adjustable transobturator male system (ATOMS)

Adjustability

Male incontinence

Radical prostatectomy

Sphincter cushion

Urology