Abstract
Introduction
The role of vitamin D supplementation on muscle function and physical performance is still debated. Calcifediol is an available treatment for hypovitaminosis D, particularly for extra-skeletal effects. Aim of this prospective cohort study was to evaluate the effectiveness of calcifediol on serum levels of 25(OH)D3, appendicular muscle strength, physical performance, and prevention of falls in post-menopausal women.
Methods
We recruited post-menopausal women aged ≥50 years, referring to an outpatient service for the management of osteoporosis over a 18-month period. We included women with a diagnosis of osteoporosis and/or vitamin D deficiency [serum levels of 25(OH)D3 <30 ng/ml]. All the participants received calcifediol (20 μg, 4 oral drops/day) for a 6-month period. We evaluated at the baseline and after 6 months the following outcomes: serum levels of 25(OH)D3, appendicular muscle strength, using the Isometric Hand Grip Strength Test and the Knee Isometric Extension Strength Test, physical performance, using the Short Physical Performance Battery (SPPB) and the 4-m gait speed (4MGS), and the risk of falls (percentage of fallers and recurrent fallers and mean number of falls). A sub-analysis was performed in patients with vitamin D deficiency.
Results
We enrolled 113 post-menopausal women, mean aged 68.01 ± 9.13 years. After 6 months of treatment, there was a significant increase in serum levels of 25(OH)D3 (p < 0.001), appendicular muscle strength (p < 0.001), and physical performance (p = 0.002 at SPPB and p = 0.010 at 4MGS, respectively). At 6 months, the percentage of fallers was lower, although not significantly (p = 0.078), whereas there was a significant reduction both in percentage of recurrent fallers and in the mean number of falls (p < 0.001 and p = 0.020, respectively).
Conclusion
Calcifediol was significantly effective in improving serum levels of 25(OH)D3 and muscle function and in reducing the percentage of recurrent fallers and the mean number of falls in a cohort of post-menopausal women.
Access options
Buy single article
Instant access to the full article PDF.
USD 39.95
Price includes VAT (USA)
Tax calculation will be finalised during checkout.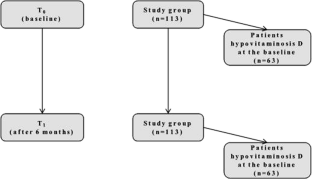 References
1.

Olsson K, Saini A, Strömberg A, Alam S, Lilja M, Rullman E, Gustafsson T. Evidence for vitamin D receptor expression and direct effects of 1α,25(OH)2D3 in human skeletal muscle precursor cells. Endocrinology. 2016;157(1):98–111.

2.

Girgis CM, Clifton-Bligh RJ, Turner N, Lau SL, Gunton JE. Effects of vitamin D in skeletal muscle: falls, strength, athletic performance and insulin sensitivity. Clin Endocrinol (Oxf). 2014;80:169–81.

3.

Zamboni M, Zoico E, Tosoni P, Zivelonghi A, Bortolani A, Maggi S, Di Francesco V, Bosello O. Relation between vitamin D, physical performance, and disability in elderly persons. J Gerontol A Biol Sci Med Sci. 2002;57(1):M7–11.

4.

Bischoff-Ferrari HA, Dietrich T, Orav EJ, Hu FB, Zhang Y, Karlson EW, Dawson-Hughes B. Higher 25-hydroxyvitamin D concentrations are associated with better lower-extremity function in both active and inactive persons aged > or =60 y. Am J Clin Nutr. 2004;80:752–8.

5.

Gerdhem P, Ringsberg KAM, Obrant KJ, Akesson K. Association between 25-hydroxy vitamin D levels, physical activity, muscle strength and fractures in the prospective population-based OPRA study of elderly women. Osteoporos Int. 2005;16(11):1425–31.

6.

Houston DK, Cesari M, Ferrucci L, Cherubini A, Maggio D, Bartali B, Johnson MA, Schwartz GG, Kritchevsky SB. Association between vitamin D status and physical performance: the InCHIANTI study. J Gerontol A Biol Sci Med Sci. 2007;62(4):440–6.

7.

Toffanello ED, Perissinotto E, Sergi G, Zambon S, Musacchio E, Maggi S, Coin A, Sartori L, Corti MC, Baggio G, Crepaldi G, Manzato E. Vitamin D and physical performance in elderly subjects: the Pro.V.A study. PLoS One. 2012;7(4):e34950.

8.

Iolascon G, de Sire A, Calafiore D, Moretti A, Gimigliano R, Gimigliano F. Hypovitaminosis D is associated with a reduction in upper and lower limb muscle strength and physical performance in post-menopausal women: a retrospective study. Aging Clin Exp Res. 2015;27(Suppl 1):S23–30.

9.

Stockton KA, Mengersen K, Paratz JD, Kandiah D, Bennell KL. Effect of vitamin D supplementation on muscle strength: a systematic review and meta-analysis. Osteoporos Int. 2011;22:859–71.

10.

Pfeifer M, Begerow B, Minne HW, Suppan K, Fahrleitner-Pammer A, Dobnig H. Effects of a long-term vitamin D and calcium supplementation on falls and parameters of muscle function in community-dwelling older individuals. Osteoporos Int. 2009;20(2):315–22.

11.

Bischoff HA, Stahelin HB, DickW Akos R, KnechtM Salis C, et al. Effects of vitamin D and calcium supplementation on falls: a randomized controlled trial. J Bone Miner Res. 2003;18:343–51.

12.

Bischoff-Ferrari HA, Orav EJ, Dawson-Hughes B. Effect of cholecalciferol plus calcium on falling in ambulatory older men and women: a 3-year randomized controlled trial. Arch Intern Med. 2006;166:424–30.

13.

Stamp TC. Intestinal absorption of 25-hydroxycholecalciferol. Lancet. 1974;2(7873):121–3.

14.

Bischoff-Ferrari HA, Dawson-Hughes B, Stöcklin E, Sidelnikov E, Willett WC, Edel JO, Stähelin HB, Wolfram S, Jetter A, Schwager J, Henschkowski J, von Eckardstein A, Egli A. Oral supplementation with 25(OH)D3 versus vitamin D3: effects on 25(OH)D levels, lower extremity function, blood pressure, and markers of innate immunity. J Bone Miner Res. 2012;27(1):160–9.

15.

Rejnmark L. Effects of vitamin D on muscle function and performance: a review of evidence from randomized controlled trials. Ther Adv Chronic Dis. 2011;2(1):25–37.

16.

Studenski SA, Peters KW, Alley DE, Cawthon PM, McLean RR, Harris TB, Ferrucci L, Guralnik JM, Fragala MS, Kenny AM, Kiel DP, Kritchevsky SB, Shardell MD, Dam TT, Vassileva MT. The FNIH sarcopenia project: rationale, study description, conference recommendations, and final estimates. J Gerontol A Biol Sci Med Sci. 2014;69(5):547–58.

17.

Andrews AW, Thomas MW, Bohannon RW. Normative values for isometric muscle force measurements obtained with hand-held dynamometers. Phys Ther. 1996;76(3):248–59.

18.

Guralnik JM, Simonsick EM, Ferrucci L, Glynn RJ, Berkman LF, Blazer DG, et al. A short physical performance battery assessing lower extremity function: association with self-reported disability and prediction of mortality and nursing home admission. J Gerontol. 1994;49(2):M85–94.

19.

Cruz-Jentoft AJ, Baeyens JP, Bauer JM, Boirie Y, Cederholm T, Landi F, Martin FC, Michel JP, Rolland Y, Schneider SM, Topinková E, Vandewoude M, Zamboni M, European Working Group on Sarcopenia in Older People. Sarcopenia: European consensus on definition and diagnosis: report of the European Working Group on Sarcopenia in Older People. Age Ageing. 2010;39(4):412–23.

20.

Endo I, Inoue D, Mitsui T, Umaki Y, Akaike M, Yoshizawa T, Kato S, Matsumoto T. Deletion of vitamin D receptor gene in mice results in abnormal skeletal muscle development with deregulated expression of myoregulatory transcription factors. Endocrinology. 2003;144(12):5138–44.

21.

Boland R. Role of vitamin D in skeletal muscle function. Endocr Rev. 1986;7(4):434–48.

22.

Boland R, Buitrago C, De Boland AR. Modulation of tyrosine phosphorylation signalling pathways by 1alpha,25(OH)2-vitamin D3. Trends Endocrinol Metab. 2005;16(6):280–7.

23.

Bouillon R, Gielen E, Vanderschueren D. Vitamin D receptor and vitamin D action in muscle. Endocrinology. 2014;155(9):3210–3.

24.

Bischoff-Ferrari HA, Borchers M, Gudat F, Dürmüller U, Stähelin HB, Dick W. Vitamin D receptor expression in human muscle tissue decreases with age. J Bone Miner Res. 2004;19(2):265–9.

25.

Irazoqui AP, Boland RL, Buitrago CG. Actions of 1,25(OH)2-vitamin D3 on the cellular cycle depend on VDR and p38 MAPK in skeletal muscle cells. J Mol Endocrinol. 2014;53(3):331–43.

26.

Girgis CM, Mokbel N, Cha KM, Houweling PJ, Abboud M, Fraser DR, Mason RS, Clifton-Bligh RJ, Gunton JE. The vitamin D receptor (VDR) is expressed in skeletal muscle of male mice and modulates 25-hydroxyvitamin D (25OHD) uptake in myofibers. Endocrinology. 2014;155(9):3227–37.

27.

Capiati DA, Tellez-Inon MT. Boland RL 1999 Participation of protein kinase C a in 1,25-dihydroxy-vitamin D3 regulation of chick myoblast proliferation and differentiation. Mol Cell Endocrinol. 1999;153(1–2):39–45.

28.

Pojednic RM, Ceglia L, Olsson K, Gustafsson T, Lichtenstein AH, Dawson-Hughes B, Fielding RA. Effects of 1,25-dihydroxyvitamin D3 and vitamin D3 on the expression of the vitamin d receptor in human skeletal muscle cells. Calcif Tissue Int. 2015;96(3):256–63.

29.

Ceglia L, Niramitmahapanya S, da Silva Morais M, Rivas DA, Harris SS, Bischoff-Ferrari H, Fielding RA, Dawson-Hughes B. A randomized study on the effect of vitamin D3 supplementation on skeletal muscle morphology and vitamin D receptor concentration in older women. J Clin Endocrinol Metab. 2013;98(12):E1927–35.

30.

Haddad JG Jr, Rojanasathit S. Acute administration of 25-hydroxycholecalciferol in man. J Clin Endocrinol Metab. 1976;42:284–90.

31.

Jetter A, Egli A, Dawson-Hughes B, Staehelin HB, Stoecklin E, Goessl R, Henschkowski J, Bischoff-Ferrari HA. Pharmacokinetics of oral vitamin D(3) and calcifediol. Bone. 2014;59:14–9.

32.

Rousseau AF, Foidart-Desalle M, Ledoux D, Remy C, Croisier JL, Damas P, Cavalier E. Effects of cholecalciferol supplementation and optimized calcium intakes on vitamin D status, muscle strength and bone health: a one-year pilot randomized controlled trial in adults with severe burns. Burns. 2015;41(2):317–25.

33.

Cangussu LM, Nahas-Neto J, Orsatti CL, Bueloni-Dias FN, Nahas EA. Effect of vitamin D supplementation alone on muscle function in postmenopausal women: a randomized, double-blind, placebo-controlled clinical trial. Osteoporos Int. 2015;26(10):2413–21.

34.

Barger-Lux MJ, Heaney RP, Dowell S, Chen TC, Holick MF. Vitamin D and its major metabolites: serum levels after graded oral dosing in healthy men. Osteoporos Int. 1998;8(3):222–30.

35.

Cashman KD, Seamans KM, Lucey AJ, Stöcklin E, Weber P, Kiely M, Hill TR. Relative effectiveness of oral 25-hydroxyvitamin D3 and vitamin D3 in raising wintertime serum 25-hydroxyvitamin D in older adults. Am J Clin Nutr. 2012;95(6):1350–6.

36.

Bischoff-Ferrari HA, Dawson-Hughes B, Orav EJ, Staehelin HB, Meyer OW, Theiler R, Dick W, Willett WC, Egli A. Monthly high-dose vitamin D treatment for the prevention of functional decline: a randomized clinical trial. JAMA Intern Med. 2016;176(2):175–83.
Acknowledgements
No funding or sponsorship was received for this study or publication of this article.
All named authors meet the International Committee of Medical Journal Editors (ICMJE) criteria for authorship for this manuscript, take responsibility for the integrity of the work as a whole, and have given final approval for the version to be published.
Disclosures
Giovanni Iolascon, Antimo Moretti, Alessandro de Sire, Dario Calafiore, and Francesca Gimigliano have no disclosures for any personal, financial, commercial, or academic conflicts of interest separately.
Compliance with Ethics Guidelines
This cohort study respects the Declaration of Helsinki and all the criteria of a prospective study of real practice, approved by the Ethical Committee of University of Campania "Luigi Vanvitelli". All the participants were asked to carefully read and sign an informed consent, and researchers provided to protect the participants' privacy.
Data Availability
The dataset of the current study is available from the corresponding author on reasonable request.
About this article
Cite this article
Iolascon, G., Moretti, A., de Sire, A. et al. Effectiveness of Calcifediol in Improving Muscle Function in Post-Menopausal Women: A Prospective Cohort Study. Adv Ther 34, 744–752 (2017). https://doi.org/10.1007/s12325-017-0492-0
Received:

Published:

Issue Date:
Keywords
Calcifediol

Falls

Muscle strength

Orthopedics

Physical performance

Sarcopenia

Vitamin D

Vitamin D deficiency