Abstract
Introduction
The present study was aimed at comparing the antihypertensive efficacy, tolerability, and side effects profile of nebivolol/hydrochlorothiazide (NH) vs irbesartan/hydrochlorothiazide (IH) combination in elderly patients with isolated systolic hypertension (ISH).
Methods
124 ISH patients aged 69.1 ± 5.1 years (mean ± SD) were enrolled by 13 general practitioners in Netherlands and Belgium and randomized in a double-blind fashion to receive either NH (5/12.5 mg day, n = 62) or IH (150/12.5 mg day, n = 62) for a 12-week period. The primary efficacy endpoint of the study was the comparison of the two combinations in terms of sitting office systolic blood pressure (BP) reduction after 12 weeks of treatment. In addition ambulatory BP, 24-h BP variability, tolerability, and safety profile were also investigated.
Results
122 patients were included in the intention-to-treat analysis. After 12 weeks of treatment the reduction of systolic BP with NH was significantly greater than IH (−25.8 ± 12 vs −21.2 ± 14 mm Hg, P < 0.03). Diastolic BP reduction was significantly greater with NH after 4 and 8 weeks of treatment but similar at the end of the study (or after 12 weeks). In contrast, the magnitude of the 24-h, daytime, and nighttime systolic and diastolic BP reduction was almost similar in the two groups, while heart rate reduction induced by NH was significantly (P < 0.001) greater during the 24-h, daytime, and nighttime period than that induced by IH. NH caused a reduction in 24-h BP variability significantly greater than IH (standard deviation −4.4 ± 2.7 vs −2.2 ± 5.1 mm Hg, P < 0.02, variation coefficient −2.0 ± 2.6 vs −0.3 ± 3.4%, P < 0.01). Both treatment regimens were well tolerated.
Conclusions
These data provide evidence that NH reduces office BP more than IH but has similar effects on 24-h BP. NH reduces 24-h systolic and diastolic BP variability more than IH, suggesting a greater protective effect on a variable known to adversely affect prognosis.
Trial Registration
EU clinical Trials Register identifier, 2010-023104-28.
Funding
Menarini International Operations Luxembourg.
Access options
Buy single article
Instant access to the full article PDF.
USD 39.95
Price includes VAT (USA)
Tax calculation will be finalised during checkout.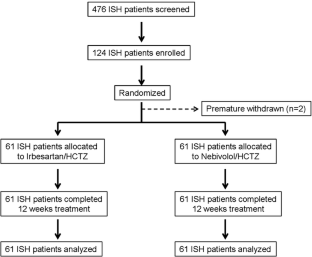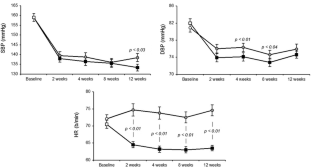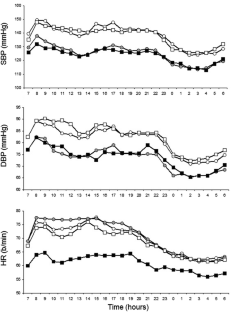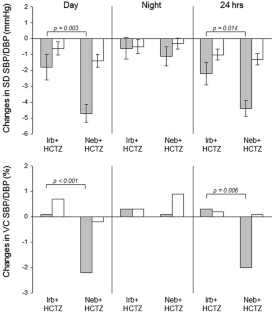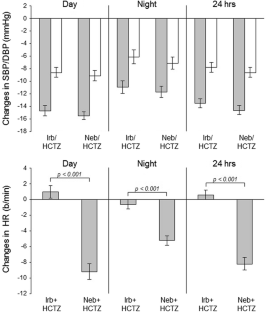 References
1.

SHEP Cooperative Research Group. Prevention of stroke by antihypertensive drug treatment in older persons with isolated systolic hypertension. Final results of the systolic hypertension in the elderly program (SHEP). JAMA. 1991;265:3255–64.

2.

Staessen JA, Fagard R, Thijs L, et al. Randomised double-blind comparison of placebo and active treatment for older patients with isolated systolic hypertension. The Systolic Hypertension in Europe (Syst-Eur) trial investigators. Lancet. 1997;350:757–64.

3.

Staessen JA, Fagard R, Thijs L, Celis H, Birkenhager WH, Bulpitt CJ, et al. Subgroup and per-protocol analysis of the randomized European trial on isolated systolic hypertension in the elderly. Arch Intern Med. 1998;158:1681–91.

4.

Tuomilehto J, Rastenyte D, Birckenhager WH, et al. Effects of calcium channel blockade in older patients with diabetes and systolic hypertension. Systolic hypertension in Europe trial investigators. N Engl J Med. 1999;340:677–84.

5.

Beckett NS, Peters R, Fletcher AE, et al. Treatment of hypertension in patients 80 years of age or older. N Engl J Med. 2008;358:1887–98.

6.

Verdecchia P, Staessen JA, Angeli F, et al. Usual versus tight control of systolic blood pressure in non-diabetic patients with hypertension (Cardio-Sis): an open-label randomised trial. Lancet. 2009;374:525–33.

7.

SPRINT Research Group. A randomized trial of intensive versus standard blood-pressure control. N Engl J Med. 2015;373:2103–16.

8.

Staessen JA, Gasowski J, Wang JG, et al. Risks of untreated and treated isolated systolic hypertension in the elderly: meta-analysis of outcome trials. Lancet. 2000;355:865–72.

9.

Schall P, Wehling M. Treatment of arterial hypertension in the very elderly: a meta-analysis of clinical trials. Arzneimittelforschung. 2011;61:221–8.

10.

Zanchetti A, Liu L, Mancia G, et al. Blood pressure and low-density lipoprotein-cholesterol lowering for prevention of strokes and cognitive decline: a review of available trial evidence. J Hypertens. 2014;32:1741–50.

11.

JATOS Study Group. Principal results of the Japanese trial to assess optimal systolic blood pressure in elderly hypertensive patients (JATOS). Hypertens Res. 2008;31:2115–27.

12.

Ogihara T, Saruta R, Rakugi H, et al. Target blood pressure for treatment of isolated systolic hypertension in the elderly: valsartan in elderly isolated systolic hypertension study. Hypertension. 2010;56:196–202.

13.

Mancia G, Fagard R, Narkiewicz K, et al. 2013 ESH/ESC guidelines for the management of arterial hypertension: the task force for the management of hypertension of the European Society of Hypertension (ESH) and of the European Society of Cardiology (ESC). J Hypertens. 2013;31:1281–357.

14.

Malacco E. Nebivolol/hydrochlorothiazide: a new fixed-dose combination for effective simplified antihypertensive treatment. High Blood Press Cardiovasc Prev. 2008;15:75–84.

15.

Bramlage P. Fixed combination of irbesartan and hydrochlorothaizide in the management of hypertension. Vasc Health Risk Manag. 2009;5:213–24.

16.

Kuschnir E, Bendersky M, Resk J, et al. Effects of combination of low-dose nifedipidne GITS 20 mg and losartan 50 mg in patients with mild to moderate hypertension. J Cardiovasc Pharmacol. 2004;43:300–5.

17.

Bombelli M, Fodri D, Toso E, et al. Relationships among morning blood pressure surge, 24-hour blood pressure variability and cardiovascualr outcome in a white population. Hypertension. 2014;64:943–50.

18.

Chrysant SG, Neutel JM, Ferdinand KC, INCLUSIVE investigators. Irbesartan/hydrochlorothiazide for the treatment of isolated systolic hypertension: a subgroup analysis of the INCLUSIVE trial. J Natl Med Assoc. 2009;101:300–7.

19.

Huang QF, Sheng CS, Li Y, et al. Efficacy and safety of a fixed combination of irbesartan/hydrochlorothiazide in Chinese patients with moderate to severe hypertension. Drugs. 2013;13:109–17.

20.

Asmar R, Oparil S. Comparison of the antihypertensive efficacy of irbesartan/HCTZ and valsartan/HCTZ combination therapy: impact of age and gender. Clin Exp Hypertens. 2010;32:499–503.

21.

Hoffman JL, Buckberg GD. The myocardial oxygen supply: demand index revisited. J Am Heart Assoc. 2014;3:e000432.

22.

Verdecchia P, Schillaci G, Guerrieri M, et al. Circadian blood pressure changes and left ventricular hypertrophy in essential hypertension. Circulation. 1990;81:528–36.

23.

Henskens LH, Kroon AA, van Oostenbrugge RJ, Haest RJ, de Lodder J, Leeuw PW. Different classifications of nocturnal blood pressure dipping affect the prevalence of dippers and nondippers and the relation with target organ damage. J Hypertens. 2008;26:691–8.

24.

Yano Y, Kario K. Nocturnal blood pressure, morning blood pressure surge and cerebrovascular events. Curr Hypertens Rep. 2012;14(219):27.

25.

Cuspidi C, Facchetti R, Bombelli M, et al. Nighttime blood pressure and left ventricular hypertrophy: findings from the Pamela population. Hypertension. 2013;25:869–75.

26.

Mancia G, Giannattasio C, Seravalle G, Quarti-Trevano F, Grassi G. Protective effects of renin-angiotensin blockade beyond blood pressure control. J Hum Hypertens. 2009;23:570–7.

27.

Mancia G. Clinical benefits of consistent blood pressure reduction in daily blood pressure of hypertensive patients. J Clin Hypertens. 2002;4(Suppl 1):9–14.

28.

Hoshide S, Kario K. Early morning hypertension: a narrative review. Blood Press Monit. 2013;18:291–6.

29.

Mancia G, Verdecchia P. Clinical value of ambulatory blood pressure: evidence and limits. Circ Res. 2015;116:1034–45.

30.

Mancia G, Bombelli M, Facchetti R, et al. Long-term prognostic value of blood pressure variability in the general population. Results of the Pressioni Arteriose Monitorate e Loro Associazioni Study. Hypertension. 2007;25:1087–94.

31.

Sega R, Corrao G, Bombelli M, et al. Blood pressure variability and organ damage in a general population: results from the PAMELA study. Hypertension. 2002;39:710–4.
Acknowledgments
Sponsorship and article processing charges for this study were funded by Menarini International Opertations Luxembourg. The study was overseen by an independent academic steering committee. The authors had full access to all data and had final responsibility for the contents of the manuscript and the decision to submit it for publication. All named authors meet the International Committee of Medical Journal Editors (ICMJE) criteria for authorship for this manuscript, take responsibility for the integrity of the work as a whole, and have given final approval for the version to be published.
Disclosures
Guido Grassi, Gino Seravalle, Gianmaria Brambilla, Raffaella Dell'Oro, Fosca Quarti, Francesco Fici, Luc Van Bortel, and Giuseppe Mancia have nothing to disclose.
Compliance with ethics guidelines
All procedures followed were in accordance with the ethical standards of the responsible committee on human experimentation (institutional and national) and with the Helsinki Declaration of 1964, as revised in 2013. The protocol was approved by the Ethics Committee of the Hospital and the University of Antwerp, Edegem, Belgium (Trial registration, EudractCT Number: 2010-023104-28). Informed consent was obtained from all patients for included in the study.
About this article
Cite this article
Grassi, G., Seravalle, G., Brambilla, G. et al. Multicenter Randomized Double-Blind Comparison of Nebivolol plus HCTZ and Irbesartan plus HCTZ in the Treatment of Isolated Systolic Hypertension in Elderly Patients: Results of the NEHIS Study. Adv Ther 33, 2173–2187 (2016). https://doi.org/10.1007/s12325-016-0427-1
Received:

Published:

Issue Date:
Keywords
Ambulatory blood pressure monitoring

Cardiology

Combination treatment

Elderly

Irbesartan/hydrochlorothiazide

Isolated systolic hypertension

Nebivolol/hydrochlorothiazide