Abstract
Introduction
Our aim in this study is to evaluate the effects of in vitro fertilization (IVF), including controlled ovarian hyperstimulation (COH) and the number of oocyte pick-up (OPU) procedures on the development of anti-ovarian antibodies (AOA).
Methods
To evaluate the effects of IVF procedures, namely, COH and OPU, serum samples for measuring AOA concentration levels by enzyme-linked immunosorbent assay were collected on the third day of the menstrual cycle, at the end of the COH, and after OPU.
Results
The AOA levels in IVF patients were significantly higher than the fertile control groups'. In the IVF group, neither COH nor OPU caused any increase in AOA levels when compared to the basal results. AOA levels were higher in patients with a history of 5–8 cycles of ovulation induction, before IVF treatment. There was no relationship between the basal AOA concentrations and the type of infertility, the etiology of infertility or the pregnancy outcomes, whereas there was a relationship between the AOA and the duration of infertility.
Conclusion
AOA levels of IVF patients were found to be higher than the fertile control groups'. AOA was found to be related to infertility in patients who had a longer duration of infertility and repeated ovulation induction procedures without IVF. COH and OPU during an IVF cycle did not cause an increase in AOA levels.
Access options
Buy single article
Instant access to the full article PDF.
US$ 39.95
Tax calculation will be finalised during checkout.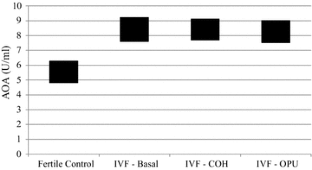 References
1.

Narayanan M, Murthy PS, Munaf SA, Shah LC, Kini MD. Antiovarian antibodies and their effect on the outcome of assisted reproduction. J Assist Reprod Genet. 1995;12:599–605.

2.

Forges T, Monnier-Barbarino P, Faure GC, Béné MC. Autoimmunity and antigenic targets in ovarian pathology. Hum Reprod Update. 2004;10:163–75.

3.

Horejsi J, Martinek J, Novakova D, Madar J, Brandejska M. Autoimmune antiovarian antibodies and their impact on the success of an in IVF/ET program. Ann NY Acad Sci. 2000;900:351–6.

4.

Odom LN, Cline AM, Kutteh WH. Autoimmunity and female infertility: fact vs fiction. In: Racowsky C, Schlegel PN, Fauser BC, Carrell DT, editors. Biennial review of infertility. Heidelberg: Springer; 2011. doi:10.1007/978-1-4419-8456-2-1

5.

Ebrahimi M, Asbagh FA. Pathogenesis and causes of premature ovarian failure: an update. Int J Fert Ster. 2011;5(2):54–65.

6.

Khole V. Does ovarian autoimmunity play a role in the pathophysiology of premature ovarian insufficiency? J Midlife Health. 2010;1(1):9–13.

7.

Shelling AN. Premature ovarian failure. Reproduction. 2010;140:633–41.

8.

Silva CA, Yamakami LYS, Aikawa NE, Araujo DB, Carvalho JF, Bonfa E. Autoimmune primary ovarian insufficiency. Autoimmune Rev. 2014;13(4–5):427–30.

9.

Maclaran K, Panay N. Premature ovarian failure. J Fam Plann Reprod Health Care. 2011;37:35–42.

10.

Yan G, Schoenfeld D, Penney C, Hurxthal K, Taylor A, Faustman D. Identification of premature ovarian failure patients with underlying autoimmunity. J Womens Health Gend Based Med. 2000;9:275–87.

11.

Edassery SL, Shatavi SV, Kunkel JP, Hauer C, Brucker C, Penumatsa K. Autoantigens in ovarian autoimmunity associated with unexplained infertility and premature ovarian failure. Fertil Steril. 2010;94(7):2636–41.

12.

Luborsky J, Llanes B, Davies S, Binor Z, Radwanska E, Pong R. Ovarian autoimmunity: greater frequency of autoantibodies in premature menopause and unexplained infertility than in the general population. Clin Immunol. 1999;90:368–74.

13.

Luborsky J, Llanes B, Roussev R, Coulam C. Ovarian antibodies, FSH and inhibin B: independent markers associated with unexplained infertility. Hum Reprod. 2000;15:1046–51.

14.

Meyer WR, Lavy G, DeCherney AH, Visintin I, Economy K, Luborsky JL. Evidence of gonadal and gonadotropin antibodies in women with a suboptimal ovarian response to exogenous gonadotropin. Obstet Gynecol. 1990;75:795–9.

15.

Dragojevic-Dikic S, Marisavljevic D, Mitrovic A, Dikic S, Jovanovic T, Jankovic-Raznatovic S. An immunological insight into premature ovarian failure (POF). Autoimmun Rev. 2010;9:771–4.

16.

Perheentupa J. APS-I/APECED: the clinical disease and therapy. Endocrinol Metab Clin North Am. 2002;31:295–320.

17.

Wheatcroft NJ, Rogers CA, Metcalfe RA, Lenton EA, Cooke ID, Weetman AP. Is subclinical ovarian failure an autoimmune disease? Hum Reprod. 1997;12:244–9.

18.

Luborsky J. Ovarian autoimmune disease and ovarian autoantibodies. J WomensHealth Gend Based Med. 2002;11:585–99.

19.

Barbarino-Monnier P, Gobert B, Guillet-Rosso F, Béné MC, Landes P, Faure G. Antiovary antibodies, repeated attempts, and outcome of in vitro fertilization. Fertil Steril. 1991;56:928–32.

20.

Zou SH, Zhang P, Song DP, Li B, Wu RY. Impact of antiovarian antibodies (AOA) on ovarian responsiveness in vitro fertilization and embryo transfer. Neuro Endocrinol Lett. 2008;29:949–52.

21.

Putowski L, Darmochwal-Kolarz D, Rolinski J, Oleszczuk J, Jakowicki J. The immunological profile of infertile women after repeated IVF failure. Eur J Obstet Gynecol Reprod Biol. 2004;112(2):192–6.

22.

Nelson LM. Autoimmune ovarian failure: comparing the mouse model and the human disease. J Soc Gynecol Investig. 2001;8:S55–7.

23.

Gobert B, Barbarino-Monnier P, Guillet-May F, Béné MC, Faure GC. Anti-ovary antibodies after attempts at human in vitro fertilization induced by follicular puncture rather than hormonal stimulation. J Reprod Fertil. 1992;96:213–8.

24.

Barbarino-Monnier P, Gobert B, Guillet-May F, Béné MC, Barbarino A, Foliguet B, Faure GC. Ovarian autoimmunity and corticotherapy in an in vitro fertilization attempt. Hum Reprod. 1995;10:2006–7.

25.

Geva E, Vardinon N, Lessing JB, Lerner-Geva L, Azem F, Yovel I, Burke M, Yust I, Grunfeld R, Amit A. Organ-specific autoantibodies are possible markers for reproductive failure: a prospective study in an in vitro fertilization-embryo transfer programme. Hum Reprod. 1996;11:1627–31.

26.

Gobert B, Barbarino-Monnier P, Guillet-Rosso F, Béné MC, Faure GC. Ovary antibodies after IVF. Lancet. 1990;335:723.

27.

Moncayo R, Moncayo H, Dapunt O. Immunological risks of IVF. Lancet. 1990;335:180.

28.

Kikkatalo KH, Salumets A, Uibo R. Review on autoimmune reactions in female infertility: antibodies to follicle stimulating hormone. Clin Develop Immun. 2012;. doi:10.1155/2012/762541.

29.

Geva E, Fait G, Lerner-Geva L, Lessing JB, Swartz T, Wolman I, Daniel Y, Amit A. The possible role of antiovary antibodies in repeated in vitro fertilization failures. Am J Reprod Immunol. 1999;42:292–6.

30.

Gérard N, Caillaud M, Martoriati A, Gaudet G, Lalmanach AC. The interleukin-1 system and female reproduction. J Endocrinol. 2004;180(2):203–12.

31.

Monnier-Barbarino P, Jouan C, Dubois M, Gobert B, Faure G, Béné MC. Anti-ovarian antibodies and in vitro fertilization: cause or consequence? Gynecol Obstet Fertil. 2003;31:770–3.
Acknowledgments
No funding or sponsorship was received for this study or publication of this article. All named authors meet the International Committee of Medical Journal Editors (ICMJE) criteria for authorship for this manuscript, take responsibility for the integrity of the work as a whole, and have given final approval for the version to be published.
Disclosures
Nezaket Kadıoğlu, Başak Güler, Sibel Özler, Sevtap Kılıç, M. Nedim Çiçek and A. Sertaç Batıoğlu have nothing to disclose.
Compliance with Ethics Guidelines
All procedures followed were in accordance with the ethical standards of the responsible committee on human experimentation (institutional and national) and with the Helsinki Declaration of 1964, as revised in 2013. Informed consent was obtained from all patients for being included in the study.
About this article
Cite this article
Kadıoğlu, N., Güler, B., Özler, S. et al. Ovulation Induction is a More Effective Stimulant on Antiovarian Antibody Production than In Vitro Fertilization. Adv Ther 33, 1408–1416 (2016). https://doi.org/10.1007/s12325-016-0356-z
Received:

Published:

Issue Date:
Keywords
Antiovarian antibodies

In vitro fertilization

Infertility

Ooocyte pick-up

Ovulation induction

Reproduction