Abstract
Introduction
The objective of this study was to report clinical outcomes (functional and anatomic) of Boston keratoprosthesis (KPro) after severe chemical burns in Southern China.
Methods
Nineteen patients (19 eyes) that sustained severe chemical injuries in Southern China were enrolled in this retrospective study in our hospital between May 2009 and June 2015. KPro implantation in these patients was performed by a single experienced surgeon (Jiaqi Chen). The parameters evaluated in this study included diagnosis, comorbidity, preoperative and postoperative visual acuity (VA), complications, KPro retention, histological and immunohistochemical results of retroprosthetic membrane (RPM) and mucous membrane over the optic cylinder.
Results
The mean age of the patients was 42.7 ± 11.3 years (range 29–62 years). All patients were male. Of the 19 included eyes, nine had acid burns, and 10 had alkali burns. Ten patients had previously undergone failed penetrating keratoplasty. The mean follow-up time was 41.3 ± 5.5 months (range 36–56 months). Preoperatively, the VA of the patients ranged from hand movement to light perception. Postoperatively, 17 patients (89.4%) achieved at least 20/200 once, and 7 patients (36.8%) achieved at least 20/200 and maintained this acuity until the last follow-up. The initial KPro was retained in 14 (73.6%) eyes and successfully replaced in one eye. Postoperative complications included RPM in 10 eyes, glaucoma in 6 eyes, retinal detachment in 2 eyes, corneal melting in 5 eyes, ischemic optic neuropathy in 1 eye, and overgrowth of the mucous membrane over the optical cylinder in 2 eyes. The histological and immunohistochemical results of the RPM showed granulomatous disorders and mucous membrane over the optic cylinder of conjunctival origin.
Conclusion
KPro surgery can restore useful vision in patients suffering from severe chemical burns. However, postoperative VA declined with the development of complications, and ocular surface disorders caused by the chemical burns were associated with a greater incidence of KPro retention failure. The retention rate was comparable in patients using ipsilateral autologous corneal tissue with allograft corneal tissue.
Funding
Science and Technology Foundation of Guangdong Province of China, Grant Number 2014A020212714.
Access options
Buy single article
Instant access to the full article PDF.
USD 39.95
Price excludes VAT (USA)
Tax calculation will be finalised during checkout.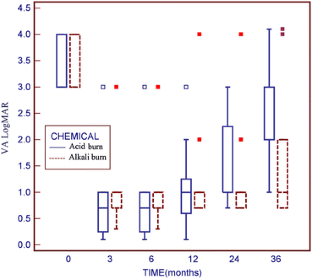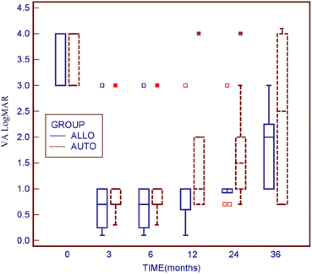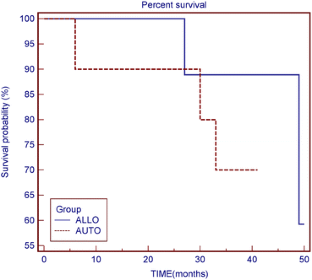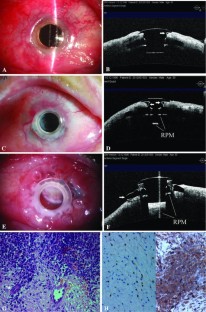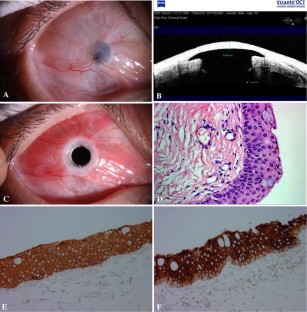 Similar content being viewed by others
References
Kramer SG. Late numerical grading of alkali burns to determine keratoplasty prognosis. Trans Am Ophthalmol Soc. 1983;81:97–106.

Wagoner MD. Chemical injuries of the eye: current concepts in pathophysiology and therapy. Surv Ophthalmol. 1997;41(4):275–313.

Basu S, Mohamed A, Chaurasia S, et al. Clinical outcomes of penetrating keratoplastyafterautologouscultivatedlimbalepithelialtransplantation for ocular surface burns. Am J Ophthalmol. 2011;152(6):917–24.

Tuft SJ, Shortt AJ. Surgical rehabilitation following severe ocular burns. Eye (Lond). 2009;23:1966–71.

Liang L, Sheha H, Tseng SC. Long-term outcomes of keratolimbal allograft for total limbal stem cell deficiency using combined immunosuppressive agents and correction of ocular surface deficits. Arch Ophthalmol. 2009;127:1428–34.

Aldave AJ, Kamal KM, Vo RC, et al. The Boston type I keratoprosthesis: improving outcomes and expanding indications. Ophthalmology. 2009;116:640–51.

Harissi-Dagher M, Dohlman CH. The Boston keratoprosthesis in severe ocular trauma. Can J Ophthalmol. 2008;43:165–9.

Chen JQ, Zhai JJ, Gu JJ, et al. Preliminary study of Boston keratoprosthesis in treatment of severe late stage ocular chemical burns. Zhonghua Yan KezaZhi. 2012;48:537–41.

Chan CC, Biber JM, Holland EJ. The modified Cincinnati procedure: combined conjunctival limbal autografts and keratolimbal allografts for severe unilateral ocular surface failure. Cornea. 2012;31:1264–72.

Holladay JT. Visual acuity measurements. J Cataract Refract Surg. 2004;30:287–90.

Liu C, Okera S, Tandon R, et al. Visual rehabilitation in end-stage inflammatory ocular surface disease with the osteo-odonto-keratoprosthesis: results from the UK. Br J Ophthalmol. 2008;92:1211–7.

Dohlman CH, Harissi-Dagher M. Introduction to the use of the Boston keratoprosthesis. Expet Rev Ophthalmol. 2006;1:41–8.

Greiner MA, Li JY, Mannis MJ. Longer-term vision outcomes and complications with the Boston type 1 keratoprosthesis at the University of California, Davis. Ophthalmology. 2011;118:1543–50.

Cade F, Grosskreutz CL, Tauber A, et al. Glaucoma in eyes with severe chemical burn, before and after keratoprosthesis. Cornea. 2011;30:1322–7.

Patel AP, Wu EI, Ritterband DC, et al. Boston type 1 keratoprosthesis: the New York eye and ear experience. Eye (Lond). 2012;26:418–25.

Kamyar R, Weizer JS, de Paula FH, et al. Glaucoma associated with Boston type I keratoprosthesis. Cornea. 2012;31:134–9.

Dohlman CH, Cade F, Pfister R. Chemical burns to the eye: paradigm shifts in treatment. Cornea. 2011;30:613–4.

Dohlman CH, Grosskreutz CL, Chen TC, et al. Shunts to divert aqueous humor to distant epithelialized cavities after keratoprosthesis surgery. J Glaucoma. 2010;19:111–5.

Li JY, Greiner MA, Brandt JD, et al. Long-term complications associated with glaucoma drainage devices and Boston keratoprosthesis. Am J Ophthalmol. 2011;152:209–18.

Rivier D, Paula JS, Kim E, et al. Glaucoma and keratoprosthesis surgery: role of adjunctive cyclophotocoagulation. J Glaucoma. 2009;18:321–4.

Lin P, Wollstein G, Glavas IP, et al. Contact transscleral neodymium: yttrium-aluminum-garnet laser cyclophotocoagulation Long-term outcome. Ophthalmology. 2004;111(11):2137–43.

Kammerdiener LL, Speiser JL, Aquavella JV, et al. Protective effect of soft contact lenses after Boston keratoprosthesis. Br J Ophthalmol. 2016;100(4):549–52.

Kiang L, Rosenblatt MI, Sartaj R, et al. Surface epithelialization of the type I Boston keratoprosthesis front plate: immunohistochemical and high-definition optical coherence tomography characterization. Graefes Arch Clin Exp Ophthalmol. 2012;250:1195–9.

Khalifa YM, Davis D, Mamalis N, et al. Epithelial growth over the optic surface of the type 1 Boston Keratoprosthesis: histopathology and implications for biointegration. Clin Ophthalmol. 2010;4:1069–71.

Ament JD, Todani A, Pineda R 2nd, et al. Global corneal blindness and the Boston keratoprosthesis type I. Am J Ophthalmol. 2010;149:537–9.

Robert M, Biernacki K, Harissi-Dagher M. Boston keratoprosthesis type 1 surgery: use of frozen versus fresh corneal donor carriers. Cornea. 2012;31:339–45.

Akpek EK, Aldave AJ, Aquavella JV. The use of precut, gamma-irradiated corneal lenticules in Boston type 1 keratoprosthesis implantation. Am J Ophthalmol. 2012;154:e491.

Ament JD, Tilahun Y, Mudawi E, et al. Role for ipsilateral autologous corneas as a carrier for the Boston keratoprosthesis: the Africa experience. Arch Ophthalmol. 2010;128:795–7.

Cruzat A, Tauber A, Shukla A, et al. Low-cost and readily available tissue carriers for the Boston keratoprosthesis: a review of possibilities. J Ophthalmol. 2013;2013:1–5.

Yuan J, Chen JQ, Zhou SY, et al. The effects of transplantation of compound keratoprosthesis in clinical practice and managements of complications after operation. Zhonghua Yan Ke Za Zhi. 2009;45:104–9.

Palioura Sotiria, Chodosh James. Boston keratoprosthesis type II: indications, techniques, outcomes, and management. In: Cortina M, Cruz J, editors. Keratoprostheses and artificial corneas. Heidelberg: Springer; 2015. p. 169–80.

Egbert PR, Fiadoyor S, Budenz DL, et al. Diode laser transscleral cyclophotocoagulation as a primary surgical treatment for primary open-angle glaucoma. Arch Ophthalmol. 2001;113:345–50.
Acknowledgments
The authors would like to thank Engineer Chongfei Huang for his assistance with the temporary keratoprosthesis. Sponsorship and article processing charges for this study were supported by the Science and Technology Foundation of Guangdong Province of China, Grant Number 2014A020212714. This manuscript has been copyedited by American Journal Experts for language usage, spelling, and grammar. Processing charges were supported by the Science and Technology Foundation of Guangdong Province of China, Grant Number 2014A020212714.
All named authors meet the International Committee of Medical Journal Editors (ICMJE) criteria for authorship for this manuscript, take responsibility for the integrity of the work as a whole, and have given final approval for the version to be published.
Disclosures
Jianjun Gu, Jiajie Zhai, Sheng Zhou and Jiaqi Chen have nothing to disclose.
Compliance with Ethics Guidelines
The study received approval from the Institutional Review Board of Zhongshan Ophthalmic Center, Sun Yat-sen University. All procedures followed were in accordance with the ethical standards of the responsible committee on human experimentation (institutional and national) and with the Helsinki Declaration of 1964, as revised in 2013. Informed consent was obtained from all patients for being included in the study.
About this article
Cite this article
Gu, J., Zhai, J., Zhou, S. et al. Boston Keratoprosthesis Outcomes in Severe Ocular Chemical Burns in Southern China: A Retrospective Study. Adv Ther 33, 760–773 (2016). https://doi.org/10.1007/s12325-016-0330-9
Received:

Published:

Issue Date:

DOI: https://doi.org/10.1007/s12325-016-0330-9
Keywords