Zusammenfassung
Für viele Krebspatienten und ihr soziales Umfeld spielt der Umgang mit dem Thema Komplementärmedizin eine wichtige Rolle. Das Kompetenznetz Komplementärmedizin in der Onkologie (KOKON) ist ein von der Deutschen Krebshilfe geförderter deutschlandweiter interdisziplinärer Forschungsverbund von Experten aus akademischen Einrichtungen. Es möchte zur Professionalisierung von Informationen zur Komplementärmedizin in der Onkologie und von Trainings zur Weitergabe dieser Informationen beitragen. Damit soll die Entwicklung hin zu einer sinnvollen und praktisch umsetzbaren integrativen Onkologie unterstützt werden. In der ersten Förderphase von KOKON (2012–2015) haben 15 Institutionen in 7 Projekten den Bedarf und die nutzerspezifischen Bedürfnissen evaluiert, Informationsstandards, Kommunikations- und Beratungskonzepte, Fachinformationen und Trainingsangebote entwickelt sowie eine Informationsplattform für Patienten pilotiert. Aus den Ergebnissen der ersten Förderphase wurden Fragestellungen für die zweite Förderphase (2016–2019) entwickelt, die von 20 Institutionen in 7 Projekten bearbeitet werden. Schwerpunkt sind die Entwicklung, Implementierung und Evaluierung von Trainingsprogrammen für onkologisch tätige Ärzte, Hausärzte und Kinderonkologen. Auch die Wissensbasis wird weiter ausgebaut, ferner werden Aspekte der Kommunikations- und Entscheidungsfindung bearbeitet und erweiterte Projekte mit der Selbsthilfe durchgeführt.
Abstract
For many cancer patients and their social environment, dealing with the topic complementary medicine plays an important role. The Competence Network Complementary Medicine in Oncology ("Kompetenznetz Komplementärmedizin in der Onkologie", KOKON) is an interdisciplinary research consortium of experts from different academic institutions funded by Deutsche Krebshilfe. KOKON contributes to a professionalization of information on complementary medicine in oncology and training for the dissemination of this information. This is intended to support development toward a meaningful and practically realizable integrative oncology. In the first funding phase of KOKON (2012–2015), 15 institutions worked on seven projects and evaluated needs of users and health professionals, developed information standards, communication and consulting concepts, specialist information, and training programs, and piloted an information platform for patients. From the results of the first funding phase, the questions for the second funding phase (2016–2019) were developed and are being researched by 20 institutions in seven projects. Current focus is on the development, implementation, and evaluation of training programs for oncologists, general practitioners and oncologic pediatricians. Aspects of communication and decision-making are also being addressed, the knowledge base is being further developed, and extended projects with the support groups are being implemented.
This is a preview of subscription content, log in to check access.
Access options
Buy single article
Instant access to the full article PDF.
US$ 39.95
Tax calculation will be finalised during checkout.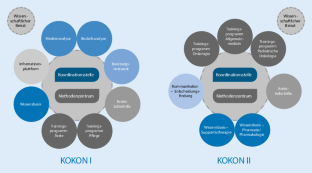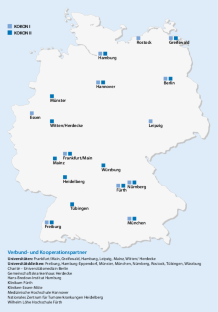 Literatur
1.

Blödt S, Mittring N, Schützler L et al (2016) A consultation training program for physicians for communication about complementary medicine with breast cancer patients: a prospective, multi-center, cluster-randomized, mixed-method pilot study. BMC Cancer 16:843

2.

CAM-Cancer (2017) http://www.cam-cancer.org/. Zugegriffen: 11. Juli 2017

3.

Dahlhaus A, Siebenhofer A, Güthlin C (2015) Complementary medicine for cancer patients in general practice: qualitative interviews with german general practitioners. Forsch Komplementarmed 22:36–41

4.

Cochrane (2017) Evidenzbasierte Medizin. http://www.cochrane.de/de/ebm. Zugegriffen: 11. Juli 2017

5.

Gschwendtner KM, Klein G, Güthlin C et al (2014) Importance of complementary medicine approaches for patients with prostate cancer. Urologe A 53:1600–1609

6.

Gschwendtner KM, Holmberg C, Weis J (2016) Beweggründe von Krebspatienten fur und gegen die Inanspruchnahme der Misteltherapie. Forsch Komplementarmed 23:215–222

7.

Güthlin C, Holmberg C, Klein G (2016) Oncologists' experiences of discussing complementary and alternative treatment options with their cancer patients. A qualitative analysis. Support Care Cancer 24:3857–3862

8.

Güthlin C, Klein G (2017) Informations- und Fortbildungsbedarf von Hausärzten zu komplementären Verfahren bei Krebspatienten. Z Allg Med 93:172–177

9.

Horneber M, Bueschel G, Dennert G et al (2012) How many cancer patients use complementary and alternative medicine: a systematic review and metaanalysis. Integr Cancer Ther 11:187–203

10.

Klein GE, Güthlin C (2016) Information and training needs regarding complementary and alternative medicine: a cross-sectional study of cancer care providers in Germany. Integr Cancer Ther. https://doi.org/10.1177/1534735416666372

11.

Onkopedia (2017) https://www.onkopedia.com/de/homepage-de-view. Zugegriffen: 11. Juli 2017

12.

Oskay-Ozcelik G, Lehmacher W, Konsgen D et al (2007) Breast cancer patients' expectations in respect of the physician-patient relationship and treatment management results of a survey of 617 patients. Ann Oncol 18:479–484

13.

Willich SN, Girke M, Hoppe JD et al (2004) Schulmedizin und Komplementärmedizin: Verständnis und Zusammenarbeit müssen vertieft werden. Dtsch Arztebl 101:A1314–A1319
Ethics declarations
Interessenkonflikt
C.M. Witt hat von folgenden Institutionen Vortragshonorare für onkologische Vorträge erhalten: Memorial Sloan Kettering Cancer Center, Abramson Cancer Center University of Pennsylvania, Kantonsspital Chur, Kantonsspital Luzern, Kantonsspital St. Gallen, Kantonsspital Winterthur. Sie erhielt zur Förderung von Forschungsprojekten Drittmittel von der Landesregierung Südtirol, der Deutschen Krebshilfe, der Dorit & Alexander Otto Stiftung, der Kelm-Stiftung und der Krebsliga Schweiz. J. Weis erhält zur Förderung von Forschungsprojekten Drittmittel von verschiedenen Förderern wie der Deutschen Krebshilfe, der Deutschen Rentenversicherung, der EORTC. J. Schildmann erhält zur Förderung von Forschungsprojekten Drittmittel von verschiedenen Förderern (u. a. BMBF, Deutsche Krebshilfe). C. Güthlin erhält zur Förderung von Forschungsprojekten Drittmittel von der Deutschen Krebshilfe. H.-H. Bartsch, C. Lampert, A. Längler, C.A. Ritter, M. Rostock, M. Wilhelm und M. Horneber geben an, dass kein Interessenkonflikt besteht.
Alle beschriebenen Untersuchungen am Menschen wurden mit Zustimmung der zuständigen Ethik-Kommission, im Einklang mit nationalem Recht sowie gemäß der Deklaration von Helsinki von 1975 (in der aktuellen, überarbeiteten Fassung) durchgeführt. Von allen beteiligten Patienten liegt eine Einverständniserklärung vor.
About this article
Cite this article
Witt, C.M., Bartsch, HH., Güthlin, C. et al. Kompetenznetz Komplementärmedizin in der Onkologie (KOKON). Forum 32, 416–423 (2017). https://doi.org/10.1007/s12312-017-0311-1
Schlüsselwörter
Integrative Medizin

Gesundheitskommunikation

Krebs

Integrative Gesundheitsförderung

Beratung
Keywords
Integrative medicine

Cancer

Integrative health

Health communications

Counseling