Abstract
Genetic mutations in transglutaminase 6 (TGM6) are recently identified to be associated with spinocerebellar ataxia type 35 (SCA35). We report a Hispanic SCA35 patient, who was confirmed to have a heterozygous, single-nucleotide deletion in TGM6, causing a frameshift mutation with a premature stop codon. An immune-mediated ataxia previously found to be associated with autoantibody reactivity to TG6 may share a similar pathomechanism to SCA35, suggesting a converging role for TG6 in cerebellar function.
This is a preview of subscription content, log in to check access.
Access options
Buy single article
Instant access to the full article PDF.
US$ 39.95
Price includes VAT for USA
Subscribe to journal
Immediate online access to all issues from 2019. Subscription will auto renew annually.
US$ 99
This is the net price. Taxes to be calculated in checkout.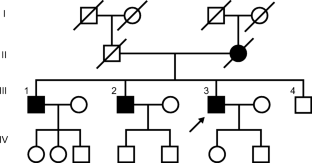 References
1.

Wang JL, Yang X, Xia K, Hu ZM, Weng L, Jin X, et al. TGM6 identified as a novel causative gene of spinocerebellar ataxias using exome sequencing. Brain. 2010;133(Pt 12):3510–8.

2.

Li M, Pang SY, Song Y, Kung MH, Ho SL, Sham PC. Whole exome sequencing identifies a novel mutation in the transglutaminase 6 gene for spinocerebellar ataxia in a Chinese family. Clin Genet. 2013;83(3):269–73.

3.

Folk JE. Mechanism and basis for specificity of transglutaminase-catalyzed epsilon-(gamma-glutamyl) lysine bond formation. Adv Enzymol Relat Areas Mol Biol. 1983;54:1–56.

4.

Stamnaes J, Dorum S, Fleckenstein B, Aeschlimann D, Sollid LM. Gluten T cell epitope targeting by TG3 and TG6; implications for dermatitis herpetiformis and gluten ataxia. Amino Acids. 2010;39(5):1183–91.

5.

Hadjivassiliou M, Grunewald RA, Chattopadhyay AK, Davies-Jones GA, Gibson A, Jarratt JA, et al. Clinical, radiological, neurophysiological, and neuropathological characteristics of gluten ataxia. Lancet. 1998;352(9140):1582–5.

6.

Hadjivassiliou M. Gluten ataxia in perspective: epidemiology, genetic susceptibility and clinical characteristics. Brain. 2003;126(3):685–91.

7.

Hadjivassiliou M, Davies-Jones GA, Sanders DS, Grunewald RA. Dietary treatment of gluten ataxia. J Neurol Neurosurg Psychiatry. 2003;74(9):1221–4.

8.

Hadjivassiliou M, Aeschlimann P, Sanders DS, Maki M, Kaukinen K, Grunewald RA, et al. Transglutaminase 6 antibodies in the diagnosis of gluten ataxia. Neurology. 2013;80(19):1740–5.

9.

Harding AE. The clinical features and classification of the late onset autosomal dominant cerebellar ataxias. A study of 11 families, including descendants of the 'the Drew family of Walworth'. Brain. 1982;105(Pt 1):1–28.

10.

Hadjivassiliou M, Aeschlimann P, Strigun A, Sanders DS, Woodroofe N, Aeschlimann D. Autoantibodies in gluten ataxia recognize a novel neuronal transglutaminase. Ann Neurol. 2008;64(3):332–43.

11.

Boscolo S, Lorenzon A, Sblattero D, Florian F, Stebel M, Marzari R, et al. Anti transglutaminase antibodies cause ataxia in mice. PLoS One. 2010;5(3):e9698.

12.

Guo YC, Lin JJ, Liao YC, Tsai PC, Lee YC, Soong BW. Spinocerebellar ataxia 35: novel mutations in TGM6 with clinical and genetic characterization. Neurology. 2014;83(17):1554–61.

13.

Tripathy D, Vignoli B, Ramesh N, Polanco MJ, Coutelier M, Stephen CD, et al. Mutations in TGM6 induce the unfolded protein response in SCA35. Hum Mol Genet. 2017;26(19):3749–62.

14.

Yang ZH, Shi MM, Liu YT, Wang YL, Luo HY, Wang ZL, et al. TGM6 gene mutations in undiagnosed cerebellar ataxia patients. Parkinsonism Relat Disord. 2018;46:84–6.

15.

Guan WJ, Wang JL, Liu YT, Ma YT, Zhou Y, Jiang H, et al. Spinocerebellar ataxia type 35 (SCA35)-associated transglutaminase 6 mutants sensitize cells to apoptosis. Biochem Biophys Res Commun. 2013;430(2):780–6.
Ethics declarations
Conflict of Interest
The authors declare that they have no conflict of interest.
Informed Consent
Informed consent for videotaping and publishing the video for academic purposes was obtained from the subject reported in this article.
Electronic Supplementary Material
About this article
Cite this article
Lin, C., Gan, S., Gupta, D. et al. Hispanic Spinocerebellar Ataxia Type 35 (SCA35) with a Novel Frameshift Mutation. Cerebellum 18, 291–294 (2019). https://doi.org/10.1007/s12311-018-0978-6
Keywords
Spinocerebellar ataxia

SCA35

Gluten

Cerebellum

Transglutaminase

TGM6