Abstract
Patients with cerebellar ataxia are sometimes treated by the addition of mass to the limbs, though this practice has received limited study. Recent work suggests that adding mass to the limbs might have predictable effects on the pattern of cerebellar dysmetria (i.e., over or undershooting) that depends on a hypothesized mismatch between the actual limb inertia and the brain's estimate of limb inertia. Based on this model, we predicted that addition of mass would only be effective in reducing dysmetria in hypometric patients. Cerebellar patients were challenged with making a single-joint, single degree of freedom reaching movement while various limb masses were tested. In this task, some single-jointed reaches were improved by adding masses that were optimized in a patient-specific manner. However, this improvement did not translate to multi-joint movements. In multi-joint movements, the "best" patient-specific masses (as determined in a single-joint task) generally exacerbated subjects' reaching errors. This finding raises questions as to the merits of adding limb weights as a therapy to mitigate the effects of dysmetria.
This is a preview of subscription content, log in to check access.
Access options
Buy single article
Instant access to the full article PDF.
US$ 39.95
Price includes VAT for USA
Subscribe to journal
Immediate online access to all issues from 2019. Subscription will auto renew annually.
US$ 99
This is the net price. Taxes to be calculated in checkout.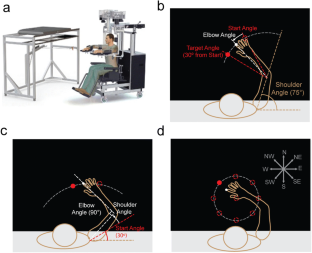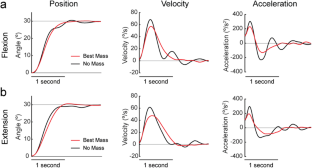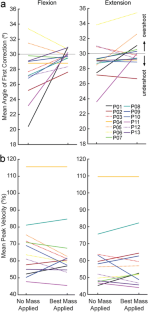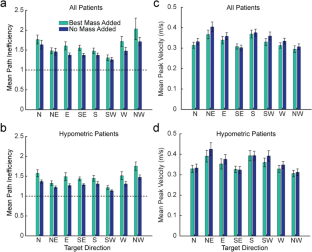 References
1.

Morgan MH. Ataxia and weights. Physiotherapy. 1975;61(11):332–4.

2.

Manto M, Godaux E, Jacquy J. Cerebellar hypermetria is larger when the inertial load is artificially increased. Ann Neurol. 1994;35(1):45–52.

3.

Clopton N, Schultz D, Boren C, Porter J, Brillbart T. Effects of axial weight loading on gait for subjects with cerebellar ataxia: preliminary findings. Neurol Rep. 2003;27(1):15–21.

4.

Bhanpuri NH, Okamura AM, Bastian AJ. Predicting and correcting ataxia using a model of cerebellar function. Brain. 2014;137(7):1931–44.

5.

Winter DA. Biomechanics and motor control of human movement. Second Edition+. Hoboken: John Wiley & Sons, Inc.; 1990. p. 51–74.

6.

Taylor MM, Creelman CD. PEST: efficient estimates on probability functions. J Acoust Soc Am. 1967;41(4):782–7.

7.

Walpole SC, Prieto-Merino D, Edwards P, Cleland J, Stevens G, Roberts I. The weight of nations: an estimation of adult human biomass. BMC Public Health. 2012;12:439.
Ethics declarations
All procedures performed were in accordance with the ethical standards of the institutional and/or national research committee and with the 1964 Helsinki declaration and its later amendments or comparable ethical standards. Informed consent was obtained from all individual participants included in the study.
Conflict of Interest
The authors declare that they have no conflict of interest.
About this article
Cite this article
Zimmet, A.M., Cowan, N.J. & Bastian, A.J. Patients with Cerebellar Ataxia Do Not Benefit from Limb Weights. Cerebellum 18, 128–136 (2019). https://doi.org/10.1007/s12311-018-0962-1
Keywords
Cerebellar Ataxia

Humans

Physical therapy modalities

Robotics