Abstract
Recent advances in the techniques that differentiate induced pluripotent stem cells (iPSCs) into specific types of cells enabled us to establish in vitro cell-based models as a platform for drug discovery. iPSC-derived disease models are advantageous to generation of a large number of cells required for high-throughput screening. Furthermore, disease-relevant cells differentiated from patient-derived iPSCs are expected to recapitulate the disorder-specific pathogenesis and physiology in vitro. Such disease-relevant cells will be useful for developing effective therapies. We demonstrated that cerebellar tissues are generated from human PSCs (hPSCs) in 3D culture systems that recapitulate the in vivo microenvironments associated with the isthmic organizer. Recently, we have succeeded in generation of spinocerebellar ataxia (SCA) patient-derived Purkinje cells by combining the iPSC technology and the self-organizing stem cell 3D culture technology. We demonstrated that SCA6-derived Purkinje cells exhibit vulnerability to triiodothyronine depletion, which is suppressed by treatment with thyrotropin-releasing hormone and Riluzole. We further discuss applications of patient-specific iPSCs to intractable cerebellar disease.
This is a preview of subscription content, log in to check access.
Access options
Buy single article
Instant access to the full article PDF.
US$ 39.95
Price includes VAT for USA
Subscribe to journal
Immediate online access to all issues from 2019. Subscription will auto renew annually.
US$ 99
This is the net price. Taxes to be calculated in checkout.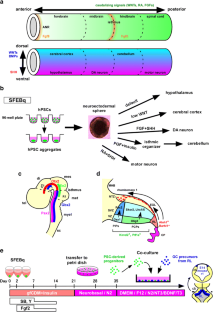 Acknowledgements
This work was supported by grant-in-aid from Ministry of Health, Labour and Welfare, grant-in-aid for Scientific Research (C) from Japan Society for the Promotion of Science (JSPS), and the Core Program for Disease Modeling using iPS Cells from JST and AMED.
Ethics declarations
Competing Interests
The author declares that she has no competing interests.
About this article
Cite this article
Muguruma, K. Self-Organized Cerebellar Tissue from Human Pluripotent Stem Cells and Disease Modeling with Patient-Derived iPSCs. Cerebellum 17, 37–41 (2018). https://doi.org/10.1007/s12311-017-0905-2
Keywords
Purkinje cells

Pluripotent stem cells

Spinocerebellar ataxia

Disease modeling

Brain organoid

Self-organization

Cerebellar development