Abstract
Spinocerebellar ataxia type 1 (SCA1) is an autosomal dominant disorder caused by a CAG repeat expansion, characterized by progressive cerebellar ataxia and pyramidal signs. Non-motor and extracerebellar symptoms may occur. MRI-based studies in SCA1 focused in the cerebellum and connections, but there are no data about cord damage in the disease and its clinical relevance. To evaluate in vivo spinal cord damage in SCA1, a group of 31 patients with SCA1 and 31 age- and gender-matched healthy controls underwent MRI on a 3T scanner. We used T1-weighted 3D images to estimate the cervical spinal cord area (CA) and eccentricity (CE) at three C2/C3 levels based on a semi-automatic image segmentation protocol. The scale for assessment and rating of ataxia (SARA) was used to quantify disease severity. The groups were significantly different regarding CA (47.26 ± 7.4 vs. 68.8 ± 5.7 mm2, p < 0.001) and CE values (0.803 ± 0.044 vs. 0.774 ± 0.043, p < 0.05). Furthermore, in the patient group, CA presented significant correlation with SARA scores (R = −0.633, p < 0.001) and CAGn expansion (R = −0.658, p < 0.001). CE was not associated with SARA scores (p = 0.431). In the multiple variable regression, CA was strongly associated with disease duration (coefficient −0.360, p < 0.05) and CAGn expansion (coefficient −1.124, p < 0.001). SCA1 is characterized by cervical cord atrophy and anteroposterior flattening. Morphometric analyses of the spinal cord MRI might be a useful biomarker in the disease.
Access options
Buy single article
Instant access to the full article PDF.
USD 39.95
Price includes VAT (USA)
Tax calculation will be finalised during checkout.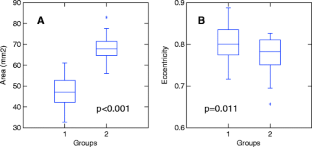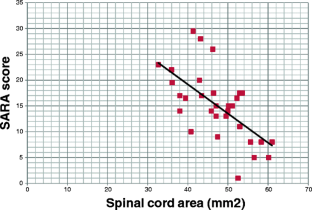 References
1.

Bürk K, Abele M, Fetter M, Dichgans J, Skalej M, Laccone F, et al. Autosomal dominant cerebellar ataxia type I clinical features and MRI in families with SCA1, SCA2 and SCA3. Brain. 1996;119(Pt 5):1497–505.

2.

Bürk K, Fetter M, Abele M, Laccone F, Brice A, Dichgans J, et al. Autosomal dominant cerebellar ataxia type I: oculomotor abnormalities in families with SCA1, SCA2, and SCA3. J Neurol. 1999;246:789–97.

3.

Schöls L, Bauer P, Schmidt T, Schulte T, Riess O. Autosomal dominant cerebellar ataxias: clinical features, genetics, and pathogenesis. Lancet Neurol. 2004;3:291–304.

4.

Banfi S, Servadio A, Chung MY, Kwiatkowski Jr TJ, McCall AE, Duvick LA, et al. Identification and characterization of the gene causing type 1 spinocerebellar ataxia. Nat Genet. 1994;7:513–20.

5.

Chong SS, McCall AE, Cota J, Subramony SH, Orr HT, Hughes MR, et al. Genetic and somatic tissue-specific heterogeneity of the expanded SCA1 CAG repeat in spinocerebellar ataxia type 1. Nat Genet. 1995;10:344–50.

6.

Robitaille Y, Lopes-Cendes I, Becher M, Rouleau G, Clark AW, et al. The neuropathology of the CAG repeat diseases: review and update of genetic and molecular features. Brain Pathol. 1997;7:901–26.

7.

Iwabuchi K, Tsuchiya K, Uchihara T, Yagishita S. Autosomal dominant spinocerebellar degenerations. Clinical, pathological and genetic correlations. Rev Neurol (Paris). 1999;155:255–70.

8.

Pedroso JL, Barsottini OG. Spinal cord atrophy in spinocerebellar ataxia type 1. Arq Neuropsiquiatr. 2013;71(12):977.

9.

Pedroso JL, de Souza PV, Pinto WB, Braga-Neto P, Albuquerque MV, Saraiva-Pereira ML, et al. SCA1 patients may present as hereditary spastic paraplegia and must be included in spastic-ataxias group. Parkinsonism Relat Disord. 2015;21(10):1243–6.

10.

Lukas C, Hahn HK, Bellenberg B, Hellwig K, Globas C, Schimrigk SK, et al. Spinal cord atrophy in spinocerebellar ataxia type 3 and 6: impact on clinical disability. J Neurol. 2008;255(8):1244–9.

11.

Chevis CF, da Silva CB, D'Abreu A, Lopes-Cendes I, Cendes F, França Jr MC, et al. Spinal cord atrophy correlates with disability in Friedreich's ataxia. Cerebellum. 2013;12:43–7.

12.

Branco LM, De Albuquerque M, De Andrade HM, Bergo FP, Nucci A, França Jr MC. Spinal cord atrophy correlates with disease duration and severity in amyotrophic lateral sclerosis. Amyotroph Lateral Scler Frontotemporal Degener. 2014;15:93–7.

13.

Fahl CN, Branco LM, Bergo FP, D'Abreu A, Lopes-Cendes I, França Jr MC. Spinal cord damage in Machado-Joseph disease. Cerebellum. 2015;14(2):128–32.

14.

Braga-Neto P, Godeiro-Junior C, Dutra LA, Pedroso JL, Barsottini OG. Translation and validation into Brazilian version of the Scale of the Assessment and Rating of Ataxia (SARA). Arq Neuropsiquiatr. 2010;68:228–30.

15.

Bergo FPG, França MC Jr., Chevis CF, Cendes F. SpineSeg: a segmentation and measurement tool for evaluation of spinal cord atrophy. In: CISTI'2012 (7ª Conferencia Ibérica de Sistemas y Tecnologia de Información); Madrid, Spain. IEEE. 2012;400–403.

16.

Klockgether T, Lüdtke R, Kramer B, Abele M, Bürk K, Schöls L, et al. The natural history of degenerative ataxia: a retrospective study in 466 patients. Brain. 1998;121:589–600.

17.

Wüllner U, Reimold M, Abele M, Bürk K, Minnerop M, Dohmen BM, et al. Dopamine transporter positron emission tomography in spinocerebellar ataxia type 1, 2, 3, and 6. Arch Neurol. 2005;62:1280–5.

18.

Yokota T, Sasaki H, Iwabuchi K, Shiojiri T, Yoshino A, Otagiri A, et al. Electrophysiological features of central motor conduction in spinocerebellar atrophy type 1, type 2, and Machado-Joseph disease. J Neurol Neurosurg Psychiatry. 1998;65(4):530–4.

19.

Liang L, Chen T, Wu Y. The electrophysiology of spinocerebellar ataxias. Neurophysiol Clin. 2016;46(1):27–34.

20.

Bonati U, Fisniku LK, Altmann DR, Yiannakas MC, Furby J, Thompson AJ, et al. Cervical cord and brain grey matter atrophy independently associate with long-term MS disability. J Neurol Neurosurg Psychiatry. 2011;82:471–2.

21.

Jacobi H, Hauser TK, Giunti P, Globas C, Bauer P, Schmitz-Hübsch T, et al. Spinocerebellar ataxia types 1, 2, 3 and 6: the clinical spectrum of ataxia and morphometric brainstem and cerebellar findings. Cerebellum. 2012;11(1):155–66.

22.

Matilla-Dueñas A, Goold R, Giunti P. Clinical, genetic, molecular, and pathophysiological insights into spinocerebellar ataxia type 1. Cerebellum. 2008;7(2):106–14.

23.

Rezende TJ, de Albuquerque M, Lamas GM, Martinez AR, Campos BM, Casseb RF, et al. Multimodal MRI-based study in patients with SPG4 mutations. PLoS One. 2015;10(2):e0117666.
Ethics declarations
Conflicts of Interest
The authors report no conflict of interests regarding this research.
Funding
This work was supported by Fundação de Amparo à Pesquisa do Estado de São Paulo (FAPESP)—grant 2013/01766-7.
About this article
Cite this article
Martins, C.R., Martinez, A.R.M., de Rezende, T.J.R. et al. Spinal Cord Damage in Spinocerebellar Ataxia Type 1. Cerebellum 16, 792–796 (2017). https://doi.org/10.1007/s12311-017-0854-9
Keywords
Spinal cord

MRI

Ataxia

Spinocerebellar ataxia type 1

Polyglutamine disorders

Biomarker