Abstract
The goal of this report is to describe the genetic mutations of a patient with cerebellar degeneration who had ataxia and impaired emotional communication that led to damage of family relationships. We extracted genomic DNA from peripheral blood lymphocytes and performed whole exome sequencing (WES) in this patient and his unaffected parents and siblings. Found mutations were confirmed by Sanger sequencing in each individual. We found compound heterozygous mutations in the paraplegin (SPG7) gene. One mutated allele has been previously described as a disease-causing missense mutation for spastic paraplegia type 7 (SPG7) (c.1529C > T, p.Ala510Val). The second mutated allele involved a single nucleotide deletion which results in a frameshift in the coding sequence (c.2271delG, p.Met757fs*65). The second allele is similar to, but unique from, other described, SPG7-linked truncation mutations. The abnormal emotional communication in this patient broadens the phenotypic boundary of SPG7.
Access options
Buy single article
Instant access to the full article PDF.
USD 39.95
Price includes VAT (USA)
Tax calculation will be finalised during checkout.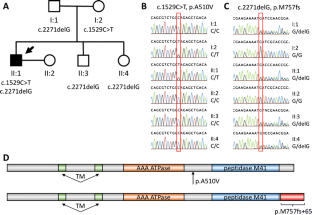 References
1.

Fink JK. Hereditary spastic paraplegia: clinicopathologic features and emerging molecular mechanisms. Acta Neuropathol. 2013;126:307–28.

2.

Pfeffer G, Pyle A, Griffin H, Miller J, Wilson V, Turnbull L, et al. SPG7 mutations are a common cause of undiagnosed ataxia. Neurology. 2015;84:1174–6.

3.

Heilman KM, Leon SA, Burtis DB, Ashizawa T, Subramony SH. Affective communication deficits associated with cerebellar degeneration. Neurocase. 2014;20:18–26.

4.

Klebe S, Depienne C, Gerber S, Challe G, Anheim M, Charles P, et al. Spastic paraplegia gene 7 in patients with spasticity and/or optic neuropathy. Brain. 2012;135:2980–93.

5.

Nolden M, Ehses S, Koppen M, Bernacchia A, Rugarli EI, Langer T. The m-AAA protease defective in hereditary spastic paraplegia controls ribosome assembly in mitochondria. Cell. 2005;123:277–89.

6.

Bonn F, Pantakani K, Shoukier M, Langer T, Mannan AU. Functional evaluation of paraplegin mutations by a yeast complementation assay. Hum Mutat. 2010;31:617–21.

7.

Sacco T, Boda E, Hoxha E, Pizzo R, Cagnoli C, Brusco A, et al. Mouse brain expression patterns of Spg7, Afg3l1, and Afg3l2 transcripts, encoding for the mitochondrial m-AAA protease A. BMC Neurosci. 2010;11:55.

8.

Di Bella D, Lazzaro F, Brusco A, Plumari M, Battaglia G, Pastore A, et al. Mutations in the mitochondrial protease gene AFG3L2 cause dominant hereditary ataxia SCA28. Nat Genet. 2010;42:313–21.

9.

Pierson TM, Adams D, Bonn F, Martinelli P, Cherukuri PF, Teer JK, et al. Whole-exome sequencing identifies homozygous AFG3L2 mutations in a spastic ataxia-neuropathy syndrome linked to mitochondrial m-AAA proteases. PLoS Genet. 2011;7:e1002325.

10.

Krienen FM, Buckner RL. Segregated fronto-cerebellar circuits revealed by intrinsic functional connectivity. Cereb Cortex. 2009;19:2485–97.

11.

Baumann O, Chan E, Mattingley JB. Distinct neural networks underlie encoding of categorical versus coordinate spatial relations during active navigation. NeuroImage. 2012;60:1630–7.

12.

Charif M, Roubertie A, Salime S, Mamouni S, Goizet C, Hamel CP, et al. A novel mutation of AFG3L2 might cause dominant optic atrophy in patients with mild intellectual disability. Front Genet. 2015;6:311.
Acknowledgment
The study was supported by the UF Sparkman Fund and NIH grant NS083564 to TA and NIH Grant AG044449 to KMH.
Author Contributions
Dr. Zhang—acquisition of data, drafting the manuscript, analysis and interpretation of data
Dr. McFarland—study concept and design, acquisition of data, analysis and interpretation, critical revision of the manuscript for important intellectual content
Dr. Subramony—critical revision of the manuscript for important intellectual content, acquisition of data
Dr. Heilman—acquisition of data, analysis and interpretation, critical revision of the manuscript for important intellectual content
Dr. Ashizawa—study concept and design, acquisition of data, critical revision of the manuscript for important intellectual content, study supervision
Ethics declarations
Samples were collected under a protocol approved by the University of Florida's Institutional Review Board (IRB) and following informed consent.
Conflict of Interest
Drs. Zhang and McFarland report no disclosures.
Dr. Subramony receives research support from IONIS (previously ISIS) Pharmaceuticals, REATA Pharmaceuticals and Horizon Pharmaceuticals.
Dr. Heilman receives a grant from NIH #AG044449 and a contract from the Department of Elder Affairs of the State of Florida.
Dr. Ashizawa has received grants from IONIS (previously ISIS) Pharmaceuticals, the Myotonic Dystrophy Foundation and the Muscular Dystrophy Association. Dr. Ashizawa receives a grant from NIH (#NS083564) and received an honorarium for serving as a consultant for BioHaven Pharmaceuticals.
Electronic Supplementary Material
About this article
Cite this article
Zhang, L., McFarland, K.N., Subramony, S...H. et al. SPG7 and Impaired Emotional Communication. Cerebellum 16, 595–598 (2017). https://doi.org/10.1007/s12311-016-0818-5
Keywords
SPG7

Emotional disconnection

Hereditary spastic paraplegia

Cerebellar ataxia