Abstract
Purpose
The aim of this study was to analyze in detail how knee flexion and extension progress in the first 8 weeks after primary total knee arthroplasty (TKA). The secondary goal was to compare knee range of motion (ROM) recovery patterns between patients with normal and delayed ROM recovery 8 weeks after TKA.
Methods
This prospective clinical trial included all patients who underwent a primary unilateral TKA between February and December 2016 with weekly ROM data documented by the treating outpatient physical therapists (n = 137). Goniometry was used to measure knee ROM preoperatively, postoperatively on day 1 and weekly until follow-up at the orthopedic clinic 8 weeks after surgery. ROM recovery patterns were compared between patients with sufficient (≥ 90°) or insufficient (< 90°) knee flexion 8 weeks after TKA.
Results
Knee flexion recovered from a median of 80° in the first postoperative week to 110° 8 weeks after surgery and knee extension from a mean of − 10.7° to − 3.2°. Recovery was nonlinear, with greatest improvements in the first 4 weeks for knee flexion. In contrast to patients with sufficient knee flexion 8 weeks postoperatively, the insufficient group (n = 8, 5.8%) had poor knee flexion on the first postoperative day and from week 4 to week 8 almost no improvement or even worsening of knee flexion.
Conclusions
Both knee flexion and extension recover in a nonlinear manner after TKA surgery. Poor postoperative knee function can be detected early, using ROM data from the first postoperative day up to the fourth week.
This is a preview of subscription content, log in to check access.
Access options
Buy single article
Instant access to the full article PDF.
US$ 39.95
Price includes VAT for USA
Subscribe to journal
Immediate online access to all issues from 2019. Subscription will auto renew annually.
US$ 99
This is the net price. Taxes to be calculated in checkout.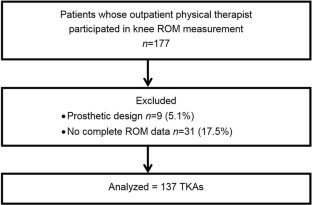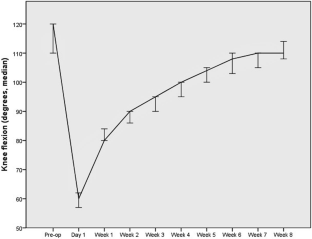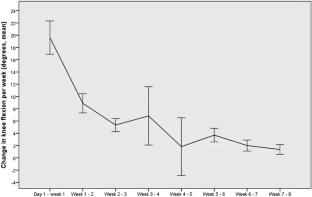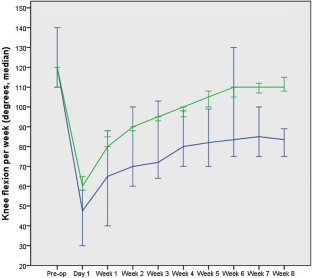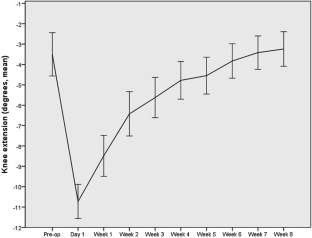 References
1.

Kehlet H, Thienpont E (2013) Fast-track knee arthroplasty—status and future challenges. Knee 20(Suppl 1):S29–S33

2.

Maempel JF, Walmsley PJ (2015) Enhanced recovery programmes can reduce length of stay after total knee replacement without sacrificing functional outcome at one year. Ann R Coll Surg Engl 97(8):563–567

3.

Kehlet H (2013) Fast-track hip and knee arthroplasty. Lancet (London, England) 381(9878):1600–1602

4.

Jakobsen TL, Kehlet H, Husted H, Petersen J, Bandholm T (2014) Early progressive strength training to enhance recovery after fast-track total knee arthroplasty: a randomized controlled trial. Arthritis Care Res 66(12):1856–1866

5.

Zietek P, Zietek J, Szczypior K, Safranow K (2015) Effect of adding one 15-minute-walk on the day of surgery to fast-track rehabilitation after total knee arthroplasty: a randomized, single-blind study. Eur J Phys Rehabil Med 51(3):245–252

6.

Ranawat CS, Ranawat AS, Mehta A (2003) Total knee arthroplasty rehabilitation protocol: what makes the difference? J Arthroplasty 18(3 Suppl 1):27–30

7.

Bong MR, Di Cesare PE (2004) Stiffness after total knee arthroplasty. J Am Acad Orthop Surg 12(3):164–171

8.

Mizner RL, Petterson SC, Snyder-Mackler L (2005) Quadriceps strength and the time course of functional recovery after total knee arthroplasty. J Orthop Sports Phys Ther 35(7):424–436

9.

Zhou Z, Yew KS, Arul E, Chin PL, Tay KJ, Lo NN, Chia SL, Yeo SJ (2015) Recovery in knee range of motion reaches a plateau by 12 months after total knee arthroplasty. Knee Surg Sport Traumatol Arthrosc 23(6):1729–1733

10.

Pua YH, Seah FJ, Seet FJ, Tan JW, Liaw JS, Chong HC (2015) Sex differences and impact of body mass index on the time course of knee range of motion, knee strength, and gait speed after total knee arthroplasty. Arthritis Care Res 67(10):1397–1405

11.

Lenssen AF, Crijns YH, Waltjé EM, van Steyn MJ, Geesink RJ, van den Brandt PA, de Bie RA (2006) Efficiency of immediate postoperative inpatient physical therapy following total knee arthroplasty: an RCT. BMC Musculoskelet Disord 7:71

12.

Lenssen AF, van Dam EM, Crijns YH, Verhey M, Geesink RJ, van den Brandt PA, de Bie RA (2007) Reproducibility of goniometric measurement of the knee in the in-hospital phase following total knee arthroplasty. BMC Musculoskelet Disord 8:83

13.

Rowe PJ, Myles CM, Walker C, Nutton R (2000) Knee joint kinematics in gait and other functional activities measured using flexible electrogoniometry: how much knee motion is sufficient for normal daily life? Gait Posture 12(2):143–155

14.

Laubenthal KN, Smidt GL, Kettelkamp DB (1972) A quantitative analysis of knee motion during activities of daily living. Phys Ther 52(1):34–43

15.

Stratford PW, Kennedy DM, Robarts SF (2010) Modelling knee range of motion post arthroplasty: clinical applications. Physiother Canada 62(4):378–387

16.

Ebert JR, Munsie C, Joss B (2014) Guidelines for the early restoration of active knee flexion after total knee arthroplasty: implications for rehabilitation and early intervention. Arch Phys Med Rehabil 95(6):1135–1140

17.

Mutsuzaki H, Takeuchi R, Mataki Y, Wadano Y (2017) Target range of motion for rehabilitation after total knee arthroplasty. J Rural Med 12(1):33–37

18.

Manrique J, Gomez MM, Parvizi J (2015) Stiffness after total knee arthroplasty. J Knee Surg 28(2):119–126

19.

Cheuy VA, Foran JRH, Paxton RJ, Bade MJ, Zeni JA, Stevens-Lapsley JE (2017) Arthrofibrosis associated with total knee arthroplasty. J Arthroplasty 32(8):2604–2611

20.

Kornuijt A, Das D, Sijbesma T, de Vries L, van der Weegen W (2018) Manipulation under anesthesia following total knee arthroplasty: a comprehensive review of literature. Musculoskelet Surg 102(3):223–230

21.

Husted H, Otte KS, Kristensen BB, Orsnes T, Kehlet H (2010) Readmissions after fast-track hip and knee arthroplasty. Arch Orthop Trauma Surg 130(9):1185–1191

22.

Zmistowski B, Restrepo C, Hess J, Adibi D, Cangoz S, Parvizi J (2013) Unplanned readmission after total joint arthroplasty: rates, reasons, and risk factors. J Bone Joint Surg Am 95(20):1869–1876

23.

Le DH, Goodman SB, Maloney WJ, Huddleston JI (2014) Current modes of failure in TKA: infection, instability, and stiffness predominate. Clin Orthop Relat Res 472(7):2197–2200

24.

Yercan HS, Sugun TS, Bussiere C, Ait Si Selmi T, Davies A, Neyret P (2006) Stiffness after total knee arthroplasty: prevalence, management and outcomes. Knee 13(2):111–117

25.

Newman ET, Herschmiller TA, Attarian DE, Vail TP, Bolognesi MP, Wellman SS (2018) Risk factors, outcomes, and timing of manipulation under anesthesia after total knee arthroplasty. J Arthroplasty 33(1):245–249

26.

Ferrel JR, Davis RL, Agha OA, Politi JR (2015) Repeat manipulation under anesthesia for persistent stiffness after total knee arthroplasty achieves functional range of motion. Surg Technol Int 26:256–260

27.

Issa K, Banerjee S, Kester MA, Khanuja HS, Delanois RE, Mont MA (2014) The effect of timing of manipulation under anesthesia to improve range of motion and functional outcomes following total knee arthroplasty. J Bone Joint Surg Am 96(16):1349–1357

28.

Vanlommel L, Luyckx T, Vercruysse G, Bellemans J, Vandenneucker H (2017) Predictors of outcome after manipulation under anaesthesia in patients with a stiff total knee arthroplasty. Knee Surg Sports Traumatol Arthrosc 25(11):3637–3643

29.

Gu A, Michalak AJ, Cohen JS, Almeida ND, McLawhorn AS, Sculco PK (2017) Efficacy of manipulation under anesthesia for stiffness following total knee arthroplasty: a systematic review. J Arthroplasty 33(5):1598–1605
Ethics declarations
Conflict of interest
W van der Weegen is a paid consultant for Zimmer Biomet Inc.; all other authors have no conflict of interest to disclose.
Ethical statement
All procedures were in accordance with the ethical standards of the institutional and/or national research committee and with the 1964 Declaration of Helsinki and its later amendments or comparable ethical standards.
Informed consent
Informed consent was obtained from all individual participants included in the study.
About this article
Cite this article
Kornuijt, A., de Kort, G.J.L., Das, D. et al. Recovery of knee range of motion after total knee arthroplasty in the first postoperative weeks: poor recovery can be detected early. Musculoskelet Surg 103, 289–297 (2019). https://doi.org/10.1007/s12306-019-00588-0
Received:

Accepted:

Published:

Issue Date:
Keywords
Total knee arthroplasty

Range of motion

Recovery patterns

Early postoperative