Abstract
Purpose
Transverse patellar fractures (TPFs) are uncommon in athletes, and their treatment can be challenging. Stable fixation is commonly achieved by compression screw fixation and stainless steel cerclage wire, but this technique can be associated with complications like nonunion, infection and the need for early hardware removal. We used a combined tension-band (figure-of-eight) braided polyester and suture button technique to treat four athletes who presented with transverse patellar fractures. This technique has shown to be a valuable alternative to the classic technique and allows for adequate fracture compression, stability and union in TPF.
Methods
Using a tension-band braided polyester and suture button technique (Arthrex FibreTapeR&TightRopeR), we treated four athletes with transverse patellar fractures from September 2015 till January 2017. The polyester was looped over the four suture button fixation points and tensioned in a figure-of-eight fashion. The average age of the athletes was 26 years (range 17–36). Follow-up ranged from 5 to 21 months. All four patients were treated using the same surgical technique (minimally invasive surgery) with the same postoperative recovery and the same physiotherapy protocol.
Results
Full recovery using suture button adjustable loop fixation device was obtained in all four cases within 3 months after surgery, with fracture healing confirmed on postoperative radiographs. No patients required hardware removal. Potential problems with this technique can include bony tunnel malpositioning or soft tissue interpositioning underneath the suture buttons.
Conclusion
The combination of a suture button fixation and a braided polyester tension-band technique has shown to be a valuable alternative to the fracture management of transverse patella fractures in athletes. This results in fracture healing, low risk of complications and no need for hardware removal.
This is a preview of subscription content, log in to check access.
Access options
Buy single article
Instant access to the full article PDF.
US$ 39.95
Price includes VAT for USA
Subscribe to journal
Immediate online access to all issues from 2019. Subscription will auto renew annually.
US$ 99
This is the net price. Taxes to be calculated in checkout.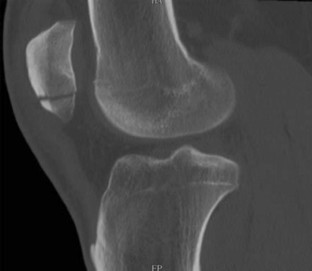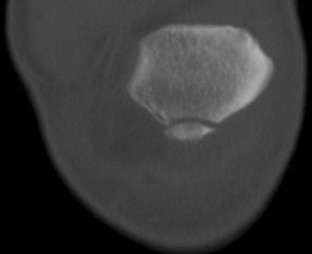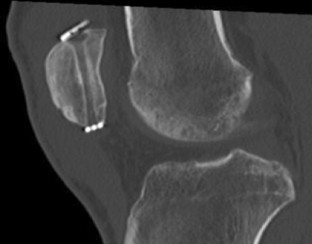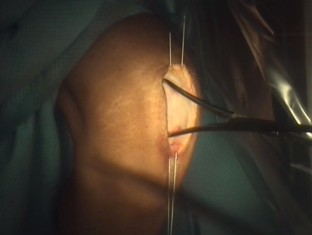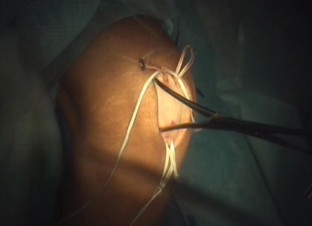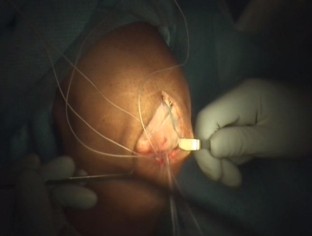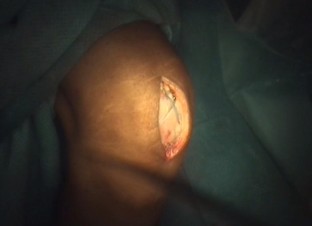 References
1.

Lotke PA, Ecker ML (1981) Transverse fractures of the patella. Clin Orthop Relat Res 158:180–184

2.

Neumann HS, Winckler S, Strobel M (1993) Long-term results of surgical management of patellar fractures. Unfallchirurg 96:305–310

3.

Beamish A, Roberts G, Cnudde P (2012) A case of patellar fractures in monozygotic twin gymnasts. Sports Med Arthrosc Rehabil Ther Technol 20:1–4

4.

Pauwels F (1935) Der schenkelhalsbruchemmechanisches problem: Grundlagen des Heilungsvorganges Prognose und kausaleTherapie. Ferdinand EnkeVerlag, Stuttgart

5.

Hung LK, Chan KM, Chow YN, Leung PC (1985) Fractured patella: operative treatment using the tension band principle. Injury 16(5):343–347

6.

Smith ST, Cramer KE, Karges DE, Watson JT, Moed BR (1997) Early complications in the operative treatment of patella fractures. J Orthop Trauma 11(3):183–187

7.

Gosal HS, Singh P, Field RE (2001) Clinical experience of patellar fracture fixation using metal wire or non-absorbable polyester—a study of 37 cases. Injury 32(2):129–135

8.

Kumar G, Mereddy PK, Hakkalamani S, Donnachie NJ (2010) Implant removal following surgical stabilization of patella fracture. Orthopedics 12:33

9.

Choi HR, Min KD, Choi SW, Lee BI (2008) Migration to the popliteal fossa of broken wires from a fixed patellar fracture. Knee 15(6):491–493

10.

Biddau F, Fioriti M, Benelli G (2006) Migration of a broken cerclage wire from the patella into the heart. A case report. J Bone Joint Surg Am 88(9):2057–2059

11.

Baran O, Manisali M, Cecen B (2009) Anatomical and biomechanical evaluation of the tension band technique in patellar fractures. Int Orthop 33(4):1113–1117

12.

Han F, Pearce CJ, Ng DQ, Ramruttun AK, Chong DY, Murphy D, Lim CT, Lee BC (2017) A double button adjustable loop device is biomechanically equivalent to tension band wire in the fixation of transverse patellar fractures—a cadaveric study. Injury 48(2):270–276

13.

Patel CR, Parks BG, Wang Y, Ebert FR, Jinnah RH (2000) Fixation of patella fractures with braided polyester suture: a biomechanical study. Injury 31(1):1–6

14.

Hughes SC, Stott PM, Hearnden AJ, Ripley LG (2007) A new and effective tension-band braided polyester suture technique for transverse patellar fracture fixation. Injury 38(2):212–222

15.

Hughes SC, Stott PM, Hearnden AJ, Ripley LG (2007) A new and effective tension-band braided polyester suture technique for transverse patellar fracture fixation. Injury 38(2):212–222

16.

Brink PR, Windolf M, de Boer P, Brianza S, Braunstein V, Schwieger K (2013) Tension band wiring of the olecranon: Is it really a dynamic principle of osteosynthesis? Injury 44(4):518

17.

Kraus N, Stein V, Gerhardt C, Scheibel M (2015) Arthroscopically assisted stabilization of displaced lateral clavicle fractures with coracoclavicular instability. Arch Orthop Trauma Surg 135:1283–1290

18.

Chul-Hyun C, Jae-Hoon J, Beom-Soo K (2017) Coracoclavicular stabilization using suture button device for Neer type IIB lateral clavicle fractures. J Shoulder Elbow Surg 26:804–808
Ethics declarations
Conflict of interest
All authors report no conflict of interest associated with the work presented in the submitted manuscript.
About this article
Cite this article
Bukva, B., D'Hooghe, P., Poberaj, B. et al. A combined tension-band braided polyester and suture button technique is a valuable treatment alternative for transverse patellar fractures in athletes. Musculoskelet Surg 103, 283–287 (2019). https://doi.org/10.1007/s12306-019-00587-1
Received:

Accepted:

Published:

Issue Date:
Keywords
Patellar fractures

Suture button

Tension-band

Athlete