Abstract
Introduction
De Quervain described tenosynovitis of first dorsal compartment more than 120 years ago. Women, particularly of 4th–5th decades, are at more risk of developing disease. Steroid injection has been described as first line of management over many decades, but it is associated with some significant complications like depigmentation of skin, atrophy of subcutaneous tissue, suppurative tenosynovitis and even tendon rupture. Animal studies have also reported increased risk of peritendinous adhesions with steroid injection.
Materials and methods
We prospectively managed 46 cases of De Quervain's tenosynovitis with longitudinal incision at tertiary care hospital from 2014 to 2016. There were totally 40 patients with 9 males and 31 females between age group of 28 and 62 years. All patients were evaluated using DASH and VAS scores preoperatively and post-operatively.
Results
The mean preoperative DASH score was 42.26 which reduced to 5.37 post-operatively. The mean preoperative VAS score was 7.30 which reduced to 2.33 post-operatively. Intraoperatively, we found peritendinous adhesions in 8 patients and ganglion arising from first dorsal compartment in one patient. Post-operatively, we found hypertrophic scar in 3 patients and persistent numbness to first dorsal web space due to injury to superficial radial nerve in 2 patients. Six patients had recurrent symptoms and required revision surgery.
Conclusion
Surgical release of De Quervain's tenosynovitis remains the gold standard treatment, and longitudinal incision offers advantage of easy identification of compartment, more complete releases of tendon sheath and peritendinous adhesions and less risk of palmar subluxation of tendons.
This is a preview of subscription content, log in to check access.
Access options
Buy single article
Instant access to the full article PDF.
US$ 39.95
Price includes VAT for USA
Subscribe to journal
Immediate online access to all issues from 2019. Subscription will auto renew annually.
US$ 99
This is the net price. Taxes to be calculated in checkout.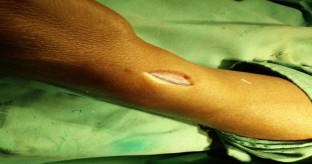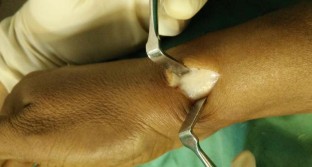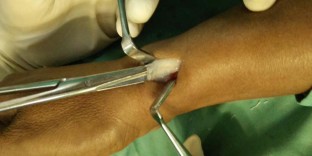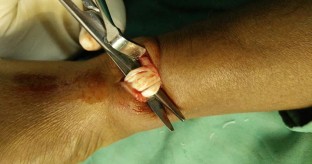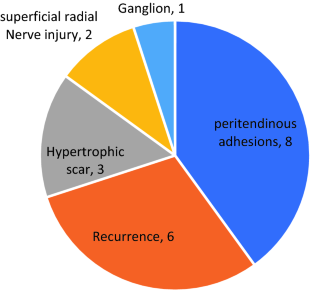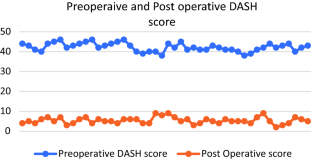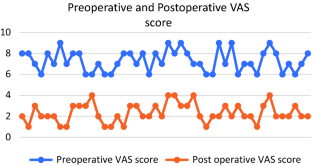 References
1.

de Quervain F (2005) On a form of chronic tendovaginitis (Translated article: Cor-Bl.f.schweiz. Aerzrte 1895:25:389-94). J Hand Surg Br 30(4):388–391

2.

Walker-Bone K, Palmer KT, Reading I, Coggon D, Cooper C (2004) Prevalence and impact of musculoskeletal disorders of the upper limb in the general population. Arthritis Rheumatol 51:642–651

3.

Johnson CA (1991) Occurrence of de Quervain disease in postpartum women. Fam Pract 32:325–327

4.

Schned ES (1986) De Quervain tenosynovitis in pregnant and postpartum women. Obstet Gynecol 68:411–414

5.

Scand J (2011) Risk factors for de Quervain's disease in a French working population. Work Environ Health 37(5):394–401

6.

Clarke MT, Lyall HA, Grant JW, Matthewson MH (1998) The histopathology of de Quervain's disease. J Hand Surg Br 23(6):732–734

7.

Finkelstein H (1930) Stenosing tendovaginitis at the radial styloid process. J Bone Jt Surg 12A:509–540

8.

Giovagnorio F, Andreoli C, De Cicco ML (1997) Ultrasonographic evaluation of de Quervain disease. J Ultrasound Med 16:685–689

9.

Jackson WT, Viegas SF, Coon TM et al (1986) Anatomical variations in the first extensor compartment of the wrist. J Bone Jt Surg Am 68:923–926

10.

Ilyas AM, Ast M, Schaffer AA, Thoder J (2007) De Quervain tenosynovitis of the wrist. J Am Acad Orthop Surg 15(12):757–764

11.

Jaworski CA, Krause M, Brown J (2010) Rehabilitation of the wrist and hand following sports injury. Clin Sports Med 29(1):61–80

12.

Robinson BS (2003) Rehabilitation of a cellist after surgery for de Quervain's tenosynovitis and intersection syndrome. Med Probl Perform Artists 18(3):106–112

13.

Hartzell TL, Rubenstein R, Herman M (2013) Therapeutic modalities—an updated review for the hand surgeon. J Hand Surg 37A:597–621

14.

McKenzie JM (1972) Conservative treatment of de Quervain's disease. Br Med J 4(5841):659–660

15.

Peters-Veluthamaningal C, van der Windt DA, Winters JC, Meyboom-de Jong B (2009) Corticosteroid injection for de Quervain's tenosynovitis. Cochrane Database Syst Rev 8(3):CD005616

16.

Kwon BC, Choi S-J, Koh SH, Shin DJ, Baek GH (2010) Sonographic identification of the intracompartmental septum in de Quervain's disease. Clin Orthop Relat Res 468(8):2129–2134

17.

Witt J, Pess G, Gelberman RH (1991) Treatment of de Quervain tenosynovitis: a prospective study of the results of injection of steroids and immobilization in a splint. J Bone Jt Surg Am 73:219–222

18.

Zingas C, Failla JM, Van Holsbeeck M (1998) Injection accuracy and clinical relief of de Quervain's tendinitis. J Hand Surg Am 23:89–96

19.

Sawaizumi T, Nanno M, Ito H (2007) De Quervain's disease: efficacy of intra-sheath triamcinolone injection. Int Orthop 31(2):265–268

20.

Sampson SP, Wisch D, Badalamente MA (1994) Complications of conservative and surgical treatment of de Quervain's disease and trigger fingers. Hand Clin 10(1):73–82

21.

Tatari H, Koşay C, Baran Ö et al (2001) Deleterious effects of local corticosteroid injections on the Achilles tendon of rats. Arch Orthop Traum Surg 121:333

22.

Wong MWN, Tang YN, Fu S-C, Lee K, Chan KM (2004) Triamcinolone suppresses human tenocyte cellular activity and collagen synthesis. Clin Orthop Relat Res 421:277–281

23.

Froimson A (1993) Tenosynovitis and tennis elbow. In: Green DP (ed) Operative hand surgery, vol 2, 3rd edn. Churchill Livingstone, New York, pp 1989–2006

24.

Lapidus PW, Fenton R (1952) Stenosing tenovaginitis at the wrist and fingers: report of 423 cases in 369 patients with 354 operations. Arch Surg 64:475–487

25.

Gundes H, Tosun B (2005) Longitudinal incision in surgical release of De Quervain disease. Tech Hand Up Extrem Surg 9(3):149–152

26.

Abrisham SJ, Karbasi MHA, Zare J, Behnamfar Z, Tafti AD, Shishesaz B (2011) De Qeurvian tenosynovitis: clinical outcomes of surgical treatment with longitudinal and transverse incision. Oman Med J 26(2):91–93

27.

Scheller A, Schuh R, Honle W, Schuh A (2009) Long-term results of surgical release of de Quervain's stenosing tenosynovitis. Int Orthop 33(5):1301–1303

28.

Kumar K (2016) Outcome of longitudinal versus transverse incision in de Quervain's disease and its implications in Indian population. Musculoskelet Surg 100:49
Ethics declarations
Conflict of interest
There is no conflict of interest.
Human and animal rights
This article does not contain any studies with animals performed by any of the authors.
Informed consent
A well informed consent was taken from all patients participating in the study.
About this article
Cite this article
Mangukiya, H.J., Kale, A., Mahajan, N.P. et al. Functional outcome of De Quervain's tenosynovitis with longitudinal incision in surgically treated patients. Musculoskelet Surg 103, 269–273 (2019). https://doi.org/10.1007/s12306-018-0585-1
Received:

Accepted:

Published:

Issue Date:
Keywords
De Quervain

Surgery

Longitudinal incision

Functional outcome