Abstract
Purpose
Several tapered stems with similar geometry and extensive hydroxyapatite coating have recently been introduced. It is not clear, however, whether they share the same design or whether they exhibit any difference that might affect their clinical performances. In this study, we analysed five tapered stems fully coated with hydroxyapatite to establish whether they exhibit similar geometric features and may therefore be used indifferently when a cementless stem is indicated.
Methods
The length of the stem, the coronal and sagittal diameters, the length of the stem shoulder and the metadiaphyseal angle were measured. The ratio between the proximal and distal coronal diameters of the stem and that between the proximal and distal cross-sectional areas were calculated as a flare index and tapered index, respectively.
Results
The proximal coronal diameter ranged between 24.9 and 28 mm in the smaller size and between 34 and 38.4 mm in the largest sizes. The proximal sagittal diameter ranged between 10.2 and 11.8 in the smallest size and between 14.4 and 17.2 in the largest. A significant difference was found between stems of different brands in the flare index, tapered index, length of stem shoulder and metadiaphyseal angle.
Conclusions
Lookalike tapered stems with extensive HA coating actually exhibit significant differences in several geometric features potentially affecting their clinical performances. As a result, these stems should not be used indifferently, but rather they should be selected on the basis of the femoral morphology of the operated patient.
This is a preview of subscription content, log in to check access.
Access options
Buy single article
Instant access to the full article PDF.
US$ 39.95
Price includes VAT for USA
Subscribe to journal
Immediate online access to all issues from 2019. Subscription will auto renew annually.
US$ 99
This is the net price. Taxes to be calculated in checkout.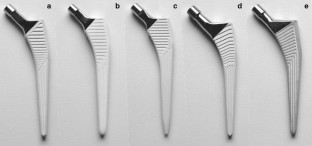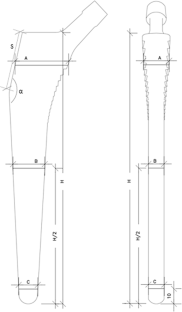 References
1.

Froimson MI, Garino J, Machenaud A, Vidalain JP (2007) Minimum 10-year results of a tapered, titanium, hydroxyapatite-coated hip stem an independent review. J Arthroplasty 22:1–7

2.

Hallan G, Lie SA, Furnes O, Engesaeter LB, Vollset SE, Havelin LI (2007) Medium- and long-term performance of 11.516 uncemented primary femoral stems from the Norwegian arthroplasty register. J Bone Joint Surg Br 89:1574–1580

3.

Vidalain J-P (2011) Twenty-year results of cementless Corail stem. Int Orthop 35:189–194

4.

Bloebaum RD, Zou L, Bachus KN, Shea KG, Hofmann AA, Dunn HK (1997) Analysis of particles in acetabular components from patients with osteolysis. Clin Orthop Relat Res 338:109–118

5.

Collier JP, Surprenant VA, Mayor MB, Wrona M, Jensen RE, Surprenant HP (1993) Loss of hydroxyapatite coating on retrieved, total hip components. J Arthroplasty 8(4):389–393

6.

Rbkkum M, Registad A, Johansson CB (2002) HA particles can be released from well-fixed HA-coated stems. Histopathology of biopsies from 20 hips 2–8 years after implantation. Acta Orthop Scand 73:298

7.

Sudhahar TA, Morapudi S, Branes K (2009) Evaluation of subsidence between collarless and collared corail femoral cementless total hip replacement. J Orthop 6(2):e3

8.

Callary SA, Campbell DG, Mercer GE, Nilsson KG, Field JR (2012) The 6-year migration characteristics of a hydroxyapatite-coated femoral stem: a radiostereometric analysis study. J Arthroplasty 27:1344–1348

9.

Campbell D, Mercer G, Nilsson KG, Wells V, Field JR, Callary SA (2011) Early migration characteristics of a hydroxyapatite-coated femoral stem: an RSA study. Int Orthop 35(4):483–488

10.

Pentlow AK, Heal JS (2012) Subsidence of collarless uncemented femoral stems in total hips replacements performed for trauma. Injury Int J Care Injured 43:882–885

11.

Selvaratnam V, Shetty V, Sahni V (2015) Subsidence in collarless Corail hip replacement. The Open Orthop J 9:194–197

12.

Faisal M, Thomas G, Young SK (2011) Subsidence of the Corail femoral component in the elderly. A retrospective radiological review. Hip Int 21:325–329. https://doi.org/10.5301/HIP.2011.8409

13.

Hirata Y, Inaba Y, Kobayashi N, Ike H, Fujimaki H, Saito T (2013) Comparison of mechanical stress and change in bone mineral density between two types of femoral implant using finite element analysis. J Arthroplasty 28:1731–1735

14.

Huiskes R (1999) The various stress patterns of press-fit, ingrown, and cemented femoral stems. Clin Orthop Relat Res 261:27–38

15.

Sano K, Ito K, Yamamoto K (2008) Changes of bone mineral density after cementless total hip arthroplasty with two different stems. Int Orthop 32(2):167

16.

van der Wal BC, de Kramer BJ, Grimm B, Vencken W, Heyligers IC, Tonino AJ (2008) Femoral fit in ABG-II hip stems, influence on clinical outcome and bone remodeling: a radiographic study. Arch Orthop Trauma Surg 128(10):1065

17.

Capello WN, D'Antonio JA, Geesink RG, Feinberg JR, Naughton M (2009) Late remodeling around a proximally HA-coated tapered titanium femoral component. Clin Orthop Rel Res 467:155–165

18.

Cooper HJ, Jacob AP, Rodriguez JA (2011) Distal fixation of proximally coated tapered stems may predispose to a failure of osteointegration. J Arthroplasty 26:78–83

19.

Mueller LA, Nowak TE, Haeberle L, Mueller LP, Kress A, Voelk M et al (2010) Progressive femoral cortical and cancellous bone density loss after uncemented tapered-design stem fixation. A 6-year follow-up. Acta Orthop 81:171–177

20.

Panisello JJ, Herrero L, Canales V, Herrera H, Martínez A, Mateo J (2009) Long-term remodeling in proximal femur around a hydroxyapatite-coated anatomic stem ten years densitometric follow-up. J Arthroplasty 24:56–64

21.

Cinotti G, Della Rocca A, Sessa P, Ripani FR, Giannicola G (2013) Thigh pain, subsidence and survival using a short cementless femoral stem with pure metaphyseal fixation at minimum 9-year follow-up. Orthop Traumatol Surg Res 99(1):30–36. https://doi.org/10.1016/j.otsr.2012.09.016

22.

Kim Y-H (2008) The results of a proximally-coated Cementless femoral component in total hip replacement. A five-to 12-year follow-up. J Bone Joint Surg Br 90:299–305

23.

Dorr LD, Faugere MC, Mackel AM, Gruen TA, Bognar B, Malluche HH (1993) Structural and cellular assessment of bone quality of proximal femur. Bone 14:231–242
Ethics declarations
Sources of support
The involved companies provided the stems analysed.
Conflict of interests
The authors declare that they have no competing interests in this section.
About this article
Cite this article
Cinotti, G., Mazzotta, G., Ripani, F.R. et al. Is there any difference between tapered titanium stems with similar geometry and hydroxyapatite coating?. Musculoskelet Surg 103, 275–281 (2019). https://doi.org/10.1007/s12306-018-00586-8
Received:

Accepted:

Published:

Issue Date:
Keywords
Tapered titanium stem

Hydroxyapatite coating

Stem geometry

Total hip arthroplasty

Stress shielding