Abstract
Purpose
Periprosthetic acetabular fractures represent a growing and serious complication of total hip arthroplasty (THA). The purpose of the study is to report our experience in the use of tantalum for the treatment of Paprosky type IV and V periprosthetic acetabular fractures.
Method
We analyzed 24 patients with type IV and V periprosthetic acetabular fractures. Patients were treated with a revision surgery using tantalum components, in some cases in association with posterior plating. Outcomes were evaluated using VAS, Harris hip score and considering the average time of integration of the acetabulum and the number of complications. The endpoint evaluation was established at 24 months.
Result
Results show that the average time of integration of the neoacetabulum in tantalum was 12.3 months (range 6–18 months). The average VAS pain is 8.7/10 cm at time 0 and gradually returns to basic pre-injury values in the following months. The average value of HHS at time 0 is 13.5 points. This value tends to increase progressively until reaching a mean score of 89.3 points at 24 months, higher than the average pre-trauma value of 84.3 points.
Conclusion
Periprosthetic fractures of the acetabulum with bone loss are a rare but potentially disastrous complication of total hip prostheses. Their management and therapeutic choice will test the ability of the orthopedic surgeon. It is important to determine the type of fracture and characteristics in order to pursue an adequate therapeutic strategy. The modern biomaterials, such as porous tantalum, offer a greater potential in replacing bone loss, promoting bone regrowth and obtaining a stable implant.
This is a preview of subscription content, log in to check access.
Access options
Buy single article
Instant access to the full article PDF.
US$ 39.95
Tax calculation will be finalised during checkout.
Subscribe to journal
Immediate online access to all issues from 2019. Subscription will auto renew annually.
US$ 99
Tax calculation will be finalised during checkout.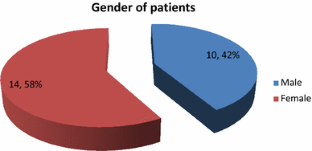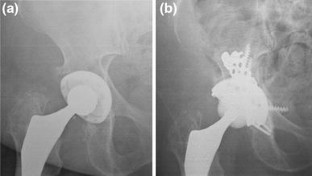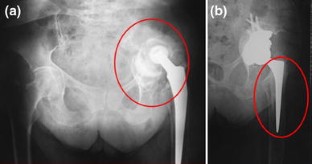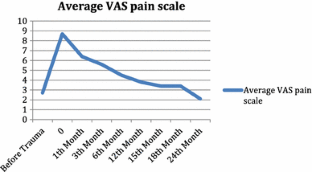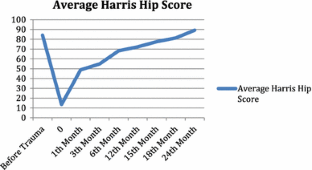 References
1.

Peterson CA, Lewallen DG (1996) Periprosthetic fracture of the acetabulum after total hip arthroplasty. J Bone Joint Surg Am 78(8):1206–1213

2.

Mc Elfresh EC, Coventry MB (1974) Femoral and pelvic fractures after total hip arthroplasty. J Bone Joint Surg 56A:483–492

3.

Berry et al (1999) Epidemiology of periprosthetic fracture after major joint replacement: hip and knee. Orthop Clin North Am 30:183–190

4.

Mears DC, Velyvis JH (2001) Primary total hip arthroplasty after acetabular fracture. Instr Course Lect 50:335–354

5.

Helfet DL, Ali A (2004) Periprosthetic fractures of the acetabulum. Instr Course Lect 53:93–98

6.

Kurtz S, Ong K, Lau E, Mowat F, Halpern M (2007) Projections of primary and revision hip and knee arthroplasty in the United States from 2005 to 2030. J Bone Joint Surg Am 89(4):780–785

7.

O'Shea K, Quinlan JF, Kutty S, Mulcahy D, Brady OH (2005) The use of uncemented extensively porous-coated femoral components in the management of Vancouver B2 and B3 periprosthetic femoral fractures. J Bone Joint Surg Br 87(12):1617–1621

8.

Della Valle CJ, Momberger NG, Paprosky WG (2003) Periprosthetic fractures of the acetabulum associated with a total hip arthroplasty. Instr Course Lect 52:281–290

9.

Nilsdotter A, Bremander A (2011) Measures of hip function and symptoms: Harris Hip Score (HHS), Hip Disability and Osteoarthritis Outcome Score (HOOS), Oxford Hip Score (OHS), Lequesne Index of Severity for Osteoarthritis of the Hip (LISOH), and American Academy of Orthopedic Surgeons (AAOS) Hip and Knee Questionnaire. Arthritis Care Res (Hoboken) 63(Suppl 11):S200–S207. doi:10.1002/acr.20549

10.

Masri BA, Meek RM, Duncan CP (2004) Periprosthetic fractures evaluation and treatment. Clin Orthop Relat Res 420:80–95

11.

Mitchell PA, Greidanus NV, Masri BA, Garbuz DS, Duncan CP (2003) The prevention of periprosthetic fractures of the femur during and after total hip arthroplasty. Instr Course Lect 52:301–308

12.

Telleria JJ, Gee AO (2013) Classifications in brief: Paprosky classification of acetabular bone loss. Clin Orthop Relat Res 471(11):3725–3730. doi:10.1007/s11999-013-3264-4

13.

Hall Eilers M, Hansen R, Robinson BS, Maloney WJ, Paprosky WG et al (2014) Advances in acetabular reconstruction in revision total hip arthroplasty: maximizing function and outcomes after treatment of periacetabular osteolysis around the well-fixed shell. Instr Course Lect 63:209–218

14.

Pierannunzii L, Fischer M, Tagliabue L, Calori GM, d'Imporzano M (2010) Acetabular both-column fractures: essentials of operational management. Injury 41(11):1145–1149. doi:10.1016/j.injury.2010.08.011

15.

Benazzo F, Formagnana M, Bargagliotti M, Perticarini L (2015) Periprosthetic acetabular fractures. Int Orthop 39(10):1959–1963. doi:10.1007/s00264-015-2971-8

16.

Butterwick D, Papp S, Gofton W, Liew A, Beaulé PE (2015) Acetabular fractures in the elderly: evaluation and management. J Bone Joint Surg Am 97(9):758–768. doi:10.2106/JBJS.N.01037

17.

Sheth NP, Melnic CM, Paprosky WG (2014) Acetabular distraction: an alternative for severe acetabular bone loss and chronic pelvic discontinuity. J. Bone Joint 96-B(11 Suppl A):36–42. doi:10.1302/0301-620X.96B11.34455

18.

Unger AS, Lewis RJ, Gruen T (2005) Evaluation of a porous tantalum uncemented acetabular cup in revision total hip arthroplasty: clinical and radiological results of 60 hips. J Arthroplast 20(8):1002–1009

19.

Levine B (2008) A new era in porous metals: applications in orthopedics. Adv Eng Mater 10(9):788–792

20.

Barbella M (2008) Materials marvels: Titanium is a top choice for implants, but other materials are gaining popularity. Orthopaedic Design & Technology, September 1

21.

Zhang Y et al (1999) Interfacial frictional behavior: cancellous bone, cortical bone, and a novel porous tantalum biomaterial. J Musculoskel Res 3(4):245–251

22.

Weeden SH, Schmidt RH (2007) The use of tantalum porous metal implants for Paprosky 3A and 3B defects. J Arthroplast 22(6 Suppl 2):151–155

23.

Bobyn JD, Stackpool GJ, Hacking SA, Tanzer M, Krygier JJ (1999) Characteristics of bone ingrowth and interface mechanics of a new porous tantalum biomaterial. J Bone Joint Surg Br 81(5):907–914

24.

Karageorgiou V, Kaplan D (2005) Porosity of 3D biomaterial scaffolds and osteogenesis. Biomaterials 26(27):5474–5491

25.

Macheras GA, Papagelopoulos PJ, Kateros K, Kostakos AT, Baltas D, Karachalios TS (2006) Radiological evaluation of the metal-bone interface of a porous tantalum monoblock acetabular component. J Bone Joint Surg Br 88(3):304–309

26.

Gruen TA, Poggie RA, Lewallen DG, Hanssen AD, Lewis RJ, O'Keefe TJ, Stulberg SD, Sutherland CJ (2005) Radiographic evaluation of a monoblock acetabular component: a multicenter study with 2- to 5-year results. J Arthroplast 20(3):369–378

27.

Macheras G, Kateros K, Kostakos A, Koutsostathis S, Danomaras D, Papagelopoulos PJ (2009) Eight- to ten-year clinical and radiographic outcome of a porous tantalum monoblock acetabular component. J Arthroplast 24(5):705–709. doi:10.1016/j.arth.2008.06.020

28.

Tsiridis E, Pavlou G, Venkatesh R, Bobak P, Gie G (2009) Periprosthetic femoral fractures around hip arthroplasty: current concepts in their management. Hip Int 19(2):75–86
Ethics declarations
Conflict of interest
Gabriele Falzarano, Antonio Piscopo, Giuseppe Rollo, Antonio Medici, Predrag Grubor, Michele Bisaccia, Valerio Pipola, Raffaele Cioffi, Francesco Nobile and Luigi Meccariello disclose any financial and personal relationships with other people or organizations that could inappropriately influence (bias) their work. Examples of potential conflicts of interest include employment, consultancies, stock ownership, honoraria, paid expert testimony, patent applications/registrations and grants or other funding.
Human and animal rights
This type of study does not require any statement relating to studies on humans and animals. All patients gave the informed consent prior to being included into the study. All procedures involving human participants were in accordance with the 1964 Helsinki Declaration and its later amendments.
About this article
Cite this article
Falzarano, G., Piscopo, A., Rollo, G. et al. Tantalum in type IV and V Paprosky periprosthetic acetabular fractures surgery in Paprosky type IV and V periprosthetic acetabular fractures surgery. Musculoskelet Surg 102, 87–92 (2018). https://doi.org/10.1007/s12306-017-0503-y
Received:

Accepted:

Published:

Issue Date:
Keywords
Paprosky acetabular classification

Tantalum

Bone loss

Hip revision surgery

Acetabular periprosthetic fractures

Outcomes