Abstract
Introduction
The treatment of the flexor tendon adhesions following phalanx and metacarpal fractures, in closed or open injuries, is a great challenge for the hand surgeon. The outcomes are often poor, because of the severity of the lesion and the aggressiveness of the surgical procedure of the secondary tenolysis.
Materials and methods
The authors describe the technical findings and the results of a new mini-invasive tenolysis in order to treat the adhesions in zone 1 and 2 of the fingers, following phalangeal and metacarpal fractures. With an atraumatic Allis or Duval surgical forceps, the flexor tendons are separately and gently tracted making a twisting movement on themselves until the adhesions were torn and the tendons appeared released.
Results
The relevant outcomes achieved show this technique is very useful to treat tendon adhesions, without adding trauma and scare to the tendinous canal and surrounding soft tissues.
Access options
Buy single article
Instant access to the full article PDF.
USD 39.95
Price includes VAT (USA)
Tax calculation will be finalised during checkout.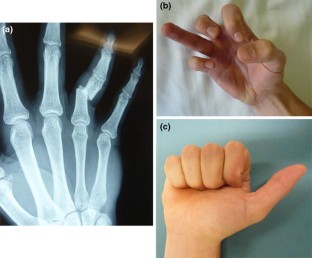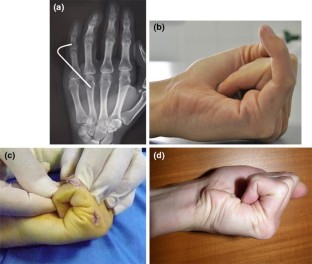 References
1.

Brooks DM (1970) Problems of restoration of tendon movements after repair and grafts. Proc R Soc Med 63:67

2.

Brunelli GA (2001) La tenolisi. In: Brunelli GA (ed) La Mano. Ed. Micom, Milano

3.

Bunnel S (1918) Repair of tendons in fingers and description of two new instruments. Surg Gynecol Obstet 26:103–110

4.

Comtet JJ (1999) La ténolyse des fléchisseurs: rappel des méthodes chirurgicale. La Main 4:47–49

5.

Fetrow KO (1967) Tenolysis in the hand and wrist: a clinical evaluation of two hundred and twenty flexor and extensor tenolysis. J Bone Joint Surg 49A:667–685

6.

Goloborod'ko SA (2000) Postoperative management of flexor tenolysis. J Hand Ther 12:330–332

7.

Giustini M, De Leo A, Leti Acciaro A, Pajardi G et al (2015) Incidence estimates of hand and upper extremity injuries in Italy. Ann Ist Super Sanita 51(4):305312

8.

Hunter JM, Salisbury RE (1971) Flexor tendon reconstruction in severely damaged hands: a two-stage procedure using a silicone-dacron reinforced gliding prosthesis prior to tendon grafting. J Bone Joint Surg 53:829–858

9.

Karl JW, Olson PR, Rosenwasser MP (2015) The epidemiology of upper extremity fractures in United Sates, 2009. J Orthop Trauma 29(8):e242–e244

10.

Kirchhoff R, Jensen PB, Nielsen NS, Boeckstyns ME (2000) Repeated digital nerve block for pain control after tenolysis. Scand J Plast Reconstr Surg Hand Surg 34:257–258

11.

Kobayashi M, Toguchida J, Oka M (2001) Development of polyvinyl alcohol-hydrogel (PVA-H) shields with a high water content for tendon injury repair. J Hand Surg 26B:436–440

12.

Landi A, Cavana R, Caserta G et al (1994) Il punto sulla tenolisi dei tendini flessori nella zona 2. GIOT 20:347–358

13.

Leti Acciaro A, Russomando A, Caserta G, Landi A (2007) La tenoartrolisi totale anteriore nel trattamento della rigidità in flessione delle dita. Riv Chir Mano 44(2):69–77

14.

Leti Acciaro A, Chiarelli N, Lando M, Russomando A, Landi A (2015) La Tenolisi mini-invasiva dei tendini flessori negli esiti delle fratture alle dta della mano, Preliminary Report. Riv Chir Mano 52(2):11–19

15.

Liew SH, Potokar T, Bantik GL et al (2001) The use of Adcon-T/N after repair of zone II flexor tendons. Chir Main 20:384–387

16.

Luppino T, Fiocchi R, Salsi A et al (1988) La nostra esperienza nelle tenolisi dei flessori della mano. Riv Chir Mano 25:79–85

17.

Mentzel M, Hoss H, Keppler P et al (2000) The effectiveness of Adcon-T/N, a new anti-adhesion barrier gel, in fresh divisions of the flexor tendons in zone II. J Hand Surg 25B(6):590–592

18.

Reuben SS, Steinberg RB, Lurie SD, Gibson CS (1999) A dose-response study of intravenous regional anesthesia with meperidine. Anesth Analg 88:831–835

19.

Riccio Battiston B, Pajardi G et al (2010) Efficiency of Hyaloglide in the prevention of the recurrence of adhesions after tenolysis of flexor tendons in zone II: a randomized, controlled, multicentre clinical trial. J Hand Surg 35(2):130–138

20.

Schneider LH, Hunter JM (1982) Flexor tendons—Late reconstruction. In: Green DP (ed) Operative hand surgery. Churchill Livingstone, New York, pp 1375–1440

21.

Schneider LH, Mackin EJ (1978) Tenolysis. In: Hunter JM, Schneider LH, Mackin EJ et al (eds) Rehabilitation of the hand. CV Mosby, St Louis, pp 229–234

22.

Stark HH, Boyes JH, Johonson L, Ashworth CR (1977) The use of paratenon, polyethylene film or Silastic sheeting to prevent restricting adhesions to tendons in the hand. J Bone Joint Surg 59A:908–913

23.

Strickland JW (2000) Development of flexor tendon surgery: twenty-five years of progress. J Hand Surg 25A:214–233

24.

Strickland JW (1989) Flexor tendon surgery. Part 2: free tendon grafts and tenolysis. J Hand Surg 14B:368–382

25.

Verdan C (1979) Tenolysis. In: Verdan C (ed) Tendon surgery of the hand. Churchill Livingstone, New York

26.

Whitaker JH, Strickland JW, Ellis RK (1977) The role of flexor tenolysis in the palm and digits. J Hand Surg 2:462–470

27.

Yan YM, Zhang WP, Liao Y et al (2011) Analysis and prevention of the complications after treatment of metacarpal and phalangeal fractures with internal fixation. Zhongguo Gu Shang 24(3):199–201

28.

Yamazaki H, Kato H, Uchiyama S et al (2008) Results of tenolysis for flexor tendon adhesion after phalangeal fracture. J Hand Surg Eur 33(5):557–560
Acknowledgements
The authors received no financial support for the research, authorship and/or publication of this article.
Ethics declarations
Conflict of interest
The authors declared no potential conflicts of interest with respect to the research, authorship and/or publication of this article.
About this article
Cite this article
Leti Acciaro, A., Lando, M., Russomando, A. et al. A mini-invasive tenolysis of the flexor tendons following hand fractures: case series. Musculoskelet Surg 102, 41–45 (2018). https://doi.org/10.1007/s12306-017-0493-9
Received:

Accepted:

Published:

Issue Date:
Keywords
Hand fracture

Tenolysis

Adhesion

Complications

Mini-invasive