Abstract
Purpose
Papers regarding adhesive capsulitis (AC) of the shoulder focused on etiology, epidemiology, diagnosis, and treatment; until now, information on shoulder pain characteristics is still scarce. Our aim was to analyze pain intensity and distribution in patients with AC.
Methods
The study group was composed of 278 (133M–145F) consecutive patients with AC. After diagnosis, shoulder pain distribution was assessed through an upper limb pain map and pain intensity through a visual analog scale. Patients were distinguished on the basis of gender, age, time elapsed from onset of symptoms, and severity of functional limitation. Data were submitted to statistical analysis.
Results
Intensity of shoulder pain caused by AC was higher in females (p < 0.05); it did not vary with the side and between patient younger and older than 55 years. Patients whose pain arose from more than 3 months suffered a lower intensity of shoulder pain. Furthermore, pain intensity was higher in the most severe form of AC (active forward flexion < 60°) (p < 0.05). Pain was localized predominantly on the anterior aspect of the shoulder (dermatomes C5–C6) and rarely extended beyond the distal third of the arm. No differences were found in pain distribution between male and female, between patients with pain from less or more than 3 months and between different levels of AC severity (p > 0.05).
Conclusion
Shoulder pain due to AC may be influenced by gender and severity of functional limitation. AC pain distribution principally involves anterior aspect of the shoulder with downward extension of the arm until its distal third.
Levels of evidence
Level IV.
Access options
Buy single article
Instant access to the full article PDF.
US$ 39.95
Tax calculation will be finalised during checkout.
Subscribe to journal
Immediate online access to all issues from 2019. Subscription will auto renew annually.
US$ 79
Tax calculation will be finalised during checkout.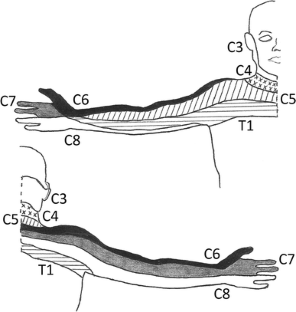 References
1.

Duplay S (1872) De la peri-arthrite scapulo-humerale et des raideurs de l'epaule qui en sont la consequence. Arch Gen Med 20:513–542

2.

Codman EA (1934) The shoulder. Rupture of the supraspinatus tendon and other lesions in or about the subacromial bursa. Thomas Todd, Boston, pp 216–224

3.

Aydogan A, Karan A, Ketenci A et al (2003/2004) Factors affecting therapeutic response of adhesive capsulitis in type II diabetes mellitus. J Back Musculoskelet Rehabil 17:3–7

4.

Bunker TD, Anthony PP (1995) The pathology of frozen shoulder. A Dupuytren-like disease. J Bone Joint Surg Br 77-B:677–683

5.

Carbone S, Gumina S, Vestri AR, Postacchini R (2009) Coracoid pain test: a new clinical sign of shoulder adhesive capsulitis. Int Orthop 34:385–388

6.

Carbone S, Napoli A, Gumina S (2014) MRI of adhesive capsulitis of the shoulder: distension of the bursa in the superior subscapularis recess is a suggestive sign of the pathology. Eur J Radiol 83(2):345–348. doi:10.1016/j.ejrad.2013.10.017

7.

Fitzpatrick MJ, Powell SE, Tibone JE, Warren RF (2003) The anatomy, pathology, and definitive treatment of rotator interval lesions: current concepts. Arthroscopy 19(Suppl 1):70–79

8.

Gaskill TR, Braun S, Millett PJ (2011) Multimedia article. The rotator interval: pathology and management. Arthroscopy 27(4):556–567. doi:10.1016/j.arthro.2010.10.004

9.

Griggs SM, Ahn A, Green A (2000) Idiopathic adhesive capsulitis. A prospective functional outcome study of nonoperative treatment. J Bone Joint Surg Am 82:1398–1407

10.

Hand C, Clipsham K, Rees JL, Carr AJ (2008) Long-term outcome of frozen shoulder. J Shoulder Elbow Surg 17:231–236

11.

Hannafin JA, Chiaia TA (2000) Adhesive capsulitis: a treatment approach. Clin Orthop Relat Res 372:95–109

12.

Lundberg B (1969) The frozen shoulder. Clinical and radiographical observations. The effect of manipulation under general anesthesia. Structure and glycosaminogly can content of the joint capsule. Local bone metabolism. Acta Orthop Scand Suppl 119:1–59

13.

Massoud SN, Pearse EO, Levy O, Copeland SA (2002) Operative management of the frozen shoulder in patients with diabetes. J Shoulder Elbow Surg 11:609–613

14.

Stam HW (1994) Frozen shoulder: a review of current concepts. Physiotherapy 80:588–598

15.

Palmer H (1949) Pain charts; a description of a technique whereby functional pain may be distinguished from organic pain. N Z Med J 48:187–213

16.

Hertel R, Ballmer FT, Lombert SM, Gerber C (1996) Lag signs in the diagnosis of rotator cuff rupture. J Shoulder Elbow Surg 5:307–313

17.

Jobe FW, Bradley JP (1983) Painful athletic injuries of the shoulder. Clin Orthop 173:117–124

18.

Kelly BT, Kadrmas WR, Speer KP (1996) Empty can versus full can exercise for rotator cuff rehabilitation: an electromyographic investigation. Am J Sports Med 24:581–588

19.

Litaker D, Pioro M, El Bilbeisi H, Brems J (2000) Returning to the bedside: using the history and physical examination to identify rotator cuff tears. J Am Geriatr Soc 48:1633–1637

20.

Patte D, Goutallier D, Monpierre H, Debeyre J (1998) Etude des lésionsétendues. Rev Chir Orthop 74:314–318

21.

Walch G (1993) L'examen programme de l'épaule douloureuse chronique. Journée Lyonnaise de l'épaule. Lyon, Clinique de chirurgie orthopédique et traumatologique p, pp 169–189

22.

Barth JRH, Burkhart SS, De Beer JF (2006) The bear-hug test: a new and sensitive test for diagnosing a subscapularis tear. Arthroscopy 22:1076–1084. doi:10.1016/j.arthro.2006.05.005

23.

Gerber C, Hersche O, Farron A (1996) Isolated rupture of the subscapularis tendon. J Bone Joint Surg 78-Am:1015–1023

24.

Gerber C, Krushell RJ (1991) Isolated rupture of the tendon of the subscapularis muscle. J Bone Joint Surg 73-B:389–394

25.

Tifford CD, Plancher KD (1997) Nonsurgical treatment of rotator cuff tears. In: Norris T (ed) Orthopaedic knowledge update; shoulder and elbow. American Academy of Orthopaedic Surgeons, pp 135. ISBN: 9780892039555

26.

Keegan JJ, Garrett FD (1948) The segmental distribution of the cutaneous nerves in the limbs of man. Anat Rec 102:409–437

27.

Jensen MP, Karoly P (1992) Pain-specific beliefs, perceived symptom severity, and adjustment to chronic pain. Clin J Pain 8:123–130

28.

Schellingerhout JM, Verhagen AP, Thomas S, Koes BW (2008) Lack of uniformity in diagnostic labeling of shoulder pain: time for a different approach. Man Ther 13(6):478–483. doi:10.1016/j.math.2008.04.005

29.

Kindler LL, Valencia C, Fillingim RB, George SZ (2011) Sex differences in experimental and clinical pain sensitivity for patients with shoulder pain. Eur J Pain 15:118–123. doi:10.1016/j.ejpain.2010.06.001

30.

Gumina S, Candela V, Passaretti D, Venditto T, Carbone S, Arceri V, Giannicola G (2014) Intensity and distribution of shoulder pain in patients with different sized postero-superior rotator cuff tears. J Shoulder Elbow Surg 23(6):807–813. doi:10.1016/j.jse.2013.09.011

31.

Bunker TD, Reilly J, Baird KS, Hamblen DL (2000) Expression of growth factors, cytokines and matrix metalloproteinases in frozen shoulder. J Bone Joint Surg Br 82:768–773

32.

Wiley AM (1991) Arthroscopic appearance of frozen shoulder. Arthroscopy 7:138–143

33.

Soifer TB, Levy HJ, Soifer FM, Kleinbart F, Vigorita V, Bryk E (1996) Neurohistology of the subacromial space. Arthroscopy 12:182–186

34.

Basbaum AI, Jessell TM. (2000) The perception of pain. In: Kandel ER, Schwartz JH, Jessell TM (eds) Principles of neural science, 4th ed. McGraw-Hill, New York, pp 472–491. ISBN: 0-8385-7701-6

35.

Dee R, Hurst LC, Gruber MA, Kottmeier SA (1997) Principles of orthopaedic practice. In: Rodowsky MW, Bigliani LU (eds) The shoulder and the shoulder girdle, 2nd edn. McGraw–Hill, New York, p 1063

36.

Apley AG, Solomon L (1993) Apley's system of orthopaedics and fractures, 7th edn. Butterworth-Heinemann, Oxford

37.

Inman VT, Saunders JB (1944) Referred pain from skeletal structures. J Nerv Ment Dis 99(5):660–667

38.

Kim KC, Rhee KJ, Shin HD (2009) Adhesive capsulitis of the shoulder: dimensions of the rotator interval measured with magnetic resonance arthrography. J Shoulder Elbow Surg 18:437–442

39.

Mengiardi B, Pfirrmann CW, Gerber C, Hodler J, Zanetti M (2004) Frozen shoulder: MR arthrographic findings. Radiology 233:486–492
Ethics declarations
Conflict of interest
All authors declared that they have no conflict of interest.
Human and animal rights
All procedures performed in studies involving human participants were in accordance with the ethical standards of the institutional and/or national research committee and with the 1964 Declaration of Helsinki and its later amendments or comparable ethical standards. This article does not contain any studies with animals performed by any of the authors.
Informed consent
Informed consent was obtained from all individual participants included in the study. All patients signed an informed consent form in accordance with the Declaration of Helsinki. According to our Country's law, this study did not require an ethics committee approval.
About this article
Cite this article
Candela, V., Giannicola, G., Passaretti, D. et al. Adhesive capsulitis of the shoulder: pain intensity and distribution. Musculoskelet Surg 101, 153–158 (2017). https://doi.org/10.1007/s12306-017-0488-6
Received:

Accepted:

Published:

Issue Date:
Keywords
Adhesive capsulitis

Shoulder pain

Pain intensity

Shoulder pain distribution

Frozen shoulder

Shoulder clinical evaluation