Abstract
Background
Morbidity and mortality of all-terrain vehicles and dirt bikes have been studied, as well as the association of helmet use and head injury.
Hypothesis/Purpose
The purpose of this study is to compare and contrast the patterns of extremity fractures associated with ATVs and dirt bikes. We believe there will be unique and potentially preventable injury patterns associated with dirt bikes and three-wheeled ATVs due to the poor stability of these vehicles.
Study design
Descriptive epidemiology study.
Methods
The National Electronic Injury Surveillance System (NEISS) was used to acquire data for extremity fractures related to ATV (three wheels, four wheels, and number of wheels undefined) and dirt bike use from 2007 to 2012. Nationwide estimation of injury incidence was determined using NEISS weight calculations.
Results
The database yielded an estimate of 229,362 extremity fractures from 2007 to 2012. The incidence rates of extremity fractures associated with ATV and dirt bike use were 3.87 and 6.85 per 1000 participant-years. The largest proportion of all fractures occurred in the shoulder (27.2%), followed by the wrist and lower leg (13.8 and 12.4%, respectively). There were no differences in the distribution of the location of fractures among four-wheeled or unspecified ATVs. However, three-wheeled ATVs and dirt bikes had much larger proportion of lower leg, foot, and ankle fractures compared to the other vehicle types.
Conclusions
While upper extremity fractures were the most commonly observed in this database, three-wheeled ATVs and dirt bikes showed increased proportions of lower extremity fractures. Several organizations have previously advocated for better regulation of the sale and use of these specific vehicles due to increased risks. These findings help illustrate some of the specific risks associated with these commonly used vehicles.
Access options
Buy single article
Instant access to the full article PDF.
USD 39.95
Price excludes VAT (USA)
Tax calculation will be finalised during checkout.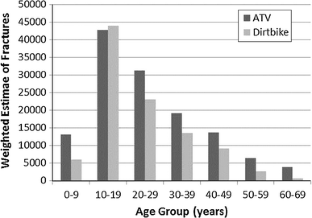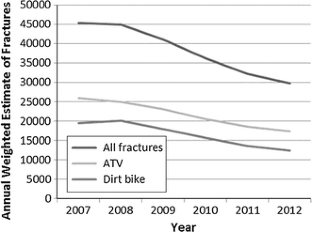 References
Abdelgawad AA, Maxfield D, Tran S, McLean S, Kanlic EM (2013) Dirt bikes injuries in children. Musculoskelet Surg 97(3):211–215. doi:10.1007/s12306-013-0298-4

American Academy of Orthopaedic Surgeons (2010) Position statement 1101: all terrain vehicle s. AAOS, Rosemont

Balthrop PM, Nyland JA, Roberts CS, Wallace J, Van Zyl R, Barber G (2007) Orthopedic trauma from recreational all-terrain vehicle use in central Kentucky: a 6-year review. J Trauma 62(5):1163–1170. doi:10.1097/01.ta.0000229814.08289.9a

Centers for Disease Control and Prevention (2006) Nonfatal injuries from off-road motorcycle riding among children and teens—United States, 2001–2004. Morb Mortal Wkly Rep 55:621–624

Cordell H, Betz C, Green G, Stephens B (2008) Off-Highway vehicle recreation in the United States and its regions and states: an update national report from the National survey on recreation and the environment (NSRE). US Forest Service, Washington, DC

Ford KR, Myer GD, Toms HE, Hewett TE (2005) Gender differences in the kinematics of unanticipated cutting in young athletes. Med Sci Sports Exerc 37(1):124–129

Hill JM, McGuire MH, Crosby LA (1997) Closed treatment of displaced middle-third fractures of the clavicle gives poor results. J Bone Joint Surg Br Vol 79(4):537–539

Jennissen CA, Harland KK, Wetjen K, Peck J, Hoogerwerf P, Denning GM (2014) A school-based study of adolescent all-terrain vehicle exposure, safety behaviors, and crash experience. Ann Fam Med 12(4):310–316. doi:10.1370/afm.1663

Kirkpatrick R, Puffinbarger W, Sullivan JA (2007) All-terrain vehicle injuries in children. J Pediatr Orthop 27(7):725–728. doi:10.1097/BPO.0b013e3181558856

Larson AN, McIntosh AL (2012) The epidemiology of injury in ATV and motocross sports. Med Sport Sci 58:158–172. doi:10.1159/000338728

Maher K, Greisler B (1998) Children's Motorcycle Handbook. Haynes, North America

Mazotas I, Toal M, Borrup K et al (2014) A prospective, multi-institutional study of pediatric all-terrain vehicle crashes. J Trauma Acute Care Surg 77(1):103–108. doi:10.1097/ta.0000000000000266

Murphy N, Yanchar NL (2004) Yet more pediatric injuries associated with all-terrain vehicles: should kids be using them? J Trauma 56(6):1185–1190

Novak JA, Hafner JW, Aldag JC, Getz MA (2013) Evaluation of a standardized all-terrain vehicle safety education intervention for youth in rural Central Illinois. J Prim Care Community Health 4(1):8–13. doi:10.1177/2150131912446374

Public Health Agency of Canada (2012) Injury in review, 2012 edition: spotlight on road and transport safety

Ramakrishnaiah RH, Shah C, Parnell-Beasley D, Greenberg BS (2013) Motorized dirt bike injuries in children. J Emerg Med 44(4):806–810. doi:10.1016/j.jemermed.2012.09.033

Richard MJ, Ruch DS, Aldridge JM (2007) Malunions and nonunions of the forearm. Hand Clin. doi:10.1016/j.hcl.2007.02.005

Rios-Reboyras LA, Grovis JE, Ramirez N, Zierenberg C, Otero A, Vilella FE (2002) Musculoskeletal trauma in four-wheeled all-terrain vehicles. Orthopedics 25(10):1079–1082

Robinson CM, Goudie EB, Murray IR et al (2013) Open reduction and plate fixation versus nonoperative treatment for displaced midshaft clavicular fractures: a multicenter, randomized, controlled trial. J Bone Joint Surg Am Vol 95(17):1576–1584. doi:10.2106/jbjs.l.00307

Sawyer JR, Kelly DM, Kellum E, Warner WC Jr (2011) Orthopaedic aspects of all-terrain vehicle-related injury. J Am Acad Orthop Surg 19(4):219–225

Schroeder T, Ault K (2001) The NEISS sample design and implementation. Accessed Sept 29 2013

Snyder CW, Muensterer OJ, Sacco F, Safford SD (2014) Paediatric trauma on the Last Frontier: an 11-year review of injury mechanisms, high-risk injury patterns and outcomes in Alaskan children. Int J Circumpolar Health. doi:10.3402/ijch.v73.25066

Topping J, S G (2014) 2012 annual report of ATV-related deaths and injuries. Online: United States CPSC

NEISS—The National Electronic Injury Surveillance System. US Consumer Product Saftey Commission (2000). https://www.cpsc.gov/cgibin/NEISSQuery/home.aspx. Accessed June 18 2014

Williams AF, Oesch SL, McCartt AT, Teoh ER, Sims LB (2014) On-road all-terrain vehicle (ATV) fatalities in the United States. J Saf Res 50:117–123. doi:10.1016/j.jsr.2014.05.001

Xu J, Xu L, Xu W, Gu Y, Xu J (2014) Operative versus nonoperative treatment in the management of midshaft clavicular fractures: a meta-analysis of randomized controlled trials. J Shoulder Elbow Surg 23(2):173–181. doi:10.1016/j.jse.2013.06.025
Ethics declarations
Conflict of interest
Daniel J. Lombardo MD declares that he has no conflict of interest. Timothy Jelsema MD declares that he has no conflict of interest. Andrew Gambone MD declares that he has no conflict of interest. Martin Weisman MD declares that he has no conflict of interest. Graysen Petersen-Fitts MD declares that he has no conflict of interest. James D. Whaley MD declares that he has no conflict of interest. Vani J. Sabesan MD declares that she has no conflict of interest. The funding is for work outside of the submitted manuscript.
Funding
Dr. Sabesan has received grant funding from Exactech, Inc.; Pacira Pharmaceuticals, Inc; Orthopaedic Research and Education Foundation.
Ethical approval
This article does not contain any studies with human participants performed by any of the authors.
About this article
Cite this article
Lombardo, D.J., Jelsema, T., Gambone, A. et al. Extremity fractures associated with ATVs and dirt bikes: a 10-year national epidemiologic study. Musculoskelet Surg 101, 145–151 (2017). https://doi.org/10.1007/s12306-016-0445-9
Received:

Accepted:

Published:

Issue Date:

DOI: https://doi.org/10.1007/s12306-016-0445-9
Keywords