Abstract
Purpose
The aim of this study is a radiographic evaluation and to determine serologic values of chromium and cobalt in the blood and urine of patients who have been implanted with a Stryker® ABG II Modular Neck and see if there is correlation with the features of prosthesis and patients.
Methods
The study involves the collection of data from patients operated on for total hip model with the ABG II Modular Neck with a minimum follow-up of 1 year.
Results
We evaluated 22 patients who underwent implantation of a hip prosthesis with modular neck in CoCr. Of these, the average Cr in the blood was 0.63 μgL−1 (range 0.1–2.15 μgL−1), the average of Co in the blood was 3.50 μgL−1 (range 0.62–7.78 μgL−1), the average Cr in the urine was 1.24 μgL−1 (range 0.48–2.21 μgL−1), and the average Co in urine was 14.22 μgL−1 (range 3.3–31.2 μgL−1). None of these patients had undergone revision surgery.
Conclusions
Our study seems to indicate that the restoration of offset and age are correlated with the release of metal ions, although the correlation is weak and needs better methodological studies and a greater number of patients to confirm this hypothesis.
Study type
Case series Level of Evidence 4.
Access options
Buy single article
Instant access to the full article PDF.
US$ 39.95
Tax calculation will be finalised during checkout.
Subscribe to journal
Immediate online access to all issues from 2019. Subscription will auto renew annually.
US$ 79
Tax calculation will be finalised during checkout.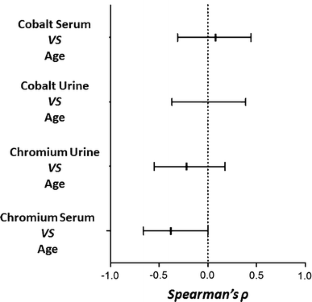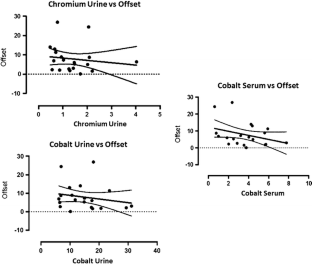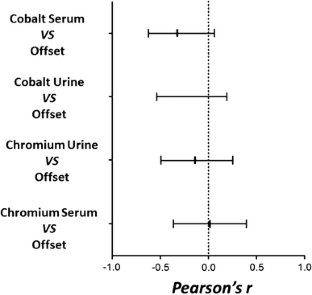 References
1.

Maloney WJ, Keeney JA (2004) Leg length discrepancy after total hip arthroplasty. J Arthroplasty 19(4):108–110. doi:10.1016/j.arth.2004.02.018

2.

Noble PC, Alexander JW, Lindahl LJ, Yew DT, Granberry WM, Tullos HS (1988) The anatomic basis of femoral component design. Clin Orthop Relat Res 235:148–165

3.

Sarin VK, Pratt WR, Bradley GW (2005) Accurate femur repositioning is critical during intraoperative total hip arthroplasty length and offset assessment. J Arthroplasty 20(7):887–891. doi:10.1016/j.arth.2004.07.001

4.

Asayama I, Chamnongkich S, Simpson KJ, Kinsey TL, Mahoney OM (2005) Reconstructed hip joint position and abductor musclde strength after total hip arthroplasty. J Arthroplasty 20(4):414–420. doi:10.1016/j.arth.2004.01.016

5.

Lecerf G, Fessy MH, Philippot R, Massin P, Giraud F, Flecher X et al (2009) Femoral offset: anatomical concept, definition, assessment, implications for preoperative templating and hip arthroplasty. Orthop Traumatol Surg Res 95(3):210–219. doi:10.1016/j.otsr.2009.03.010

6.

Atwood SA, Patten EW, Bozic KJ, Pruitt LA, Ries MD (2010) Corrosion-induced fracture of a double-modular hip prosthesis. J Bone Joint Surg 92(6):1522–1525. doi:10.2106/JBJS.I.00980

7.

Dangles CJ, Altstetter CJ (2010) Failure of the modular neck in a total hip arthroplasty. J Arthroplasty 25(7):1169-e5. doi:10.1016/j.arth.2009.07.015

8.

Abu-Amer Y, Darwech I, Clohisy JC (2007) Aseptic loosening of total joint replacements: mechanisms underlying osteolysis and potential therapies. Arthritis Res Ther 9(1):1. doi:10.1186/ar2170

9.

Kretzer JP, Jakubowitz E, Krachler M, Thomsen M, Heisel C (2009) Metal release and corrosion effects of modular neck total hip arthroplasty. Int Orthop 33(6):1531–1536. doi:10.1007/s00264-009-0729-x

10.

Visuri T, Pukkala E, Paavolainen P, Pulkkinen P, Riska EB (1996) Cancer risk after metal on metal and polyethylene on metal total hip arthroplasty. Clin Orthop Relat Res 329:S280–S289

11.

Onega T, Baron J, MacKenzie T (2006) Cancer after total joint arthroplasty: a meta-analysis. Cancer Epidemiol Biomark Prev 15(8):1532–1537. doi:10.1158/1055-9965.EPI-06-0127

12.

Meyskens Jr F (2007) Cancer following total joint arthroplasty. Cancer Epidemiol Biomarkers Prev 16(2)

13.

Rejuvenate Modular/ABG II Modular-Neck Stem Voluntary Recall (2015) NL12-MM-CO-630. http://www.stryker.com/en-us/products/Orthopaedics/modularneckstems/index.htm

14.

Langton DJ, Joyce TJ, Jameson SS, Lord J, Van Orsouw M, Holland JP et al (2011) Adverse reaction to metal debris following hip resurfacing. Bone Joint J 93(2):164–171. doi:10.1302/0301-620X.93B2.25099

15.

Cornelis R, Heinzow B, Herber RFM, Christensen JM, Poulsen OM, Sabbioni E, Vesterberg O (1995) Sample collection guidelines for trace elements in blood and urine (technical report). Pure Appl Chem 67(8–9):1575–1608. doi:10.1351/pac199567081575

16.

Pivec R, Meneghini RM, Hozack WJ, Westrich GH, Mont MA (2014) Modular taper junction corrosion and failure: how to approach a recalled total hip arthroplasty implant. J Arthroplasty 29(1):1–6. doi:10.1016/j.arth.2013.08.026

17.

Gill IPS, Webb J, Sloan K, Beaver RJ (2012) Corrosion at the neck-stem junction as a cause of metal ion release and pseudotumour formation. J Bone Joint Surg Br 94(7):895–900. doi:10.1302/0301-620X.94B7.29122

18.

Meftah M, Haleem AM, Burn MB, Smith KM, Incavo SJ (2014) Early corrosion-related failure of the rejuvenate modular total hip replacement. J Bone Joint Surg Am 96(6):481–487. doi:10.2106/JBJS.M.00979

19.

Kop AM, Swarts E (2009) Corrosion of a hip stem with a modular neck taper junction: a retrieval study of 16 cases. J Arthroplasty 24(7):1019–1023. doi:10.1016/j.arth.2008.09.009

20.

Goldberg JR, Gilbert JL, Jacobs JJ, Bauer TW, Paprosky W, Leurgans S (2002) A multicenter retrieval study of the taper interfaces of modular hip prostheses. Clin Orthop Relat Res 401:149–161

21.

Baxmann M, Jauch SY, Schilling C, Blömer W, Grupp TM, Morlock MM (2013) The influence of contact conditions and micromotions on the fretting behavior of modular titanium alloy taper connections. Med Eng Phys 35(5):676–683. doi:10.1016/j.medengphy.2012.07.013

22.

Khan MA, Williams RL, Williams DF (1996) In-vitro corrosion and wear of titanium alloys in the biological environment. Biomaterials 17(22):2117–2126. doi:10.1016/0142-9612(96)00029-4
Ethics declarations
Conflict of interest
None.
About this article
Cite this article
Chillemi, M., Placella, G., Caraffa, A. et al. Serologic and radiographic outcome of total hip arthroplasty with CoCr modular neck at mid-term follow-up. Musculoskelet Surg 101, 51–58 (2017). https://doi.org/10.1007/s12306-016-0429-9
Received:

Accepted:

Published:

Issue Date:
Keywords
CoCr

Corrosion

Metals release

Modular neck

Total hip arthroplasty