Abstract
Valgus subtrochanteric osteotomies and hemiepiphyseodesis around the knees have been performed to correct severe coxa vara and genua valga in a girl patient who manifested extreme dwarfism associated with spondylometaepiphyseal dysplasia consistent with anauxetic dysplasia. To the best of our knowledge, this is the first description of the combined orthopaedic intervention in a girl with anauxetic dysplasia.
Access options
Buy single article
Instant access to the full article PDF.
USD 39.95
Price includes VAT (USA)
Tax calculation will be finalised during checkout.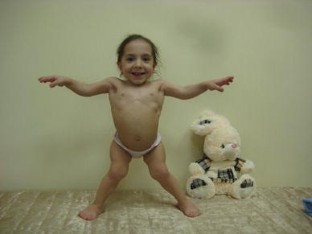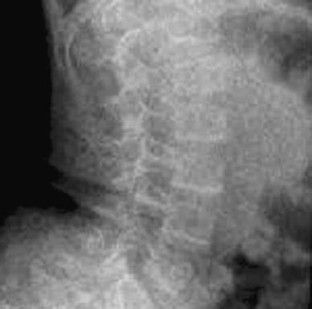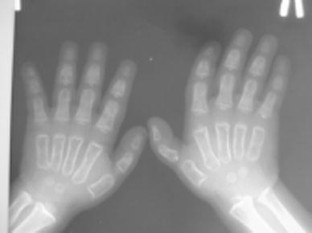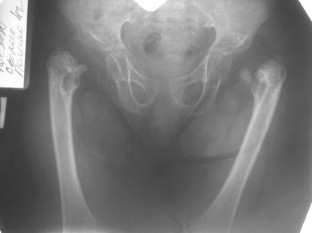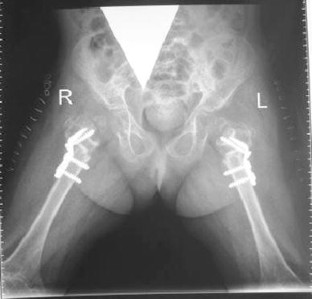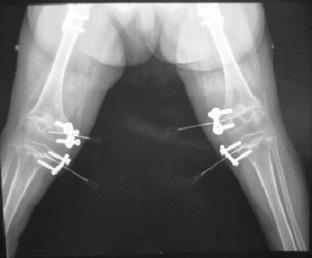 References
1.

Horn D, Rupprecht E, Kunze J, Spranger J (2001) Anauxetic dysplasia, a spondylometaepiphyseal dysplasia with extreme dwarfism. J Med Genet 38:262–265

2.

Menger H, Mundlos S, Becker K, Spranger J, Zabel B (1996) An unknown spondyo-meta-epiphyseal dysplasia in sibs with extreme short stature. Am J Med Genet 63:80–83

3.

Thiel CT, Horn D, Zabel B, Arif B. Ekici AB, Salinas K, Gebhart E, Rüschendorf F, Sticht H, Spranger J, Müller D, Zweier C, Schmitt Z, Reis A, Rauch A (2005) Severely incapacitating mutations in patients with extreme short stature identify RNA-processing endoribonuclease RMRP as an essential cell growth regulator. Am J Hum Genet 77(5):795–806

4.

ul Haque MF, King LM, Krakow D, Cantor RM, Rusiniak ME, Swank RT, Superti-Furga A, Haque S, Abbas H, Ahmad W, Ahmad M, Cohn DH (1998) Mutations in orthologous genes in human spondyloepimetaphyseal dysplasia and the brachymorphic mouse. Nat Genet 20(2):157–162

5.

Herring JA (2002) Tacchdijian's paediatric orthopedics, 3rd edn. W.B. Saunders Company, USA

6.

Dobbs MB, Morcuende JA (2005) Other condition of the hip: Coxa vara. In: Morrissy RT, Weinstein SL (eds) Lovell and Winter's pediatric orthopedics, 6th edn. Lippincott Williams and Wilkins, New York, pp 1126–1134

7.

Blount WP (1937) Tibia vara: osteochondrosis deformans tibiae. J Bone Joint Surg Am 35:1–27

8.

Thompson GH, Carter JR, Smith CW (1984) Late-onset tibia vara: a comparative analysis. J Pediatr Orthop 4:185–194

9.

Trigui M, Pannier S, Finidori G, Padovani JP, Glorion C (2008) Coxa vara in chondrodysplasia: prognosis study of 35 hips in 19 children. J Pediatr Orthop 28(6):599–606

10.

Carroll K, Coleman S, Stevens PM (1997) Coxa vara: surgical outcomes of valgus osteotomies. J Pediatr Orthop 17(2):220–224

11.

Blount WP, Clarke GR (1971) The classic. Control of bone growth by epiphyseal stapling. A preliminary report. J Bone Jt Surg Clin Orthop 77:4–17

12.

Stevens PM (2007) Guided growth for angular correction: a preliminary series using a tension band plate. J Pediatr Orthop 27(3):253–259

13.

Jelinek EM, Bittersohl B, Martiny F, Scharfstädt A, Krauspe R, Westhoff B (2012) The 8-plate versus physeal stapling for temporary hemiepiphyseodesis correcting genu valgum and genu varum: a retrospective analysis of thirty five patients. Int Orthop 36(3):599–605
About this article
Cite this article
Kenis, V., Grill, F. & Kaissi, A.A. Axial correction of the lower limb deformities in a girl with anauxetic dysplasia. Musculoskelet Surg 98, 71–75 (2014). https://doi.org/10.1007/s12306-012-0200-9
Received:

Accepted:

Published:

Issue Date:
Keywords
Anauxetic dysplasia

Valgus subtrochanteric osteotomies

Hemiepiphyseodesis

Radiology