Abstract
The Annual Biosemiotic Achievement Award was established at the annual meeting of the International Society for Biosemiotic Studies (ISBS) in 2014, in conjunction with Springer and Biosemiotics. It seeks to recognize papers published in the journal that present novel and potentially important contributions to biosemiotic research, its scientific impact, and its future prospects. Here the winner of the Biosemiotic Achievement Award for 2022 is announced: The award goes to Sigmund Ongstad for his article "Simple Utterances but Complex Understanding? Meta-studying the Fuzzy Mismatch between Animal Semantic Capacities in Varied Contexts".
This is a preview of subscription content,
to check access.
Access this article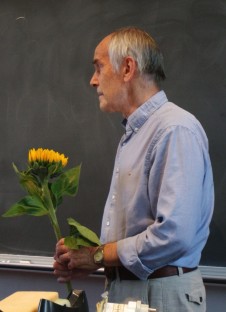 References
Barbieri, M. (1985). The semantic theory of evolution. Routledge.

Bellucci, F., & Pietarinen, A. V. (2020). Peirce on the justification of abduction. Studies in History and Philosophy of Science Part A, 84, 12–19.

Berwick, R. C., & Chomsky, N. (2015). Why only us: Language and Evolution. 9780262333351 The MIT Press.electronic.https://doi.org/10.7551/mitpress/10684.001.0001

Bréal, M. (1868). Les Idées Latentes du Langage: Leçon Faite au Collége de France pour la Réouverture du Cours de Grammaire Comparée. Librairie de L. Hachette et Cie.

Bréal, M. (1897). Essai de sémantique: science des significations. gallica.bnf.fr / Bibliothèque nationale de France:http://gallica.bnf.fr/ark:/12148/bpt6k50474n/f351.image

Deacon, T. W. (1997). Symbolic species: The Coevolution of Language and Brain. W.W. Norton & Co.

Dennett, D. C. (2001). The evolution of culture. The Monist, 84(3), 305–324.

Jackendoff, R. (1983). Semantics and cognition (8 vol). MIT Press.

Levin, M. (2022). Technological approach to mind everywhere: An experimentally-grounded framework for understanding diverse bodies and minds. Frontiers in Systems Neuroscience, 16, 768201.

Morgan, C. L. (1903). Other minds that ours. In W. Scott (Ed.), An introduction to comparative psychology (pp. 36–59). Walter Scott.

Morris, C. W. (1938). Foundations of the theory of Signs. In O. Neurath, R. Carnap, & C. W. Morris (Eds.), Foundations of the unity of science: Toward an international encyclopedia of unified science (pp. 1–59). University of Chicago Press.

Ongstad, S. (2019). A conceptual framework for studying evolutionary origins of life-genres. Biosemiotics, 12(2), 245–266.

Ongstad, S. (2021). Can animals refer? Meta-positioning studies of animal semantics. Biosemiotics, 14(2), 433–457.

Ongstad, S. (2022a). Simple utterances but complex understanding? Meta-studying the fuzzy mismatch between animal semantic capacities in varied contexts. Biosemiotics, 15(1), 85–108.

Ongstad, S. (2022b). Perceptions of context. Epistemological and methodological implications for meta-studying zoo-communication. Biosemiotics, 15(3), 497–518.

Prodi, G. (1977). Le basi materiali della significazione. Bompiani.
Acknowledgements
This publication was made possible thanks to targeted funding provided by the Czech Ministry of Education, Youth and Sports for specific research, granted in 2023 to Palacký University Olomouc (IGA_FF_2023_044) (Lackova), and Faculty Niche Research Area Grant (RC-FNRA-IG/22–23/ARTS/01) of the Faculty of Arts, Hong Kong Baptist University (Pietarinen).
Ethics declarations
Conflict of interest
The authors have no competing interests to declare that are relevant to the content of this article.
Additional information
Publisher's Note
Springer Nature remains neutral with regard to jurisdictional claims in published maps and institutional affiliations.
About this article
Cite this article
Lackova, L., Pietarinen, AV.J. & Tønnessen, M. Biosemiotic Achievement Award for the Year 2022. Biosemiotics (2023). https://doi.org/10.1007/s12304-023-09544-9
Received:

Accepted:

Published:

DOI: https://doi.org/10.1007/s12304-023-09544-9
Keywords