Abstract
Although research into the biosemiotic mechanisms underlying the purposeful behavior of brainless living systems is extensive, researchers have not adequately described biosemiosis among neurons. As the conscious use of signs is well-covered by the various fields of semiotics, we focus on subconscious sign action. Subconscious semiotic habits, both functional and dysfunctional, may be created and reinforced in the brain not necessarily in a logical manner and not necessarily through repeated reinforcement. We review literature that suggests hypnosis may be effective in changing subconscious dysfunctional habits, and we offer a biosemiotic framework for understanding these results. If it has been difficult to evaluate any psychological approach, including hypnosis, this may be because contemporary neuroscience lacks a theory of the sign. We argue that understanding the fluid nature of representation in biological organisms is prerequisite to understanding the nature of the subconscious and may lead to more effective of treatments for dysfunctional habits developed through personal experience or culture.
Access options
Buy single article
Instant access to the full article PDF.
US$ 39.95
Tax calculation will be finalised during checkout.
Subscribe to journal
Immediate online access to all issues from 2019. Subscription will auto renew annually.
US$ 79
Tax calculation will be finalised during checkout.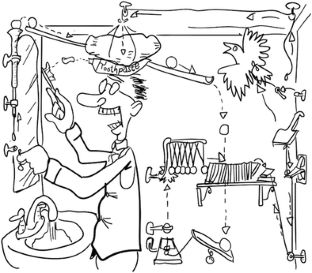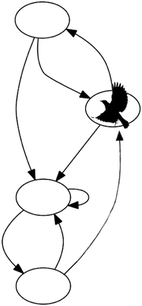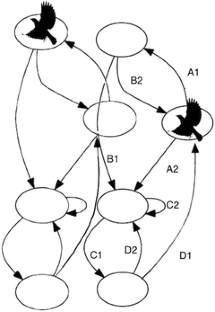 Notes
1.

In addition to the term "semiotic habit," which can only be applied to the actions and responses of living or purposeful entities, we also use various less restricted and less precise synonyms: procedure, program, routine, algorithm and machine—in order to engage disciplines that use these more familiar terms.

2.

Elsewhere (Alexander 2009: 97; Alexander 2011: 30, 114) makes a distinction between different kinds of selection: statistical selection for most numerous, which gives us average regularity and homogeneity as well as, ultimately, the Second Law of Thermodynamics; formal selection for similarity and proximity, which give us self-organized patterns; and functional selection for reproductive fitness, which gives us evolution. Here we refer to formal selection as "self-organization" to avoid confusion with the other types of selection.

3.

4.

Computer scientists are in the experimental stages of developing reaction-diffusion computing systems that self-organize virtual circuits. These may prove to be more life-like and develop true intelligence at some point. Currently however, such systems aren't quite as smart as slime mold. These scientists have actually started using slime mold for some of their experiments. See Adamatzky et al. (2005).

5.

The illustration is not meant to accurately represent starling behavior; the purpose is to give the reader a generic idea of a computational machine.
References
Abel, D. (2009). The GS (genetic selection) principle. Frontiers of Bioscience, 14(4), 2959–2969.

Adamatzky, A., Costello, B., & Asai, T. (2005). Reaction-diffusion computers. Amsterdam: Elsevier.

Alexander, V. (2009). The poetics of purpose. Biosemiotics, 2(1), 77–100.

Alexander, V. (2011). The Biologist's mistress: Rethinking self-organization in art, literature, and nature. Litchfield Park: Emergent Publications.

Alexander, V. (2017/2018). Siri fails the Turing test: Computation, biosemiosis and artificial life. Recherches Sémiotiques / Semiotic Inquiry. Forthcoming.

Arnellos, A., Bruni, L., El-Hani, C., & Collier, J. (2012). Anticipatory functions, digital-analog forms and biosemiotics: Integrating the tools to model information and normativity in autonomous biological agents. Biosemiotics, 5(3), 331–367.

Baslow, M. (2011). Biosemiosis and the cellular basis of mind. Biosemiotics, 4(1), 39–53.

Blakemore, S.-J., Oakley, D. A., & Frith, C. D. (2003). Delusions of alien control in the normal brain. Neuropsychologia, 41(8), 1058–1067.

Bower, G. (1970). Analysis of a mnemonic device: Modern psychology uncovers the powerful components of an ancient system for improving memory. American Scientist, 58(5), 496–510.

Braffman, W., & Kirsch, I. (1999). Imaginative suggestibility and hypnotizability: An empirical analysis. Journal of Personality and Social Psychology, 77(3), 578–587.

Bryant, R. A., Hung, L., & Dobson-Stone, C. (2013). The association between the oxytocin receptor gene (OXTR) and hypnotizability. Psychoneuroendocrinology, 38(10), 1979–1984.

Castro García, Ò. (2011). Principles of minimal cognition in smart slime molds and social bacteria. Pensamiento, 67(254), 787–797.

Crutchfield, J. (1994). The calculi of emergence: Computation, dynamics, and induction. Physica D, 75, 11–54.

De Assis, L. (2015). Neural binding, consciousness, and mental disorder: Complexity as a common element. Journal for Neurocognitive Research, 57(3–4), 110–121.

Deacon, T. (2011). Incomplete nature: How mind emerged from matter. New York: Norton.

Derbyshire, S., Whalley, M., Stenger, V. A., & Oakley, D. (2004). Cerebral activation during hypnotically induced and imagined pain. NeuroImage, 23(1), 392–401.

Emmeche, C., & Hoffmeyer, J. (1991). Code-duality and the semiotics of nature. In M. Anderson & F. Merrell (Eds.), On semiotic modeling (pp. 117–166). New York: Mouton de Gruyter.

Faria, M. (2008). Signal transduction codes and cell fate. In M. Barberi (Ed.), The codes of life (pp. 265–283). Amsterdam: Springer.

Favareau, D. (2009). Essential readings in biosemiotics: Anthology and commentary. Amsterdam: Springer.

Faymondville, M.-E., Roediger, L., Del Fiore, G., Delgueldre, C., Phillips, C., Lamy, M., Maquet, P., & Laureys, S. (2003). Increased cerebral functional connectivity underlying the antinociteptive effects of hypnosis. Cognition and Brain Research, 17(2), 255–262.

Fisher, S, & Greenberg, R. (1985). The Scientific Credibility of Freud's Theories and Therapy New York: Columbia University press.

Freeman, W. (2000). How brains make up their minds. New York: Columbia University Press.

Gilbert, C., & Sigman, M. (2007). Brain states: Top-down influences in sensory processing. Neuron, 54(5), 677–696.

Giorgi, F., Maggio, R., & Bruni, L. (2011). Are olfactory receptors really Olfactive? Biosemiotics, 4(3), 331–347.

Harvey, J. (2013). Sensory perception: Lessons from synesthesia: Using synesthesia to inform the understanding of sensory perception. Yale Journal of Biology and Medicine, 86(2), 203–216.

Horton, J., & Crawford, H. (2004). Neurophysiological and genetic determinants of high hypnotizability. (pp. 133–151). In M. Heap et al. (Eds.), The highly hypnotizable person: Theoretical, experimental and clinical issues. New York: Routledge.

Kelso, J., Bressler, S. L., Buchanan, S., DeGuzman, G. C., Ding, M., Fuchs, A., & Holroydet, T. (1991). A phase transition in human brain and behavior. Physics Letters A, 169(3), 134–144.

Kosslyn, S., Thompson, W., Costantini-Ferrando, M., Alpert, N., & Spiegel, D. (2000). Hypnotic visual illusion alters color processing in the brain. American Journal of Psychiatry, 157(8), 1279–1284.

Lichtenberg, P., Bachner-Melman, R., Gritsenko, I., & Ebstein, R. (2000). Exploratory association study between catechol-O-methyltransferase (COMT) high/low enzyme activity polymorphism and hypnotizability. American Journal of Medical Genetics, 96(6), 771–774.

Liossi, C., & Hatira, P. (1999). Clinical hypnosis versus cognitive behavioral training for pain management with pediatric cancer patients undergoing bone marrow aspirations. International Journal of Clinical and Experimental Hypnosis, 47(2), 104–116.

Meléndez-Hevia, E., Waddell, T. G., & Cascante, M. (1996). The puzzle of the Krebs citric acid cycle: Assembling the pieces of chemically feasible reactions, and opportunism in the design of metabolic pathways during evolution. Journal of Molecular Evolution, 43(3), 293–303.

Neuman, Y. (2008). The immune self code: From correspondence to complexity. In M. Barbieri (Ed.), The codes of life (pp. 247–263). Amsterdam: Springer.

Noonan, D. (2004). Altered states. In Newsweek., October 3, 2004. http://www.newsweek.com/id/55125. Accessed 6 Feb 2017.

Ó Nualláin, S. (2010). Ask not what you can do for yourself: Cartesian chaos, neural dynamics, and immunological cognition. Biosemiotics, 3(1), 79–92.

Ó Nualláin, S., & Doris, T. (2012). Consciousness is cheap, even if symbols are expensive: Metabolism and the brain's dark energy. Biosemiotics, 5(2), 193–210.

Oakley, D., & Halligan, P. (2013). Hypnotic suggestion: Opportunities for cognitive neuroscience. Nature Reviews Neuroscience, 14(8), 565–576.

Pearce, D., Miller, A., Rowlands, G., & Turner, M. (2014). Role of projection in the control of bird flocks. Proceedings of the National Academy of Sciences, 111(29), 10422–10426 https://www.youtube.com/watch?v=QPZbedm_fBA (Accessed April 14, 2017.

Postle, B. (2006). Working memory as an emergent property of the mind and brain. Neuroscience, 139(1), 23–38.

Potter, G. (2004). Intensive therapy: Utilizing hypnosis in the treatment of substance abuse disorders. American Journal of Clinical Hypnosis, 47(1), 21–28.

Pratt, L., Brody, D., & Gu, Q. (2011). Antidepressant use in persons aged 12 and over: United States, 2005–2008. NCHS Data Brief 76. U.S. Department of Health and Human Services, Centers for Disease Control and Prevention, National Center for Health Statistics. https://www.cdc.gov/nchs/data/databriefs/db76.pdf. Accessed 30 Jan 2017.

Prigogine, I., & Nicolis, G. (1977). Self-Organization in non-Equilibrium Systems. New York: Wiley.

Rainville, P., Hofbauer, R., Paus, T., & Price, D. (1999). Cerebral mechanisms of hypnotic induction and suggestion. Journal of Cognitive Neuroscience, 11(1), 110–125.

Raz, A., & Buhle, J. (2006). Typologies of attentional networks. Nature Reviews Neuroscience, 7(5), 367–379.

Raz, A., & Wolfson, J. (2010). From dynamic lesions to brain imaging of behavioral lesions: Alloying the gold of psychoanalysis with the copper of suggestion. Neuropsychoanalysis, 12(1), 5–18.

Raz, A., Shapiro, T., Fan, J., & Posner, M. (2002). Hypnotic suggestion and the modulation of Stroop interference. Archives of General Psychiatry, 59(12), 1155–1161.

Reid, C., Lattya, T., Dussutour, A., & Beekman, M. (2012). Slime mold uses an externalized spatial "memory" to navigate in complex environments. Proceeding of the National Academy of Science, 109(43), 17490–17494.

Reynolds, C. (1987). Flocks, herds and schools: A distributed behavioral model. SIGGRAPH '87: Proceedings of the 14th annual conference on Computer graphics and interactive techniques. Association for Computing Machinery: 25–34.

Roozendaal, B. (2002). Stress and memory: Opposing effects of glucocorticoids on memory consolidation and memory retrieval. Neurobiology of Learning and Memory, 78(3), 578–595.

Salthe, S. (1993). Development and evolution: Complexity and change in biology. Cambridge, MA: MIT Press.

Schneider, E., & Sagan, D. (2005). Into the cool: Energy flow, thermodynamics, and life. Chicago: Chicago University Press.

Sharov, A. (2016). Evolution of natural agents: Preservation, advance, and emergence of functional information. Biosemiotics, 9(1), 103–120.

Stroop, J. R. (1935). Studies of interference in serial verbal reactions. Journal of Experimental Psychology, 18, 643–661.

Szechtman, H., Woody, E., Bowers, K. S., & Nahmias, C. (1998). Where the imaginal appears real: A positron emission tomography study of auditory hallucinations. Proceedings of the National Academy of Science, 95(4), 1956–1960.

Tebbetts, C. (1977). Self-Hypnosis. Glendale: Westwood Publishing.

Terhune, D. B., Cardeña, E., & Lindgren, M. (2010). Disruption of synaesthesia by posthypnotic suggestion: An ERP study. Neuropsychologia, 48(11), 3360–3364.

Thompson, E. (2007). Mind in life: Biology, Phenomenology, and the Sciences of Mind Cambridge: Harvard University press.

Turing, A. (1952). The chemical basis of morphogeneis. Philosophical Transactions of the Royal Society of London. Series B, 237(641), 37–72.

Uhlhaas, P., Pipa, G., Lima, B., Melloni, L., Neuenschwander, S., Nikolic, D., & Singer, W. (2009). Neural synchrony in cortical networks: History, concept and current status. Frontiers in Integrative Neuroscience, 3(17), 1–19.

Vermetten, E., & Bremmer, J. D. (2004). Functional brain imagine and the induction of traumatic recall: A cross-correlational review between neuroimaging and hypnosis. International Journal of Clinical and Experimental Hypnosis, 52(3), 280–312.

Wegner, D. (2002). The illusion of conscience will. Cambridge: MIT.

Winfree, A. (1987). When time breaks down: The three-dimensional dynamics of electrochemical waves and cardiac arrhythmias. Princeton: Princeton University Press.
About this article
Cite this article
Alexander, V.N., Grimes, V. Fluid Biosemiotic Mechanisms Underlie Subconscious Habits. Biosemiotics 10, 337–353 (2017). https://doi.org/10.1007/s12304-017-9298-3
Received:

Accepted:

Published:

Issue Date:
Keywords
Dysfunctional semiotic habits

Hypnosis

Subconscious habits

Propaganda

Advertising

Poetics