Abstract
The sounds produced by animals have been a topic of research into animal behaviour for a very long time. If acoustic signals are undoubtedly a vehicle for exchanging information between individuals, environmental sounds embed as well a significant level of data related to the ecology of populations, communities and landscapes. The consideration of environmental sounds for ecological investigations opens up a field of research that we define with the term ecoacoustics. In this paper, we draw the contours of ecoacoustics by detailing: the main theories, concepts and methods used in ecoacoustic research, and the numerous outcomes that can be expected from the ecological approach to sound. Ecoacoustics has several theoretical and practical challenges, but we firmly believe that this new approach to investigating ecological processes will generate abundant and exciting research programs.
Access options
Buy single article
Instant access to the full article PDF.
USD 39.95
Price includes VAT (USA)
Tax calculation will be finalised during checkout.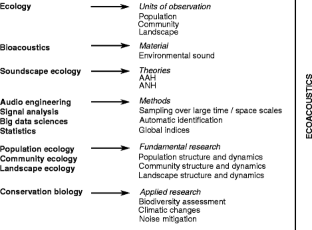 References
Amézquita, A., Flechas, S. V., Lima, A. P., Gasser, H., & Hödl, W. (2011). Acoustic interference and recognition space within a complex assemblage of dendrobatid frogs. Proceedings of the National Academy of Sciences, 108, 17058–17063.

Azzellino, A., Lanfredi, C., D'Amico, A., Pavan, G., Podestà, M., & Haun, J. (2011). Risk mapping for sensitive species to underwater anthropogenic sound emissions: model development and validation in two Mediterranean areas. Marine Pollution Bulletin, 63, 56–70.

Barber, J. R., Crooks, K. R., & Fristrup, K. M. (2009). The costs of chronic noise exposure for terrestrial organisms. Trends in Ecology & Evolution, 25, 180–189.

Barber, J. R., Burdett, C., Reed, S., Warner, K., Formichella, C., Crooks, K., Theobald, D., & Fristrup, K. (2011). Anthropogenic noise exposure in protected natural areas: estimating the scale of ecological consequences. Landscape Ecology, 26, 1281–1295.

Bardeli, R., Wolff, D., Kurth, F., Koch, M., & Frommolt, K.-H. (2010). Detecting bird sounds in a complex acoustic environment and application to bioacoustic monitoring. Pattern Recognition Letters, 31, 1524–1534.

Boncoraglio, G., & Saino, N. (2007). Habitat structure and the evolution of bird song: a meta-analysis of the evidence for the acoustic adaptation hypothesis. Functional Ecology, 21, 134–142.

Bormpoudakis, D., Sueur, J., & Pantis, J. (2013). Spatial heterogeneity of ambient sound at the habitat type level: ecological implications and applications. Landscape Ecology, 28, 495–506.

Botero, C., Boogert, N. J., Vehrencamp, S. L., & Lovette, I. J. (2009). Climatic patterns predict the elaboration of song displays in monckingbirds. Current Biology, 19, 1–5.

Both, C., & Grant, T. (2012). Biological invasions and the acoustic niche: the effect of bullfrog calls on the acoustic signals of white-banded tree frogs. Biology Letters, 8, 714–716.

Briefer, E., Oiejuk, T. S., Rybak, F., & Aubin, T. (2010). Are bird song complexity and song sharing shaped by habitat structure? An information theory and statistical approach. Journal of Theoretical Biology, 262, 151–164.

Brown, A. L., & Muhar, A. (2004). An approach to he acoustic design of outdoor space. Journal of Environmental Planning and Management, 47, 827–842.

Cato, D., McCauley, R., Rogers, T., & Noad, M. (2006). Passive acoustics for monitoring marine animals - progress and challenges. Proceedings of Acoustics, 2006, 453–460.

Chase, J. M., & Myers, J. A. (2011). Disentangling the importance of ecological niches from stochastic processes across scales. Philosophical Transactions of the Royal Society of London B: Biological Sciences, 366, 2351–2363.

Chek, A. A., Bogart, J. P., & Loughheed, S. C. (2003). Mating signal partitioning in multi-species assemblages: a null model test using frogs. Ecology Letters, 6, 235–247.

Ey, E., & Fischer, J. (2009). The "acoustic adaptation hypothesis" - a review of the evidence from birds, anurans and mammals. Bioacoustics, 19, 21–48.

Farina, A. (2014). Soundscape ecology: Principles, patterns, methods and applications. New York: Springer.

Farina, A., & Pieretti, N. (2014). Sonic environment and vegetation structure: a methodological approach for a soundscape analysis of a Mediterranean maqui. Ecological Informatics, 21, 120–132.

Farina, A., Lattanzi, E., Malavasi, R., Pieretti, B., & Piccioli, L. (2010). Avian soundscapes and cognitive landscapes: theory, application and ecological perspectives. Landscape Ecology, 26, 1257–1267.

Farina, A., Pieretti, N., & Piccioli, L. (2011). The soundscape methodology for long-term bird monitoring: a Mediterranean Europe case-study. Ecological Informatics, 6, 354–363.

Farina, A., James, P., Bobryk, C., Pieretti, N., Lattanzi, E., & McWilliam, J. (2014). Low cost (audio) recording (LCR) for advancing soundscape ecology towards the conservation of sonic complexity and biodiversity in natural and urban landscapes. Urban Ecosystems, 17, 923–944.

Figueira, L., Tella, J. L., Camargo, U. M., & Ferraz, G. (2015). Autonomous sound monitoring shows higher use of amazon old growth than secondary forest by parrots. Biological Conservation, 184, 27–35.

Fletcher, N. H. (2007). Animal bioacoustics. In T. D. Rossing (Ed.), Handbook of acoustics (pp. 785–804). New York: Springer.

Francis, C. D., Ortega, C. P., & Cruz, A. (2009). Noise pollution changes avian communities and species interactions. Current Biology, 19, 1415–1419.

Furnas, B. J., & Callas, R. L. (2015). Using automated recorders and occupancy models to monitor common forest birds across a large geographic region. The Journal of Wildlife Management, 79, 325–337.

Gage, S. H., & Axel, A. C. (2014). Visualization of temporal change in soundscape power of a Michigan lake habitat over a 4-year period. Ecological Informatics, 21, 100–109.

Gasc, A., Sueur, J., Jiguet, F., Devictor, V., Grandcolas, P., Burrow, C., Depraetere, M., & Pavoine, S. (2013). Assessing biodiversity with sound: do acoustic diversity indices reflect phylogenetic and functional diversities of bird communities? Ecological Indicators, 25, 279–287.

Hampton, S. E., Strasser, C. A., Tewksbury, J. J., Gram, W. K., Budden, A. E., Batcheller, A. L., Duke, C. S., & Porter, J. H. (2013). Big data and the future of ecology. Frontiers in Ecology and the Environment, 11, 156–162.

Hoffmeyer, J. (2008). The semiotic niche. Journal of Medical Economics, 9, 5–30.

Hubbell, S. P. (2011). The unified neutral theory of biodiversity and biogeography. Princeton: Princeton University Press.

Hutchinson, G. E. (1957). Concluding remarks. Cold Spring Harbor Symposia on Quantitative Biology, 22, 415–427.

Joo, W., Gage, S. H., & Kasten, E. P. (2011). Analysis and interpretation of variability in soundscapes along an urban–rural gradient. Landscape and Urban Planning, 103, 259–276.

Kasten, E. P., Gage, S. H., Fox, J., & Joo, W. (2012). The remote environmental assessment laboratory's acoustic library: an archive for studying soundscape ecology. Ecological Informatics, 12, 50–67.

Kight, C. R., & Swaddle, J. P. (2011). How and why environmental noise impacts animals: an integrative, mechanistic review. Ecology Letters, 14, 1052–1061.

Krause, B. (1987). Bioacoustics, habitat ambience in ecological balance. Whole Earth Review, 57, 14–18.

Krause, B. (1993). The niche hypothesis. Soundscape Newsletter, 6, 6–10.

Laiolo, P. (2010). The emerging significance of bioacoustics in animal species conservation. Biological Conservation, 7, 1635–1645.

Laiolo, P., & Tella, J. (2006). Landscape bioacoustics allow detection of the effects of habitat patchiness on population structure. Ecology, 87, 1203–1214.

Laiolo, P., Vögeli, M., Serrano, D., & Tella, J. L. (2008). Song diversity predicts the viability of fragmented bird populations. PloS One, 3, e1822.

Llusia, D., Márquez, R., Beltrán, J. F., Benítez, M., & do Amaral, J. P. (2013). Calling behaviour under climate change: geographic and seasonal variation of calling temperatures in ectotherms. Global Change Biology, 19, 2655–2674.

Lucas, T. C. D., Moorcroft, E. A., Freeman, R., Rowcliffe, J. M., & Jones, K. E. (2015). A generalised random encounter model for estimating animal density with remote sensor data. Methods in Ecology and Evolution, 6, 500–509.

Luther, D. (2009). The influence of the acoustic community on songs of birds in a Neotropical rain forest. Behavioral Ecology, 20, 864–871.

Malavasi, R., & Farina, A. (2013). Neighbours' talk: interspecific choruses among songbirds. Bioacoustics, 22, 33–48.

Marques, T. A., Thomas, L., Martin, S. W., Mellinger, D. K., Ward, J. A., Moretti, D. J., Harris, D., & Tyack, P. L. (2012). Estimating animal population density using passive acoustics. Biological Reviews, 88, 287–309.

Marten, K., & Marler, P. (1977). Sound transmission and its significance for animal vocalization. Behavioral Ecology and Sociobiology, 2, 271–290.

Mazaris, A. D., Kallimanis, A. S., Chatzigianidis, G., Papadimitriou, K. & Pantis, J.D. (2009). Spatiotemporal analysis of an acoustic environment: interactions between landscape features and sounds. Landscape Ecology, 24, 817–831.

McGregor, P. K. (2005). Animal communcation networks. Cambridge: Cambridge University Press.

Michener, W. K., & Jones, M. B. (2012). Ecoinformatics: supporting ecology as a data-intensive science. Trends in Ecology & Evolution, 27, 85–93.

Møller, A. P. (2010). When climate change affects where bird sing. Behavioral Ecology, 22, 212–217.

Morton, E. S. (1975). Ecological sources of selection on avian sounds. American Naturalist, 109, 17–34.

Pekin, B., Jung, J., Villanueva-Rivera, L., Pijanowski, B., & Ahumada, J. (2012). Modeling acoustic diversity using soundscape recordings and LIDAR-derived metrics of vertical forest structure in a Neotropical rainforest. Landscape Ecology, 27, 1513–1522.

Piercy, J. J. B., Codling, E. A., Hill, A. J., Smith, D. J., & Simpson, S. D. (2014). Habitat quality affects sound production and likely distance of detection on coral reefs. Marine Ecology Progress Series, 516, 35–47.

Pieretti, N., & Farina, A. (2013). Application of a recently introduced index for acoustic complexity to an avian soundscape with traffic noise. Journal of the Acoustical Society of America, 134, 891–900.

Pijanowski, B. C., Villanueva-Rivera, L. J., Dumyahn, S. L., Farina, A., Krause, B. L., Napoletano, B. M., Gage, S. H., & Pieretti, N. (2011). Soundscape ecology: the science of sound in the landscape. Bioscience, 61, 203–216.

Porteous, J. D., & Mastin, J. F. (1985). Soundscape. Journal of Architectual and Planning Reseaarch, 2, 169–186.

Potamitis, I. (2014). Automatic classification of a taxon-rich community recorded in the wild. PloS One, 9, e96936.

Rabin, L. A., McCowan, B., Hooper, S. L., & Owings, D. H. (2003). Anthropogenic noise and its effect on animal communication: an interface between comparative psychology and conservation biology. International Journal of Comparative Psychology, 16, 172–192.

Risch, D., Castellote, M., Clark, C., Davis, G., Dugan, P., Hodge, L., Kumar, A., Lucke, K., Mellinger, D., Nieukirk, S., Popescu, C., Ramp, C., Read, A., Rice, A., Silva, M., Siebert, U., Stafford, K., Verdaat, H., & Van Parijs, S. (2014). Seasonal migrations of North Atlantic minke whales: novel insights from large-scale passive acoustic monitoring networks. Movement Ecology, 2, 24.

Rodriguez, A., Gasc, A., Pavoine, S., Grandcolas, P., Gaucher, P., & Sueur, J. (2014). Temporal and spatial variability of animal sound within a Neotropical forest. Ecological Informatics, 21, 133–143.

Ruppé, L., Clément, G., Herrel, A., Ballesta, L., Décamps, T., Kéver, L., & Parmentier, E. (2015). Environmental constraints drive the partitioning of the soundscape in fishes. Proceedings of the National Academy of Sciences, 12, 6092–6097.

Schafer, R. M. (1977). The soundscape: Our sonic environment and the tuning of the world. Destiny Books.

Schmidt, A., & Balakrishnan, R. (2014). Ecology of acoustic signalling and the problem of masking interference in insects. Journal of Comparative Physiology A, 201, 133–142.

Schmidt, A. K., Römer, H., & Riede, K. (2012). Spectral niche segregation and community organization in a tropical cricket assemblage. Behavioral Ecology, 24, 470–480.

Simpson, S. D., Meekan, M., Montgomery, J., McCauley, R., & Jeffs, A. (2005). Homeward sound. Science, 308, 221.

Sinsch, U., Lumkemann, K., & Rosar, K. (2012). Acoustic niche partitioning in an anuran community inhabiting and Afromontane wetland (Butare, Rwanda). African Zoology, 47, 60–73.

Slabbekoorn, H., & Bouton, N. (2008). Soundscape orientation: a new field in need of sound investigation. Animal Behaviour, 76, e5–e8.

Smith, T. B., Harrigan, R. J., Kirschel, A. N. G., Buermann, W., Saatchi, S., Blumstein, D. T., de Kort, S. R., & Slabbekoorn, H. (2013). Predicting bird song from space. Evolutionary Applications, 6, 865–874.

Snaddon, J., Petrokofsky, G., Jepson, P., & Willis, K. J. (2013). Biodiversity technologies: tools as change agents. Biology Letters, 9, 20121029.

Stowell, D., & Plumbley, M. D. (2014). Automatic large-scale classification of bird sounds is strongly improved by unsupervised feature learning. PeerJ, 2, e488.

Sueur, J. (2002). Cicada acoustic communication: potential sound partitioning in a multispecies community from Mexico (Hemiptera: Cicadomorpha: Cicadidae). Biological Journal of the Linnean Society, 75, 379–394.

Sueur, J., Pavoine, S., Hamerlynck, O., & Duvail, S. (2008). Rapid acoustic survey for biodiversity appraisal. PloS One, 3, e4065.

Sueur, J., Farina, A., Gasc, A., Pieretti, N., & Pavoine, S. (2014). Acoustic indices for biodiversity assessment and landscape investigation. Acta Acustica United with Acustica, 100, 772–781.

Tobias, J. A., Planqué, R., Cram, D. L., & Seddon, N. (2014). Species interactions and the structure of complex communication networks. Proceedings of the National Academy of Sciences, 111, 1020–1025.

Toledo, L. F., Tipp, C., & Marquez, R. (2015). The value of audiovisual archives. Science, 3447, 484.

Towsey, M., Parsons, S., & Sueur, J. (2014a). Ecology and acoustics at a large scale. Ecological Informatics, 21, 1–3.

Towsey, M., Wimmer, J., Williamson, I., & Roe, P. (2014b). The use of acoustic indices to determine avian species richness in audio-recordings of the environment. Ecological Informatics, 21, 110–119.

Towsey, M., Zhang, L., Cottman-Fields, M., Wimmer, J., Zhang, J., & Roe, P. (2014c). Visualization of long-duration acoustic recordings of the environment. Procedia Computer Science, 29, 703–712.

Truax, B. (1999). Handbook for acoustic ecology. Cambridge Street Publishing: CD-ROM Edition.

Tucker, D., Gage, S., Williamson, I., & Fuller, S. (2014). Linking ecological condition and the soundscape in fragmented Australian forests. Landscape Ecology, 29, 745–758.

van Opzeeland, I., Samaran, F., Stafford, K., Findlay, K., Gedamke, J., Harris, D., & Miller, B. S. (2013). Towards collective circum-antarctic passive acoustic monitoring: the southern ocean hydrophone network (SOHN). Polarforschung, 83, 47–61.

Wimmer, J., Towsey, M., Roe, P., & Williamson, I. (2013). Sampling environmental acoustic recording to determine bird species richness. Ecological Applications, 22, 1419–1428.

Zimmer, W. M. X. (2011). Passive acoustic monitoring of Cetaceans. Cambridge: Cambridge University Press.
Acknowledgments
We warmly thank the colleagues who participated in organising the Paris meeting and to the development of the International Society of Ecoacoustics: Christopher Bobryk, Susan Fuller, Stuart Gage, Bernie Krause, Diego Llusia, Jamie McWilliam, David Monacchi, Gianni Pavan, Nadia Pieretti and Denise Risch. We also thank two anonymous referees for their helpful comments.
About this article
Cite this article
Sueur, J., Farina, A. Ecoacoustics: the Ecological Investigation and Interpretation of Environmental Sound. Biosemiotics 8, 493–502 (2015). https://doi.org/10.1007/s12304-015-9248-x
Received:

Accepted:

Published:

Issue Date:
Keywords
Ecoacoustics

Sound

Large-scale research

Discipline framework