Abstract
Polygonatum verticillatum (L.) All. is an important medicinal herb that belongs to the family Asparagaceae. The rhizome of the species is used in Chyavanprash preparation and several other ayurvedic formulations. Numerous active constituents like saponins, alkaloids, phytohormones, flavonoids, antioxidants, lysine, serine, aspartic acid, diosgenin, β-sitosterol, etc. have been reported from this species. In this study, morphological, phytochemical, antioxidant and genetic variations of 11 distant populations of P. verticillatum were measured. Considerably (P < 0.05) higher variations were recorded among different populations of P. verticillatum using morphological, phytochemical and genetic diversity parameters. AGFW (above ground fresh weights); flavonols, FRAP (Ferric ion reducing antioxidant power) and NO (Nitric Oxide scavenging activity) were recorded maximum in Kafni population. Similarly, a significantly higher above and below ground dry weight was recorded in Mayawati and Surmoli populations respectively. Maximum phenolic content, tannins, and DPPH (2,2-diphenyl-1-picrylhydrazyl) activity were recorded in Milam population. A total of 165 individuals from 11 populations were assessed for genetic diversity using inter-simple sequence repeats (ISSR) marker. High genetic diversity (He = 0.35) was recorded in Himkhola and Surmoli populations while it was observed minimum (0.28) in the Mayawati population. Altitude showed a significant positive correlation with tannins (r = 0.674; P < 005) and DPPH (r = 0.820; P < 0.01). Phenol content exhibited a considerably positive relationship with He (r = 0.606; P < 0.05) and BGFW (r = 0.620; P < 0.05), flavonol displayed a positive correlation with Pp% (r = 0.606; P < 0.05). The population structure of P. verticillatum, exhibited that the optimal value of the K was 3 for its populations as determined by the ΔK statistic structure. Among populations, the amount of gene flow is higher (Nm = 1.717) among all sites. Hence, it can be concluded that P. verticillatum populations possess considerable variability in the collected populations. Likewise, the populations from Kafni, Satbunga and Himkhola with higher morphological, phytochemicals and genetic variability were prioritized and therefore recommended for cultivation and mass multiplication to meet the industrial demand for target species.
Access options
Buy single article
Instant access to the full article PDF.
USD 39.95
Price excludes VAT (USA)
Tax calculation will be finalised during checkout.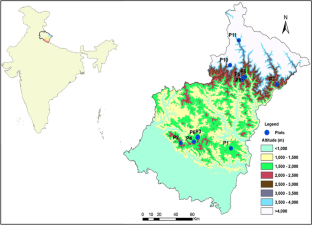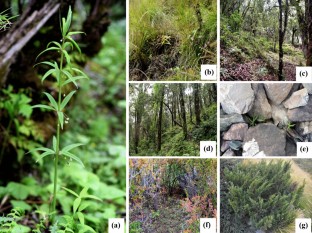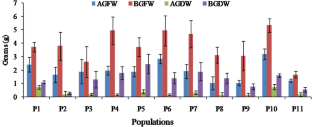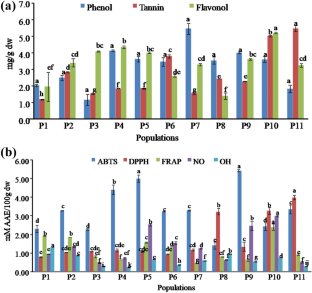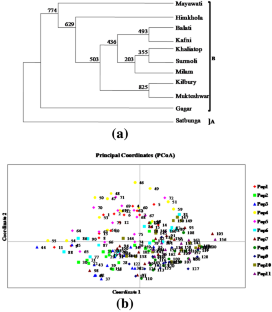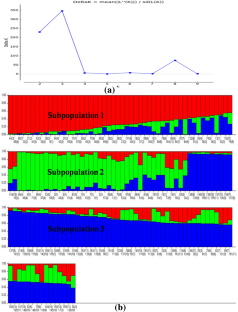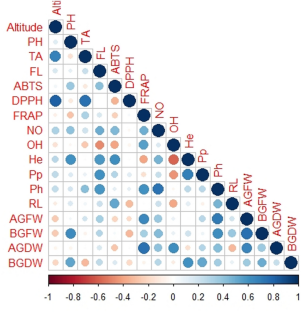 References
Adhikari P, Joshi K, Singh M, Pandey A (2020) Influence of altitude on secondary metabolites, antioxidants, and antimicrobial activities of Himalayan yew (Taxus wallichiana). Plant Biosyst. 2:1–9

Ayana A, Bryngelsson T, Bekele E (2001) Geographic and altitudinal allozyme variation in sorghum (Sorghum bicolor (L.) Moench) landraces from Ethiopia and Eritrea. Hereditas 135(1):1–12

Benzie IF, Strain JJ (1996) The ferric reducing ability of plasma (FRAP) as a measure of "antioxidant power": the FRAP assay. Anal Biochem 239:70–76

Bhatt ID, Dauthal P, Rawat S, Gaira KS, Jugran A, Rawal RS, Dhar U (2012) Characterization of essential oil composition, phenolic content, and antioxidant properties in wild and planted individuals of Valeriana jatamansi Jones. Sci Hortic 136:61–68

Cai X, Feng Z, Zhang X, Xu W, Hou B, Ding X (2011) Genetic diversity and population structure of an endangered Orchid (Dendrobium loddigesii Rolfe) from China revealed by SRAP markers. Sci Hortic 129:877–881

Cai Y, Luo Q, Sun M, Corke H (2004) Antioxidant activity and phenolic compounds of 112 traditional Chinese medicinal plants associated with anticancer. Life Sci 74:2157–2184

Chang CC, Yang MH, Wen HM, Chern JC (2002) Estimation of total flavonoid content in propolis by two complementary colorimetric methods. J Food Drug Anal 10:178–182

Chao D, Meng X, Meng J, Khan IH, Dai L, Khan A, Xingye AN, Zhang J, Tanzina HUQ, Yonghao Ni (2019) Chitosan as a preservative for fruits and vegetables: a review on chemistry and antimicrobial properties. J Bioresour Bioprod 4:11–21

Chelghoum M, Guenane H, Tahri D, Laggoun I, Marfoua FZ, Rahmani FZ, Khenifer F, Yousfi M (2021) Influence of altitude, precipitation, and temperature factors on the phytoconstituents, antioxidant, and α-amylase inhibitory activities of Pistacia atlantica. J. Food. Meas. Charact. 6:1–15

Chung MY, Vu SH, López-Pujol J, Herrando-Moraira S, Son S, Suh GU, Le Quynh HT, Chung MG (2018) Comparison of genetic variation between northern and southern populations of Lilium cernuum (Liliaceae): implications for Pleistocene refugia. PloS one 13(1):1063

Cirak C, Radusiene J, Jakstas V, Ivanauskas L, Seyis F, Yayla F (2017) Altitudinal changes in secondary metabolite contents of Hypericum androsaemum and Hypericum polyphyllum. Biochem Syst Ecol 70:108–115

Das A, Gaur M, Barik DP, Subudhi E (2017) Genetic diversity analysis of 60 ginger germplasm core accessions using ISSR and SSR markers. Plant Biosyst. Int J Deal with All Asp Plant Biol 151:822–832

Deperi SI, Tagliotti ME, Bedogni MC, Manrique-Carpintero NC, Coombs J, Zhang R, Douches D, Huarte MA (2018) Discriminant analysis of principal components and pedigree assessment of genetic diversity and population structure in a tetraploid potato panel using SNPs. PLoS One. https://doi.org/10.1371/journal.pone.0194398

Earl DA (2012) STRUCTURE HARVESTER: a website and program for visualizing STRUCTURE output and implementing the Evanno method. Conserv Genet Resour 4:359–361

Evanno G, Regnaut S, Goudet J (2005) Detecting the number of clusters of individual using the software STRUCTURE: a simulation study. Mol Ecol 14:2611–2620

Felsenstein J (2006) PHYLIP (Phylogenetic Inference Package) documentation files, version 3.66. Department of Genome Sciences, University of Washington, Seattle

George S, Sharma J, Yadon VL (2009) Genetic diversity of the endangered and narrow endemic Piperia yadonii (Orchidaceae) assessed with ISSR polymorphisms. Am J Bot 96:2022–2030

Giri L, Belwal T, Bahukhandi A, Suyal R, Bhatt ID, Rawal RS, Nandi SK (2017) Oxidative DNA damage protective activity and antioxidant potential of Ashtvarga species growing in the Indian Himalayan Region. Ind Crops Prod 102:173–179

Giri L, Jugran AK, Bahukhandi A, Dhyani P, Bhatt ID, Rawal RS, Nandi SK, Dhar U (2016) Population genetic structure and marker trait associations using morphological, phytochemical and molecular parameters in Habenaria edgeworthii—a threatened medicinal orchid of West Himalaya, India. Appl Biochem Biotechnol 181:267–282

Gouvinhas I, Pinto R, Santos R, Saavedra MJ, Barros AI (2020) Enhanced phytochemical composition and biological activities of grape (Vitis vinifera L.) Stems growing in low altitude regions. Sci. Horticul. 265:109248

Guo XD, Ma YJ, Parry J, Gao JM, Yu LL, Wang M (2011) Phenolics content and antioxidant activity of tartary buckwheat from different locations. Molecules 16:9850–9867

Gupta S, Bharalee R (2020) Genetic Diversity and Population Structure of a Medicinal Herb Houttuynia cordata Thunb. of North-East India. Plant Mol Biol Rep. https://doi.org/10.1007/s11105-020-01260-9

Gyorgy Z, Incze N, Pluhar Z (2020) Differentiating Thymus vulgaris chemotypes with ISSR molecular markers. Biochem System Ecol 92:104–118

Halliwell B (2006) Reactive species and antioxidants. Redox biology is a fundamental theme of aerobic life. Plant Physiol 141:312–322

Hamrick JL, Godt MJW (1989) Allozyme diversity in plants. In: Brown AHD, Clegg MT, Kahler AL, Weir BS (eds) Plant population genetics, breeding and genetic resources. Sinauer Press, Sunderland, MA, USA, pp 43–63

Ji R, Sheng Y, Chen L, Li X, Shao J (2020) Analysis of the genetic structure and morphology of Polygonatum cyrtonema in Anhui Province, eastern China revealed three distinct genetic groups. Nord J Bot 38(2):61

Jugran A, Bhatt ID, Rawat S, Giri L, Rawal RS, Dhar U (2011) Genetic diversity and differentiation in Hedychium spicatum, a valuable medicinal plant of Indian Himalaya. Biochem Genet 49:806–818

Jugran A, Rawat S, Dauthal P, Mondal S, Bhatt ID, Rawal RS (2013a) Association of ISSR markers with some biochemical traits of Valeriana jatamansi Jones. Ind Crop Prod 44:671–676

Jugran AK, Bhatt ID, Rawal RS (2015) Identification of ISSR markers associated with valerenic acid and antioxidant activity in Valeriana jatamansi Jones in Western Himalaya. Mol Breed 35:1–14

Jugran AK, Bhatt ID, Rawal RS, Nandi SK, Pande V (2013b) Patterns of morphological and genetic diversity of Valeriana jatamansi Jones in different habitats and altitudinal range of West Himalaya, India. Flora 208:13–21

Kasture A, Krishnamurthy R, Rajkumar K (2016) Genetic variation in the endangered Indian sweet flag (Acorus calamus L.) estimated using ISSR and RAPD markers. J Appl Res Med Aroma 3:112–119

Kaur S, Panesar PS, Bera MB, Kaur V (2015) Simple sequence repeat markers in genetic divergence and marker-assisted selection of rice cultivars: a review. Crit Rev Food Sci Nutr 55:41–49

Khan H, Saeed M, Muhammad N, Perviz S (2016) Phytochemical analysis, antibacterial, and antifungal assessment of aerial parts of Polygonatum verticillatum. Toxicol Ind Health 32:841–847

Kramp K, Huck S, Niketić M, Tomović G, Schmitt T (2009) Multiple glacial refugia and complex postglacial range shifts of the obligatory woodland plant Polygonatum verticillatum (Convallariaceae). Plant Biol 11:392–404

Kumar J, Mishra GP, Singh H, Srivastava RB, Naik PK (2011) Congruence of inter simple sequence repeats (ISSR) and random amplification of polymorphic deoxyribonucleic acid (RAPD) markers in genetic characterization of Artemisia annua in the Trans-Himalayan region. J Med Plants Res 5:5568–5576

Kumaran A (2006) Antioxidant and free radical scavenging activity of an aqueous extract of Coleus aromaticus. Food Chem 97:109–114

Lohani N, Tewari LM, Kumar R, Joshi GC, Kumar S, Upreti BM (2013) Population studies, habitat assessment and threat categorization of Polygonatum verticillatum (L.) Allioni in Kumaun Himalaya. J Ecol Nat 5:74–82

Loveless MD, Hamrick JL (1984) Ecological determinants of genetic structure in plant populations. Annu Rev Ecol Syst 15:65–95

Naik PK, Alam MA, Singh H, Goyal V, Parida S, Kalia S, Mohapatra T (2010) Assessment of genetic diversity through RAPD, ISSR and AFLP markers in Podophyllum hexandrum: a medicinal herb from the Northwestern Himalayan region. Physiol Mol Biol Plants 16:135–148

Nasim N, Sandeepa IS, Sahoo A, Das S, Panda MK, Acharya L, RamaRao VV, Nayaka S, Mohanty S (2020) Population genetic structure and diversity analysis in economically important Pandanus odorifer (Forssk.) Kuntze accessions employing ISSR and SSR markers. Ind Crop Prod 143:111894. https://doi.org/10.1016/j.indcrop.2019.111894

Nei M (1973) Analysis of gene diversity in subdivided populations. Proc Natl Acad Sci USA 70:3321–3323

Nei M (1978) Estimation of average heterozygosity and genetic distance from a small number of individuals. Genetics 89:583–590

Nybom H (2004) Comparison of different nuclear DNA markers for estimating intraspecific genetic diversity in plants. Mol Ecol 13:1143–1155

Peakall ROD, Smouse PE (2006) GENALEX 6: genetic analysis in Excel. Population genetic software for teaching and research. Mol Ecol Notes 6:288–295

Phondani PC, Maikhuri RK, Rawat LS, Farooquee NA, Kala CP, Vishvakarma SR, Rao KS, Saxena KG (2010) Ethnobotanical uses of plants among the Bhotiya tribal communities of Niti Valley in Central Himalaya, India. Ethnobot Res Appl 8:233–244

Rawat S, Bhatt ID, Rawal RS (2020) Variation in essential oil composition in rhizomes of natural populations of Hedychium spicatum in different environmental condition and habitats. J Essent Oil Res 32:348–360

Rawat S, Jugran AK, Bhatt ID, Rawal RS, Nandi SK (2016) Genetic diversity analysis in natural populations of Roscoea procera Wall. from West Himalaya, India. Braz J Bot 39:621–630

Rawat S, Jugran AK, Bhatt ID, Rawal RS, Nandi SK (2017) Effects of genetic diversity and population structure on phenolic compounds accumulation in Hedychium spicatum. Ecol Genet Genom 3:25–33

Ray A, Jena S, Haldar T, Sahoo A, Kar B, Patnaik J, Ghosh B, Panda PC, Mahapatra N (2019a) Population genetic structure and diversity analysis in Hedychium coronarium populations using morphological, phytochemical and molecular markers. Ind Crop Prod 132:118–133

Ray A, Jena S, Kar B, Patnaik J, Panda PC, Nayak S (2019b) Chemical composition and antioxidant activities of essential oil of Hedychium greenii and Hedychium gracile from India. Nat Prod Res 33:1482–1485

Reisch C, Anke A, Rohl M (2005) Molecular variation within and between ten populations of Primula farinosa (Primulaceae) along an altitudinal gradient in the northern Alps. Basic Appl Ecol 6:35–45

Ruhland CT, Fogal MJ, Buyarski CR, Krna MA (2007) Solar ultraviolet-B radiation increases phenolic content and ferric reducing antioxidant power in Avena sativa. Molecules 12:1220–1232

Sagar PK (2014) Adulteration and substitution in endangered, ASU herbal medicinal plants of India, their legal status, scientific screening of active phytochemical constituents. Int J Pharm Sci Res 5:4023

Saitou N, Nei M (1987) The neighbor-joining method: a new method for reconstructing phylogenetic trees. Mol Biol Evol 4:406–425

Saxena AK, Pandey T, Singh JS (1985) Altitudinal variation in the vegetation of Kumaon Himalayas. In: Rao DN, Ahmed KJ, Yunus M, Singh SN (eds) Perspectives in Environmental Botany. Print House, Lucknow, pp 43–66

Semwal P, Painuli S, Jugran A, Palni LMS, Verma S, Thapliyal A, Tewari D (2020) Genetic Diversity of Scanty Available Himalayan Saussurea obvallata (DC.) Edgew. Iran J Sci Technol Trans A Sci 44:587–594

Sharaf AA, Khafagi OMA, Hatab EBE, Moursy MM (2013) Effect of altitudinal gradients on the content of carbohydrate, protein, proline and total phenols of some desert plants in Saint Katherine Mountain, South Sinai, Egypt. Middle-East J Sci Res 14:122–129

Sharma S, Joshi R, Kumar D (2020) Quantitative analysis of flavonols, flavonol glycoside and homoisoflavonoids in Polygonatum verticillatum using UHPLC-DAD-QTOF-IMS and evaluation of their antioxidant potential. Phytochem Anal 31:333–339

Shen Y, Yue G (2019) Current status of research on aquaculture genetics and genomics-information from ISGA 2018. Aquacult Fish 4:43–47

Singh N, Rajini PS (2004) Free radical scavenging activity of an aqueous extract of potato peel. Food Chem 85:611–616

Singleton VL, Rossi JA (1965) Colorimetry of total phenolics with phosphomolybdic-phosphotungstic acid reagents. Am J Enol Vitic 16:144–158

Sun QB, Li LF, Li Y, Wu GJ, Ge XJ (2008) SSR and AFLP markers reveal low genetic diversity in the biofuel plant Jatropha curcas in China. Crop Sci 48:1865–1871

Suyal R, Bahukhandi A, Bhatt ID, Rawal RS (2021) Comparative Analysis of Biochemical Attributes of Genus Polygonatum in Western Himalaya. Natl Acad Sci Lett. https://doi.org/10.1007/s40009-020-01028-5

Suyal R, Bhatt D, Rawal RS, Tewari LM (2019) Status of two threatened Astavarga herbs, Polygonatum cirrhifolium and Malaxis muscifera, in west Himalaya: conservation implications. Proc Natl Acad Sci India Sect B Biol Sci 6:1–10

Suyal R, Rawat S, Rawal RS, Bhatt ID (2019) Variability in morphology, phytochemicals, and antioxidants in Polygonatum verticillatum (L.) All. populations under different altitudes and habitat conditions in Western Himalaya India. Environ. Monit Assess 191:783

Szczecinska M, Sawicki J, Polok K, Hołdyński C, Zielinski R (2006) Comparison of three Polygonatum species from Poland based on DNA markers. Ann Bot Fennici 43:379–388

Tamura MN (1993) Biosystematic studies on the genus Polygonatum (Liliaceae) III. Morphology of staminal filaments and karyology of eleven Eurasian species. Botanische Jahrbu-Cherfur Systematik Pflanzengeschichte Und Pflanzengeographie 115:1–26

Tybjerg H, Vestergaard P (1992) Growth dynamics in the rhizomatous herb Polygonatum verticillatum. Oikos 65:395–408

Uniyal SK, Singh KN, Jamwal P, Lal B (2006) Traditional use of medicinal plants among the tribal communities of Chhota Bhangal, Western Himalaya. J Ethnobiol Ethnomed 2:1–8

Ved DK, Kinhal GA, Ravikumar K, Prabhakaran V, Ghate U, Sankar V, Indresha JH (2003) Conservation assessment and management prioritization for the medicinal plants of Himachal Pradesh, Jammu and Kashmir and Uttaranchal. Proceedings of the workshop held at Shimla during 19–24 May, 2003. Foundation for Revitalization of Local Health Traditions, pp 1–24

Warghat AR, Bajpai PK, Srivastava RB, Chaurasia OP, Sood H (2013) Population genetic structure and conservation of small fragmented locations of Dactylorhiza hatagirea in Ladakh region of India. Sci Hortic 164:448–454

Wen CS, Hsiao JY (2001) Altitudinal genetic differentiation and diversity of Taiwan lily (Lilium longiflorum var. formosanum; Liliaceae) using RAPD markers and morphological characters. Int J Plant Sci 162:287–295

Wright S (1951) The genetical structure of populations. Ann Eugenics 15:323–354

Yeh FC, Boyle T, Rongcai Y, Ye Z, Xian JM (1999) POPGENE. Microsoft window based freeware for population genetic analysis. Release 1.31. University of Alberta, Edmonton

Zargoosh Z, Ghavam M, Bacchetta G, Tavili A (2019) Effects of ecological factors on the antioxidant potential and total phenol content of Scrophularia striata Boiss. Sci Rep 9:1–15

Zhao Y, Tang M, Bi Y (2017) Nuclear genetic diversity and population structure of a vulnerable and endemic orchid (Cymbidium tortisepalum) in Northwestern Yunnan, China. Sci Hortic 219:22–30
Acknowledgements
The authors thank the Director, G.B. Pant National Institute of Himalayan Environment (NIHE), Almora, for support and encouragement. The authors also thank Mr. Puran Singh Kanwal, Mr. Neeraj Mehta, Dr. Shashi Upadhyay and Miss Jyoti Joshi for their help during sample collection. All authors have agreed to submit this manuscript to the Physiology and Molecular biology of Plants and declare no conflicts of interest in publishing this research. The work described here in this MS has not been published anywhere previously. It is not under consideration for publication elsewhere. The publication of this MS is approved by all authors and all the authors are responsible authorities for conducting this work. Further, we assure that, if accepted, it will not be published elsewhere in the same form, in English or in any other language, including electronically without the written consent of the copyright holder.
Funding
This work is supported under Botanical Garden Scheme of Ministry of Environment, Forest and Climate change (MoEF&CC), New Delhi (F.N. BSI-290/6/2013-Tech; Dated 29/09/2013).
Additional information
Publisher's Note
Springer Nature remains neutral with regard to jurisdictional claims in published maps and institutional affiliations.
Supplementary Information
Below is the link to the electronic supplementary material.
About this article
Cite this article
Suyal, R., Jugran, A.K., Rawal, R.S. et al. Morphological, phytochemical and genetic diversity of threatened Polygonatum verticillatum (L.) All. populations of different altitudes and habitat types in Himalayan region. Physiol Mol Biol Plants 27, 1795–1809 (2021). https://doi.org/10.1007/s12298-021-01044-9
Received:

Revised:

Accepted:

Published:

Issue Date:

DOI: https://doi.org/10.1007/s12298-021-01044-9
Keywords