Abstract
Abscisic acid (ABA) is a stress-related plant hormone, which is reported to confer drought tolerance. A key enzyme in ABA biosynthesis is 9-cis-epoxycarotenoid dioxygenase. In this study, changes in morphological, physiological response, HbNCED3, and ABA accumulation of RRIM 623 and PB 5/51 rubber clones were observed at different time points of water deficit conditions (0, 3, 5, 7, and 9 days of withholding water). During water deficit, the relative water content (RWC), photosynthetic rate (Pn), and stomatal conductance (Gs) decreased, whereas the electro leakage (EL) increased. The magnitudes of the changes in these parameters were greater for PB 5/51 than for RRIM 623. Therefore, RRIM 623 was designated as representative of drought-tolerant clone and PB 5/51 as a drought-sensitive clone. The HbNCED3 transcription level of RRIM 623 showed lower expression compared with that of PB 5/51, which corresponded to the accumulation of ABA. RRIM 623 accumulated less ABA than PB 5/51. The ABA in RRIM 623 gradually increased, especially on the 7th day of withholding water, whereas that in PB 5/51 rapidly increased during the early periods of drought conditions. Additionally, the sensitivity of stomatal response to ABA showed that RRIM 623 had a higher sensitivity than PB 5/51. These results demonstrate that the drought-tolerant rubber clone, RRIM 623, was characterized by lower ABA accumulation during drought stress than the drought-sensitive clone, PB 5/51. The drought tolerance mechanism of the RRIM 623 might be associated with stomatal sensitivity to ABA accumulation under drought stress.
Access options
Buy single article
Instant access to the full article PDF.
USD 39.95
Price includes VAT (USA)
Tax calculation will be finalised during checkout.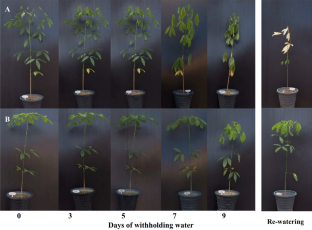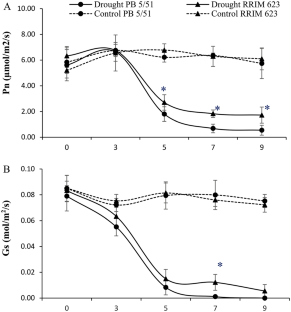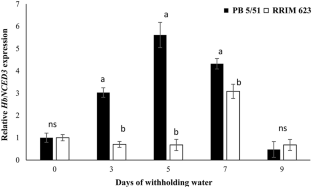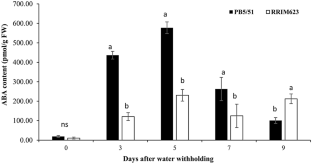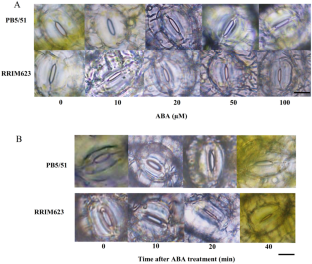 References
Ahamad B (1999) Effect of rootstock on growth and water use efficiency of Hevea during water stress. J Rubber Res 2:99–119

Aharoni A, Dixit S, Jetter R, Thoenes E, van Arkel G, Pereira A (2004) The SHINE clade of AP2 domain transcription factors activates wax biosynthesis, alters cuticle properties, and confers drought tolerance when overexpressed in Arabidopsis. Plant Cell 16:2463

Arango J, Wüst F, Beyer P, Welsch R (2010) Characterization of phytoene synthases from cassava and their involvement in abiotic stress-mediated responses. Planta 232:1251–1262

Bajji M, Kinet JM, Lutts S (2002) The use of the electrolyte leakage method for assessing cell membrane stability as a water stress tolerance test in durum wheat. Plant Growth Regul 36:61–70

Bi H, Kovalchuk N, Langridge P, Tricker PJ, Lopato S, Borisjuk N (2017) The impact of drought on wheat leaf cuticle properties. BMC Plant Biol 17:85

Brunetti C, Gori A, Marino G, Latini P, Sobolev AP, Nardini A, Haworth M, Giovannelli A, Capitani D, Loreto F, Taylor G, Mugnozza GS, Harfouche A, Centritto M (2019) Dynamic changes in ABA content in water-stressed Populus nigra: effects on carbon fixation and soluble carbohydrates. Ann Bot 124:627–643

Burbidge A, Grieve TM, Jackson A, Thompson A, McCarty DR, Taylor IB (1999) Characterization of the ABA-deficient tomato mutant notabilis and its relationship with maize Vp14. The Plant J 17:427–431

Chernys JT, Zeevaart JAD (2000) Characterization of the 9-cis-epoxycarotenoid dioxygenase gene family and the regulation of abscisic acid biosynthesis in Avocado. Plant Physiol 124:343–354

Fahad S, Bajwa AA, Nazir U, Anjum SA, Farooq A, Zohaib A, Sadia S, Nasim W, Adkins S, Saud S, Ihsan MZ, Alharby H, Wu C, Wang D, Huang J (2017) Crop production under drought and heat stress: plant responses and management options. Front Plant Sci 8:1147

Iuchi S, Kobayashi M, Yamaguchi-Shinozaki K, Shinozaki K (2000) A stress-inducible gene for 9-cis-epoxycarotenoid dioxygenase involved in abscisic acid biosynthesis under water stress in drought-tolerant cowpea. Plant Physiol 123:553–562

Iuchi S, Kobayashi M, Taji T, Naramoto M, Seki M, Kato T, Tabata S, Kakubari Y, Yamaguchi-Shinozaki K, Shinozaki K (2001) Regulation of drought tolerance by gene manipulation of 9-cis-epoxycarotenoid dioxygenase, a key enzyme in abscisic acid biosynthesis in Arabidopsis. Plant J 27:325–333

Kim J, Malladi A, van Iersel MW (2012) Physiological and molecular responses to drought in Petunia: the importance of stress severity. J Exp Bot 63:6335–6345

Leclercq J, Martin F, Sanier C, Clément-Vidal A, Fabre D, Oliver G, Lardet L, Ayar A, Peyramard M, Montoro P (2012) Over-expression of a cytosolic isoform of the HbCuZnSOD gene in Hevea brasiliensis changes its response to a water deficit. Plant Mol Biol 80:255–272

Lei W, Huang S, Tang S, Shui X, Chen C (2016) Determination of abscisic acid and its relationship to drought stress based on cowpea varieties with different capability of drought resistance. Am J Biochem Biotechnol 12:79–85

Li W, Nguyen KH, Chu HD, Ha CV, Watanabe Y, Osakabe Y, Leyva-González MA, Sato M, Toyooka K, Voges L, Tanaka M, Mostofa MG, Seki M, Seo M, Yamaguchi S, Nelson DC, Tian C, Herrera-Estrella L, Tran LP (2017) The karrikin receptor KAI2 promotes drought resistance in Arabidopsis thaliana. PLoS Genet 13:e1007076

Li T, Sun JK, Li CR, Lu ZH, Xia JB (2019) Cloning and expression analysis of the FvNCED3 gene and its promoter from ash (Fraxinus velutina). J for Res 30:471–482

Liu S, Li H, Lv X, Ahammed GJ, Xia X, Zhou J, Shi K, Asami T, Yu J, Zhou Y (2016) Grafting cucumber onto luffa improves drought tolerance by increasing ABA biosynthesis and sensitivity. Sci Rep 6:20212

Michelle D, Huang B (2007) Drought survival and recuperative ability of bentgrass species associated with changes in abscisic acid and cytokinin production. J Am Soc Hortic Sci 132:160–166

Nambara E, Marion-Poll A (2005) Abscisic acid biosynthesis and catabolism. Annu Rev Plant Biol 56:165–185

Pfaffl MW (2001) A new mathematical model for relative quantification in real-time RT PCR. Nucleic Acids Res 29:e45

Pirasteh‐Anosheh H, Saed‐Moucheshi A, Pakniyat H, Pessarakli M (2016) Stomatal responses to drought stress. In: Ahmad P (ed) Water stress and crop plants. John Wiley & Sons, Ltd, West Sussex, pp 24–40

Prabpree A, Sangsil P, Nualsri C, Nakkanong K (2018) Expression profile of phenylalanine ammonia-lyase (PAL) and phenolic content during early stages of graft development in bud grafted Hevea brasiliensis. Biocatal Agric Biotechnol 14:88–95

Qin X, Zeevaart JAD (1999) The 9-cis-epoxycarotenoid cleavage reaction is the key regulatory step of abscisic acid biosynthesis in water-stressed bean. Proc Natl Acad Sci U S A 96:15354–15361

Rao G, Devakumar A, Rajagopal R, Annamma Y, Vijayakumar K, Sethuraj M (1988) Clonal variation in leaf epicuticular waxes and reflectance: possible role in drought tolerance in Hevea. Indian J Nat Rubber Res 1:84–87

Sangsil P, Nualsri C, Woraathasin N, Nakkanong K (2016) Characterization of the phenylalanine ammonia lyase gene from the rubber tree (Hevea brasiliensis Müll. Arg.) and differential response during Rigidoporus microporus infection. J Plant Prot Res 56:381–388

Sanier C, Oliver G, Clement-Vidal A, Fabre D, Lardet L, Montoro P (2013) Influence of water deficit on the physiological and biochemical parameters of in vitro plants from Hevea brasiliensis Clone PB 260. J Rubber Res 16:61–74

Saradadevi R, Palta JA, Siddique KHM (2017) ABA-mediated stomatal response in regulating water use during the development of terminal drought in wheat. Front Plant Sci 8:1251

Sathik MBM, Luke LP, Thomas M, Sumesh KV, Satheesh PR (2011) Identification of drought tolerant genes by quantitative expression analysis in Hevea brasiliensis. IRRDB International Rubber Conference, Chiang Mai, Thailand

Seki M, Narusaka M, Ishida J, Nanjo T, Fujita M, Oono Y, Kamiya A, Nakajima M, Enju A, Sakurai T, Satou M, Akiyama K, Taji T, Yamaguchi-Shinozaki K, Carninci P, Kawai J, Hayashizaki Y, Shinozaki K (2002) Monitoring the expression profiles of 7000 Arabidopsis genes under drought, cold and high-salinity stresses using a full-length cDNA microarray. The Plant J 31:279–292

Tan BC, Schwartz SH, Zeevaart JAD, McCarty DR (1997) Genetic control of abscisic acid biosynthesis in maize. Proc Natl Acad Sci U S A 94:12235–12240

Thomas M, Sathik MBM, Saha T, Jacob J, Schaffner AR, Luke LP, Kuruvilla L, Annamalainathan K, Krishnakumar R (2011) Screening of drought responsive transcripts of Hevea brasiliensis and identification of candidate genes for drought tolerance. J Plant Biol 38:111–118

Thomas M, Sathik MBM, Luke LP, Sumesh KV, Satheesh PR, Annamalainathan K, Jacob J (2012) Stress responsive transcripts and their association with drought tolerance in Hevea brasiliensis. J Plant Crops 40:180–187

Tint AMM, Sarobol E, Nakasathein S, Chaiaree W (2011) Differential responses of selected soybean cultivars to drought stress and their drought tolerant attributions. Kasetsart J (natural Science) 45:571–582

Volaire F, Thomas H, Bertagne N, Bourgeois E, Gautier MF, LeliÈVre F (1998) Survival and recovery of perennial forage grasses under prolonged Mediterranean drought: II. Water status, solute accumulation, abscisic acid concentration and accumulation of dehydrin transcripts in bases of immature leaves. New Phytol 140:451–460

Wang LF (2014) Physiological and molecular responses to drought stress in rubber tree (Hevea brasiliensis Muell. Arg.). Plant Physiol Biochem 83:243–249

Wang ZL, Huang B (2003) Genotypic variation in abscisic acid accumulation, water relations, and gas exchange for Kentucky bluegrass exposed to drought stress. J Am Soc Hortic Sci 128:349–355

Xia H, Wu S, Ma F (2014) Cloning and expression of two 9-cis-epoxycarotenoid dioxygenase genes during fruit development and under stress conditions from Malus. Mol Biol Rep 41:6795–6802

Zhang C, Zhang L, Zhang S, Zhu S, Wu P, Chen Y, Li M, Jiang H, Wu G (2015) Global analysis of gene expression profiles in physic nut (Jatropha curcas L.) seedlings exposed to drought stress. BMC Plant Biol 15:17
Acknowledgements
This research was granted by the Center of Excellence on Agricultural Biotechnology, Office of the Permanent Secretary, Ministry of Higher Education, Science, Research and Innovation (AG-BIO/MHESI), the Center of Excellence in Agricultural and Natural Resources Biotechnology (CoE-ANRB): phase 3, Faculty of Natural Resources, Prince of Songkla University. This research was also supported by Prince of Songkla University (Grant no. NAT600522S). The authors gratefully acknowledge the Publication Clinic, Research and Development Office, Prince of Songkla University, for technical comments and improving the manuscript.
Additional information
Publisher's Note
Springer Nature remains neutral with regard to jurisdictional claims in published maps and institutional affiliations.
About this article
Cite this article
Woraathasin, N., Nualsri, C., Sutjit, C. et al. Genotypic variation in 9-Cis-Epoxycarotenoid Dioxygenase3 gene expression and abscisic acid accumulation in relation to drought tolerance of Hevea brasiliensis. Physiol Mol Biol Plants 27, 1513–1522 (2021). https://doi.org/10.1007/s12298-021-01024-z
Received:

Revised:

Accepted:

Published:

Issue Date:
Keywords
Hevea brasiliensis

9-cis-epoxycarotenoid dioxygenase3

Abscisic acid

Stomatal sensitivity

Drought stress