Abstract
A total of 17,439 mature miRNAs (~ 21 nt) earlier generated through RNA seq in the pomegranate were used for in silico analysis. After complexity reduction, a total of 1922 representative mature miRNAs were selected and used as query sequences against pomegranate genome to retrieve 2540 homologous contigs with flanking regions (~ 800). By using pre-miRNA prediction web server, a total of 1028 true contigs harbouring pri-miRNAs encoding 1162 pre-miRNAs were identified. Survey of these sequences for SSRs yielded a total of 1358 and 238 SSRs specific to pri-miRNA and pre-miRNAs, respectively. Of these, primer pairs were designed for 897 pri-miRNA and 168 pre-miRNA SSRs. In pri-miRNA sequences, hexa-nucleotides repeats were found to be most abundant (44.18%) followed by mono- (18.41%) and di-nucleotide (17.01%), which is also observed in pre-miRNA sequences. Further, a set of 51 randomly selected pre-miRNA-SSRs was examined for marker polymorphism. The experimental validation of these markers on eight pomegranate genotypes demonstrated 92.15% polymorphism. Utility of these functional markers was confirmed via examination of genetic diversity of 18 pomegranate genotypes using 15 miRNA-SSRs. Further, potential application of miRNA-SSRs for discovery of trait specific candidate genes was showed by validating 51 mature miRNA against publically available 2047 EST sequences of pomegranate by target and network analysis. In summary, the current study offers novel functional molecular markers for pomegranate genetic improvement.
Access options
Buy single article
Instant access to the full article PDF.
USD 39.95
Price includes VAT (USA)
Tax calculation will be finalised during checkout.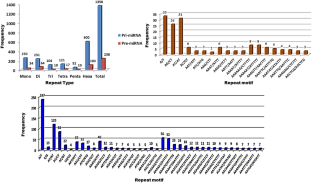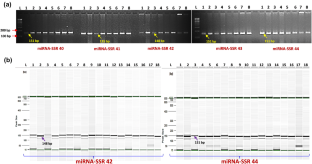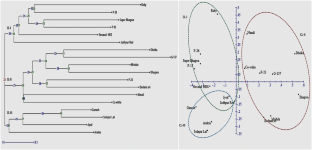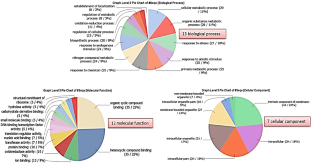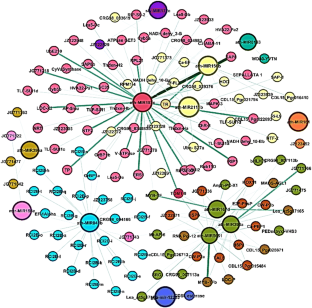 Abbreviations
pri-miRNA:

Primary micro RNA

pre-miRNA:

Precursor micro RNA

SSRs:

Simple sequence repeats

CTAB:

Cetyl trimethyl ammonium bromide

NCBI:

National Centre for Biotechnology Information

UPGMA:

Unweighted pair group method of arithmetic averages

NJ:

Neighbor joining

PIC:

Polymorphic information content
References
Allen E, Xie Z, Gustafson AM, Carrington JC (2005) MicroRNA-directed phasing during trans-acting siRNA biogenesis in plants. Cell 121:207–221

Altschul SF, Madden TL, Schaffer AA, Zhang J, Zhang Z, Miller W, Lipman DJ (1997) Gapped BLAST and PSI-BLAST: a new generation of protein database search programs. Nucleic Acids Res 25:3389–3444

Axtell MJ (2014) Short stack: comprehensive annotation and quantification of small RNA genes. RNA 19:740–751

Bandelj D, Jakse J, Javornik B (2004) Assessment of genetic variability of olive varieties by microsatellite and AFLP markers. Euphytica 136:93–102

Barrera-Figueroa BE, Gao L, Diop NN, Wu Z, Ehlers JD, Roberts PA, Close TJ, Zhu J, Liu R (2011) Identification and comparative analysis of drought associated microRNAs in two cowpea genotypes. BMC Plant Biol 11:127. https://doi.org/10.1186/1471-2229-11-127

Bartel DP (2004) MicroRNAs: genomics, biogenesis, mechanism, and function. Cell 116:281–297

Bartel DP (2009) MicroRNAs: target recognition and regulatory functions. Cell 136:215–233

Bastian M, Heymann S, Jacomy M (2009) Gephi: an open source software for exploring and manipulating networks. In: International AAAI conference on weblogs and social media. Palo Alto, California

Bohra A, Dubey A, Saxena RK, Penmetsa RV, Poornima KN, Kumar N, Farmer AD, Srivani G, Upadhyaya HD, Gothalwal R, Ramesh R, Singh D, Saxena KB, Kavi Kishor PB, Singh NK, Town CD, May GD, Cook DR, Varshney RK (2011) Analysis of BAC-end sequences (BESs) and development of BES-SSR markers for genetic mapping and hybrid purity assessment in pigeonpea. BMC Plant Biol 11:56

Bohra A, Singh IP, Yadav AK, Pathak A, Soren KR, Chaturvedi SK, Nadarajan N (2015) Utility of informative SSR markers in the molecular characterization of cytoplasmic genetic male sterility-based hybrid and its parents in pigeonpea. Natl Acad Sci Lett 38:13–19

Bohra A, Jha R, Pandey G, Patil PG, Saxena RK, Singh IP, Singh D, Mishra RK, Mishra A, Singh F, Varshney RK, Singh NP (2017) New hypervariable SSR markers for diversity analysis, hybrid purity testing and trait mapping in pigeonpea [Cajanus cajan (L.) Millspaugh]. Front Plant Sci 8:377

Bonnet E, He Y, Billiau K, Van de PY (2010) TAPIR, a web server for the prediction of plant microRNA targets, including target mimics. Bioinformatics 26:1566–1568

Chen M, Tan Z, Zeng G, Peng J (2010) Comprehensive analysis of simple sequence repeats in pre-miRNAs. Mol Biol Evol 27:2227–2232. https://doi.org/10.1093/molbev/msq100

Chen W, Kong J, Lai T, Manning K, Wu C, Wang Y, Qin C, Li B, Yu Z, Zhang X, He M, Zhang P, Gu M, Yang X, Mahammed A, Li C, Osman T, Shi N, Wang H, Jackson S, Liu Y, Gallusci P, Hong Y (2015) Tuning LeSPL-CNR expression by SlymiR157 affects tomato fruit ripening. Sci Rep 5:7852. https://doi.org/10.1038/srep07852

Cui N, Sun X, Sun M, Jia B, Duanmu H, Lv D, Duan X, Zhu Y (2015) Overexpression of OsmiR156k leads to reduced tolerance to cold stress in rice (Oryza Sativa). Mol Breed 35:214. https://doi.org/10.1007/s11032-015-0402-6

Ferrao LFV, Caixeta ET, Pena G, Zambolim EM, Cruz CD, Zambolim L, Cruz CD, Zambolim L, Ferrao MAG, Sakiyama NS (2015) New EST–SSR markers of Coffea arabica: transferability and application to studies of molecular characterization and genetic mapping. Mol Breed 35:1–5. https://doi.org/10.1007/s11032-015-0247-z

Frazier TP, Xie FL, Freistaedter A, Burklew CE, Zhang BH (2010) Identification and characterization of microRNAs and their target genes in tobacco (Nicotiana tabacum). Planta 232:1289–1308

Fu SW, Chen L, Man YG (2011) miRNA biomarkers in breast cancer detection and management. J Cancer 2:116–122

Fu D, Ma BI, Naliese AN, Mason S, Xiao M, Wei L, An ZE (2013) MicroRNA-based molecular markers: a novel PCR-based genotyping technique in Brassica species. Plant Breed 132:375–381

Ganie SA, Mondal TK (2015) Genome-wide development of novel miRNA-based microsatellite markers of rice (Oryza sativa) for genotyping applications. Mol Breed 35:51. https://doi.org/10.1007/s11032-015-0207-7

Han J, Fang J, Wang C, Yin Y, Sun X, Leng X, Song C (2014) Grapevine microRNAs responsive to exogenous Gibberellin. BMC Genom 15:111. https://doi.org/10.1186/1471-2164-15-111

Harel-Beja R, Sherman A, Rubinstein M, Eshed R, Bar-Ya'akov I, Trainin T, Ophir R, Holland D (2015) A novel genetic map of pomegranate based on transcript markers enriched with QTLs for fruit quality traits. Tree Genet Genomes 11:109. https://doi.org/10.1007/s11295-015-0936-0

Hinchliffe DJ, Lu Y, Potenza C, Segupta-Gopalan C, Cantrell RG, Zhang J (2005) Resistance gene analogue markers are mapped to homeologous chromosomes in cultivated tetraploid cotton. Theor Appl Genet 110:1074–1085

Hu J, Vick BA (2003) Target region amplification polymorphism: a novel marker technique for plant genotyping. Plant Mol Biol Rep 21:289–294

Hu JH, Sun LL, Zhu ZX, Zheng Y, Xiong W, Ding Y (2014) Characterization of conserved microRNAs from five different cucurbit species using computational and experimental analysis. Biochimie 102:137–144

Huang X, Madan A (1999) CAP3: a DNA sequence assembly program. Genome Res 9:868–877

Jeong DH, Park S, Zhai J, Gurazada SG, De Paoli E, Meyers BC, Green PJ (2011) Massive analysis of rice small RNAs: mechanistic implications of regulated microRNAs and variants for differential target RNA cleavage. Plant Cell 23:4185–4207. https://doi.org/10.1105/tpc.111.089045

Jia X, Shen J, Liu H, Li F, Ding N, Gao C, Pattanaik S, Patra B, Li R, Yuan L (2015) Small tandem target mimic-mediated blockage of microRNA858 induces anthocyanin accumulation in tomato. Planta 242:283–293

Joy N, Soniya EV (2012) Identification of an miRNA candidate reflects the possible significance of transcribed microsatellites in the hairpin precursors of black pepper. Funct Integr Genomics 12:387–395. https://doi.org/10.1007/s10142-012-0267-2

Joy N, Asha S, Mallika V, Soniya EV (2013) De novo transcriptome sequencing reveals a considerable bias in the incidence of simple sequence repeats towards the downstream of 'pre-miRNAs' of black pepper. PLoS ONE 8(3):e56694

Joy N, Maimoonath BYP, Soniya EV (2018) A deeper view into the significance of simple sequence repeats in pre-miRNAs provides clues for its possible roles in determining the function of microRNAs. BMC Genet 19:29. https://doi.org/10.1186/s12863-018-0615-x

Kanupriya C, Radhika V, Ravishankar KV (2013) Mining of miRNAs in pomegranate (Punica granatum L.) by pyrosequencing of part of the genome. J Hortic Sci Biotechnol 88:735–742

Kumar A, Chauhan A, Kompelli SK, Gahlaut V, Ijaq J, Singh KP, Prasad Gajula MNV, Suravajhala P, Mishra AK, Balyan HS, Gupta PK (2017) Genome-wide mining, characterization and development of miRNA-SSRs in Arabidopsis thaliana. BioRxiv. https://doi.org/10.1101/203851

Kusenda B, Mraz M, Mayer J, Pospisilova S (2009) MicroRNA biogenesis, functionality and cancer relevance. Biomed Pap Med Fac Univ Palacky Olomouc Czech Repub 150:205–215

Lee RC, Feinbaum RL, Ambros V (1993) The C. elegans heterochronic gene lin-4 encodes small RNAs with antisense complementarity to lin-14. Cell 75:843–854

Li W, Godzik A (2006) Cd-hit: a fast program for clustering and comparing large sets of protein or nucleotide sequences. Bioinformatics 22:1658–1659

Lima JC, Loss-Morais G, Margis R (2012) MicroRNAs play critical roles during plant development and in response to abiotic stresses. Genet Mol Biol 35:1069–1077

Liu K, Muse SV (2005) PowerMarker: an integrated analysis environment for genetic marker analysis. Bioinformatics 21:2128–2129. https://doi.org/10.1093/bioinformatics/bti282

Liu N, Tu L, Wang L, Hu H, Xu J, Zhang X (2017) MicroRNA157 targeted SPL genes regulate floral organ size and ovule production in cotton. BMC Plant Biol 17:7. https://doi.org/10.1186/s12870-016-0969-z

Mendes ND, Freitas AT, Sagot MF (2009) Current tools for the identification of miRNA genes and their targets. Nucleic Acids Res 37:2419–2433

Min X, Zhang Z, Liu Y, Wei X, Liu Z, Wang Y, Liu W (2017) Genome-wide development of microRNA-based SSR markers in Medicago truncatula with their transferability analysis and utilization in related legume species. Int J Mol Sci 18:2440. https://doi.org/10.3390/ijms18112440

Mishra A, Bohra A (2018) Non-coding RNAs and plant male sterility: current knowledge and future prospects. Plant Cell Rep 37:177–191

Mondal TK, Ganie SA (2013) Identification and characterization of salt responsive miRNA-SSR markers in rice (Oryza sativa). Gene 535:204–209. https://doi.org/10.1016/j.gene.2013.11.033

Ni Z, Hu Z, Jiang Q, Zhang H (2012) Overexpression of gma-MIR394a confers tolerance to drought in transgenic Arabidopsis thaliana. Biochem Biophys Res Commun 427:330–335. https://doi.org/10.1016/j.bbrc.2012.09.055

Nigam D, Puneet K, Sanjeev K, Dwijesh K, Mishra C, Rai A (2015) Computational analysis of miRNA-target community network reveals cross talk among different metabolisms. Genomics Data 5:292–296

Ono NN, Britton MT, Fass JN, Nicolet CM, Lin D, Tian L (2011) Exploring the transcriptome landscape of pomegranate fruit peel for natural product biosynthetic gene and SSR marker discovery. J Integr Plant Biol 53:800–813

Ophir R, Sherman A, Rubinstein M, Eshed R, Schwager MS, Harel-Beja R, Bar-Ya'akov I, Holland D (2014) Single-nucleotide polymorphism markers from de-novo assembly of the pomegranate transcriptome reveal germplasm genetic diversity. PLoS ONE 9:e88998. https://doi.org/10.1371/journal.pone.00889

Patanun O, Lertpanyasampatha M, Sojikul P, Viboonjun U, Narangajavana J (2013) Computational identification of microRNAs and their targets in Cassava (Manihot esculenta Crantz.). Mol Biotechnol 53:257–269. https://doi.org/10.1007/s12033-012-9521-z

Perrier X, Jacquemoud-Collet JP (2006) DARwin software. Centre de Cooperation Internationale en Recherche Agronomique Pour le Developpement (CIRAD), Paris

Qin G, Xu C, Ming R, Tang H, Guyot R, Kramer EM, Hu Y, Yi X, Qi Y, Xu X, Gao Z, Pan H, Jian J, Tian Y, Yue Z, Xu Y (2017) The pomegranate (Punica granatum L.) genome and the genomics of punicalagin biosynthesis. Plant J 91:1108–1128. https://doi.org/10.1111/tpj.13625

Ravishankar KV, Anand L, Dinesh MR (2000) Assessment of genetic relatedness among mango cultivars of India using RAPD markers. J Hort Sci Biotechnol 75:198–201

Ravishankar KV, Chaturvedi K, Puttaraju N, Gupta S, Pamu S, Flachowsky H (2015) Mining and characterization of SSRs from pomegranate (L.) by pyrosequencing. Plant Breeding 134(2):247–254

Russo G, Giordano A (2009) miRNAs: from biogenesis to networks. Methods Mol Biol 563:303–352

Saminathan T, Bodunrin A, Singh NV, Devarajan R, Nimmakayala P, Jeff M, Aradhya M, Reddy UK (2016) Genome-wide identification of microRNAs in pomegranate (Punica granatum L) by high-throughput sequencing. BMC Plant Biol 16:122

Schwab R, Palatnik JF, Riester M, Schommer C, Schmid M, Weigel D (2005) Specific effects of microRNAs on the plant transcriptome. Dev Cell 8:517–527

Shah AA, Leidinger P, Blin N, Meese E (2010) miRNA: small molecules as potential novel biomarkers in cancer. Curr Med Chem 17:4427–4432

Sheng L, Chai W, Gong X, Zhou L, Cai R, Li X, Zhao Y, Jiang H, Cheng B (2015) Identification and characterization of novel maize miRNAs involved in different genetic background. Int J Biol Sci 11:781–793. https://doi.org/10.7150/ijbs.11619

Singh I, Smita S, Mishra DC, Kumar S, Singh BK, Rai A (2017) Abiotic stress responsive miRNA-target network and related markers (SNP, SSR) in Brassica juncea. Front Plant Sci 8:1943. https://doi.org/10.3389/fpls.2017.01943

Soleimani MH, Talebi M, Sayed-Tabatabaei BE (2012) Use of SRAP markers to assess genetic diversity and population structure of wild, cultivated, and ornamental pomegranates (Punica granatum L.) in different regions of Iran. Plant Syst Evol 298:1141–1149. https://doi.org/10.1007/s00606-012-0626-4

Valdes-Lopez O, Yang S, Aparicio-Fabre R, Graham PH, Reyes JL, Vance CP, Hernández G (2010) MicroRNA expression profiles in common bean (Phaseolus vulgaris) under nutrient deficiency stresses and manganese toxicity. New Phytol 187:805–818

Voinnet O (2009) Origin, biogenesis, and activity of plant microRNAs. Cell 136:669–687

Wang JY, Yang XD, Xu HB, Chi XY, Zhang M, Hou XL (2012) Identification and characterization of microRNAs and their target genes in Brassica oleracea. Gene 505:300–308

Wei Z, Xie Y, Xu L, Wang Y, Zhu X, Wang R, Zhang Y, Muleke EM, Liu L (2016) Identification of microRNAs and their target genes explores miRNA-mediated regulatory network of cytoplasmic male sterility occurrence during anther development in radish (Raphanus sativus L). Front Plant Sci 7:1054. https://doi.org/10.3389/fpls.2016.01054

Wu X, Ding D, Shi C, Xue Y, Zhang Z, Tang G, Tang J (2016) MicroRNA-dependent gene regulatory networks in maize leaf senescence. BMC Plant Biol 16:73. https://doi.org/10.1186/s12870-016-0755-y

Xie FL, Frazier TP, Zhang BH (2011) Identification, characterization and expression analysis of microRNAs and their targets in the potato (Solanum tuberosum). Gene 473:8–22

Xu F, Liu Q, Chen L, Kuang J, Walk T, Wang J, Liao H (2013) Genome-wide identification of soybean microRNAs and their targets reveals their organ specificity and response to phosphate starvation. BMC Genom 14:66

Yuan Z, Fang Y, Zhang T, Fei Z, Han F, Liu C, Liu M, Xiao W, Zhang W, Wu S, Zhang M, Ju Y, Xu H, Dai H, Liu Y, Chen Y, Wang L, Zhou J, Guan D, Yan M, Xia Y, Huang X, Liu D, Wei H, Zheng H (2018) The pomegranate (Punica granatum L.) genome provides insights into fruit quality and ovule developmental biology. Plant Biotechnol J 16:1363–1374

Zhang BH, Pan XP, Stellwag EJ (2008) Identification of soybean microRNAs and their targets. Planta 229:161–182

Zhao C, Xia H, Cao T, Yang Y, Zhao S, Hou L, Zhang Y, Li C, Zhang X, Wang X (2015) Small RNA and degradome deep sequencing reveals peanut microRNA roles in response to pathogen infection. Plant Mol Biol Rep 33:1013–1029. https://doi.org/10.1007/s11105-014-0806-1
Acknowledgements
The authors are highly grateful to the Indian Council of Agricultural Research (ICAR), New Delhi for extending financial support through ICAR-National Research Centre on Pomegranate, Solapur to carry out this work.
Additional information
Publisher's Note
Springer Nature remains neutral with regard to jurisdictional claims in published maps and institutional affiliations.
Electronic supplementary material
Below is the link to the electronic supplementary material.
About this article
Cite this article
Patil, P.G., Singh, N.V., Parashuram, S. et al. Genome wide identification, characterization and validation of novel miRNA-based SSR markers in pomegranate (Punica granatum L.). Physiol Mol Biol Plants 26, 683–696 (2020). https://doi.org/10.1007/s12298-020-00790-6
Received:

Revised:

Accepted:

Published:

Issue Date:
Keywords
MicroRNA-SSRs

Functional markers

Genetic diversity

Pomegranate