Abstract
Free radicals, the key mediators of a range of oxidative reactions involved in lipid oxidation are responsible for food quality deterioration leading to several health hazards. Antioxidants synthesized naturally or synthetically are capable of preventing oxidation of lipids and other related compounds. However, natural antioxidants have many benefits over synthetic ones. Sesame seeds contain large amount of natural bioactive components with high antioxidant potential. In the present study, 14 accessions of sesame containing wild species and cultivars were investigated. The antioxidant potential of sesame seed meal extract was evaluated by total phenolic content (TPC) method using Folin–Ciocalteu reagent, linoleic acid peroxidation by Ferric thiocyanate method, and free radical scavenging assay with 2,2-diphenyl-1-picryl hydrazyl radical. S. laciniatum showed highest mean values for total polyphenol content with maximum % inhibition of linoleic acid peroxidation on 10th day of course of the reaction span and highest antioxidant scavenging power. S. indicum subsp. malabaricum and S. radiatum also showed high total phenol content and radical scavenging capacity. Among the Sesamum indicum cultivars, Gujarat til 2 showed high TPC and high radical scavenging activity. Higher antioxidant property of Sesamum species in comparison to sesame cultivars highlights the need to utilize the wild genepool for the improvement of cultigens for enhanced nutraceutical value.
Access options
Buy single article
Instant access to the full article PDF.
USD 39.95
Price includes VAT (USA)
Tax calculation will be finalised during checkout.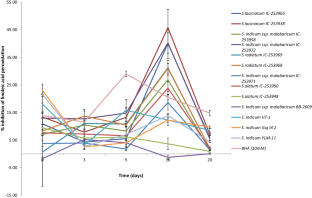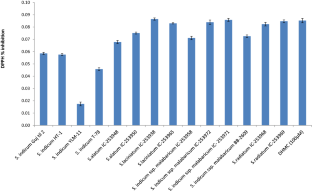 References
Akhila H, Beevy SS (2015) Quantification of seed oil and evaluation of antioxidant properties in the wild and cultivated species of Sesamum L. (Pedaliaceae). Int J Pharm Pharm Sci 7:136–142

Atrooz OM (2009) The antioxidant activity and polyphenolic contents of different plant seeds extracts. Pak J Biol Sci 12:1063–1068

Bedigian D (2014) A new combination for the Indian progenitor of sesame, Sesamum indicum (Pedaliaceae). Novon 23:5–13

Bedigian D, Seigler DS, Harlan JR (1985) Sesamin, sesamolin and the origin of sesame. Biochem Syst Ecol 13:133–139

Blois MS (1958) Antioxidant determinations by the use of a stable free radical. Nature 181:1199–1200

Bopitiya D, Madhujith T (2013) Antioxidant activity and total phenolic content of sesame (Sesamum indicum L.) seed oil. Trop Agric Res 24:296–302

Cho SH, Lee HR, Kim TB, Choi SW, Lee WJ, Choi Y (2004) Effects of defatted safflower seed extract and phenolic compounds in diet on plasma and liver lipid in ovariectomized rats fed high-cholesterol diets. J Nutr Sci Vitaminol 50:32–37

Choe E, Min DB (2006) Mechanisms and factors for edible oil oxidation. Compr Rev Food Sci F5:169–186

Choi JS, Chung HY, Jung HA, Park HJ, Yokozawa T (2000) Comparative evaluation of antioxidant potential of alaternin (2-hydroxyemodin) and emodin. J Agr Food Chem 48:6347–6351

Chung HY, Cesari M, Anton S, Marzetti E, Giovannini S, Seo AY, Carter C, Yu BP, Leeuwenburgh C (2009) Molecular inflammation: underpinnings of aging and age-related diseases. Ageing Res Rev 8:18–30

Di-Stefano R, Guidoni S (1989) The analysis of total phenols in must and wines. Vignevivni 1:47–52

El-Fadaly HA, El-Kadi SM, El-Moghazy MM, Soliman AAM, El-Haysha MS (2017) Antioxidant activity studies on extracts of Eruca sativa seed meal and oil, detoxification, the role of antioxidants in the resistant microbes. Ijsrm Human 6:31–51

Fukuda Y, Osawa T, Namiki M, Ozaki T (1985) Studies on antioxidative substances in sesame seed. Agric Biol Chem 49:301–306

Kaur C, Walia S, Nagal S, Walia S, Singh J, Singh BB, Saha S, Singh B, Kalia P, Jaggi S (2013) Functional quality and antioxidant composition of selected tomato (Solanum lycopersicon L) cultivars grown in Northern India. LWT-Food Sci Technol 50:139–145

Manach C, Williamson G, Morand C, Scalbert A, Rémésy C (2005) Bioavailability and bioefficacy of polyphenols in humans. I. Review of 97 bioavailability studies. Am J Clin Nutr 81:230S–242S

Mitsuda H (1966) Antioxidative action of indole compounds during the autoxidation of linoleic acid. Eiyo to shokuryo 19:210–221

Namiki M (1995) The chemistry and physiological functions of sesame. Food Res Int 11:281–329

Nayar NM, Mehra KL (1970) Sesame: its uses, botany, cytogenetics, and origin. Econ Bot 24:20–31

Ono E, Nakai M, Fukui Y, Tomimori N, Fukuchi-Mizutani M, Saito M, Satake H, Tanaka T, Katsuta M, Umezawa T, Tanaka Y (2006) Formation of two methylenedioxy bridges by a Sesamum CYP81Q protein yielding a furofuran lignan,(+)-sesamin. Proc Natl Acad Sci U S A 103:10116–10121

Osawa T, Nagata M, Namiki M, Fukuda Y (1985) Sesamolinol, a novel antioxidant isolated from sesame seeds. Agric Biol Chem 49:3351–3352

Pathak N, Rai AK, Saha S, Walia S, Sen SK, Bhat KV (2014) Quantitative dissection of antioxidative bioactive components in cultivated and wild sesame germplasm reveals potentially exploitable wide genetic variability. J Crop Sci Biotechnol 17:127–139

Prvulović D, Malenčić Đ, Miladinović J (2017) Antioxidant activity and phenolic content of Soybean seeds extracts. АГРОЗНАЊЕ 17:121–132

Saleem M, Kim HJ, Ali M, Lee YS (2005) An update on bioactive plant lignans. Nat Prod Rep 22:696–716

Shahidi F, Liyana-Pathirana CM, Wall DS (2006) Antioxidant activity of white and black sesame seeds and their hull fractions. Food Chem 99:478–483

Shyu YS, Hwang LS (2002) Antioxidative activity of the crude extract of lignan glycosides from unroasted Burma black sesame meal. Food Res Int 35:357–365

Siddharaju P, Manian S (2007) The antioxidant activity and free radical scavenging capacity of dietary phenolic extracts from horse gram (Macrotyloma uniflorum (Lam.) Verde.) seeds. Food Chem 105:950–958

Singleton VL, Orthofer R, Lamuela-Raventós RM (1999) Analysis of total phenols and other oxidation substrates and antioxidants by means of Folin-ciocalteu reagent. Methods Enzymol 299:152–178

Suja KP, Jayalekshmy A, Arumughan C (2004) Free radical scavenging behavior of antioxidant compounds of sesame (Sesamum indicum L.) in DPPH• system. J Agric Food Chem 52:912–915

Suja KP, Jayalekshmy A, Arumughan C (2005) In vitro studies on antioxidant activity of lignans isolated from sesame cake extract. J Sci Food Agric 85:1779–1783

Vishwanath HS, Anilakumar KR, Harsha SN, Khanum F, Bawa AS (2012) In vitro antioxidant activity of Sesamum indicum seeds. Asian J Pharm Clin Res 5:56–60

Yasoubi P, Barzegar M, Sahari MA, Azizi MH (2007) Total phenolic contents and antioxidant activity of Pomegranate (Punica granatum L.) peel extracts. J Agric Sci Technol 9:35–42
Acknowledgements
Authors are grateful to Head, Department of Botany, Delhi University for the support and encouragement. R&D grant by Delhi University is also gratefully acknowledged.
Additional information
Publisher's Note
Springer Nature remains neutral with regard to jurisdictional claims in published maps and institutional affiliations.
About this article
Cite this article
Pathak, N., Verma, N., Singh, A. et al. Investigations on diverse sesame (S. indicum L.) germplasm and its wild allies reveal wide variation in antioxidant potential. Physiol Mol Biol Plants 26, 697–704 (2020). https://doi.org/10.1007/s12298-020-00784-4
Received:

Revised:

Accepted:

Published:

Issue Date:
Keywords
Antioxidants

Phenolics

Sesame species

Free radicals

Lipid peroxidation