Abstract
This study was performed to investigate the constituents, in vitro antifungal activity and phytotoxicity potential of the essential oil from Juniperus polycarpos var. turcomanica leaves. The essential oil was analyzed by GC–FID, and GC/MS, which predominantly contains α-pinene (51.21%), germacrene–B (4.80%), and ∆-cadinene (2.56%). The antifungal activity of the essential oil against some phytopathogenic fungi, including Alternaria alternata, Colletotrichum trichellum, Curvularia fallax, Cytospora sacchari, Fusarium oxysporum, and Macrophomina phaseolina was performed through disk diffusion and agar dilution assays. The essential oil of J. polycarpos var. turcomanica had high antifungal activity against tested phytopathogenic fungi. The most susceptible fungi to the essential oil were C. trichellum in agar dilution and M. phaseolina and C. fallax in disk diffusion methods, whereas, the most resistant fungus to the essential oil was obtained from A. alternata in both assays. Screening methods had an influence on antifungal activity of the essential oil as most of the tested fungi in this study were shown to be more resistant in disc diffusion methods. According to the phytotoxic assay results, the essential oil from J. polycarpos var. turcomanica had high phytotoxicity against three species of weeds, including P. oleracea L., A. retroflexus L., and D. stramonium L. The results of this research suggest that the herbicidal and antifungal activities of the essential oil from J. polycarpos var. turcomanica can be attributed to its major group of constituents, monoterpenes hydrocarbons.
Access options
Buy single article
Instant access to the full article PDF.
USD 39.95
Price includes VAT (USA)
Tax calculation will be finalised during checkout.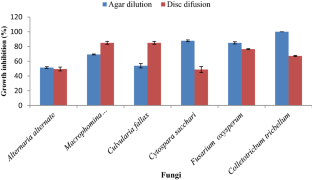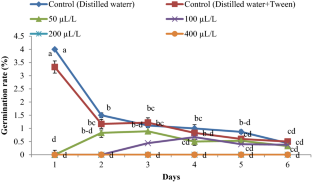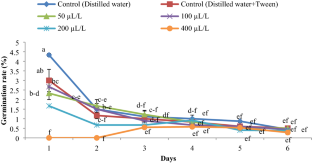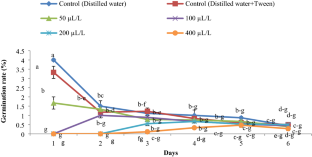 Abbreviations
EO:

Essential oil

GC:

Gas chromatography

GC–MS:

Gas chromatography–mass spectrometry

FID:

Flame ionization detector

PDA:

Potato dextrose agar
References
Adams RP (2001) Geographic variation in leaf essential oils and RAPDs of Juniperus polycarpos K. Koch in central Asia. Biochem Syst Ecol 29:609–619

Adams RP (2007) Identification of essential oil components by gas chromatography/mass spectroscopy. Allured Publishing Corporation, Carol Stream

Adams RP (2008) The Junipers of the world: the genus Juniperus, 2nd edn. Trafford Publications, Victoria

Adams RP, Hojjati F (2012) Taxonomy of Juniperus in Iran: Insight from DNA

Adams RP, Hojjati F (2013) Taxonomy of Juniperus in Iran: Insight from DNA sequencing. Phytologia 94:219–227

Ait-Ouazzou A, Loran S, Arakrak A, Laglaoui A, Herrera A, Pagan R, Conchello P, Rota C (2012) Evaluation of the chemical composition and antimicrobial activity of Mentha pulegium, Juniperus phoenicea, and Cyperus longus essential oils from Morocco. Food Res Int 45:313–319

Bajalan I, Rouzbahani R, Ghasemi Pirbalouti A, Maggi F (2018) Quali-quantitative variation of essential oil from Iranian rosemary (Rosmarinus officinalis L.) accessions according to environmental factors. J Essent Oil Res 30:16–24

Bajpai VK, Sharma A, Baek KH (2013) Antibacterial mode of action of Cudrania tricuspidata fruit essential oil, affecting membrane permeability and surface characteristics of food-borne pathogens. Food Control 32:582–590

Bakkali F, Averbeck S, Averbeck D, Idaomar M (2008) Biological effects of essential oils—a review. Food Chem Toxicol 46:446–475

Balouiri M, Sadiki M, Ibnsouda SK (2016) Methods for in vitro evaluating antimicrobial activity: a review. J Pharm 6:71–79

Böhme K, Barros-Velázquez J, Calo-Mata P, Aubourg SP (2014) Antibacterial, antiviral and antifungal activity of essential oils: mechanisms and applications. Antimicrobial compounds. Springer, Berlin, pp 51–81

Cavaleiro C, Salgueiro LR, da Cunha AP, Figueiredo AC, Barroso JG, Bighelli A, Casanova J (2003) Composition and variability of the essential oils of the leaves and berries from Juniperus navicularis. Biochem Syst Ecol 31:193–201

Chung IM, Ahn JK, Yun SJ (2001) Assessment of allelopathic potential of barnyard grass (Echinochloa crus-galli) on rice (Oryza sativa L.) cultivars. Crop Protect 20:921–928

Deba F, Xuan TD, Yasuda M, Tawata S (2008) Chemical composition and antioxidant, antibacterial and antifungal activities of the essential oils from Bidens pilosa Linn. var. radiata. Food Control 19:346–352

Derwich E, Benziane Z, Boukir A (2010) Chemical composition of leaf essential oil of Juniperus phoenicea and evaluation of its antibacterial activity. Int J Agric Biol 12:199–204

Diánez F, Santos M, Parra C, Navarro MJ, Blanco R, Gea FJ (2018) Screening of antifungal activity of 12 essential oils against eight pathogenic fungi of vegetables and mushroom. Lett Appl Microbiol 67:400–410

Duke SO, Dayan FE, Romagni JG, Rimando AM (2000) Natural products as sources of herbicides: current status and future trends. Weed Res 40:99–111

Ehsani E, Akbari K, Teimouri M, Khadem A (2012) Chemical composition and antibacterial activity of two Juniperus species essential oils. Afr J Microbiol Res 6:6704–6710

Ghasemi Pirbalouti A, Hashemi M, Taherian Ghahfarokhi F (2013) Essential oil and chemical compositions of wild and cultivated Thymus daenensis Celak and Thymus vulgaris L. Ind Crop Prod 48:43–48

Grayer RJ, Kokubun T (2001) Plant–fungal interactions: the search for phytoalexins and other antifungal compounds from higher plants. Phytochemistry 56:253–263

Inouye S, Tsuruoka T, Uchida K, Yamaguchi H (2001) Effect of sealing and Tween 80 on the antifungal susceptibility testing of essential oils. Microbiol Immunol 45(3):201–208

Khalighi-Sigaroodi F, Hadjiakhoondi A, Shahverdi HR, Mozaffarian VA, Shafiee A (2005) Chemical composition and antimicrobial activity of the essential oil of Ferulago bernardii Tomk. and M. Pimen. DARU J Pharm Sci 13:100–104

Khan M, Khan AU, Rehman NU, Gilani AH (2012) Pharmacological explanation for the medicinal use of Juniperus excelsa in hyperactive gastrointestinal and respiratory disorders. J Nat Med 66:292–301

Kim J, Lee Y, Lee S, Shin S, Park I (2008) Fumigant antifungal activity of plant essential oils and components from West Indian bay (Pimenta racemosa) and thyme (Thymus vulgaris) oils against two phytopathogenic fungi. Flavour Frag J 23:272–277

Kordali S, Cakir A, Ozer H, Cakmakci R, Kesdek M, Mete E (2008) Antifungal, phytotoxic and insecticidal properties of essential oil isolated from Turkish Origanum acutidens and its three components, carvacrol, thymol and p-cymene. Bioresour Technol 99:8788–8795

Langenheim JH (1994) Higher plant terpenoids: a phytocentric overview of their ecological roles. J Chem Ecol 20:1223–1280

Lesjak M, Beara I, Orcic D, Anackov G, Balog K, Franciskovic M, Mimica-Dukic N (2011) Juniperus sibirica Burgsdorf. as a novel source of antioxidant and antiinflammatory agents. Food Chem 124:850–856

Lesjak MM, Beara IN, Orčic DZ, Petar KN, Simin ND, Emilija SD, Mimica-Dukic NM (2014) Phytochemical composition and antioxidant, anti-inflammatory and antimicrobial activities of Juniperus macrocarpa Sibth. et Sm. J Funct Foods 7:257–268

Lopes-Lutz D, Alviano DS, Alviano CS, Kolodziejczyk PP (2008) Screening of chemical composition, antimicrobial and antioxidant activities of Artemisia essential oils. Photochem 69:1732–1738

Lucini EI, Zunino MP, Lopez ML, Zygadlo JA (2006) Effect of mono-terpenes on lipid composition and sclerotial development of Sclerotium cepivorum Berk. J Phytopathol 154:441–446

Mabrouk S, Bel Hadj Salah K, Elaissi A, Jlaiel L, Ben Jannet H, Aouni M, Harzallah-Skhiri F (2013) Chemical composition and antimicrobial and allelopathic activity of Tunisian Conyza sumatrensis (Retz.) E. Walker essential oils. Chem Biodivers 10:209–223

Mazloomifar H, Saber-Tehrani M, Rustaiyan A, Masoudi S (2004) Constituents of the essential oil of Echinophora platyloba DC. growing wild in Iran. J Essent Oil Res 16:284–285

McLafferty FW (2009) Wiley registry of mass spectral data, 9th edn. Wiley, Hoboken, p 66

Memarzadeh SM, Ghasemi Pirbalouti A, AdibNejad M (2015) Chemical composition and yield of essential oils from Bakhtiari savory (Satureja bachtiarica Bunge.) under different extraction methods. Ind Crop Prod 76:809–816

Moein MR, Ghasemi Y, Moein S, Nejati M (2010) Analysis of antimicrobial, antifungal and antioxidant activities of Juniperus excelsa M. B subsp. polycarpos (K. Koch) Takhtajan essential oil. Pharmacogn Res 2:128–131

Moghaddam M, Omidbaigi R, Sefidkon F (2007) Changes in content and chemical composition of Tagetes minuta oil at various harvest times. J Essent Oil Res 19:18–20

Moghaddam M, Pourbaige M, Kourosh Tabar H, Farhadi N, Ahmadi Hosseini SM (2013) Composition and antifungal activity of peppermint (Mentha piperita) essential oil from Iran. J Essent Oil Bear Plant 16:506–512

Moghaddam M, Taheri P, Ghasemi Pirbalouti A, Mehdizadeh L (2015) Chemical composition and antifungal activity of essential oil from the seed of Echinophora platyloba DC. against phytopathogens fungi by two different screening methods. LWT- Food Sci Technol 61:536–542

Moghaddam M, Ghasemi Pirbalouti A, Farhadi N (2018) Seasonal variation in Juniperus polycarpos var. turcomanica essential oil from northeast of Iran. J EO Oil Res 30:225–231

Salehi Shanjani P, Mirza M, Calagari M, Adams RP (2010) Effects drying and harvest season on the essential oil composition from foliage and berries of Juniperus excelsa. Ind Crop Prod 32:83–87

Tumen I, Süntar I, Keles H, Akkol EK (2012) A therapeutic approach for wound healing by using essential oils of Cupressus and Juniperus species growing in Turkey. Evid Based Complement Altern Med 2012:1–7

Uniyal AK, Chhetri S (2010) An assessment of phytotoxic potential of promising agro forestry trees on germination and growth pattern of traditional field crops of Sikkim Himalaya, India. Am Euras J Agric Environ Sci 9:70–78

Wang K, Jiang S, Pu T, Fan L, Su F, Ye M (2018) Antifungal activity of phenolic monoterpenes and structure-related compounds against plant pathogenic fungi. Nat Prod Res 33:1423–1430
Acknowledgements
The authors appreciate Alice Bouchard from Department of Experimental Surgery, McGill University, Canada due to editing the manuscript.
Ethics declarations
Conflict of interest
The authors declare no conflict of interest.
Additional information
Publisher's Note
Springer Nature remains neutral with regard to jurisdictional claims in published maps and institutional affiliations.
About this article
Cite this article
Mehdizadeh, L., Taheri, P., Ghasemi Pirbalouti, A. et al. Phytotoxicity and antifungal properties of the essential oil from the Juniperus polycarpos var. turcomanica (B. Fedsch.) R.P. Adams leaves. Physiol Mol Biol Plants 26, 759–771 (2020). https://doi.org/10.1007/s12298-020-00776-4
Received:

Revised:

Accepted:

Published:

Issue Date:
Keywords
Essential oil

Α-Pinene

Phytopathogenic fungi

Monoterpenes hydrocarbons