Abstract
Study of genetic diversity in crop plants is essential for the selection of appropriate germplasm for crop improvement. As salinity posses a serious environmental challenge to rice production globally and especially in India, it is imperative that the study of large collections of germplasms be undertaken to search for salt tolerant stocks. In the present study, 64 indica germplasms were collected from different agro-climatic zones of West Bengal, India, from the Himalayan foothills in the northern part down to the southern saline belt of the state keeping in view the soil characteristics and other edaphic factors prevailing in the region. Salt tolerance parameters were used to screen the large set of germplasms in terms of root-shoot length, fresh-dry weight, chlorophyll content, Na+/K+ ratio and germination potential in presence of salt. Standard evaluation score or SES was calculated to find out tolerant to sensitive cultivar. Twenty-one SSR markers, some associated with the Saltol QTL and others being candidate gene based SSR (cgSSR) were used to study the polymorphism of collected germplasm. A wide diversity was detected among the collected germplasms at the phenotypic as well as molecular level. Of the 21 SSR markers, 15 markers were found to be polymorphic with 88 alleles. Based on phenotypic and biochemical results, 21 genotypes were identified as salinity tolerant, whereas 40 genotypes turned out to be salt susceptible. The present study shows that apart from the established salt tolerant lines, several other landraces like Bonkanta, Morisal, Ghiosh, Patni may be the source of salt tolerant donor in future breeding programs.
Access options
Buy single article
Instant access to the full article PDF.
USD 39.95
Price includes VAT (USA)
Tax calculation will be finalised during checkout.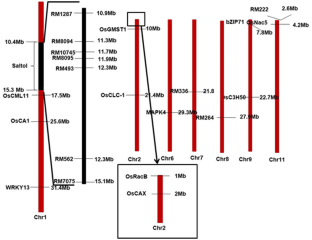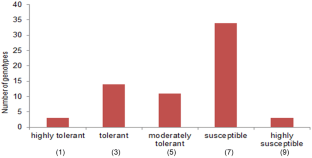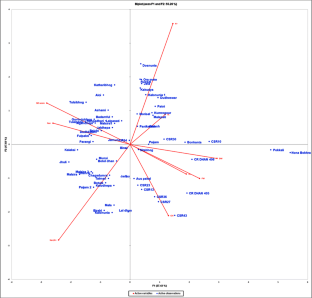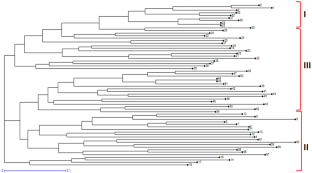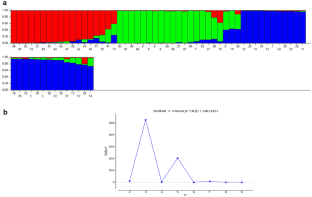 References
Adak S, Roy A, Das P, Mukherjee A, Sengupta S, Majumder AL (2019) Soil salinity and mechanical obstruction differentially affects embryonic root architecture in different rice genotypes from West Bengal. Plant Physiol Rep 24:192–209

Adhikari BM, Bag K, Bhowmick MK, Kundu C (2011) Status paper on rice in West Bengal. Retrived from https://www.rkmp.co.in.

Agrama H, Eizenga G (2008) Molecular diversity and genome-wide linkage disequilibrium patterns in a worldwide collection of Oryza sativa and its wild relatives. Euphytica 160:339–355

Ali MN, Yeasmin L, Gantait S, Goswami R, Chakraborty S (2014) Screening of rice landraces for salinity tolerance at seedling stage through morphological and molecular markers. Physiol Mol Biol Plants 20:411–423

Assaha DVM, Ueda A, Saneoka H, Yahyai RA, Yaish MW (2017) The role of Na+ and K+ transporters in salt stress adaptation in glycophytes. Front Physiol 8:509

Botstein D, White RL, Skolnick M, Davis RW (1980) Construction of a genetic linkage map in man using restriction fragment length polymorphisms. Am J Hum Genet 32:314–331

Chowdhury AD, Haritha G, Sunitha T, Krishnamurthy SL, Divya B, Padmavathi G, Ram T, Sarla N (2016) Haplotyping of rice genotypes using simple sequence repeat markers associated with salt tolerance. Rice Sci 23(6):317–325

Collard BC, Mackill DJ (2008) Marker-assisted selection: an approach for precision plant breeding in the twenty-first century. Philos Trans R Soc Lond B Biol Sci 363:557–572

Das B, Sengupta S, Parida SK, Roy B, Ghosh M, Prasad M, Ghose TK (2013) Genetic diversity and population structure of rice landraces from Eastern and North Eastern States of India. BMC Genet 14:71

Deb D (2005) Seeds of tradition, seeds of future, folk rice varieties of Eastern India. Research Foundation for Science Technology & Ecology, New Delhi

Doyle JJ, Doyle JL (1990) Isolation of plant DNA from fresh tissue. Focus 12:13–15

Frankel OH, Soule ME (1981) Conservation and evolution, vol 16. Cambridge University Press, New York, p 358

Fukuoka S, Suu TD, Ebana K, Trinh LN, Tsukasa N, Kazutoshi O (2006) Diversity in phenotypic profiles in landrace populations of Vietnamese rice: a case study of agronomic characters for conserving crop genetic diversity on farm. Genet Resour Crop Evol 53:753–761

Ganie SA, Borgohain MJ, Kritika K, Talukdar A, Pani DR, Mondal TK (2016) Assessment of genetic diversity of Saltol QTL among the rice (Oryza sativa L.) genotypes. Physiol Mol Biol Pl 22:107–114

Ganie SA, Molla KA, Henry RJ, Bhat KV, Mondal TK (2019) Advances in understanding salt tolerance in rice. Theor Appl Genet 132:851–870

Garland SH, Lewin L, Abedinia M, Henry R, Blakeney A (1999) The use of microsatellite polymorphisms for the identification of Australian breeding lines of rice (Oryza sativa L.). Euphytica 108:53–63

Gregorio GB, Senadhira D, Mendoza RD (1997) Screening rice for salinity tolerance. IRRI Discussion Paper Series No. 22, International Rice Research Institute (IRRI), Manila, Philippines, pp 1–30

Gupta B, Huang B (2014) Mechanism of salinity tolerance in plants: physiological, biochemical, and molecular characterization. Int J Genomics 2014:701596

Hanin M, Ebel C, Ngom M, Laplaze L, Masmoudi K (2016) New insights on plant salt tolerance mechanisms and their potential use for breeding. Front Plant Sci 7:1787

Jin L, Lu Y, Xiao P, Sun M, Corke H, Bao J (2010) Genetic diversity and population structure of a diverse set of rice germplasm for association mapping. Theor Appl Genet 121:475–487

Karhu A, Hurme P, Karjalainen M, Karvonen P, Karkkainen K, Neale D, Savolainen O (1996) Do molecular markers reflect patterns of differentiation in adaptive traits of conifers? Theor Appl Genet 93:215–221

Karp A, Seberg O, Buiatti M (1996) Molecular techniques in the assessment of botanical diversity. Ann Bot 78:143–149

Kumar G, Purty RS, Sharma MP, Singla-Pareek SL, Pareek A (2009) Physiological responses among Brassica species under salinity stress show strong correlation with transcript abundance for SOS pathway-related genes. J Plant Physiol 166:507–520

Lee KS, Choi WY, Ko JC, Kim TS, Gregorio GB (2003) Salinity tolerance of japonica and indica rice (Oryza sativa L.) at the seedling stage. Planta 216:1043–1046

Lutts S, Kinet JM, Bouharmont J (1995) Changes in plant response to NaCl during development of rice (Oryza sativa L.) varieties differing in salinity resistance. J Exp Bot 46:1843–1852

Majee M, Maitra S, Dastidar KG, Pattanaik S, Chatterjee A, Hait NC, Das KP, Majumder AL (2004) A novel salt-tolerant L-myo-inositol-1-phosphate synthase from Porteresia coarctata (Roxb.) Tateoka, a halophytic wild rice: molecular cloning, bacterial overexpression, characterization, and functional introgression into tobacco-conferring salt tolerance phenotype. J Biol Chem 279:28539–23552

Masutomi Y, Takahashi K, Harasawa H, Matsuoka Y (2009) Impact assessment of climate change on rice production in Asia in comprehensive consideration of process/parameter uncertainty in general circulation models. Agric Ecosyst Environ 131:281–291

Mazher AMA, El-Quesni EMF, Farahat MM (2007) Responses of ornamental and woody trees to salinity. World J Agric Sci 3:386–395

McCouch SR, Teylelman L, Xu Y, Lobos KB, Clare K, Walton M, Fu B, Maghirang R, Li Z, Xing Y, Zhang Q, Kono I, Yano M, Fjellstrom R, DeClerck G, Schneider D, Cartinhour S, Ware D, Stein L (2002) Development and mapping of 2240 new SSR markers for rice (Oryza sativa L.). DNA Res 9:199–207

Mohammadi R, Mendioro MS, Diaz GQ, Gregorio GB, Singh RK (2014) Genetic analysis of salt tolerance at seedling and reproductive stages in rice (Oryza sativa). Plant Breed 133:548–559

Molla KA, Debnath AB, Ganie SA, Mondal TK (2015) Identification and analysis of novel salt responsive candidate gene based SSRs (cgSSRs) from rice (Oryza sativa L.). BMC Plant Biol 15:122

Mukherjee R, Mukherjee A, Bandyopadhyay S, Mukherjee S, Sengupta S, Ray S, Majumder AL (2019) Selective manipulation of the inositol metabolic pathway for induction of salt-tolerance in indica rice variety. Sci Rep 9:5358. https://doi.org/10.1038/s41598-019-41809-7

Munns R (2002) Comparative physiology of salt and water stress. Plant Cell Environ 25:239–250

Munns R, Tester M (2008) Mechanisms of salinity tolerance. Annu Rev Plant Biol 59:651–681

Nayek S, Choudhury IH, Jaishee N, Roy S (2014) Spectrophotometric analysis of chlorophylls and carotenoids from commonly grown fern species by using various extracting solvents. Res J Chem Sci 4:63–69

Nguyen VN (2002) Genetic diversity in rice production: case studies from Brazil, India and Nigeria. FAO, Rome

Pal A (2016) Folk rice diversity in West Bengal: conserving this neglected treasure. NewsReach 16:4

Patel BB, Patel BB, Dav RS (2011) Studies on infiltration of saline–alkali soils of several parts of Mehsana and Patan districts of north Gujarat. J Appl Technol Environ Sanit 1:87–92

Pritchard JK, Stephens M, Donnelly P (2000) Inference of population structure using multilocus genotype data. Genetics 155:945–959

Radanielson AM, Gaydon DS, Li T, Angeles O, Roth CH (2018) Modeling salinity effect on rice growth and grain yield with ORYZA v3 and APSIM-Oryza. Eur J Agron 100:44–55

Ravikiran KT, Krishnamurthy SL, Warraich AS, Sharma PC (2017) Diversity and haplotypes of rice genotypes for seedling stage salinity tolerance analyzed through morpho-physiological and SSR markers. Field Crops Res. https://doi.org/10.1016/j.fcr.2017.04.006

Ray A, Deb D, Ray R, Chattopadhay B (2013) Phenotypic characters of rice landraces reveal independent lineages of short-grain aromatic indica rice. AoB Plants 5:plt032. https://doi.org/10.1093/aobpla/plt032

Shahbaz M, Ashraf M (2013) Improving salinity tolerance in cereals. Crit Rev Plant Sci 32(4):237–249

Shakil SK, Sultana S, Hasan MM, Ali MD, Prodhan SH (2015) SSR marker based genetic diversity analysis of modern rice varieties and coastal landraces in Bangladesh. Ind J Biotechnol 14:33–41

Shigaki T, Cheng NH, Pittman JK, Hirschi KD (2001) Structural determinants of Ca2+ transport in the Arabidopsis Ca2+/H+ antiporter CAX1. J Biol Chem 276:43152–43159

Siangliw JL, Jongdee B, Pantuwan G, Toojinda T (2007) Developing KDML105 backcross introgression lines using marker-assisted selection for QTLs associated with drought tolerant in rice. Sci Asia 33:207–214

Tahjib-Ul-Arif Md, Abu Sayed M, Islam MM, Siddiqui MN, Begum SN, Hossain MA (2018) Screening of rice landraces (Oryza sativa L.) for seedling stage salinity tolerance using morpho-physiological and molecular markers. Acta Physiol Plant 40:70

Thomson MJ, de Ocampo M, Egdane J, Rahman MA, Sajise AG, Adorrada DL, Raiz ET, Blumwald E, Seraj ZI, Singh RK, Gregorio GB, Ismail AM (2010) Characterizing the Saltol quantitative trait locus for salinity tolerance in rice. Rice 3:148–160

Tóth G, Gáspári Z, Jurka J (2000) Microsatellites in different eukaryotic genomes: survey and analysis. Genome Res 10:967–981

Genuchten G, Gupta MT (1993) A reassessment of the crop tolerance response function. J Indian Soc Soil Sci 41:730–737

Yamaguchi T, Hamamoto S, Uozumi N (2013) Sodium transport system in plant cells. Front Plant Sci 4:410

Zeng L, Shannon MC (2000a) Salinity effects on the seedling growth and yield components of rice. Crop Sci 40:996–1003

Zeng L, Shannon MC (2000b) Salinity effects on seedling growth and yield components of rice. Am J Agron 40(4):996–1003

Zhang P, Li J, Li X, Liu X, Zhao X, Lu Y (2011) Population structure and genetic diversity in a rice core collection (Oryza sativa L.) investigated with SSR markers. PLoS ONE 6(12):e27575
Acknowledgements
This work is partly funded by projects from the Department of Biotechnology, GOI (BT/AB/05/02/2007-III dt.21/09/2010 and BT/IN/NWO/17/ALM dated 02.09.2015), University Grants Commission-RGN Fellowship (2011-12/RGNF-SC-WES-13271) and Bose Institute, Kolkata India.
Additional information
Publisher's Note
Springer Nature remains neutral with regard to jurisdictional claims in published maps and institutional affiliations.
Electronic supplementary material
Below is the link to the electronic supplementary material.
About this article
Cite this article
Adak, S., Datta, S., Bhattacharya, S. et al. Diversity analysis of selected rice landraces from West Bengal and their linked molecular markers for salinity tolerance. Physiol Mol Biol Plants 26, 669–682 (2020). https://doi.org/10.1007/s12298-020-00772-8
Received:

Revised:

Accepted:

Published:

Issue Date:
Keywords
Rice landraces

SSR markers salinity

Saltol

Population structure

Genetic diversity