Abstract
Investigation of genetic diversity is essential for the selection of parents for crop breeding and conservation of genetic resources. To estimate the genetic variability and population structure in the midst of 45 accessions of sponge gourd brought together from different geographical areas of India, morphological traits and two molecular markers, ISSR and SCoT markers were compared. Principal components analysis of 20 morphological traits showed 72.70% variability and significant positive correlations between fruit traits. All three marker techniques clustered all accessions into two groups with few outgroups. High level of polymorphism was observed among ISSR (74.6%) and SCoT (71.5%) primers. The Bayesian model revealed the hidden grouping and showed admixture type of population. The diversity pattern is influenced by genetic marker used, as different molecular markers have different polymorphism evaluation efficiency. This study can be helpful in amplifying the genetic base and selection of specific traits for breeding. Thus, ISSR and SCoT markers are potential marker for identification in sponge gourd and provide valuable data on its genetic correlation and structure.
Access options
Buy single article
Instant access to the full article PDF.
USD 39.95
Price includes VAT (USA)
Tax calculation will be finalised during checkout.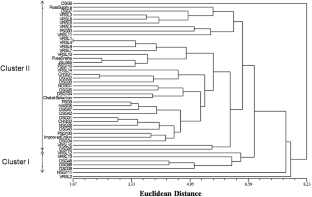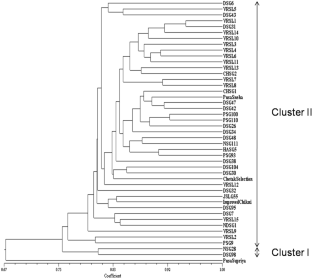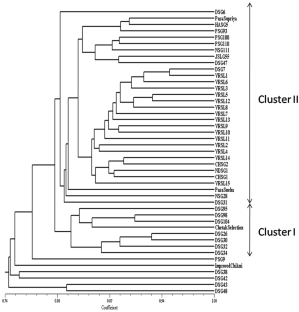 Abbreviations
UPGMA:

Un-weighted pair group method with arithmetic average

ISSR:

Inter simple sequences repeat

PIC:

Polymorphism information content

PCA:

Principal component analysis

SCoT:

Start codon targeted

PCR:

Polymerase chain reaction
References
Almajali D, Abdel-Ghani AH, Migdadi H (2012) Evaluation of genetic diversity among Jordanian fig germplasm accessions by morphological traits and ISSR markers. Sci Hort 147:8–19

Arcade A, Anselin F, Rampant PF, Lesage MC, Paques LE, Prat D (2000) Application of AFLP, RAPD and ISSR markers to genetic mapping of European and Japanese larch. Theor Appl Genet 100:299–307

Azeez MA, Bello OS, Adedeji AO (2013) Traditional and medicinal uses of Luffa cylindrica: a review. J Med Plant Stud 1:102–111

Barrett BA, Kidwell KK (1998) AFLP-based genetic diversity assessment among wheat cultivars from the Pacific northwest. Crop Sci 38:1261–1271

Biabani A, Rafii MY, Saleh GB, Latif MA (2013) Inter– and intra–population genetic variations in Jatropha curcas populations revealed by inter-simple sequence repeat molecular markers. Maydica 58:111–118

Carvalho MA (2004) Germplasm characterization of Arachis pintoi Krap. and Greg. (Leguminosae). Ph.D. Thesis, University of Florida, USA

Collard BCY, Mackill DJ (2009) Start Codon Targeted (SCOT) polymorphism: a simple novel DNA marker technique for generating gene-targeted markers in plants. Plant Mol Biol Rep 27:86–93

de Vicente MC, Guzmán FA, Engels J, Rao VR (2005) Genetic characterization and its use in decision making for the conservation of crop germplasm. The role of biotechnology. In: International workshop the role of biotechnology for the characterization and conservation of crop, forestry, animal and fishery genetic resources. FAO, FOBIOTECH, ECOGENE, SIGA, Turin, pp 121–128

Evanno G, Regnaut S, Goudet J (2005) Detecting the number of clusters of individuals using the software structure: a simulation study. Mol Ecol 14:2611–2620

Falush D, Stephens M, Pritchard JK (2003) Inference of population structure: extensions to linked loci and correlated allele frequencies. Genetics 164:1567–1587

Fatehi R, Talebi R, Fayyaz F (2011) Characterization of Iranian land-race wheat accessions by inter simple sequence repeat (ISSR) markers. J Appl Env Biol Sci 1(10):423–436

Ghaffari P, Talebi R, Keshavarzi F (2014) Genetic diversity and geographical differentiation of Iranian landrace, cultivars, and exotic chickpea lines as revealed by morphological and microsatellite markers. Physiol Mol Biol Plants 20:225–233. https://doi.org/10.1007/s12298-014-0223-9

Gorji AM, Poczai P, Polgar Z, Taller J (2011) Efficiency of arbitrarily amplified dominant markers (SCOT, ISSR and RAPD) for diagnos-tic fingerprinting in tetraploid potato. Am J Potato Res 88:226–237

Hajibarat Z, Saidi A, Hajibarat Z, Talebi R (2015) Characterization of genetic diversity in chickpea using SSR markers, start codon targeted polymorphism (SCoT) and conserved DNA-derived polymorphism (CDDP). Physiol Mol Biol Plants 21:365–373. https://doi.org/10.1007/s12298-015-0306-2

Hoogendijk M, Williams DE (2001) Characterizing the genetic diversity of home garden crops: some examples from the Americas. In: Watson JW, Eyzaguirre PB (eds) Proceedings of the second international home gardens workshop: contribution of home gardens and in situ conservation of plant genetic resources in farming systems, IPGRI, Germany, pp 34–40

Hoque S, Rabbani MG (2009) Assessment of genetic relationship among landraces of Bangladeshi ridge gourd (Luffa acutangula Roxb.) using RAPD markers. J Sci Res 1:615–623

Joshi BK, Hari BKC, Tiwari RK, Ghale M, Sthapit BR, Upadhyay MP (2004) Descriptors for sponge gourd (Luffa cylindrica). NARC, LIBIRD and IPGRI

Jun L, Mei-rong X, Zhi-wei Z, Wen-bo L, Huo-lin S (2010) Genetic diversity analysis of Luffa accessions by SSR and SRAP markers. China Cucurbits Veg 23:1–4

Junhui X, Changping X (2008) Analysis of genetic diversity in Luffa via morphological and RAPD markers. China Veg 10:21–25

Kalloo G (1993) Loofah-Luffa spp. In: Kalloo G, Bergh BO (eds) Genetic improvement of vegetable crops. Pergamon Press, Oxford, pp 265–266

Karp A, Edwards KJ (1995) Molecular techniques in the analysis of the extent and distribution of genetic diversity. In: IPGRI workshop on molecular genetic tools in Plant genetic resources 9–11 Oct, Rome, IPGRI

Kojima T, Nagaoka T, NodaK OY (1998) Genetic linkage map of ISSR and RAPD markers in einkorn wheat in relation to that of RFLP markers. Theor Appl Genet 96:37–45

Lee S, Yoo JG (2006) (Wo/2006/019205) method for preparing transformed Luffa cylindrica Roem. (world intellectual property organization). http://www.wipo.int/pctdb/en/wo.jsp?IA=KR2004002745&DISPLAY=STATUS. Accessed 27 July 2014

Luo C, He XH, Chen H, Ou SJ, Gao MP (2010) Analysis of diversity and relationships among mango cultivars using start codon targeted (SCoT) markers. Biochem Syst Ecol 38:1176–1184

Lynch M, Pfrender M, Spitze K, Lehman N, Hicks J, Allen D, Latta L, Ottene M, Bogue F, Colbourne J (1999) The quantitative and molecular genetic architecture of a sub-divided species. Evolution 53:100–110

Marr KL, Bhattarai NK, Xia YM (2005) Allozymic, morphological, and phenological diversity in cultivated Luffa acutangula (Cucurbitaceae) from China, Laos, and Nepal, and allozyme divergence between L. acutangula and L. aegyptiaca. Econ Bot 59:154–165

Métais I, Aubry C, Hamon B, Jalouzot R (2000) Description and analysis of genetic diversity between commercial bean lines (Phaseolus vulgaris L.). Theor Appl Genet 101:1207–1214

Misra S, Srivastava AK, Verma S, Pandey S, Bargali SS, Rana TS, Nair KN (2017) Phenetic and genetic diversity in Indian Luffa (Cucurbitaceae) inferred from morphometric, ISSR and DAMD marker. Genet Resour Crop Evol 64:995–1010

Nei M (1973) Analysis of gene diversity in subdivided populations. Proc Natl Acad Sci USA 70:3321–3324

Pakseresht F, Talebi R, Karami E (2013) Comparative assessment of ISSR, DAMD and SCoT markers for evaluation of genetic diversity and conservation of landrace Chickpea (Cicer arietinum L.) genotypes collected from North-West of Iran. Physiol Mol Biol Plants 19(4):563–574

Pandey S, Ansari WA, Choudhary BR, Pandey M, Jena SN, Singh AK, Dubey RK, Singh B (2017) Microsatellite analysis of genetic diversity and population structure of hermaphrodite ridge gourd (Luffa hermaphrodita). 3 Biotech 8:17. https://doi.org/10.1007/s13205-017-1030-0

Papanicolaou GC, Psarra E, Anastasiou D (2015) Manufacturing and mechanical response optimization of epoxy resin/Luffa cylindrica composite. J Appl Polym Sci 132:41992. https://doi.org/10.1002/app.41992

Prakash K, Pandey A, Radhamani J, Bisht IS (2013) Morphological variability in cultivated and wild species of Luffa (Cucurbitaceae) from India. Genet Resour Crop Evol 60:2319–2329. https://doi.org/10.1007/s10722-013-9999-7

Prakash K, Pati K, Arya L, Pandey A, Verma M (2014) Population structure and diversity in cultivated and wild Luffa species. Biochem Syst Ecol 56:165–170. https://doi.org/10.1016/jbse.2014.05.012

Pritchard JK, Stephens P, Donnelly P (2000) Inference of population structure using multilocus genotype data. Genetics 155:945–959

Rathod RR, Mehta DR, Gajera HP, Delvadiya NA (2015) Molecular characterization of ridge gourd (Luffa acutangula L.) and sponge gourd (Luffa cylindrica L.) genotypes through PCR based molecular markers. Int J Agric Env Biotech 8:521–530. https://doi.org/10.5958/2230-732X.2015.00059.5

Reddy MP, Sarla MP, Siddiq EA (2002) Inter simple sequence repeat (ISSR) polymorphism and its application in plant breeding. Euphytica 128:9–17

Rohlf FJ (2000) NTSYS-PC, Numerical taxonomy and multivariate analysis system, version 2.1. Exeter Publications, New York

Saghai-Maroof MA, Soliman KM, Jorgesm RA, Allard RW (1984) Ribosomal DNA spacer length in barley: mendelian inheritance, chromosomal location and population dynamics. Proc Natl Acad Sci USA 81:8014–8018

Sankar AA, Moore GA (2001) Evaluation of inter–simple sequence repeat analysis for mapping in Citrus and extension of genetic linkage map. Theor Appl Genet 102:206–214

Shannon C, Weaver W (1949) The mathematical theory of communication. University of Illinois Press, Urbana

Sirohi PS, Munshi AD, Kumar G, Behera TK (2005) Cucurbits. In: Dhillon BS, Tyagi RK, Saxena S, Randhawa GJ (eds) Plant genetic resources: horticultural crops. Narosa Publishing House, New Delhi, pp 34–58

Souframanien J, Gopalakrishna T (2004) Acomparative analysis of genetic diversity in black gram genotypes using RAPD and ISSR markers. Theor Appl Genet 109:1687–1693

Talebi R, Fayaz R, Mardi M, Pirsyedi SM, Naji AM (2008) Genetic relationships among chickpea (Cicer arietinum) elite lines based on RAPD and agronomic markers. Int J Agric Biol 8:301–305

Thompson JA, Nelson RL, Vodkin LO (1998) Identification of diverse soybean germplasm using RAPD markers. Crop Sci 38:1348–1355

Tyagi R, Sharma V, Sureja AK, Munshi AD, Arya L, Verma M (2016) Deciphering population structure and diversity in Luffa cylindrica (L.) M. Roem. using morphological and sequence-related amplified polymorphism markers. Plant Genet Resour 14:234–237. https://doi.org/10.1017/S1479262115000258

Yawalkar KS (2004) Cucurbitaceous or vine crops, V ed. Vegetable Crops of India, Nagpur, pp 152–155

Yeh FC, Boyle TJB (1997) Population genetic analysis of codominant and dominant markers and quantitative traits. Belg J Bot 129:157
Acknowledgements
We are grateful to the Head, Division of Genomic Resources and the Director, National Bureau of Plant Genetic Resources for providing access to the facilities.
Additional information
Publisher's Note
Springer Nature remains neutral with regard to jurisdictional claims in published maps and institutional affiliations.
About this article
Cite this article
Tyagi, R., Sharma, V., Sureja, A.K. et al. Genetic diversity and population structure detection in sponge gourd (Luffa cylindrica) using ISSR, SCoT and morphological markers. Physiol Mol Biol Plants 26, 119–131 (2020). https://doi.org/10.1007/s12298-019-00723-y
Received:

Revised:

Accepted:

Published:

Issue Date:
Keywords
Luffa cylindrica

ISSR

SCoT

Morphological marker

Genetic variability

Sponge gourd

Population structure