Abstract
Melatonin has emerged as an important signaling molecule that regulates plant responses to environmental stresses. In this research, melatonin was used to alleviate the adverse effects of oxidative stress induced by water deficit in Moldavian balm (Dracocephalum moldavica) plants and morpho-physiological traits were investigated. This experiment was conducted as a factorial arrangement based on completely randomized design with four replications. Treatments included foliar melatonin application at four levels 0 (distilled water), 50, 100 and 150 μM and drought stress 100 (control), 80, 60 and 40% of field capacity (FC). Higher levels of drought stress at 60% and 40% FC, caused the reduction of plant height, shoot fresh and dry weight, root length, root fresh and dry weight, photosynthetic pigments and protein content. Increased amount of soluble sugar content, malondialdehyde content and lipoxygenase activity, non-enzyme antioxidants (including flavonoid, polyphenol compounds and anthocyanin), phenylalanine ammonia-lyase and polyphenol oxidase enzymes activities were also observed at 60% and 40% FC. Melatonin at 100 µM improved morphological parameters, photosynthetic pigments and protein content under moderate and severe drought stress. The obtained results suggested that foliar application of 100 μM melatonin also alleviated oxidative burst and malondialdehyde production in Moldavian balm plant under moderate and severe drought stress probably through regulation of secondary metabolism and the enzymes activity of phenylalanine ammonia-lyase and polyphenol oxidase.
Access options
Buy single article
Instant access to the full article PDF.
USD 39.95
Price includes VAT (USA)
Tax calculation will be finalised during checkout.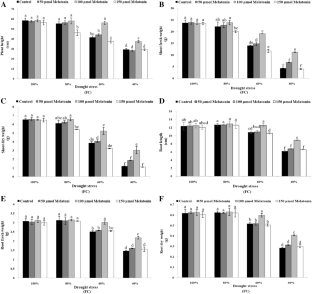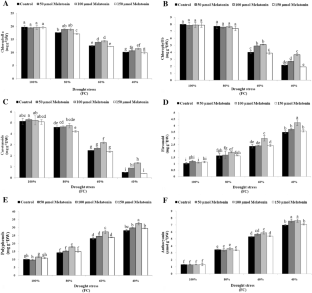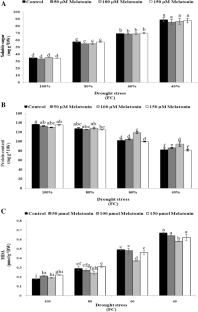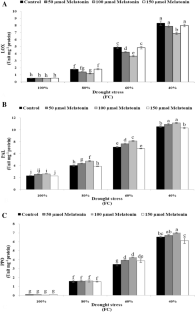 Abbreviations
Car:

carotenoids

Chl:

chlorophyll

llDW:

dry weight

FC:

field capacity

LOX:

lipoxygenase

MDA:

malondialdehyde

Mel:

melatonin

PAL:

Phenylalanine ammonia-lyase

PPO:

Polyphenol oxidase

RDW:

root dry weight

RFW:

root fresh weight

RL:

root length

ROS:

reactive oxygen species

SDW:

shoot dry weight

SFW:

shoot fresh weight

TBARS:

thiobarbituric acid reactive substance
References
Afreen F, Zobayed SMA, Kozai T (2006) Melatonin in Glycyrrhiza uralensis: response of plant roots to spectral quality of light and UV-B radiation. J Pineal Res 41:108–115

Agnihotri RK, Palni LMS, Pandey DK (2007) Germination and seeding growth under moisture stress. Screening of landraces of Rice (Oryza sativa L.) from Kumaun region of Indian central Himalaya. J Plant Biol 34:21–27

Alaei Sh, Melikyan A, Kobraee S, Mahna N (2013) Effect of different soil moisture levels on morphological and physiological characteristics of Dracocephalum moldavica. Agric Commun 1:23–26

Arnao MB (2014) Phytomelatonin: discovery, content, and role in plants. Adv Bot 2014:e815769

Arnao MB, Hernandez-Ruiz J (2007) Melatonin promotes adventitious and lateral root regeneration in etiolated hypocotyls of Lupinus albus L. J Pineal Res 42:147–152

Arnao MB, Hernandez-Ruiz J (2009) Chemical stress by different agents affects the melatonin content of barley roots. J Pineal Res 46:295–299

Arnao MB, Hernandez-Ruiz J (2014) Melatonin: plant growth regulator and/or biostimulator during stress? Trends Plant Sci 19:789–797

Bradford MM (1976) A rapid and sensitive method for the quantitation of microgram quantites of protein utilizing the principle of protein-dye binding. Anal Biochem 72:248–254

Costa M, Civell PM, Chaves AR, Martinez GA (2005) Effects of ethephon and 6- benzylaminopurine on chlorophyll degrading enzymes and peroxidase-linked chlorophyll bleaching during post-harvest senescence of broccoli (Brassica oleracea L.) at 20 C. Postharvest Biol Technol 35:191–199

D'cünha GB, Satyanarayan V, Nair PM (1996) Purification of phenylalanine ammonialyase from Rhodotorula glutinis. Phytochem 42:17–20

Farooq M, Wahid A, Kobayashi N, Fujita D, Basra SMA (2009) Plant drought stress: effects, mechanisms and management. Agron Sustain Dev 29:185–212

Fazeli F, Ghorbanli M, Niknam V (2007) Effects of drought on biomass, protein content, lipid peroxidation and antioxidant enzymes in two sesame cultivars. Biol Plant 51:98–103

Gao X, Ohlander M, Jeppsson N, Bjork L, Trajkovski V (2000) Changes in antioxidant effects and their relationship to phytonutrients in fruit of sea buckthourn (Hippophae rhamnoides L.) during maturation. J Agric Food Chem 48:1458–1490

Gholami M, Rahemi M, Kholdebarin B (2010) Effect of drought stress induced by polyethylene glycol on seed germination of four wild Almond species. Aust J Basic Appl Sci 4:785–791

Guo Z, Ou W, Lu S, Zhong Q (2006) Differential responses of antioxidative system to chilling and drought in four rice cultivars differing in sensitivity. Plant Physiol Biochem 44:828–836

Haplin BE, Lee CY (1987) Effect of blanching on enzyme activity and quality changes in green peas. J Food Sci 52:1002–1005

Haq A, Rashmi V, Agnihotri RK (2010) Effect of osmotic stress (PEG) on germination and seedling survival of Lentil (Lens culinaris MEDIK.). Res J Agric Sci 1:201–204

Heath RL, packer L (1969) Photoperoxidation in isolated chloroplast: I. kinetics and stoichiometry of fatty acid peroxidation. Arch Biochem Biophy 125:189–198

Hernandez I, Alegre L, Munne-Bosch S (2004) Drought-induced changes in flavonoids and other low molecular weight antioxidants in Cistus clusii grown under Mediterranean field conditions J. Tree Physiol 24:1303–1311

Hsiao TC (1970) Rapid changes in levels of polyribosome in Zea mays in response to water stress. Plant Physiol 46:281–285

Hsu SY, Kao CH (2003) The protective effect of free radical scavengers and metal chelators on polyethylene glycol-treated rice leaves. Biol Plant 46:617–619

Hussein MS, El-Sherheny SE, Khalil MY, Naguib NY, Aly SM (2006) Growth characters and chemical constituents of Dracocephalum moldavica L. plants in relation to compost fertilizer and planting distance. Sci Hortic 108:322–331

Iturbe-Ormaexte I, Escordeo P, Arrese-Igor C, Becana M (1998) Oxidative damage in pea plants exposed to water deficit or paraquat. Plant Physiol 116:173–181

Juan M, Rivero RM, Romero L, Ruiz JM (2005) Evaluation of some nutritional and biochemical indicators in selecting salt-resistant tomato cultivars. Environ Exp Bot 54:193–201

Jung S (2004) Variation in antioxidant metabolism of young and mature leaves of Arabiodopsis thaliana subjected to drought. Plant Sci 166:459–466

Katerji N, Van Hoorn JW, Hamdy A, Karam F, Mastrorilli M (1994) Effect of salinity on emergence and on water stress and early seedling growth of sunflower and maize. Agric Water Manag 26:81–91

Kaydan D, Yagmur M (2008) Germination, seedling growth and relative water content of shoot in different seed sizes of triticale under osmotic stress of water and NaCl. Afr J Biotechnol 7:2862–2868

Kostopoulou Z, Therios I, Roumeliotis E, Kanellis AK, Molassiotis A (2015) Melatonin combined with ascorbic acid provides salt adaptation in Citrus aurantium L. seedlings. Plant Physiol Biochem 86:155–165

Kreft S, Strukel JB, Gaberski A, Kreft I (2002) Rutin in buckwheat herbs grown at different UV-B radiation levels: comparison of two UV spectrophotometric and HPLC method. J Exp Bot 53:1801–1804

Kubis J (2006) Exogenous spermidine alters in different way membrane permeability and lipid peroxidation in water stressed barley leaves. Acta Physiol Plant 28:27–33

Lazar D, Murch SJ, Beilby MJ et al (2013) Exogenous melatonin affects photosynthesis in characeae Chara australis. Plant Signal Behav 8(3):e23279

Letchamo W, Gosselin A (1996) Transpiration, essential oil glands, epicuticular wax and morphology of Thymus Vulgaris are influenced by light intensity and water supply. J Hortic Sci 71:123–134

Li C, Wang P, Wei Z, Liang D, Liu C, Yin L, Jia D, Fu M, Ma F (2012) The mitigation effects of exogenous melatonin on salinity-induced stress in Malus hupehensis. Journal of Pineal Research 53(3):298–306

Li C, Tan DX, Liang D, Chang C, Jia DF, Ma FW (2015) Melatonin mediates the regulation of ABA metabolism, free-radical scavenging and Stomatal behaviour in two Malus species under drought stress. J Exp Bot 66:669–680

Lichtenthaler HK (1987) Chlorophylls and carotenoids: pigments of photosynthetic biomembranes. Methods Enzymol 148:350–382

Ma D, Sun D, Wang C, Li Y, Guo T (2014) Expression of flavonoid biosynthesis genes and accumulation of flavonoid in wheat leaves in response to drought stress. Plant Physiol Biochem 80:60–66

Manchester LC, Tan DX, Reiter RJ, Park W, Monis K, Qi W (2000) High levels of melatonin in the seeds of edible plants possible function in germ tissue protection. Life Sci 67:3023–3029

Meng JF, Xu TF, Wang ZZ, Fang YL, Xi ZM, Zhang ZW (2014) The ameliorative effects of exogenous melatonin on grape cuttings under water-deficient stress: antioxidant metabolites, leaf anatomy, and chloroplast morphology. J Pineal Res 57:200–212

Minguez-Mosquera MI, Jaren-Galen M, Garrido-Fernandez J (1993) Lipoxygenase activity during pepper ripening and processing of paprika. Phytochemistry 32:1103–1108

Nogues S, Baker NR (2000) Effects of drought on photosynthesis in Mediterranean plants growth under enhanced UV-B radiation. J Exp Bot 51:1309–1317

Pinheiro C, Chaves M, Ricardo C (2001) Alteration in carbon and nitrogen metabolism induced by water deficit in the stems and leaves of Lupinus albus. J Exp Bot 52:1063–1070

Polle A (2001) Dissecting the superoxide dismutase-ascorbate glutathione pathway in chloroplasts by metabolic modeling. Computer simulations as a step towards flux analysis. Plant Physiol 126:445–462

Radhouane L (2007) Response of Tunisian autochthonous pearl millet (Pennisetum glaucum L.) to drought stress induced by polyethylene glycol (PEG) 6000. Afr J Biotechnol 6:1102–1105

Rahnama H, Ebrahimzadeh H (2004) The effect of NaCl on proline accumulation in potato seedlings and calli. Acta Physiol Plant 26:263–270

Rai AC, Singh M, Shah K (2012) Effect of water withdrawal on formation of free radical, proline accumulation and activities of antioxidant enzymes in ZAT12-transformed transgenic tomato plants. Plant Physiol Biochem 61:108–114

Roe JH (1955) The determination of sugar in blood and spinal fluid with anthrone reagent. J Biol Chem 212:335–343

Sangtarash MH, Qaderi MM, Chinnappa CC, Reid DM (2009) Carotenoid differential sensitivity of canola (Brassica napus) seedlings to ultraviolet-B radiation, water stress and abscisic acid. Environ Exp Bot 66:212–219

Sarropoulou VN, Dimassi-Theriou K, Therios I, Koukourikou-Petridou M (2012) Melatonin enhances root regeneration, photosynthetic pigments, biomass, total carbohydrates and proline content in the cherry rootstock PHL-C (Prunus avium × Prunus cerasus). Plant Physiol Biochem 61:162–168

Sato F, Yoshioka T, Fujiwara H, Higashio A, Uragami A, Tokuda S (2004) Physiological responses of cabbage plug seedlings to water stress during low-temperature storage in darkness. Sci Hortic 101:349–357

Sharma P, Shanker R (2005) Drought induces oxidative stress and enhances the activities of antioxidant enzymes in growing rice seedlings. J Plant Growth Regul 46:209–221

Shi Q, Ding F, Wang X, Wei M (2007) Exogenous nitric oxides protect cucumber roots against oxidative stress induced by salt stress. Plant Physiol Biochem 45:542–550

Shibli RA, Kushad M, Yousef GG, Lina MA (2007) Physiological and biochemical responses of tomato micro-shoots to induced salinity with associated ethylene accumulation. Plant Growth Regul 51:159–169

Sultana N, Ikeda T, Itoh R (1999) Effect of NaCl salinity on photosynthesis and dry matter accumulation in developing rice grains. Environ Exp Bot 42:211–220

Syvacy A, Sokmen M (2004) Seasonal changes in antioxidant activity, total phenolic and anthocyanin constituent of the stems of two Morus species (Morus alba L. and Morus nigra L.). Plant Growth Regul 44:251–256

Szafranska K, Glinska S, Janas KM (2012) Changes in the nature of phenolic deposits after re-warming as a result of melatonin pre-sowing treatment of Vigna radiata seeds. J Plant Physiol 169:34–40

Tan DX, Chen LD, Poeggeler B, Manchester LC, Reiter RJ (1993) Melatonin: a potent, endogenous hydroxyl radical scavenger. Endocr J 1:57–60

Thipyapony P, Melkonia J, Wolfe DW, Steffens JC (2004) Suppression of polyphenol oxidase increases stress tolerance in tomato. Plant Sci 167:693–703

Turkan I, Bor M, Ozdemir F, Koca H (2005) Differential responses of lipid peroxidation and antioxidants in the leaves of drought-tolerant P. acutifolia Gray and drought-sensitive P. vulgaris L. subjected to polyethylene glycol mediated water stress. Plant Sci 168:223–231

Vaughn KC, Lax AR, Duke SO (1988) Polyphenol oxidase: the chloroplast oxidase with no established function. Physiol Plant 72:659–665

Wang P, Sun X, Chang C, Feng FJ, Liang D, Cheng LL, Ma FW (2013a) Delay in leaf senescence of Malus hupehensis by long-term melatonin application is associated with its regulation of metabolic status and protein degradation. J Pineal Res 55:424–434

Wang P, Sun X, Li C, Wei ZW, Liang D, Ma FW (2013b) Long-term exogenous application of melatonin delays drought-induced leaf senescence in apple. J Pineal Res 54:292–302

Wanger GJ (1979) Content and vacuole/extra vacuole distribution of neutral sugars, free amino acids, and anthocyanins in protoplast. Plant Physiol 64:88–93

Watkinson J, Hendricks I, Sioson L et al (2006) Accessions of Solanum tuberosum spp. andigena show differences in photosynthetic recovery after drought stress as reflected in gene expression profiles. Plant Sci 171:754–758

Wei W, Li QT, Chu YN, Reiter RJ, Yu XM, Zhu DH, Zhang WK, Ma B, Lin Q, Zhang JS, Chen SY (2015) Melatonin enhances plant growth and abiotic stress tolerance in soybean plants. J Exp Bot 66:695–707

Wen PF, Chen JY, Wan SB, Kong WF, Zhang P, Wang W, Zhan J, Pan QH, Hung WD (2005) Salicylic acid activates phenylalanine ammonia-lyase in grape berry in response to high temperature stress. Plant Growth Regul 55:1–10

Yucel DO, Anlarsal AE, Mart D, Yucel C (2010) Effects of drought stress on early seedling growth of Chickpea (Cicer arietinum L.) genotypes. World Appl Sci J 11:478–485

Zhang N, Zhao B, Zhang HJ, Weeda S, Yang C, Yang ZC, Ren S, Guo YD (2013) Melatonin promotes water-stress tolerance, lateral root formation, and seed germination in cucumber (Cucumis sativus L.). J Pineal Res 54:15–23

Zhang HJ, Zhang N, Yang RC, Wang L, Sun QQ, Li DB et al (2014) Melatonin promotes seed germination under high salinity by regulating antioxidant systems, ABA and GA4 interaction in cucumber (Cucumis sativus L.). J Pineal Res 57:269–279

Zheng X, Tan DX, Allan AC, Zuo B, Zhao Y, Reiter RJ, Wang L, Wang Z, Guo Y, Zhou J, Shan D, Li Q, Han Z, Kong J (2017) Chloroplastic biosynthesis of melatonin and its involvement in protection of plants from salt stress. Sci Rep 7:1–12
Ethics declarations
Conflict of interest
The authors declare that they have no conflict of interest.
Additional information
Publisher's Note
Springer Nature remains neutral with regard to jurisdictional claims in published maps and institutional affiliations.
About this article
Cite this article
Naghizadeh, M., Kabiri, R., Hatami, A. et al. Exogenous application of melatonin mitigates the adverse effects of drought stress on morpho-physiological traits and secondary metabolites in Moldavian balm (Dracocephalum moldavica). Physiol Mol Biol Plants 25, 881–894 (2019). https://doi.org/10.1007/s12298-019-00674-4
Received:

Revised:

Accepted:

Published:

Issue Date:
Keywords
Lipid peroxidation

Melatonin

Moldavian balm

Oxidative damage

Phenylalanine ammonia-lyase

Photosynthetic pigments