Abstract
Submergence tolerance in rice is important for improving yield under rain-fed lowland rice ecosystem. In this study, five traditional rice landraces having submergence tolerance phenotype were selected. These five rice landraces were chosen based on the submergence-tolerance screening of 88 rice landraces from various lowland areas of Jeypore tract of Odisha in our previous study. These five rice landraces were further used for detailed physiological assessment under control, submergence and subsequent re-aeration to judge their performance under different duration of submergence. Seedling survival was significantly decreased with the increase of plant height and significant varietal difference was observed after 14 days of complete submergence. Results showed that submergence progressively declined the leaf photosynthetic rate, stomatal conductance, instantaneous water use efficiency, carboxylation efficiency, photosystem II (PSII) activity and chlorophyll, with greater effect observed in susceptible check variety (IR 42). Notably, higher activities of antioxidative enzymes and ascorbate level were observed in traditional rice landraces and were found comparable with the tolerant check variety (FR 13A). Taken together, three landraces such as Samudrabali, Basnamundi and Gadaba showed better photosynthetic activity than that of tolerant check variety (FR 13A) and showed superior antioxidant response to submergence and subsequent re-aeration. These landraces can be considered as potential donors for the future submergence tolerance breeding program.
Access options
Buy single article
Instant access to the full article PDF.
USD 39.95
Price includes VAT (USA)
Tax calculation will be finalised during checkout.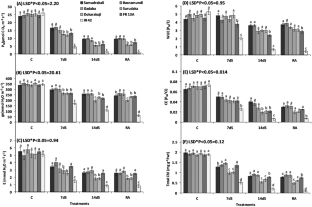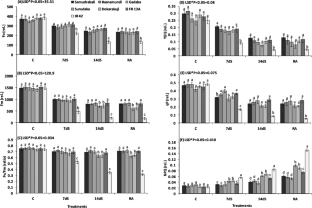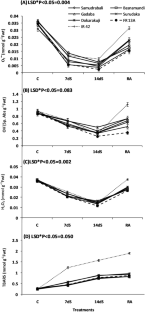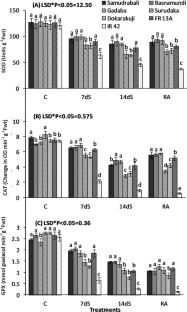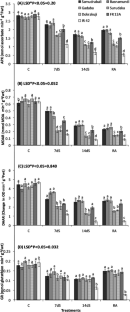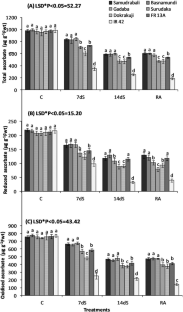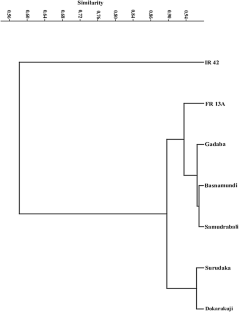 References
Afrin W, Hossain M, Islam M, Hossain MA (2018) Responses of rice (Oryza sativa L.) genotypes to different levels of submergence. C R Biol 341:85–96

Ahmed S, Nawata E, Hosokawa Y, Domae Y, Sakuratani T (2002) Alterations in photosynthesis and some antioxidant enzymatic activities of mung bean subjected to water logging. Plant Sci 163:117–123

Alexieva V, Sergiev I, Mapelli S, Karanov E (2001) The effect of drought and ultraviolet radiation on growth and stress markers in pea and wheat. Plant Cell Environ 24(12):1337–1344

Arnon DI (1949) Copper enzymes in isolated chloroplasts. Polyphenoloxidase in Beta vulgaris. Plant Physiol 24:1–15

Arunachalam V, Chaudhury SS, Sarangi SK, Ray T, Mohanty BP, Nambi VA, Mishra S (2006) Rising on rice: the story of Jeypore. MS Swaminathan Research Foundation, Chennai, pp 1–39

Barik J, Panda D (2016) Phenotyping of traditional rice (Oryza sativa L.) landraces of Koraput in relation to flooding stress tolerance. In: Forestry & agriculture for sustainable future. National seminar on the occasion of 18th Odisha Bigyan 'O' Paribesh congress at OUAT, Bhubaneswar

Bhowmick MK, Dhara MC, Singh S, Dar MH, Singh US (2014) Improved management options for submergence-tolerant (Sub1) rice genotype in flood-prone rainfed lowlands of West Bengal. Am J Plant Sci 5:14–23

Blokhina O, Virolainen E, Fagerstedt KV (2003) Antioxidants, oxidative damage and oxygen deprivation stress: a review. Ann Bot 9:179–194

Cakmak I, Marschner H (1992) Magnessium deficiency and high light intensity enhance activities of superoxide dismutase, ascorbate peroxidase and glutathione reductase in bean leaves. Plant Physiol 98:1222–1227

Choudhury SR, Choudhury MA (1985) Hydrogen peroxide metabolism as an index of water stress tolerance in jute. Physiol Planta 65:503–507

Colmer TD, Pedersen O (2008) Oxygen dynamics in submerged rice (Oryza sativa). New Phytol 178:326–334

Damanik RI, Maziah M, Ismail MR, Ahmad S, Zain AM (2010) Responses of the antioxidative enzymes in Malaysian rice (Oryza sativa L.) cultivars under submergence condition. Acta Physiol Plant 32:739–747

Dar MH, Chakravorty R, Waza SA, Sharma M, Zaidi NW, Singh AN, Singh US, Ismail AM (2017) Transforming rice cultivation in flood prone coastal Odisha to ensure food and economic security. Food Secur 9:711–722

Das KK, Panda D, Sarkar RK, Reddy JN, Ismail AM (2009) Submergence tolerance in relation to variable floodwater conditions in rice. Environ Exp Bot 66:425–434

Drew MC (1997) Oxygen deficiency and root metabolism injury and acclimation under hypoxia and anoxia. Annu Rev Plant Physiol Plant Mol Biol 48:223–250

Ella ES, Kawano N, Yamauchi Y, Tanaka K, Ismail AM (2003) Blocking ethylene perception during submergence reduced chlorophyll degradation and improved seedling survival in rice. Funct Plant Biol 30:813–819

Foyer CH, Halliwell B (1976) The presence of glutathione and glutathione reductase in chloroplast: a proposed role in ascorbic acid metabolism. Planta 133:21–25

Foyer CH, Noctor G (2005) Oxidant and antioxidant signalling in plants: are-evaluation of the concept of oxidative stress in a physiological context. Plant Cell Environ 28(8):1056–1071

Fu WG, Li PP, Wu YY (2012) Effects of different light intensities on chlorophyll fluorescence characteristics and yield in lettuce. Sci Hortic 135:45–51

Fukao T, Bailey-Serres J (2004) Plant responses to hypoxia—is survival a balancing act? Trends Plant Sci 9:449–456

Fukao T, Yeung E, Bailey-Serres J (2011) The submergence tolerance regulator SUB1A mediates crosstalk between submergence and drought tolerance in rice. Plant Cell 23:412–427

Giannopolitics CN, Ries SK (1977) Superoxide dismutases: occurrence in higher plants. Plant Physiol 115:159–169

Gill SS, Tuteja N (2010) Reactive oxygen species and antioxidant machinery in abiotic stress tolerance in crop plants. Plant Physiol Biochem 48(12):909–930

Goswami S, Kar RK, Paul A, Dey N (2017) Genetic potentiality of indigenous rice genotypes from Eastern India with reference to submergence tolerance and deepwater traits. Curr Plant Biol 11:23–32

Goswami S, Kar RK, Paul A, Dey N (2018) Differential expression of Sub1A loci in rice under submergence. J Plant Biochem Biotech https://doi.org/10.1007/s13562-018-0456-801

Halliwell B, Gutteridge JM (1981) Formation of a thiobarbituric acid reactive substance from deoxyribose in the presence of iron salts: the role of superoxide and hydroxyl radicals. FEBS Lett 128(2):347–352

Hazrati S, Tahmasebi-Sarvestani Z, Modarres-Sanavy SAM, Mokhtassi-Bidgoli A, Nicola S (2016) Effects of water stress and light intensity on chlorophyll fluorescence parameters and pigments of Aloe vera L. Plant Physiol Biochem 106:141–148

Heath RL, Packer L (1968) Photoperoxidation in isolated chloroplasts: I. Kinetics and stoichiometry of fatty acid peroxidation. Arch Biochem Biophys 125(1):189–198

Hossain MA, Nakano Y, Asada K (1984) Monodehydroascorbate reductase in spinach chloroplasts and its participation in regeneration of ascorbate for scavenging hydrogen peroxide. Plant Cell Physiol 25(3):385–395

Iftekharuddaula KM, Ahmed HU, Ghosal S, Amin A, Moni ZR, Ray BP, Septiningsih EM (2016) Development of early maturing submergence-tolerant rice varieties for Bangladesh. Field Crop Res 190:44–53

Ismail AM, Singh US, Singh S, Dar MH, Mackill DJ (2013) The contribution of submergence-tolerant (Sub1) rice varieties to food security in flood-prone rainfed lowland areas in Asia. Field Crop Res 152:83–93

Jackson MB, Ram PC (2003) Physiological and molecular basis of susceptibility and tolerance of rice plants to complete submergence. Ann Bot 91:227–241

Kuanar SR, Ray A, Sethi SK, Chattopadhyay K, Sarkar RK (2017) Physiological basis of stagnant flooding tolerance in rice. Rice Sci 24(2):73–84

Maxwell K, Johnson GN (2000) Chlorophyll fluorescence—a practical guide. J Exp Bot 51(345):659–668

Mishra SS, Panda D (2017) Leaf traits and antioxidant defense for drought tolerance during early growth stage in some popular traditional rice landraces from Koraput, India. Rice Sci 24(4):207–217

Mishra S, Chaudhury SS, Nambi VA (2012) Strengthening of traditional seed selection practices with improved knowledge and skills of tribal farm families in Koraput District. Ind J Tradit Knowl 11(3):461–470

Murchie EH, Lawson T (2013) Chlorophyll fluorescence analysis: a guide to good practice and understanding some new applications. J Exp Bot 64:3983–3998

Nakano Y, Asada K (1981) Hydrogen peroxide is scavenged by ascorbate specific peroxidase in spinach chloroplasts. Plant Cell Physiol 22:867–880

Panda D, Sarkar RK (2012) Leaf photosynthetic activity and antioxidant defense associated with Sub1 QTL in rice subjected to submergence and subsequent re-aeration. Rice Sci 19:108–116

Panda D, Sarkar RK (2013) Characterization of leaf gas exchange and anti-oxidant defense of rice (Oryza sativa L.) cultivars differing in submergence tolerance owing to complete submergence and consequent re-aeration. Agric Res 2(4):301–308

Panda D, Rao DN, Sharma SG, Strasser RJ, Sarkar RK (2006) Submergence effects on rice genotypes during seedling stage: probing of submergence driven changes of photosystem II by chlorophyll a fluorescence induction O-J-I-P transients. Photosynthetica 44:69–75

Panda D, Sharma SG, Sarkar RK (2008) Chlorophyll fluorescence parameters, CO2 photosynthetic rate and regeneration capacity as a result of complete submergence and subsequent re-emergence in rice (Oryza sativa L.). Aquat Bot 88:127–133

Panda D, Mahakhud A, Mohanty B, Mishra SS, Barik J (2018) Genotypic variation of photosynthetic gas exchange and stomatal traits in some traditional rice (Oryza sativa L.) landraces from Koraput, India for crop improvement. Physiol Mol Biol Plants 24(5):973–983

Patra BC, Dhua SR (2003) Agro-morphological diversity scenario in upland rice germplasm of Jeypore tract. Genet Resour Crop Evol 50(8):825–828

Pfannschmidt T (2003) Chloroplast redox signals: how photosynthesis controls its own genes. Trends Plant Sci 8:33–41

Pinnola A, Dall'Osto L, Gerotto C, Morosinotto T, Bassi R, Alboresi A (2013) Zeaxanthin binds to light-harvesting complex stress-related protein to enhance nonphotochemical quenching in Physcomitrella patens. Plant Cell 25:3519–3534

Ram PC, Singh BB, Singh AK, Ram P, Singh PN, Singh HP, Boamfa I, Harren F, Santosa E, Jackson MB, Setter TL, Reuss J, Wade IJ, Singh VP, Singh RK (2002) Submergence tolerance in rainfed lowland rice physiological basis and prospects for cultivar improvement through marker-aided breeding. Field Crops Res 76:131–152

Rao MV, Hale BA, Ormrod DP (1995) Amelioration of ozone-induced oxidative damage in wheat plants grown under high carbon dioxide: role of antioxidant enzyme. Plant Physiol 109:421–432

Roy PS, Patnaik A, Rao GJN, Patnaik SSC, Chaudhury SS, Sharma SG (2016) Participatory and molecular marker assisted pure line selection for refinement of three premium rice landracess of Koraput, India. Agroecol Sustain Food Syst 41(2):167–185

Sarkar RK, Panda D (2009) Distinction and characterisation of submergence tolerant and sensitive rice cultivars, probed by the fluorescence OJIP rise kinetics. Funct Plant Biol 36:222–233

Sarkar RK, Bhattacharjee B (2011) Rice genotypes with SUB1 QTL differ in submergence tolerance, elongation ability during submergence and re-generation growth at re-emergence. Rice 5(1):7

Sarkar RK, Reddy JN, Sharma SG, Ismail AM (2006) Physiological basis of submergence tolerance in rice and implications for crop improvement. Curr Sci 91:899–906

Sarkar RK, Panda D, Reddy JN, Patnaik SSC, Mackill DJ, Ismail AM (2009) Performance of submergence tolerant rice (Oryza sativa) genotypes carrying the Sub1 quantitative trait locus under stressed and non-stressed natural field conditions. Indian J Agric Sci 79:876–883

Sarkar RK, Mahata KR, Singh DP (2013) Differential responses of antioxidant system and photosynthetic characteristics in four rice cultivars differing in sensitivity to sodium chloride stress. Acta Physiol Plant 35(10):2915–2926

Setter TL, Laureles EV (1996) The beneficial effect of reduced elongation growth on submergence tolerance of rice. J Exp Bot 47:1551–1559

Shigeoka S, Yokota A, Nakano Y, Kitaoka S (1979) The effect of illumination on the L-ascorbic acid content in Euglena gracillis Z. Agric Biol Chem 43:2053–2058

Siddique MRB, Hamid A, Islam MS (1999) Dought stress on photosynthetic rate and leaf gas exchange of wheat. Bot Bull Acad Sin 40(2):141–145

Singh R, Singh Y, Xalaxo S, Verulkar S, Yadav N, Singh S, Singh N, Prasad KS, Kondayya K, Rao PR, Rani MG (2016) From QTL to variety-harnessing the benefits of QTLs for drought, flood and salt tolerance in mega rice varieties of India through a multiinstitutional network. Plant Sci 242:278–287

Singh A, Carandang J, Gonzaga ZJC, Collard BCY, Ismail AM, Septiningsih EM (2017) Identification of QTLs for yield and agronomic traits in rice under stagnant flooding conditions. Rice 10(1):15

Upadhyay RK (2016) Oxidative injury and its detoxification in rice plants after submergence stress. Proc Natl Acad Sci India Sect B Biol Sci 15:12. https://doi.org/10.1007/s40011-016-0724-0

Vergara GV, Nugraha Y, Esguerra MQ, Mackill DJ, Ismail AM (2014) Variation in tolerance of rice to long-term stagnant flooding that submerges most of the shoot will aid in breeding tolerant cultivars. AoB Plants 6:1–16

Wang AG, Luo GH (1990) Quantitative relation between the reaction of hydroxylamine and superoxide anion radicals in plants. Plant Physiol Commun 26:55–57

Xu K, Xu X, Fukao T, Canalas P, Maghirang-Rodriguez R, Heuer S, Ismail AM, Bailey-Serres J, Ronald PC, Mackill DJ (2006) Sub1A is an ethylene responsive-factor-like gene that confers submergence tolerance to rice. Nature 442:705–708

Yang SY, Wu YS, Chen CT, Lai MH, Yen HM, Yang CY (2017) Physiological and molecular responses of seedlings of an upland rice ('Tung Lu 3') to total submergence compared to those of a submergence-tolerant lowland rice ('FR 13A'). Rice 10:42
Acknowledgements
Authors are grateful to the Head, Department of Biodiversity and Conservation of Natural Resources for providing necessary facilities for the work and also grateful to University Grant Commission (UGC), New Delhi, India for providing Non-NET Fellowship.
Ethics declarations
Conflict of interest
The authors declare that they have no conflict of interest.
Additional information
Publisher's Note
Springer Nature remains neutral with regard to jurisdictional claims in published maps and institutional affiliations.
Electronic supplementary material
Below is the link to the electronic supplementary material.
Experimental set up (A) plants grown on control condition, (B) submergence treatment in the concrete tank and (C) plants before and after 14 days of submergence treatment
Plant height and survival due to different days of submergence. Data are mean of three replication with bar representing standard deviation (n = 3). Same letter is not significant difference at P < 0.05. C: control; dS: days after submergence
About this article
Cite this article
Barik, J., Panda, D., Mohanty, S.K. et al. Leaf photosynthesis and antioxidant response in selected traditional rice landraces of Jeypore tract of Odisha, India to submergence. Physiol Mol Biol Plants 25, 847–863 (2019). https://doi.org/10.1007/s12298-019-00671-7
Received:

Revised:

Accepted:

Published:

Issue Date:
Keywords
Antioxidant

Gas exchange

Traditional rice

Photosynthesis

PSII activity

Submergence