Abstract
Melastoma dodecandrum, the only creeping species in the Melastoma genus, serves as a medicinal herb in southeast China. It belongs to the huge family Melastomataceae, which contains over 5000 species worldwide. In this study, we used next-generation sequencing to determine the complete chloroplast genome sequences of M. dodecandrum, which is a circular molecule of 156,611 bp in length. After annotation, we identified 131 putative genes in total, comprised of 85 protein-coding genes, 38 transfer RNA genes and 8 ribosomal RNA genes. Genome structure, GC content, repeat sequences and codon usage were investigated to gain a comprehensive understanding of this genome. Furthermore, we conducted comparative genome analyses between the M. dodecandrum genome and that of four other Melastomataceae species. Additionally, a phylogenetic analysis was performed based on available chloroplast genomes of Melastomataceae species and several Myrtaceae species, revealing the taxonomic relationships between M. dodecandrum and related species. In conclusion, our study represents the first look into the complete chloroplast genome of M. dodecandrum, providing abundant information for further studies such as species identification, taxonomy and phylogenetic resolution of Melastomataceae species.
Access options
Buy single article
Instant access to the full article PDF.
USD 39.95
Price includes VAT (USA)
Tax calculation will be finalised during checkout.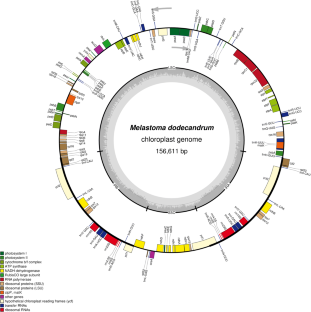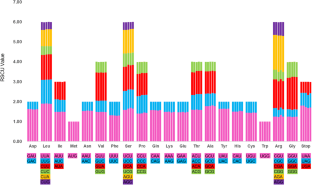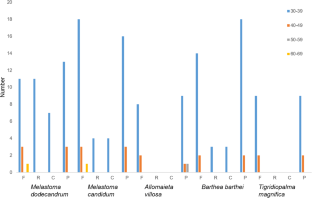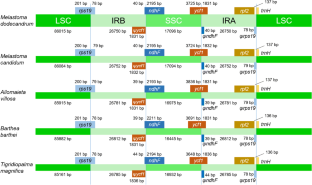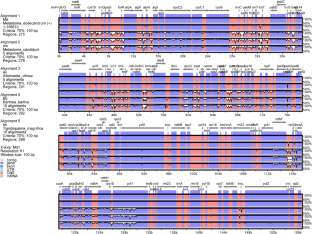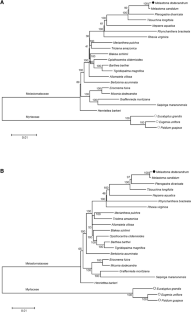 Abbreviations
cp:

Chloroplast

gDNA:

Genomic DNA

IR:

Inverted repeat

LSC:

Large single copy

ML:

Maximum likelihood

NCBI:

National Center for Biotechnology Information

NGS:

Next generation sequencing

NJ:

Neighbor-joining

SSC:

Small single copy

SSR:

Simple sequence repeats
References
Allen JF (2015) Why chloroplasts and mitochondria retain their own genomes and genetic systems: colocation for redox regulation of gene expression. Proc Natl Acad Sci USA 112:10231–10238

Clegg MT, Gaut BS, Learn GH Jr, Morton BR (1994) Rates and patterns of chloroplast DNA evolution. Proc Natl Acad Sci USA 91:6795–6801

Daniell H, Lin CS, Yu M, Chang WJ (2016) Chloroplast genomes: diversity, evolution, and applications in genetic engineering. Genome Biol 17:134. https://doi.org/10.1186/s13059-016-1004-2

Dyall SD, Brown MT, Johnson PJ (2004) Ancient invasions: from endosymbionts to organelles. Science 304:253–257. https://doi.org/10.1126/science.1094884

Frazer KA, Pachter L, Poliakov A, Rubin EM, Dubchak I (2004) VISTA: computational tools for comparative genomics. Nucleic Acids Res 32:273–279. https://doi.org/10.1093/nar/gkh458

Green BR (2011) Chloroplast genomes of photosynthetic eukaryotes. Plant J 66:34–44. https://doi.org/10.1111/j.1365-313X.2011.04541.x

Gu C, Tembrock LR, Johnson NG, Simmons MP, Wu Z (2016) The Complete Plastid Genome of Lagerstroemia fauriei and Loss of rpl2 Intron from Lagerstroemia (Lythraceae). PLoS ONE 11:e0150752. https://doi.org/10.1371/journal.pone.0150752

Hennequin C, Thierry A, Richard GF, Lecointre G, Nguyen HV, Gaillardin C, Dujon B (2001) Microsatellite typing as a new tool for identification of Saccharomyces cerevisiae strains. J Clin Microbiol 39:551–559. https://doi.org/10.1128/JCM.39.2.551-559.2001

Hoch B, Maier RM, Appel K, Igloi GL, Kossel H (1991) Editing of a chloroplast mRNA by creation of an initiation codon. Nature 353:178–180. https://doi.org/10.1038/353178a0

Huang H, Shi C, Liu Y, Mao SY, Gao LZ (2014) Thirteen Camellia chloroplast genome sequences determined by high-throughput sequencing: genome structure and phylogenetic relationships. BMC Evol Biol 14:151. https://doi.org/10.1186/1471-2148-14-151

Ishii R, Saito K, Horie M, Shibano T, Kitanaka S, Amano F (1999) Inhibitory effects of hydrolyzable tannins from Melastoma dodecandrum Lour. on nitric oxide production by a murine macrophage-like cell line, RAW264.7, activated with lipopolysaccharide and interferon-gamma. Biol Pharm Bull 22:647–653

Jackman SD et al (2016) ABySS 20: resource-efficient assembly of large genomes using a Bloom filter. BioRxiv 27:768–777. https://doi.org/10.1101/068338

Jarvis P, Lopez-Juez E (2013) Biogenesis and homeostasis of chloroplasts and other plastids. Nat Rev Mol Cell Biol 14:787–802. https://doi.org/10.1038/nrm3702

Katoh K, Misawa K, Kuma K, Miyata T (2002) MAFFT: a novel method for rapid multiple sequence alignment based on fast Fourier transform. Nucleic Acids Res 30:3059–3066

Kim KJ, Lee HL (2004) Complete chloroplast genome sequences from Korean ginseng (Panax schinseng Nees) and comparative analysis of sequence evolution among 17 vascular plants. DNA Res 11:247–261

Kumar S, Stecher G, Tamura K (2016) MEGA7: molecular evolutionary genetics analysis version 7.0 for bigger datasets. Mol Biol Evol 33:1870–1874. https://doi.org/10.1093/molbev/msw054

Kuroda H, Suzuki H, Kusumegi T, Kusumegi T, Hirose T, Hirose T, Yukawa Y, Yukawa Y, Sugiura M (2007) Translation of psbC mRNAs starts from the downstream GUG, not the upstream AUG, and requires the extended Shine-Dalgarno sequence in tobacco chloroplasts. Plant Cell Physiol 48:1374–1378

Kurtz S, Choudhuri JV, Ohlebusch E, Schleiermacher C, Stoye J, Giegerich R (2001) REPuter: the manifold applications of repeat analysis on a genomic scale. Nucleic Acids Res 29:4633–4642

Liu T, Dai S, Wu W, Zhang R, Fan Q, Shi S, Zhou R (2013) Development and characterization of microsatellite markers for Melastoma dodecandrum (Melastomataceae). Appl Plant Sci. https://doi.org/10.3732/apps.1200294

Liu Y, Nielsen M, Staerk D, Jager AK (2014) High-resolution bacterial growth inhibition profiling combined with HPLC-HRMS-SPE-NMR for identification of antibacterial constituents in Chinese plants used to treat snakebites. J Ethnopharmacol 155:1276–1283. https://doi.org/10.1016/j.jep.2014.07.019

Lohse M, Drechsel O, Kahlau S, Bock R (2013) OrganellarGenomeDRAW—a suite of tools for generating physical maps of plastid and mitochondrial genomes and visualizing expression data sets. Nucleic Acids Res 41:575–581. https://doi.org/10.1093/nar/gkt289

Moore MJ, Dhingra A, Soltis PS, Shaw R, Farmerie WG, Folta KM, Soltis DE (2006) Rapid and accurate pyrosequencing of angiosperm plastid genomes. BMC Plant Biol 6:17. https://doi.org/10.1186/1471-2229-6-17

Morton BR (1998) Selection on the codon bias of chloroplast and cyanelle genes in different plant and algal lineages. J Mol Evol 46:449–459

Mower JP (2009) The PREP suite: predictive RNA editors for plant mitochondrial genes, chloroplast genes and user-defined alignments. Nucleic Acids Res 37:253–259. https://doi.org/10.1093/nar/gkp337

Ng WL, Cai Y, Wu W, Zhou R (2018) The complete chloroplast genome sequence of Melastoma candidum (Melastomataceae). Mitochondrial DNA Part B 2:242–243. https://doi.org/10.1080/23802359.2017.1318680

Nikiforova SV, Cavalieri D, Velasco R, Goremykin V (2013) Phylogenetic analysis of 47 chloroplast genomes clarifies the contribution of wild species to the domesticated apple maternal line. Mol Biol Evol 30:1751–1760. https://doi.org/10.1093/molbev/mst092

Ravi V, Khurana JP, Tyagi AK, Khurana P (2008) An update on chloroplast genomes. Plant Syst Evol 271:101–122. https://doi.org/10.1007/s00606-007-0608-0

Reginato M, Neubig KM, Majure LC, Michelangeli FA (2016) The first complete plastid genomes of Melastomataceae are highly structurally conserved. Peer J 4:e2715. https://doi.org/10.7717/peerj.2715

Renner SS, Meyer K (2001) Melastomeae come full circle: biogeographic reconstruction and molecular clock dating. Evolution 55:1315–1324

Scharff LB, Bock R (2014) Synthetic biology in plastids. Plant J 78:783–798. https://doi.org/10.1111/tpj.12356

Sciences EboCfotCAo (1984) Flora of China, vol 53. Science Press, Beijing

Shen X et al (2017) Complete chloroplast genome sequence and phylogenetic analysis of the medicinal plant Artemisia annua. Molecules 22:1330. https://doi.org/10.3390/molecules22081330

Shi C, Liu Y, Huang H, Xia E-H, Zhang H-B, Gao L-Z (2013) Contradiction between plastid gene transcription and function due to complex posttranscriptional splicing: an exemplary study of ycf15 function and evolution in angiosperms. PLoS ONE 8:e59620. https://doi.org/10.1371/journal.pone.0059620

Smith DR, Keeling PJ (2015) Mitochondrial and plastid genome architecture: reoccurring themes, but significant differences at the extremes. Proc Natl Acad Sci USA 112:10177–101184. https://doi.org/10.1073/pnas.1422049112

Tillich M, Lehwark P, Pellizzer T, Ulbricht-Jones ES, Fischer A, Bock R, Greiner S (2017) GeSeq—versatile and accurate annotation of organelle genomes. Nucleic Acids Res 45:6–11. https://doi.org/10.1093/nar/gkx391

Wang RJ, Cheng CL, Chang CC, Wu CL, Su TM, Chaw SM (2008) Dynamics and evolution of the inverted repeat-large single copy junctions in the chloroplast genomes of monocots. BMC Evol Biol 8:36. https://doi.org/10.1186/1471-2148-8-36

Wicke S, Schneeweiss GM, dePamphilis CW, Muller KF, Quandt D (2011) The evolution of the plastid chromosome in land plants: gene content, gene order, gene function. Plant Mol Biol 76:273–297. https://doi.org/10.1007/s11103-011-9762-4

Wu FH et al (2010) Complete chloroplast genome of Oncidium Gower Ramsey and evaluation of molecular markers for identification and breeding in Oncidiinae. BMC Plant Biol 10:68. https://doi.org/10.1186/1471-2229-10-68

Yang M et al (2010) The complete chloroplast genome sequence of date palm (Phoenix dactylifera L). PLoS ONE 5:e12762. https://doi.org/10.1371/journal.pone.0012762

Yang GX, Zhang RZ, Lou B, Cheng KJ, Xiong J, Hu JF (2014) Chemical constituents from Melastoma dodecandrum and their inhibitory activity on interleukin-8 production in HT-29 cells. Nat Prod Res 28:1383–1387. https://doi.org/10.1080/14786419.2014.903480

Zhao Y et al (2015) The complete chloroplast genome provides insight into the evolution and polymorphism of Panax ginseng. Front Plant Sci 5:696

Zou P et al (2017) Similar morphologies but different origins: hybrid status of two more semi-creeping taxa of Melastoma. Front Plant Sci 8:673. https://doi.org/10.3389/fpls.2017.00673
Additional information
Publisher's Note
Springer Nature remains neutral with regard to jurisdictional claims in published maps and institutional affiliations.
Electronic supplementary material
Below is the link to the electronic supplementary material.
About this article
Cite this article
Zheng, X., Ren, C., Huang, S. et al. Structure and features of the complete chloroplast genome of Melastoma dodecandrum. Physiol Mol Biol Plants 25, 1043–1054 (2019). https://doi.org/10.1007/s12298-019-00651-x
Received:

Revised:

Accepted:

Published:

Issue Date:
Keywords
Chloroplast genome

Melastoma dodecandrum

Melastomataceae

Phylogenetic analysis

Next-generation sequencing