Abstract
Lepidium sativum L. is a fast-growing, edible and medicinal plant that belongs to the family Brassicaceae. Indian system of medicinal and health (ISHM) recognizes this plant as a source of several medicinal and nutraceutical factors. Ninety-four accessions collected from 19 states of India were assessed for genetic diversity using inter-simple sequence repeat (ISSR) marker. Ten ISSR primers amplified a total of 172 bands across the 94 accessions and out of these, 139 bands were found to be polymorphic and 33 as monomorphic. The percentage polymorphism varied from 60.00 to 91.30% with an average of 80.10%. The polymorphism information content (PIC) varied from 0.14 to 0.39 with an average of 0.27. The Jaccard similarity coefficient ranged from 0.11 to 0.89 with minimum between accession LS61 and LS60 and maximum between accession LS95 and LS81. Cluster analysis based on UPGMA grouped all the 94 accessions into three major clusters with accessions per cluster ranging from 12 to 45. Similar to UPGMA clustering, PCA also differentiated all the accessions into three major groups. Model-based clustering determined three sub-populations (K = 3). Further, analysis of molecular variance showed that 67% of allelic diversity was attributed to individual accessions within populations while 33% was distributed among populations. This preliminary study shows that significant variability exists in the collected accessions.
Access options
Buy single article
Instant access to the full article PDF.
USD 39.95
Price includes VAT (USA)
Tax calculation will be finalised during checkout.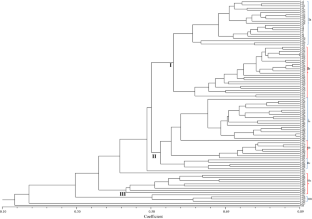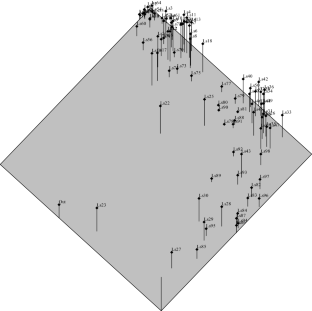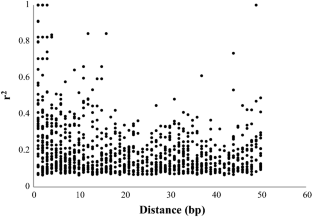 References
Asfaw N, Demissew S (2009) Aromatic plants of Ethiopia. Shama Books, Ethiopia

Bansal D, Bhasin P, Yadav O, Punia A (2012) Assessment of genetic diversity in Lepidium sativum (Chandrasur) a medicinal herb used in folklore remedies in India using RAPD. J Genet Eng Biotech 10:39–45

Bermejo JEH, León J (1994) Neglected crops: 1492 from a different perspective. Food & Agriculture Org, Rome

Bradbury PJ, Zhang Z, Kroon DE, Casstevens TM, Ramdoss Y, Buckler ES (2007) TASSEL: software for association mapping of complex traits in diverse samples. Bioinformatics 23:2633–2635

Datta P, Diwakar B, Viswanatha S, Murthy K, Naidu K (2011) Safety evaluation studies on garden cress (Lepidium sativum L.) seeds in Wistar rats. Int J Appl Res Nat Prod 4:37–42

Earl DA (2012) STRUCTURE HARVESTER: a website and program for visualizing STRUCTURE output and implementing the Evanno method. Conserv Genet Resour 4:359–361

Evanno G, Regnaut S, Goudet J (2005) Detecting the number of clusters of individuals using the software STRUCTURE: a simulation study. Mol Ecol 14:2611–2620

Kaur A, Kumar R, Rani S, Grewal A (2015) Genetic diversity analysis of Lepidium sativum (Chandrasur) using inter simple sequence repeat (ISSR) markers. J For Res 26:107–114

Kumar S, Goyal R, Sheorayan A, Kajla S, Yadav O, Mangal M (2012) Assessment of genetic diversity in Lepidium sativum using RAPD and ISSR markers. Ann Biol 28:93–97

Maier UH, Gundlach H, Zenk MH (1998) Seven imidazole alkaloids from Lepidium sativum. Phytochem 49:1791–1795

Michalczyk D, Drozdowicz A, Pintscher S, Plonka P (2011) Mycetozoal bloom in a hydroponic culture of garden cress (Lepidium sativum L.). Int J Food Microbiol 145:336–341

Mukhopadhyay D, Parihar S, Chauhan J, Preeti Joshi S (2010) Effect of temperature and desiccation on seed viability of Lepidium sativum L. NY Sci J 3:34–36

Murray MG, Thompson WF (1980) Rapid isolation of high molecular weight plant DNA. Nucleic Acids Res 8:4321–4326

Nadeem M, Nawaz MA, Shahid MQ, Doğan Y, Comertpay G, Yıldız M, Özkan H (2018) DNA molecular markers in plant breeding: current status and recent advancements in genomic selection and genome editing. Biotechnol Biotec EQ 32:261–285

Naik A, Prajapat P, Krishnamurthy R, Pathak JM (2017) Assessment of genetic diversity in Costus pictus accessions based on RAPD and ISSR markers. 3Biotech 7:70

Patel R, Kumar S, Jaiswal R, Rai S, Ssahu A, Dwivedi S (2010) Quantitative estimation of fixed oil obtained from seeds of Lepidium sativum Linn. Int J Chem Anal Sci 1:6–9

Patel HK, Fougat RS, Kumar S, Mistry JG, Kumar M (2015) Detection of genetic variation in Ocimum species using RAPD and ISSR markers. 3Biotech 5:697–707

Peakall R, Smouse PE (2006) GENALEX 6: genetic analysis in Excel. Population genetic software for teaching and research. Mol Ecol Notes 6:288–295

Pritchard JK, Stephens M, Donnelly P (2000) Inference of population structure using multilocus genotype data. Genet 155:945–959

Reddy MP, Sarla N, Siddiq EA (2002) Inter simple sequence repeat (ISSR) polymorphism and its application in plant breeding. Euph 128:9–17

Rohlf FJ (1988) NTSYS-pc: numerical taxonomy and multivariate analysis system. Exeter Publishing, New York

Said M, Kassahun T (2015) Molecular genetic diversity study of Lepidium sativum population from Ethiopia as revealed by inter simple sequence repeat (ISSR) markers. Afr J Biotechnol 14:1461–1470

Sarwat M, Das S, Srivastava P (2008) Analysis of genetic diversity through AFLP, SAMPL, ISSR and RAPD markers in Tribulus terrestris, a medicinal herb. Plant Cell Rep 27:519–528

Sharma J, Joshi A, Dodiya N, Jain P, Rajoriya S, Rajamani G, Jain D (2015) Assessment of genetic diversity in Lepidium sativum L. (Chandrasur) genotypes using morphological and molecular markers. J Cell Tissue Res 15:4783–4790

Vaishnav V, Wali SA, Tripathi SB, Negi MS, Ansari SA (2018) A preliminary investigation on AFLP marker wood density trait association in teak (Tectona grandis L. f.). Ann For Res 61:49–63

Wang XM, Hou XQ, Zhang YQ, Yang R, Feng SF, Li Y, Ren Y (2012) Genetic diversity of the endemic and medicinally important plant Rheum officinale as revealed by inter simpe sequence repeat (ISSR) markers. Int J Mol Sci 13:3900–3915

Yadav YC, Srivastav D, Saini V, Yadav KS (2010) Nephropharmacological activity of ethanolic extract Lepidium sativum L. Seeds in albino rats using cisplatin induced acute renal failure. Int J Pharm Sci Rev Res 4:64–68

Zhang F, Lv Y, Dong H, Guo S (2010) Analysis of genetic stability through inter simple sequence repeats molecular markers in micropropagated plantlets of Anoectochilus formosanus hayata, a medicinal plant. Biol Pharm Bull 33:384–388

Zhang Y, Yan H, Jiang X, Wang X, Huang L, Xu B, Zhang X, Zhang L (2016) Genetic variation, population structure and linkage disequilibrium in Switchgrass with ISSR, SCoT and EST-SSR markers. Hereditas 153:1–4
Acknowledgements
Authors thank the Director, CSIR-NBRI, Lucknow for providing the facilities to carry out this study. Financial support from University Grant Commission in the form of JRF/SRF to VK is gratefully acknowledged.
Ethics declarations
Conflict of interest
The authors declare that they have no compete of interest.
Electronic supplementary material
Below is the link to the electronic supplementary material.
About this article
Cite this article
Kumar, V., Yadav, H.K. Assessment of genetic diversity in Lepidium sativum L. using inter simple sequence repeat (ISSR) marker. Physiol Mol Biol Plants 25, 399–406 (2019). https://doi.org/10.1007/s12298-018-0622-4
Received:

Revised:

Accepted:

Published:

Issue Date:
Keywords
AMOVA

Population structure

PIC

UPGMA

Linkage disequilibrium