Abstract
ISSR (Inter simple sequence repeat) markers were used to assess the genetic diversity and population structure in 53 indigenous and exotic genotypes of gladiolus (Gladiolus hybridus Hort.). Molecular markers analysis showed PIC ranges from 0.42 (ISSR 861) to 0.99 (ISSR 855, ISSR 856 and ISSR 889) with an average 0.812, marker index ranged from 0.99 (ISSR 889) to 9.26 (ISSR 851) with an average 4.66 and resolving power of the primers ranged from 0.03 (ISSR 889) to 11.58 (ISSR 861) with an average value 3.80. The dendrogram based UPGMA clustering showed that all the 53 genotypes grouped into three main clusters. Nei's gene diversity (Na) varied from 0.929 to 1.717, effective number of alleles (Ne) varied from 1.262 to 1.369, Shannon's information index (I) ranged from 0.251 to 0.359 and gene diversity (He) was in the range from 0.167 to 0.229. Population structure analysis revealed three groups in which 32 genotypes were admixture types.
Access options
Buy single article
Instant access to the full article PDF.
USD 39.95
Price includes VAT (USA)
Tax calculation will be finalised during checkout.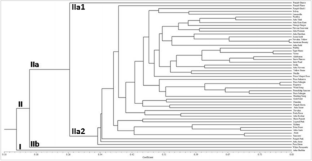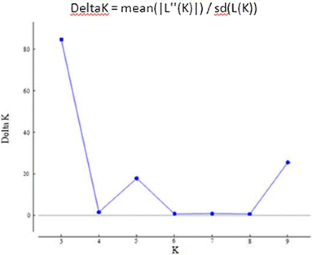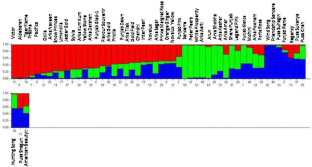 References
Anderson NO, Younis A, Sun Y (2010) Inter simple sequence repeats distinguish genetic differences in easter lily 'Nellie White' clonal ramets within and among bulb growers over years. J Am Soc Hortic Sci 135(5):445–455

Banard TT (1972) On hybrid and hybridization. In: Lewis GJ, Obermeyer AA, Barnard TT (eds) Gladiolus a revision of the south african species. J of South Afric Bot, Supplement, 10: 304–310

Bhajantri A, Patil VS (2013) Studies on ethyl methane sulphonate (EMS) induced mutations for enhancing variability of gladiolus varieties (Gladiolus hybridus Hort.) in M1V2 generation. Karnataka J Agric Sci 26:403–407

Bornet B, Branchard M (2001) Non-anchored inter simple sequence repeat (ISSR) markers reproducible and specific tool for genome fingerprinting. Plant Mol Biol Rep 22:427–432

Botstein D, White RL, Skolnick M, Davis RW (1980) Construction of a genetic linkage map in man using restriction fragment length polymorphisms. Am J Hum Genet 32:314–331

Cantor M, Chis LM (2009) New gladiolus cultivars homologated at USAMV Cluj-Napoca. Bull UASVM Hortic 66:504–509

Cui GF, Wu LF, Wang XN, Jia WJ, Duan Q, Ma LL, Jiang XL, Wang JH (2014) Analysis of genetic relationships and identification of lily cultivars based on inter-simple sequence repeat markers. Genet Mol Res 13:5778–5786

Duncan G (1996) Growing South African bulbous plants, National Botanical Institute. Cape Town, S. Africa. ISBN 1-874907-15-3

Duncan G (2000) Grow bulbs: a guide to the species cultivation and propagation of South African Bulbs, National Botanical Institute, Kirstenbosch Gardening Series. Claremont, S. Africa. ISBN 0-900048-53-0

Earl DA, vonHoldt BM (2012) STRUCTURE HARVESTER: a website and program for visualizing STRUCTURE output and implementing the Evanno method. Conserv Genet Resour 4:359–361

Evanno G, Regnaut S, Goudet J (2005) Detecting the number of clusters of individuals using the software STRUCTURE: a simulation study. Mol Ecol 14:2611–2620

Flower Council of Holland (2008) Facts and figures. http://www.flowercouncil.org/us/marketinformation/. Accessed 14 June 2009

Goldblatt P (1996) Gladiolus in tropical Africa: systematics, biology & evoluation. Timber Press, Portland, Oregon. ISBN 10: 0-8819-233-38/0-88192-333-8

Goldblatt P, Manning J (1998) Gladiolus in Southern Africa: timber press. Portland. ISBN 10: 1874950326

Goldblatt P, Takei M, Razzaq ZA (1993) Chromosome cytology in tropical African gladiolus (Iridaceae). Ann Mo Bot Gard 80:461–470

Imanishi H (1989) Gladiolus. In: Mastsuo T (ed) Collected data of plant genetic resources. Kodansya. Scientific, Tokyo, pp 1077–1080

Jaccard P (1908) Nouvelles recherches sur la distribution florale. Bull Soc Vaud Nat 44:223–270

Jingang W, Ying G, Daidi C, Shenkui L, Chuanpin Y (2008) ISSR analysis of 26 general species of Gladiolus hybridus Hort J Northeast Agric Univ 15(4):6–10

Kameswari PL, Girwani A, Radh-Rani K (2014) Genetic diversity in tuberose (Polianthes tuberosa L.) using morphological and ISSR markers. Electron J Plant Breed 5(1):52–57

Kiani M, Memariani F, Zarghami H (2012) Molecular analysis of species of Tulipa L. from Iran based on ISSR marker. Plant Syst Evol 298:1515–1522

Kumar V, Sharma S, Sharma AK, Sharma S, Bhat KV (2009) Comparative analysis of diversity based on morpho-agronomic traits and microsatellite markers in common bean. Euphytica 170:249–262

Lepcha B, Nautiyal MC, Rao VK (2007) Variability studies in gladiolus under mid hill conditions of Uttrakhand. J Ornam Hortic 10(3):169–172

Manning J, Goldblatt P, Snijman D (2002) The color encyclopedia of Cape Bulbs, Timber Press. Portland. ISBN 9780881925470

Milbourne D, Meyer R, Bradshaw JE, Baird E, Bonar N, Provan J, Powell W, Waugh R (1997) Comparison of PCR-based marker systems for the analysis of genetic relationships in cultivated potato. Mol Breed 3(2):127–136

Mondini L, Noorani A, Pagnotta MA (2009) Assessing plant genetic diversity by molecular tools. Diversity 1:19–35

Nei M (1973) Analysis of gene diversity in subdivided populations. Proc Natl Acad Sci 70:3321–3323

Patra B, Acharya L, Mukherjee AK, Panda MK, Panda MC (2008) Molecular characterization of ten cultivars of Canna lilies (Canna Linn.) using PCR based molecular markers (RAPDs and ISSRs). Int J Integr Biol 2:129–137

Pragya Bhat KV, Misra RL, Ranjan JK (2010) Analysis of diversity and relationships among gladiolus cultivars using morphological and RAPD markers. Indian J Agric Sci 80(90):766–772

Prevost A, Wilkinson MJ (1999) A new system of comparing PCR primers applied to ISSR finger printing of potato cultivars. Theor Appl Genet 98:107–112

Pritchard JK, Stephens M, Donnelly P (2000) Inference of population structure using multilocus genotype data. Genetics 155:945–959

Ranjan P, Bhat KV, Mishra RL, Singh SK, Ranjan JK (2010) Genetic relationship of gladiolus cultivars inferred from fluorescence based AFLP markers. Sci Hortic 123:562–567

Rathod DM, Chawla SL, Ahur TR, Patel MA (2011) Effect of planting time and chamicals on growth, flowering and yield of gladiolus (Gladiolus grandiflorus) cv. American beauty. J Ornam Hortic 14(1&2):24–27

Rohlf FJ (1993) NTSYS-PC: numerical taxonomy and multivariate analysis system. Version 2.02e, Exeter Software, Setauket, New York

Shufang G, Huijuin FU, Jingang W (2010) ISSR analysis of M1 generation of Gladiolus hybridus Hort. treated by EMS. J Northeast Agric Univ 17(2):22–26

Swaroop K, Janakiram T (2010) Divergence studies in gladiolus. Indian J Hortic 67:352–355
Acknowledgements
The authors are grateful to Prf. Gaya Prasad, Hon'ble Vice Chancellor of the Sardar Vallabhbhai Patel University of Agriculture & Technology, Meerut, U.P. India for providing facilities and encouragement. Also, IIHR, Bangalore, PAU, Ludhiana, NBRI, Lucknow and IARI, New Delhi deserves thanks for providing gladiolus germplasm.
About this article
Cite this article
Chaudhary, V., Kumar, M., Sharma, S. et al. Assessment of genetic diversity and population structure in gladiolus (Gladiolus hybridus Hort.) by ISSR markers. Physiol Mol Biol Plants 24, 493–501 (2018). https://doi.org/10.1007/s12298-018-0519-2
Received:

Revised:

Accepted:

Published:

Issue Date:
Keywords
Gladiolus

Molecular diversity

Inter simple sequence repeats

Population structure