Abstract
Capparis spinosa L. (caper bush) is an economically and ecologically important perennial shrub that grows across different regions of Iran. In this study, the genetic diversity and population structure of Iranian genepool of C. spinosa is evaluated using Inter Simple Sequence Repeat (ISSR) markers. Using 10 ISSR primers, 387 DNA fragments (bands) were amplified from the genomic DNA of 92 individuals belonging to twenty-one populations of C. spinosa, of which 378 (97.7%) were polymorphic. High level of genetic diversity (percentage of polymorphic loci = 98.2%, h = 0.1382, I = 0.243), high genetic differentiation (Gst = 0.5234) and low gene flow (Nm = 0.4553) among populations were observed. Caper bush populations were divided into 4 groups in the dendrogram, PCoA plot and Bayesian clustering results, mostly corresponded to their geographic regions. The results showed that there are value in sampling Iranian caper bush populations to look for valuable alleles for use in plant breeding programs.
Access options
Buy single article
Instant access to the full article PDF.
USD 39.95
Price includes VAT (USA)
Tax calculation will be finalised during checkout.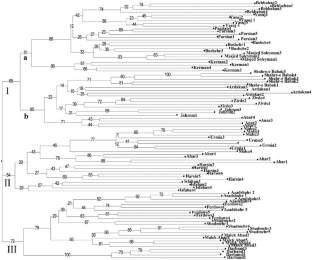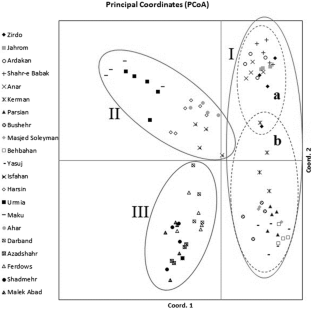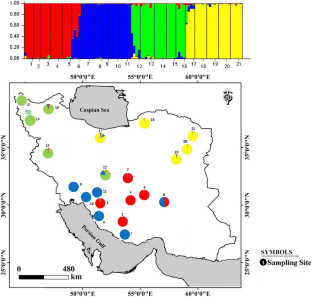 References
Al-Safadi B, Faouri H, Elias R (2014) Genetic diversity of some Capparis L. species growing in Syria. Braz Arch Biol Technol 57(6):916–926

Barbera G, Di Lorenzo R (1984) The caper culture in Italy. Acta Hortic 144:167–171

Bentham G, Hooker JD (1862) Genera plantarum. Reeve, London

Bhoyar MS, Mishra GP, Naik PK, Murkute AA, Srivastava RB (2012) Genetic variability studies among natural populations of Capparis spinosa from cold arid desert of trans-himalayas using DNA markers. Natl Acad Sci Lett 35(6):505–515

Boissier E (1843) Diagnoses plantarum orientalium novarum. Apud B. Herrmann, Lipsiae, Paris

Boissier E (1867) Flora Orientalis sive enumeratio plantarum in Oriente a Graecia et Aegypto ad Indiae fines hucusque observatarum. H. Georg, Basel, Genève

Cornejo X, Iltis HH (2008a) Anisocapparis y Monilicarpa, dos nuevos géneros de Capparaceae de América del Sur. J Bot Res Inst Texas 2(1):61–74

Cornejo X, Iltis HH (2008b) The reinstatement of Capparidastrum (Capparaceae). Harv Pap Bot 13(2):229–236

Cornejo X, Iltis HH (2008c) Two new genera of Capparaceae: Sarcotoxicum and Mesocapparis stat. nov., and the reinstatement of Neocalyptrocalyx. Harv Pap Bot 13(1):103–116

Cullings KW (1992) Design and testing of a plant-specific PCR primer for ecological and evolutionary studies. Mol Ecol 1:233–240

De Candolle AP (1824) Prodromus systematis naturalis regni vegetabilis, sive enumeratio contracta ordinum generum specierumque plantarum huc usque cognitarum, juxta methodi naturalis normas digesta. Treuttel et Würtz, Paris

Doyle JJ, Doyle JL (1987) A rapid DNA isolation procedure for small quantities of fresh leaf tissue. Phytochem Bull 19:11–15

Evanno G, Regnaut S, Goudet J (2005) Detecting the number of clusters of individuals using the software STRUCTURE: a simulation study. Mol Ecol 14(8):2611–2620

Fici S (2014) A taxonomic revision of the Capparis spinosa group (Capparaceae) from the Mediterranean to Central Asia. Phytotaxa 174(1):1–24

Fici S (2015) A taxonomic revision of the Capparis spinosa group (Capparaceae) from eastern Africa to Oceania. Phytotaxa 203(1):024–036

Gristina AS, Fici S, Siragusa M, Fontana I, Garfìa G, Carimi F (2014) Hybridization in Capparis spinosa L.: molecular and morphological evidence from a Mediterranean island complex. Flora 209:733–741

Hall JC (2008) Systematics of Capparaceae and Cleomaceae: an evaluation of the generic delimitations of Capparis and Cleome using plastid DNA sequence data. Botany 86(7):682–696

Hedge IC, Lamond J (1970) Capparidaceae. In: Rechinger KH (ed) Flora Iranica, vol 68. Akademische Druck-u, Verlagsanstalt, Graz, pp 1–9

Higton RN, Akeroyd JR (1991) Variation in Capparis spinosa L. in Europe. Bot J Linn Soc 106:104–112

Hutchinson J (1967) The genera of flowering plants (Angiospermae). Oxford Univeristy Press, London

Inocencio C, Cowan RS, Alcaraz F, Rivera D, Fay MF (2005) AFLP fingerprinting in Capparis subgenus Capparis related to the commercial sources of capers. Genet Resour Crop Evol 52:137–144

Inocencio C, Rivera D, Obón MC, Alcaraz F, Barrenã A (2006) A systematic revision of Capparis section Capparis (Capparaceae). Ann Mo Bot Gard 93(1):122–149

Jaccard P (1908) Nouvelles recherché sur distribution florale. Bull Soc Vaud Sci Nat 4:223–270

Jacobs M (1965) The genus Capparis (Capparaceae) from the Indus to the Pacific. Blumea 12:385–541

Linnaeus C (1753) Species plantarum. Impensis Laurentii Salvii, Holmiae

Liu C, Xue GP, Cheng B, Wang X, He J, Liu GH, Yang WJ (2015) Genetic diversity analysis of Capparis spinosa L. populations by using ISSR markers. Genet Mol Res 14(4):16476–16483

Mahla HR, Rathore VS, Singh D, Singh JP (2013) Capparis decidua (Forsk.) Edgew.: an underutilized multipurpose shrub of hot arid region—distribution, diversity and utilization. Genet Resour Crop Evol 60:385–394

Özbek O, Kara A (2013) Genetic variation in natural populations of Capparis from Turkey, as revealed by RAPD analysis. Plant Syst Evol 299:1911–1933

Peakall R, Smouse PE (2006) GENALEX 6: genetic analysis in Excel. Population genetic software for teaching and research. Mol Ecol 6:288–295

Perrier X, Jacquemoud-Collet JP (2006) DARwin software. http://darwin.cirad.fr/

Pritchard JK, Stephens M, Donnelly P (2000) Inference of population structure using multilocus genotype data. Genetics 155:945–959

Rao RV, Hodgkin T (2002) Genetic diversity and conservation and utilization of plant genetic resources. Plant Cell Tissue Organ Cult 68(1):1–19

Safaei M, Sheidai M, Alijanpoor B, Noormohammadi Z (2016) Species delimitation and genetic diversity analysis in Salvia with the use of ISSR molecular markers. Acta Bot Croat 75(1):45–52

Saghafi Khadem F (2000) Flora of Iran. N: 30. Research Institute of Forests and Rangelands, Tehran

Saifi N, Ibijbijen J, Echchgadda D (2011) Genetic diversity of caper plant (Capparis ssp.) from North Morocco. J Food Agric Environ 9(3 & 4):299–304

Segarra-Moragues JG, Marco YC, Castellanos MC, Molina MJ, Garcîa- Fayos P (2016) Ecological and historical determinants of population genetic structure and diversity in the Mediterranean shrub Rosmarinus officinalis (Lamiaceae). Bot J Linn Soc 180:50–63

Singh N, Bajpai R, Mahar KS, Tiwari V, Upreti DK, Rana TS (2014) ISSR and DAMD markers revealed high genetic variability within Flavoparmelia caperata in Western Himalaya (India). Physiol Mol Biol Plant 20(4):501–508

Tlili N, Elfalleh W, Saadaoui E, Khaldi A, Triki S, Nasri N (2011) The caper (Capparis L.): Ethnopharmacology, phytochemical and pharmacological properties. Fitoterapia 82:93–101

Vashishtha A, Jehan T, Lakhanpaul S (2013) Genetic diversity and population structure of Butea monosperma (Lam.) Taub. a potential medicinal legume tree. Physiol Mol Biol Plants 19(3):389–397

Wang Q, Zhang ML, Yin LK (2016) Genetic diversity and population differentiation of Capparis spinosa (Capparaceae) in Northwestern China. Biochem Syst Ecol 66:1–7

Yeh F, Boyle T, Rongcai Y, Ye Z (1999) POPGENE version 1.31: Microsoft window based freeware for population genetic analysis. University of Alberta, Edmonton

Zhang T, Tan DY (2008) The sexual system of andromonoecious Capparis spinosa L. (Capparaceae) and its significances for adaptation to the desert environment. J Syst Evol 46:861–873

Zhang T, Tan DY (2009) An examination of the function of male flowers in an andromonoecious shrub Capparis spinosa. J Integr Plant Biol 51:316–324

Zohary M (1960) The species of Capparis in the Mediterranean and the Near Eastern countries. Bull Res Counc Isr 8D:49–64
Acknowledgements
This research was a part of the Ph.D. thesis of the first author. We wish to thank the Office of Graduate Studies of the University of Isfahan (Iran) for their support. The authors are grateful to the two anonymous reviewers for their valuable comments on the manuscript.
About this article
Cite this article
Ahmadi, M., Saeidi, H. Genetic diversity and structure of Capparis spinosa L. in Iran as revealed by ISSR markers. Physiol Mol Biol Plants 24, 483–491 (2018). https://doi.org/10.1007/s12298-018-0518-3
Received:

Revised:

Accepted:

Published:

Issue Date:
Keywords
Caper bush

Genetic diversity

Iran

ISSR