Abstract
Cucumber (Cucumis sativus L.) pollen development involves a diverse range of gene interactions between sporophytic and gametophytic tissues. Previous studies in our laboratory showed that male sterility was controlled by a single recessive nuclear gene, and occurred in pollen mother cell meiophase. To fully explore the global gene expression and identify genes related to male sterility, a RNA-seq analysis was adopted in this study. Young male flower-buds (1–2 mm in length) from genetic male sterility (GMS) mutant and homozygous fertile cucumber (WT) were collected for two sequencing libraries. Total 545 differentially expressed genes (DEGs), including 142 up-regulated DEGs and 403 down-regulated DEGs, were detected in two libraries (Fold Change ≥ 2, FDR < 0.01). These genes were involved in a variety of metabolic pathways, like ethylene-activated signaling pathway, sporopollenin biosynthetic pathway, cell cycle and DNA damage repair pathway. qRT-PCR analysis was performed and showed that the correlation between RNA-Seq and qRT-PCR was 0.876. These findings contribute to a better understanding of the mechanism that leads to GMS in cucumber.
Access options
Buy single article
Instant access to the full article PDF.
USD 39.95
Price includes VAT (USA)
Tax calculation will be finalised during checkout.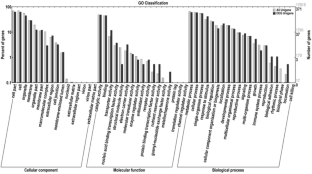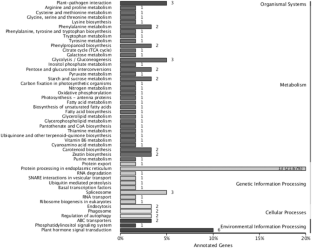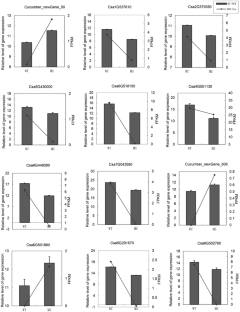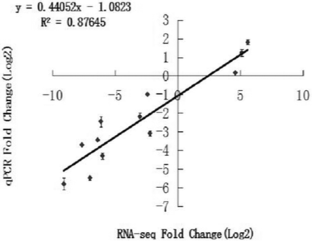 References
Aarts MG et al (1997) The Arabidopsis MALE STERILITY 2 protein shares similarity with reductases in elongation/condensation complexes. Plant J 12:615–623

Che L et al (2011) OsAM1 is required for leptotene-zygotene transition in rice. Cell Res 21:654–665

De Azevedo SC et al (2009) A novel fatty Acyl-CoA Synthetase is required for pollen development and sporopollenin biosynthesis in Arabidopsis. Plant Cell 21:507–525

Doan TT et al (2009) Functional expression of five Arabidopsis fatty acyl-CoA reductase genes in Escherichia coli. J Plant Physiol 166:787–796

Dobritsa AA et al (2009) CYP704B1 is a long-chain fatty acid omega-hydroxylase essential for sporopollenin synthesis in pollen of Arabidopsis. Plant Physiol 151:574–589

Ducos E et al (2001) The male sterile G cytoplasm of wild beet displays modified mitochondrial respiratory complexes. Plant J 26:171–180

Grienenberger E et al (2010) Analysis of tetraketide alpha-pyrone reductase function in Arabidopsis thaliana reveals a previously unknown, but conserved, biochemical pathway in sporopollenin monomer biosynthesis. Plant Cell 22:4067–4083

Guo S et al (2010) Transcriptome sequencing and comparative analysis of cucumber flowers with different sex types. BMC Genom 11:384

Han YK et al (2017) Fine mapping of a male sterility gene ms-3 in a novel cucumber (Cucumis sativus L.) mutant. Theor Appl Genet 31:449–460

Hong Z et al (2001) A cell plate-specific callose synthase and its interaction with phragmoplastin. Plant Cell 13:755–768

Huang GW et al (1981) Utilization of male sterile recessive genes in hybrid seed production of cotton/utilization of male sterile recessive genes in hybrid seed production of cotton in szechwan. Sci Agric Sin 1:1

Jung KH et al (2005) Rice undeveloped tapetum1 is a major regulator of early tapetum development. Plant Cell 17:2705–2722

Jung KH et al (2006) Wax-deficient anther1 is involved in cuticle and wax production in rice anther walls and is required for pollen development. Plant Cell 18:3015–3032

Kaneko M et al (2004) Loss-of-function mutations of the rice GAMYB gene impair alpha-amylase expression in aleurone and flower development. Plant Cell 16:33–44

Kim SS et al (2010) Lap6/polyketide synthase A and Lap5/polyketide synthase B encode hydroxyalkyl alpha-pyrone synthases required for pollen development and sporopollenin biosynthesis in Arabidopsis thaliana. Plant Cell 22:4045–4066

Kim D et al (2013) TopHat2: accurate alignment of transcriptomes in the presence of insertions, deletions and gene fusions. Genome Biol 14:R36

Li N et al (2006) The rice tapetum degeneration retardation gene is required for tapetum degradation and anther development. Plant Cell 18:2999–3014

Li H et al (2011) Persistent tapetal cell1 encodes a phd-finger protein that is required for tapetal cell death and pollen development in rice. Plant Physiol 156:615–630

Lia H et al (2010) Cytochrome p450 family member cyp704b2 catalyzes the [omega]-hydroxylation of fatty acids and is required for anther cutin biosynthesis and pollen exine formation in rice. Plant Cell 22:173–190

Martens S et al (2010) Multifunctional flavonoid dioxygenases: flavonol and anthocyanin biosynthesis in Arabidopsis thaliana L. Phytochemistry 71:1040–1049

Morant M et al (2007) CYP703 is an ancient cytochrome P450 in land plants catalyzing in-chain hydroxylation of lauric acid to provide building blocks for sporopollenin synthesis in pollen. Plant Cell 19:1473–1487

Nonomura K et al (2003) The MSP1 gene is necessary to restrict the number of cells entering into male and female sporogenesis and to initiate anther wall formation in rice. Plant Cell 15:1728–1739

Nonomura K et al (2004) The novel gene homologous pairing aberration in rice meiosis1 of rice encodes a putative coiled-coil protein required for homologous chromosome pairing in meiosis. Plant Cell 16:1008–1020

Ostergaard L et al (2002) An arabidopsis callose synthase. Plant Mol Biol 49:559–566

Pawelkowicz M et al (2016) Next generation sequencing and omics in cucumber (Cucumis sativus L.) breeding directed research. Plant Sci 242:77–88

Pawlowski WP et al (2009) Maize ameiotic1 is essential for multiple early meiotic processes and likely required for the initiation of meiosis. Proc Natl Acad Sci USA 106:3603–3608

Piffanelli P, Jhe R, Murphy DJ (1998) Biogenesis and function of the lipidic structures of pollen grains. Sex Plant Reprod 11:65–80

Pitnjam K et al (2008) Identification of a deletion in tms2 and development of gene-based markers for selection. Planta 228:813–822

Shi J et al (2011) Defective pollen wall is required for anther and microspore development in rice and encodes a fatty acyl carrier protein reductase. Plant Cell 23:2225–2246

Song J et al (1994) A chimeric gene (orf256) is expressed as protein only in cytoplasmic male-sterile lines of wheat. Plant Mol Biol 26:535–539

Steiner-Lange S et al (2003) Disruption of Arabidopsis thaliana MYB26 results in male sterility due to non-dehiscent anthers. Plant J 34:519–528

Stintzi A et al (2000) The Arabidopsis male-sterile mutant, opr3, lacks the 12-oxophytodienoic acid reductase required for jasmonate synthesis. Proc Natl Acad Sci USA 97:10625–10630

Sun YJ et al (2007) Regulation of arabidopsis early anther development by putative cell–cell signaling molecules and transcriptional regulators. J Integr Plant Biol 49:60–68

Wan H et al (2010) Selection of appropriate reference genes for gene expression studies by quantitative real-time polymerase chain reaction in cucumber. Anal Biochem 399:257–261

Wan L et al (2011) A rice beta-1,3-glucanase gene Osg1 is required for callose degradation in pollen development. Planta 233:309–323

Wang M et al (2012) BRK1, a Bub1-related kinase, is essential for generating proper tension between homologous kinetochores at metaphase I of rice meiosis. Plant Cell 24:4961–4973

Wei M et al (2013) Transcriptomic analysis of differentially expressed genes during anther development in genetic male sterile and wild type cotton by digital gene-expression profiling. BMC Genom 14:97

Xie DX et al (1998) COI1: an Arabidopsis gene required for jasmonate-regulated defense and fertility. Science 280:1091–1094

Yule BL et al (2000) The thermal evolution of sporopollenin. Organ Geochem 31:859–870

Zhang DS et al (2008) Tapetum degeneration retardation is critical for aliphatic metabolism and gene regulation during rice pollen development. Mol Plant 1:599–610

Zhang H et al (2010) Carbon starved anther encodes a MYB domain protein that regulates sugar partitioning required for rice pollen development. Plant Cell 22:672–689

Zhao X et al (2008) OsTDL1A binds to the LRR domain of rice receptor kinase MSP1, and is required to limit sporocyte numbers. Plant J 54:375–387

Zhou S et al (2011) Pollen semi-sterility1 encodes a kinesin-1-like protein important for male meiosis, anther dehiscence, and fertility in rice. Plant Cell 23:111–129

Zhou H et al (2012) Photoperiod- and thermo-sensitive genic male sterility in rice are caused by a point mutation in a novel noncoding RNA that produces a small RNA. Cell Res 22:649–660

Zhu QH et al (2004) The anther indehiscence1 gene encoding a single MYB domain protein is involved in anther development in rice. Plant Physiol 135:1514–1525
Acknowledgements
This work was financed by The National Key Research and Development Program of China (2016YFD0101705), the Tianjin Natural Science Foundation Key Program of China (14JCZDJC33900), and Innovation Team of Tianjin Vegetables Research System (ITTVRS) 201701.
Ethics declarations
Conflict of interest
The authors declare that they have no conflict of interest.
Electronic supplementary material
Below is the link to the electronic supplementary material.
About this article
Cite this article
Han, Y., Wang, X., Zhao, F. et al. Transcriptomic analysis of differentially expressed genes in flower-buds of genetic male sterile and wild type cucumber by RNA sequencing. Physiol Mol Biol Plants 24, 359–367 (2018). https://doi.org/10.1007/s12298-018-0515-6
Received:

Revised:

Accepted:

Published:

Issue Date:
Keywords
Transcriptomics

RNA-seq

Genetic male sterility

Cucumber