Abstract
This study aimed to assess the effect of the foliar application of ascorbic acid (AA) and citric acid (CA) on total antioxidant activity (TAA), total phenolics, total flavonoids, total anthocyanin content, antioxidant enzymes, phenylalanine ammonialyase (PAL), and polyphenol oxidase (PPO) activities in apple 'Red Spur'. The experiment was conducted on 12-years-old trees 'Red Spur' grafted on MM106 rootstock. The trees were sprayed with AA (0, 200 and 400 mg L−1) and/or CA (0, 200 and 400 mg L−1) at three different times during summer. Foliar application with AA and CA significantly (p < 0.01) enhanced all measured quality attributes and decreased the activity of PPO. Fruit from trees treated with AA at 400 mg L−1 and CA at 200 mg L−1 showed the highest TAA and catalase (CAT) enzyme activity. Total phenolics increased in fruits when trees were sprayed with AA and CA. Contrasting, AA treatment, CA had no significant effect on guaiacol peroxidase (G-POD). A significant decrease in PPO activity was detected in fruits when treated with both AA and CA. Both treatments significantly decreased the activity of PAL at 400 mg L−1. Considering the results, foliar application of AA and CA, either alone or in combination improved the quality and nutraceutical properties of 'Red Spur' apple.
Access options
Buy single article
Instant access to the full article PDF.
USD 39.95
Price includes VAT (USA)
Tax calculation will be finalised during checkout.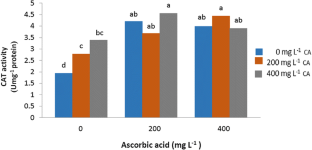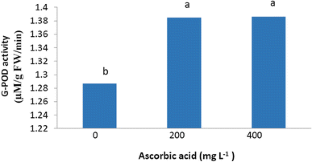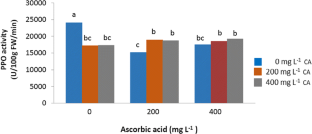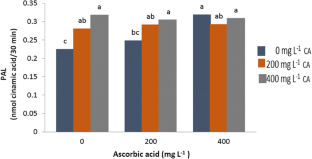 References
Aebi H (1984) Catalase in vitro. Methods Enzymol 105:121–126

Ahmed FF, Akl AM, Gobara AA, Monsour AEM (1997) Yield and quality of Anna apple trees (Malusdomestica L.) in response to foliar application of ascobine and citrine fertilizers. Hort Sci 32:486

Asghari M, Rashid Hasanlooe A (2015) Interaction effects of salicylic acid and methyl jasmonate on total antioxidant content, catalase and peroxidase enzymes activity in Sabrosa strawberry fruit during storage. Sci Hort 197:490–495

Calo JR, Crandall PG, O'Bryan CA, Ricke SC (2015) Essential oils as antimicrobials in food systems—a review. Food Control 54:111–119

Chiou A, Karathanos VT, Mylona A, Salta FN, Preventi F, Andrikopoulos NK (2007) Currants (Vitis vinifera L.) content of simple phenolics and antioxidant activity. Food Chem 102:516–522

Dixit V, Pandey V, Shyam R (2001) Differential antioxidative responses to cadmium in roots and leaves of pea (Pisum sativum). J Exp Bot 52:1101–1109

Dolatabadian A, Sanavy SAMM, Chashmi NA (2008) The effects of foliar application of ascorbic acid (vitamin C) on antioxidant enzymes activities, lipid peroxidation and proline accumulation of canola (Brassica napus L.) under conditions of salt stress. J Agron Crop Sci 194:206–213

Dutilleul C, Garmier M, Noctor G, Mathieu C, Chetrit P, Foyer C, Paepe R (2003) Leaf mitochondria modulate whole cell redox homeostasis set antioxidant capacity and determine stress resistance through altered signaling and during regulation. Plant Cell 15:1212–1226

Ejaz B, Sajid ZA, Aftab F (2012) Effect of exogenous application of ascorbic acid on antioxidant enzyme activities, proline contents, and growth parameters of Saccharum spp. hybrid cv. HSF-240 under salt stress. Turk J Biol 36:630–640

Elad Y (1992) The use of antioxidants (free radical scavengers) to control grey mould (Botrytis cinerea) and white mould (Sclerotiniasclerotiomm) in various crops. Plant Pathol 41:417–426

El-Badawy HEM (2013) Effect of some antioxidants and micronutrients on growth, leaf mineral content, yield and fruit quality of Canino apricot trees. J Appl Sci Res 9:1228–1237

El-Hifny IMM, El-Sayed MAM (2011) Response of sweet pepper plant growth and productivity to application of ascorbic acid and biofertilizer under saline conditions. Aust J Basic Appl Sci 5:1273–1283

El-Kobisy DS, Kady KA, Medani RA (2005) Response of pea plant Pisum sativum L. to treatment with ascorbic acid. Egypt J Appl Sci 20:36–50

Ezz TM, Aly MA, Awad RM (2012) Storage ability of mango fruits improvement by some natural preharvest applications. In: ATINER'S conference paper series No. AGR 2012-0238, Athens

Farag KM, Nagy NMN (2012) Effect of pre and post-harvest calcium and magnesium compounds and their combination treatments on Anna apple fruit quality and shelf life. J Hort Sci Ornam Plants 4:155–168

Fayed TA (2010) Effect of some antioxidants on growth, yield and bunch characteristics of Thompson seedless grapevine. Am Eur J Agric Environ Sci 8:322–328

Foyer CH, Noctor G (2000) Oxygen processing in photosynthesis: regulation and signaling. N Phytol 146:359–388

Francini A, Sebastiani L (2013) Phenolic compounds in apple (Malus x domestica Borkh.): compounds characterization and stability during postharvest and after processing. Antioxidants 2:181–193

Fuleki T, Francis FJ (1968) Quantitative methods for anthocyanins. J Food Sci 33:266–274

Gomez ML, Lajolo FM (2008) Ascorbic acid metabolism in fruits: activity of enzymes involved in synthesis and degradation during ripening in mango and guava. J Sci Food Agric 88:756–762

Haddadchi GR, Gerivani Z (2009) Effects of phenolic extracts d canola (Brassica napus) on germination and physicological responese of soybean (Glycin max) seedlings. Int J Plant Prod 3(1):63–74

He Q, Luo Y (2007) Enzymatic browning and its control in fresh-cut produce. Stewart Postharvest Rev 3:1–7

Hegab YM (2000) Response of Balady mandrin trees to application of citric and ascorbic acid in combined with iron and zinc. Egypt J App Sci 15(1):50–70

Honda C, Kotoda N, Wada M, Kondo S, Kobayashi Sh, Soejima J, Zhang Z, Tsuda T, Moriguchi T (2002) Anthocyanin biosynthetic genes are coordinately expressed during red coloration in apple skin. J Plant Physiol Biochem 40:955–962

Hossain MA, Salehuddin SM, Kabir MJ, Rahman SMM, Rupasinghe HV (2009) Sinensetin, rutin, 3′-hydroxy-5, 6, 7, 4′-tetramethoxyflavone and rosmarinic acid contents and antioxidative effect of the skin of apple fruit. Food Chem 113:185–190

Ibrahim R, Osman A, Saari N, Abdul-Rahman RA (2004) Effects of anti-browning treatments on the storage quality of minimally processed shredded cabbage. J Food Agric Environ 2:54–58

Karthikeyan M, Radhika K, Mathiyazhagan S, Bhaskaran R, Samiyappan R, Velazhahan R (2006) Induction of phenolics and defense-related enzymes in coconut (Cocos nucifera L.) roots treated with biocontrol agent. Braz J Plant Physiol 18:367–377

Lai T, Wang Y, Li B, Qin G, Tian S (2011) Defense responses of tomato fruit to exogenous nitric oxide during postharvest storage. Postharvest Biol Technol 62:127–132

Lamikanra O, Watson MA (2003) Biochemical changes associated with fresh-cut fruit processing and storage. Fresh Shelf Life Food 836:52–68

Lancaster JE, Grant JE, Lister CE, Taylor MC (1994) Skin color in apples-influence of co-pigmentation and plastid pigments on shade and darkness of red color in five genotypes. J Am Soc Hortic Sci 119:63–69

Mansour AEM, El-Shammaa MS, Shaaban EA, Maksoud MA (2010) Influence of some antioxidants on yield and fruit quality of four mango cultivars. Res J Agric Biol Sci 6:962–965

Mayer AM (2006) Polyphenol oxidases in plants and fungi: Going places? A review. Phytochemistry 67:2318–2331

Mishra S, Srivastava S, Tripathi RD, Govindrajan R, Kuriakose SV, Prasad MNV (2006) Phytochelatin synthesis and response of antioxidants during cadmium stress in Bacopamonnieri L. Plant Physiol Biochem 44:25–37

Nakajima JI, Tanaka I, Seo S, Yamazaki M, Saito K (2004) LC/PDA/ESI-MS profiling and radical scavenging activity of anthocyanins in various berries. Biomed Res Int 2004:241–247

Noctor G, Foyer CH (1998) Ascorbate and glutathione: keeping active oxygen under control. Annu Rev Plant Physiol Plant Mol Biol 49:249–279

Pizzocaro F, Torreggiani D, Gilardi G (1993) Inhibition of apple polyphenoloxidase (PPO) by ascorbic acid, citric acid and sodium chloride. J Food Process Preserv 17:21–30

Ragab MM (2002) Effect of spraying urea, ascorbic acid and NAA on fruiting of Washington Navel orange trees. M.Sc. thesis, Faculty of Agriculture, Minia University Egypt

Rao MV, Koch JR, Davis KR (2000) Ozone: a tool for probing programmed cell death in plants. Plant Mol Biol 44:346–358

Shalata A, Neumann PM (2001) Exogenous ascorbic acid (vitamin C) increases resistance to salt stress and reduces lipid peroxidation. J Exp Bot 52:2207–2211

Shazly SM, Eisa AM, Moatamed AMH, Kotb HRM (2013) Effect of some agrochemical pre harvest foliar application on yield and quality of Swelling peach trees. Alexander J Agric Res 58(3):219–229

Shoji T, Akazome Y, Kanda T, Ikeda M (2004) The toxicology and safety of apple polyphenolic extract. Food Chem Toxicol 42:959–967

Slinkard K, Singleton VL (1977) Total phenol analyses: automation and comparison with manual methods. Am J Enol Viticult 28:49–55

Smirnoff H (1995) Antioxidant systems and plant response to the environment. In: Smirnoff H (ed) Environment and plant meta bolism. BIOS Scientific Publishers, Oxford, pp 217–244

Smirnoff N (1996) Botanical briefing: the function and metabolism of ascorbic acid in plants. Ann Bot 78:661–669

Upadhyaya A, Sankhla D, Davis TD, Sankhla N, Smidth BN (1985) Effect of paclobutrazol on the activities of some enzymes of activated oxygen metabolism and lipid peroxidation in senescing soybean leaves. J Plant Physiol 121:453–461

Wassel AH, Hameed MA, Gobara A, Attia M (2007) Effect of some micronutrients, gibberellic acid and ascorbic acid on growth, yield and quality of white Banaty seedless grapevines. Afr Crop Sci Soc 8:547–553

Winkle-Shirley B (2001) Flavonoid biosynthesis. A colorful model for genetics, biochemistry, cell biology, and biotechnology. Plant Physiol 126:485–493

Yoruk IH, Demir H, Ekici K, Sarvan A (2005) Purification and properties of catalase from Van Apple (Golden Delicious). Pak J Nutr 4:8–10

Youngjae S, Rui HL, Jacqueline FN, Darryl H, Christopher B (2007) Temperature and relative humidity effects on quality, total ascorbic acid, phenolics and flavonoid concentrations, and antioxidant activity of strawberry. Technol 45:349–357

Zhang Z, Nakano K, Maezawa S (2009) Comparison of the antioxidant enzymes of broccoli after cold or heat shock treatment at different storage temperatures. Postharvest Biol Technol 54:101–105

Zulaikha R (2013) Effect of foliar spray of ascorbic acid, Zn, seaweed extracts force and bio fertilizers vegetative growth and root growth of olive (Olea Europea L.) transplants cv. Hog Blanca. Int J Pure Appl Sci Technol 17:79–89
Acknowledgement
Authors are thankful to vice chancellor research office at the Urmia University for supporting of this study.
About this article
Cite this article
Allahveran, A., Farokhzad, A., Asghari, M. et al. Foliar application of ascorbic and citric acids enhanced 'Red Spur' apple fruit quality, bioactive compounds and antioxidant activity. Physiol Mol Biol Plants 24, 433–440 (2018). https://doi.org/10.1007/s12298-018-0514-7
Received:

Revised:

Accepted:

Published:

Issue Date:
Keywords
Anthocyanin content

Enzyme activity

Total flavonoids

Total phenolics