Abstract
Humic acid is natural biological organic, which has a high effect on plant growth and quality. However, the mechanisms of the promoting effect of humic acid on the volatile composition were rarely reported. In this study, the effects of soil application of humic acid on the chemical composition and nutrients uptake of Thymus vulgaris were investigated. Treatments comprised 0, 50, 75 and 100 g m−2. Essential oil was extracted by hydrodistillation and analyzed using GC–MS and GC–FID. Essential oil content was enhanced by increase of the humic acid level and its content ranged from 0.8% (control) to 2.0% (75 g m−2). Thirty-two volatile compounds were identified and these compounds were considerably affected by humic acid. The highest percentage of thymol (74.15%), carvacrol (6.20%), p-cymene (4.24%), borneol (3.42%), trans-caryophyllene (1.70%) and cis-sabinene hydrate (1.35%) as major compounds were observed in T. vulgaris under 100 g m−2 humic acid. There was a linear relationship (R2 = 97%) between humic acid levels and thymol as a major compound. The oils were dominated by oxygenated monoterpenes followed by monoterpene hydrocarbons and sesquiterpene hydrocarbons. Based on the path coefficient analysis, the highest direct effects on essential oil content were observed in monoterpene esters (3.465) and oxygenated sesquiterpenes (3.146). The humic acid application also enhanced the uptake of N, P, K, Mg and Fe in garden thyme. The highest N (2.42%), P (0.75%), K (2.63%), Mg (0.23%) and Fe (1436.58 ppm) were observed in medium supplemented with 100 g m−2 humic acid. In all, the utilization of humic acid could positively change nutrients uptake, essential oil content and its major constituents in T. vulgaris.
Access options
Buy single article
Instant access to the full article PDF.
USD 39.95
Price includes VAT (USA)
Tax calculation will be finalised during checkout.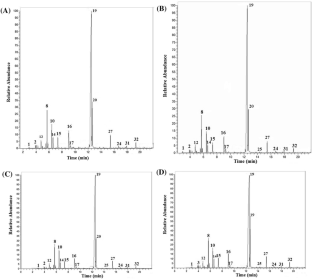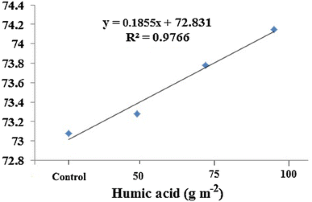 References
Adams R (1997) Identification of essential oil components by gas chromatography/mass spectroscopy. J Am Soc Mass Spectrom 6:671–672

Alavi-Samani SM, Kachouei MA, Pirbalouti AG (2015) Growth, yield, chemical composition, and antioxidant activity of essential oils from two thyme species under foliar application of jasmonic acid and water deficit conditions. Hortic Environ Biotechnol 56:411–420

Al-Ramamneh EALDM (2009) Plant growth strategies of Thymus vulgaris L. in response to population density. Ind Crop Prod 30:389–394

Amiri H (2011) Essential oils composition and antioxidant properties of three thymus species. Evid Based Complement Altern Med 2012:1–8

Arancon NQ, Edwards CA, Lee S, Byrne R (2006) Effects of humic acids from vermicomposts on plant growth. Eur J Soil Biol 42:S65–S69

Atiyeh R, Lee S, Edwards C, Arancon N, Metzger J (2002) The influence of humic acids derived from earthworm-processed organic wastes on plant growth. Bioresour Technol 84:7–14

Ayuso M, Hernández T, García C (1996) Effect of humic fractions from urban wastes and other more evolved organic materials on seed germination. J Sci Food Agric 72:461–468

Badi HN, Yazdani D, Ali SM, Nazari F (2004) Effects of spacing and harvesting time on herbage yield and quality/quantity of oil in thyme, Thymus vulgaris L. Ind Crops Prod 19:231–236

Bohlmann J, Meyer-Gauen G, Croteau R (1998) Plant terpenoid synthases: molecular biology and phylogenetic analysis. Proc Natl Acad Sci 95:4126–4133

Busato JG, Lima LS, Aguiar NO, Canellas LP, Olivares FL (2012) Changes in labile phosphorus forms during maturation of vermicompost enriched with phosphorus-solubilizing and diazotrophic bacteria. BioresourTechnol 110:390–395

Canellas LP, Balmori DM, Médici LO, Aguiar NO, Campostrini E, Rosa RC, Façanha AR, Olivares FL (2013) A combination of humic substances and Herbaspirillum seropedicae inoculation enhances the growth of maize (Zea mays L.). Plant Soil 366:119–132

Canellas LP, Olivares FL, Aguiar NO, Jones DL, Nebbioso A, Mazzei P, Piccolo A (2015) Humic and fulvic acids as biostimulants in horticulture. Sci Hortic 196:15–27

Chen Y, Clapp C, Magen H (2004) Mechanisms of plant growth stimulation by humic substances: the role of organo-iron complexes. Soil Sci Plant Nutr 50:1089–1095

Cronquist A (1988) The evolution and classification of flowering plants. The New York Botanical Garden, New York

Delfine S, Tognetti R, Desiderio E, Alvino A (2005) Effect of foliar application of N and humic acids on growth and yield of durum wheat. Agron Sustain Dev 25:183–191

Dewey DR, Lu K (1959) A correlation and path-coefficient analysis of components of crested wheatgrass seed production. Agron J 51:515–518

Ghasemi Pirbalouti A (2009) Medicinal plants used in Chaharmahal and Bakhtyari districts of Iran. Herba Pol 55:69–77

Ghasemi Pirbalouti A, Hashemi M, Ghahfarokhi FT (2013) Essential oil and chemical compositions of wild and cultivated Thymus daenensis Celak and Thymus vulgaris L. Ind Crops Prod 48:43–48

Ghasemi Pirbalouti A, Samani MR, Hashemi M, Zeinali H (2014) Salicylic acid affects growth, essential oil and chemical compositions of thyme (Thymus daenensis Celak.) under reduced irrigation. Plant Growth Regul 72:289–301

Haghighi M, Nikbakht A, Xia YP, Pessarakli M (2014) Influence of humic acid in diluted nutrient solution on growth, nutrient efficiency, and postharvest attributes of gerbera. Commun Soil Sci Plant Anal 45:177–188

Hernandez OL, Calderín A, Huelva R, Martínez-Balmori D, Guridi F, Aguiar NO, Olivares FL, Canellas LP (2015) Humic substances from vermicompost enhance urban lettuce production. Agron Sustain Dev 35:225–232

Hogue E, Wilcox G, Cantliffe D (1970) Effect of soil phosphorus levels on phosphate fractions in tomato leaves. J Am Soc Hortic Sci 95:174–176

Jones CA, Jacobsen JS, Mugaas A (2007) Effect of low-rate commercial humic acid on phosphorus availability, micronutrient uptake, and spring wheat yield. Commun Soil Sci Plant Anal 38:921–933

Khan A, Kabir M, Alam M (2009) Variability, correlation path analysis of yield and yield components of pointed gourd. J Agric Rural Dev 7:93–98

Lee C-H, Shin H-S, Kang K-H (2004) Chemical and spectroscopic characterization of peat moss and its different humic fractions (Humin, Humic acid and fulvic acid). J Soil Groundw Environ 9:42–51

Letchamo W, Xu H, Gosselin A (1995) Variations in photosynthesis and essential oil in thyme. J Plant Physiol 147:29–37

Loreto F, Ciccioli P, Cecinato A, Brancaleoni E, Frattoni M, Fabozzi C, Tricoli D (1996) Evidence of the photosynthetic origin of monoterpenes emitted by Quercus ilex L. leaves by 13C labeling. Plant Physiol 110:1317–1322

Mora V, Bacaicoa E, Zamarreño A-M, Aguirre E, Garnica M, Fuentes M, García-Mina J-M (2010) Action of humic acid on promotion of cucumber shoot growth involves nitrate-related changes associated with the root-to-shoot distribution of cytokinins, polyamines and mineral nutrients. J Plant Physiol 167:633–642

Morard P, Eyheraguibel B, Morard M, Silvestre J (2010) Direct effects of humic-like substance on growth, water, and mineral nutrition of various species. J Plant Nutr 34:46–59

Naidu Y, Meon S, Siddiqui Y (2013) Foliar application of microbial-enriched compost tea enhances growth, yield and quality of muskmelon (Cucumis melo L.) cultivated under fertigation system. Sci Hortic 159:33–40

Nardi S, Pizzeghello D, Muscolo A, Vianello A (2002) Physiological effects of humic substances on higher plants. Soil Biol Biochem 34:1527–1536

Nickavar B, Mojab F, Dolat-Abadi R (2005) Analysis of the essential oils of two Thymus species from Iran. Food Chem 90:609–611

Nikbakht A, Kafi M, Babalar M, Xia YP, Luo A, N-a Etemadi (2008) Effect of humic acid on plant growth, nutrient uptake, and postharvest life of gerbera. J Plant Nutr 31:2155–2167

Olivares FL, Aguiar NO, Rosa RCC, Canellas LP (2015) Substrate biofortification in combination with foliar sprays of plant growth promoting bacteria and humic substances boosts production of organic tomatoes. Sci Hortic 183:100–108

Panuccio MR, Muscolo A, Nardi S (2001) Effect of humic substances on nitrogen uptake and assimilation in two species of pinus. J Plant Nutr 24:693–704

Pilanal N, Kaplan M (2003) Investigation of effects on nutrient uptake of humic acid applications of different forms to strawberry plant. J Plant Nutr 26:835–843

Pinton R, Cesco S, Iacolettig G, Astolfi S, Varanini Z (1999) Modulation of NO−3 uptake by water-extractable humic substances: involvement of root plasma membrane H+ ATPase. Plant Soil 215:155–161

Pizzeghello D, Nicolini G, Nardi S (2001) Hormone-like activity of humic substances in Fagus sylvaticae forests. New Phytol 151:647–657

Plaza BM, Soriano F, Jiménez-Becker S, Lao MT (2016) Nutritional responses of Cordyline fruticosa var. 'Red Edge' to fertigation with leachates versus conventional fertigation: chloride, nitrogen, phosphorus and sulphate. Agric Water Manag 173:61–66

Rahimmalek M, Bahreininejad B, Khorrami M, Tabatabaei BES (2009) Genetic variability and geographic differentiation in Thymus daenensis subsp. daenensis, an endangered medicinal plant, as revealed by inter simple sequence repeat (ISSR) markers. Biochem Genet 47:831–842

Sajjadi SE, Khatamsaz M (2003) Composition of the essential oil of Thymus daenensis Celak. ssp. lancifolius (Celak.) Jalas. J Essent Oil Res 15:34–35

Sanchez-Sanchez A, Sanchez-Andreu J, Juarez M, Jorda J, Bermudez D (2006) Improvement of iron uptake in table grape by addition of humic substances. J Plant Nutr 29:259–272

Savvas D, Gizas G (2002) Response of hydroponically grown gerbera to nutrient solution recycling and different nutrient cation ratios. Sci Hortic 96:267–280

Schiavon M, Pizzeghello D, Muscolo A, Vaccaro S, Francioso O, Nardi S (2010) High molecular size humic substances enhance phenylpropanoid metabolism in maize (Zea mays L.). J Chem Ecol 36:662–669

Schuman G, Stanley M, Knudsen D (1973) Automated total nitrogen analysis of soil and plant samples. Soil Sci Soc Am J 37:480–481

Singh R, Gupta R, Patil R, Sharma R, Asrey R, Kumar A, Jangra K (2010) Sequential foliar application of vermicompost leachates improves marketable fruit yield and quality of strawberry (Fragaria × ananassa Duch.). Sci Hortic 124:34–39

Stahl-Biskup E, Saez F (2003) Thyme, the Genus Thymus. Taylor and Francis, London, p 331

Suh HY, Yoo KS, Suh SG (2014) Tuber growth and quality of potato (Solanum tuberosum L.) as affected by foliar or soil application of fulvic and humic acids. Hortic Environ Biotechnol 55:183–189

Tuefenkci S, Türkmen Ö, Sönmez F, Erdinc C, Sensoy S (2006) Effects of humic acid doses and aplication times on the plant growth, nutrient and heavy metal contents of lettuce grown on sewage sludge-applied soils. Fres Environ Bull 15:295–300

Varanini Z, Pinton R (1995) Humic substances and plant nutrition, progress in botany. Springer, Berlin, pp 97–117

Verlinden G, Coussens T, De Vliegher A, Baert G, Haesaert G (2010) Effect of humic substances on nutrient uptake by herbage and on production and nutritive value of herbage from sown grass pastures. Grass Forage Sci 65:133–144

Yazdani B, Nikbakht A, Etemadi N (2014) Physiological effects of different combinations of humic and fulvic acid on Gerbera. Commun Soil Sci Plant Anal 45:1357–1368

Yildirim E (2007) Foliar and soil fertilization of humic acid affect productivity and quality of tomato. Acta Agric Scand Sect B Soil Plant Sci 57:182–186
Acknowledgements
The authors gratefully acknowledge the Sayyed Jamaleddin Asadabadi University Research Council for financial support of this project.
Ethics declarations
Conflict of interest
The authors declare there is no conflict of interest.
About this article
Cite this article
Noroozisharaf, A., Kaviani, M. Effect of soil application of humic acid on nutrients uptake, essential oil and chemical compositions of garden thyme (Thymus vulgaris L.) under greenhouse conditions. Physiol Mol Biol Plants 24, 423–431 (2018). https://doi.org/10.1007/s12298-018-0510-y
Received:

Revised:

Accepted:

Published:

Issue Date:
Keywords
Essential oil

Humic acid

Nutrients

Thymol