Abstract
Cruciferous vegetables are rich source of glucosinolates (GSLs), which in presence of myrosinase enzyme cause hydrolytic cleavage and result in different hydrolytic products like isothiocyanates, thiocyanates, nitriles and epinitriles. The GSLs hydrolytic products are volatile compounds, which are known to exhibit bioactivities like antioxidant, fungicidal, bioherbicidal and anticancer. Among the Brassicaceae family, Brassica juncea is very well known for high content of GSLs. In the present study, the isolation of volatile oil of B. juncea var. raya was done by hydrodistillation method using clevenger apparatus and further there extraction was done by solvents ethyl acetate and dichloromethane. The volatile compounds present in the extract were analysed by gas chromatography/gas chromatography–mass spectrometry (GC/GC–MS). Fatty acid esters, sulphur and/or nitrogen compounds, carbonyl compounds and some other volatile compounds were also identified. Besides the analytical studies, the extracts were analysed for their bioactivities including radical scavenging activity by using DNA nicking assay and cytotoxic effect using different human cancer cell lines viz. breast (MCF-7 and MDA-MB-231), prostate (PC-3), lung (A-549), cervix (HeLa) and colon (HCT116) by MTT assay. The oil extracts were efficiently able to reduce the increase of cancer cells in a dose-dependent manner. Among all cell lines, the most effective anticancer activity was observed in case of breast (MCF-7) cancer cell line. So, MCF-7 cells were used for further mechanistic studies for analysing the mechanism of anticancer activity. Confocal microscopy was done for analysing morphological changes in the cells and the images confirmed the features typical of apoptosis. For evaluating the mode of cell death, spectrofluorometric determination of reactive oxygen species (ROS) and mitochondrial membrane potential (MMP) was done. The volatile oil extract treated MCF-7 cells had a significant increase in number of ROS, also there was a rise in percentage of cells with increased disruption of MMP. So, the present study marks necessary indication that B. juncea (raya) oil extracts significantly induces apoptosis in all the above mentioned cancer cells lines through a ROS-mediated mitochondrial pathway and thus play a remarkable role in death of cancer cells.
Access options
Buy single article
Instant access to the full article PDF.
USD 39.95
Price includes VAT (USA)
Tax calculation will be finalised during checkout.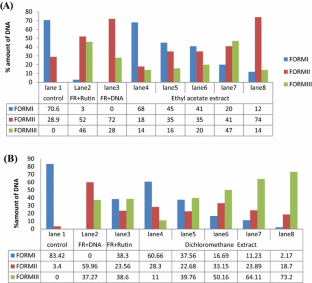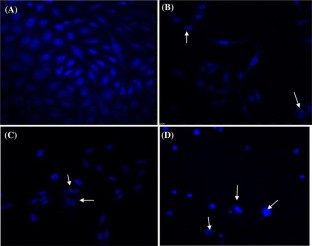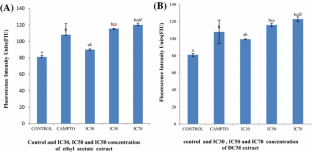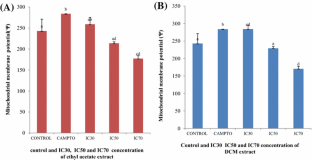 References
Agnihotri N, Mishra PC (2009) Mechanism of scavenging action of N-acetylcysteine for the OH radical: a quantum computational study. J Phys Chem B 113(35):12096–12104

Ahmad N, Feyes DK, Agarwal R, Mukhtar H, Nieminen AL (1997) Green tea constituent epigallocatechin-3-gallate and induction of apoptosis and cell cycle arrest in human carcinoma cells. J Natl Cancer Inst 89(24):1881–1886

Al-Gendy AA (2008) Phytochemical and biological screening of glucosinolates and volatile constituents of different Brassicaceae plants growing in Egypt. Bull Fac Pharm 46:235–244

Al-Gendy AA, El-Gindi OD, Hafez AS, Ateya AM (2010) Glucosinolates, volatile constituents and biological activities of Erysimum corinthium Boiss. (Brassicaceae). Food Chem 118(3):519–524

Arora R, Singh B, Vig AP, Arora S (2016) Conventional and modified hydrodistillation method for the extraction of glucosinolate hydrolytic products: a comparative account. SpringerPlus 5(1):1–4

Balasubramanian B, Pogozelski WK, Tullius TD (1998) DNA strand breaking by the hydroxyl radical is governed by the accessible surface areas of the hydrogen atoms of the DNA backbone. Proc Natl Acad Sci 95(17):9738–9743

Bassan P, Sharma S, Arora S, Vig AP (2013) Antioxidant and in vitro anti-cancer activities of Brassica juncea (L.) Czern. seeds and sprouts. Int J Pharma Sci 3:343–349

Bhandari SR, Kwak JH (2015) Chemical composition and antioxidant activity in different tissues of Brassica vegetables. Molecules 20(1):1228–1243

Blažević I, Mastelić J (2008) Free and bound volatiles of rocket (Eruca sativa Mill.). Flavour Fragr J 23(4):278–285

Block G, Patterson B, Subar A (1992) Fruit, vegetables, and cancer prevention: a review of the epidemiological evidence. Nutr Cancer 18(1):1–29

Bones AM, Rossiter JT (1996) The myrosinase-glucosinolate system, its organisation and biochemistry. Physiol Plant 97(1):194–208

Chen K, Kirber MT, Xiao H, Yang Y, Keaney JF (2008) Regulation of ROS signal transduction by NADPH oxidase 4 localization. J Cell Biol 181(7):1129–1139

Choi WY, Choi BT, Lee WH, Choi YH (2008) Sulforaphane generates reactive oxygen species leading to mitochondrial perturbation for apoptosis in human leukemia U937 cells. Biomed Pharmacother 62(9):637–644

Conaway C, Yang YM, Chung FL (2002) Isothiocyanates as cancer chemopreventive agents: their biological activities and metabolism in rodents and humans. Curr Drug Metab 3(3):233–255 (2(9):637–44)

Cummings BS, Kinsey GR, Bolchoz LJ, Schnellmann RG (2004) Identification of caspase-independent apoptosis in epithelial and cancer cells. J Pharmacol Exp Ther 310(1):126–134

Drozdowska M, Thangstad OP, Beisvaag T, Evjen K, Bones A, Iversen A (1992) Myrosinase and myrosin cell development DUR embryogenesis and seed maturation. Isr J Bot 41(4–6):213–223

Efferth T, Giaisi M, Merling A, Krammer PH, Li-Weber M (2007) Artesunate induces ROS-mediated apoptosis in doxorubicin-resistant T leukemia cells. PLoS ONE 2(8):e693

Elmore S (2007) Apoptosis: a review of programmed cell death. Toxicol Pathol 35(4):495–516

Fahey JW, Zalcmann AT, Talalay P (2001) The chemical diversity and distribution of glucosinolates and isothiocyanates among plants. Phytochemistry 56(1):5–51

Galati G, O'brien PJ (2004) Potential toxicity of flavonoids and other dietary phenolics: significance for their chemopreventive and anticancer properties. Free Radic Biol Med 37(3):287–303

Golla U, Bhimathati SS (2014) Evaluation of antioxidant and DNA damage protection activity of the hydroalcoholic extract of Desmostachya bipinnata L. Stapf. Sci World J 2014:8 (Article ID 215084)

Hecht SS (1999) Tobacco smoke carcinogens and lung cancer. JNCI J Natl Cancer Inst 91(14):1194–1210

Holst B, Williamson G (2004) A critical review of the bioavailability of glucosinolates and related compounds. Nat Product Rep 21(3):425–447

Jain MG, Hislop GT, Howe GR, Ghadirian P (1999) Plant foods, antioxidants, and prostate cancer risk: findings from case-control studies in Canada. Nutr Cancer 34(2):173–184

Kolonel LN, Hankin JH, Whittemore AS, Wu AH, Gallagher RP, Wilkens LR, John EM, Howe GR, Dreon DM, West DW, Paffenbarger RS (2000) Vegetables, fruits, legumes and prostate cancer: a multiethnic case-control study. Cancer Epidemiol Prev Biomark 9(8):795–804

Kore AM, Spencer GF, Wallig MA (1993) Purification of the ω-(methylsulfinyl) alkyl glucosinolate hydrolysis products: 1-isothiocyanato-3-(methylsulfinyl) propane, 1-isothiocyanato-4-(methylsulfinyl) butane, 4-(methylsulfinyl) butanenitrile, and 5-(methylsulfinyl) pentanenitrile from broccoli and Lesquerella fendleri. J Agric Food Chem 41(1):89–95

Kroemer G, Reed JC (2000) Mitochondrial control of cell death. Nat Med 6(5):513

Lee JC, Kim HR, Kim J, Jang YS (2002) Antioxidant property of an ethanol extract of the stem of Opuntia ficus-indica var. saboten. J Agric Food Chem 50(22):6490–6496

Liu KC, Huang YT, Wu PP, Ji BC, Yang JS, Yang JL, Chung JG (2011) The roles of AIF and Endo G in the apoptotic effects of benzyl isothiocyanate on DU 145 human prostate cancer cells via the mitochondrial signaling pathway. Int J Oncol 38(3):787–796

Lloyd DR, Carmichael PL, Phillips DH (1998) Comparison of the formation of 8-hydroxy-2′-deoxyguanosine and single-and double-strand breaks in DNA mediated by fenton reactions. Chem Res Toxicol 11(5):420–427

Luciano FB, Holley RA (2009) Enzymatic inhibition by allyl isothiocyanate and factors affecting its antimicrobial action against Escherichia coli O157: H7. Int J Food Microbiol 131(2):2405

Luo M, Liu X, Zu Y, Fu Y, Zhang S, Yao L, Efferth T (2010) Cajanol, a novel anticancer agent from Pigeonpea [Cajanus cajan (L.) Millsp.] roots, induces apoptosis in human breast cancer cells through a ROS-mediated mitochondrial pathway. Chem Biol Interact 188(1):151–160

Manesh C, Kuttan G (2003) Anti-tumour and anti-oxidant activity of naturally occurring isothiocyanates. J Exp Clin Cancer Res CR 22(2):193–199

Martín R, Ibeas E, Carvalho-Tavares J, Hernández M, Ruiz-Gutierrez V, Nieto ML (2009) Natural triterpenic diols promote apoptosis in astrocytoma cells through ROS-mediated mitochondrial depolarization and JNK activation. PLoS ONE 4(6):e5975

Martínez-Villaluenga C, Frías J, Gulewicz P, Gulewicz K, Vidal-Valverde C (2008) Food safety evaluation of broccoli and radish sprouts. Food Chem Toxicol 46(5):1635–1644

Mastelic J, Jerkovic I, Blažević I, Poljak-Blaži M, Borović S, Ivančić-Baće I, Smrečki V, Žarković N, Brčić-Kostic K, Vikić-Topić D, Müller N (2008) Comparative study on the antioxidant and biological activities of carvacrol, thymol, and eugenol derivatives. J Agric Food Chem 56(11):3989–3996

McNaughton SA, Marks GC (2003) Development of a food composition database for the estimation of dietary intakes of glucosinolates, the biologically active constituents of cruciferous vegetables. Br J Nutr 90(03):687–697

Militão GC, Dantas IN, Pessoa C, Falcão MJ, Silveira ER, Lima MA, Curi R, Lima T, Moraes MO, Costa-Lotufo LV (2006) Induction of apoptosis by pterocarpans from Platymiscium floribundum in HL-60 human leukemia cells. Life Sci 78(20):2409–2417

Mosmann T (1983) Rapid colorimetric assay for cellular growth and survival: application to proliferation and cytotoxicity assays. J Immunol Methods 65(1–2):55–63

Nastruzzi C, Cortesi R, Esposito E, Menegatti E, Leoni O, Iori R, Palmieri S (1996) In vitro cytotoxic activity of some glucosinolate-derived product generated by myrosinase hydrolysis. J Agric Food chem 44(4):1014–1021

Navarro SL, Li F, Lampe JW (2011) Mechanisms of action of isothiocyanates in cancer chemoprevention: an update. Food Funct 2(10):579–587

Newman DJ, Cragg GM (2012) Natural products as sources of new drugs over the 30 years from 1981 to 2010. J Nat Prod 75(3):311–335

Nigam N, Bhui K, Prasad S, George J, Shukla Y (2009) [6]-Gingerol induces reactive oxygen species regulated mitochondrial cell death pathway in human epidermoid carcinoma A431 cells. Chem Biol Interact 181(1):77–84

Nzaramba MN, Reddivari L, Bamberg JB, Miller JC Jr (2009) Antiproliferative activity and cytotoxicity of Solanum jamesii tuber extracts on human colon and prostate cancer cells in vitro. J Agric Food Chem 57(18):8308–8315

Okulicz M (2010) Multidirectional time-dependent effect of sinigrin and allyl isothiocyanate on metabolic parameters in rats. Plant Foods Hum Nutr 65(3):217–224

Pulido MD, Parrish AR (2003) Metal-induced apoptosis: mechanisms. Mutat Res/Fundam Mol Mech Mutagen 533(1):227–241

Ramos S (2008) Cancer chemoprevention and chemotherapy: dietary polyphenols and signalling pathways. Mol Nutr Food Res 52(5):507–526

Srivastava SK, Xiao D, Lew KL, Hershberger P, Kokkinakis DM, Johnson CS, Singh SV (2003) Allyl isothiocyanate, a constituent of cruciferous vegetables, inhibits growth of PC-3 human prostate cancer xenografts in vivo. Carcinogenesis 24(10):1665–1670

Stockert JC, Blázquez-Castro A, Cañete M, Horobin RW, Villanueva Á (2012) MTT assay for cell viability: Intracellular localization of the formazan product is in lipid droplets. Acta Histochem 114(8):785–796

Terry P, Wolk A, Persson I, Magnusson C (2001) Brassica vegetables and breast cancer risk. JAMA 285(23):2975–2977

Thornalley PJ (2002) Isothiocyanates: mechanism of cancer chemopreventive action. Anticancer Drugs 13(4):331–338

Twentyman PR, Luscombe M (1987) A study of some variables in a tetrazolium dye (MTT) based assay for cell growth and chemosensitivity. Br J Cancer 56(3):279

Van Duijnhoven FJ, Bueno-De-Mesquita HB, Ferrari P, Jenab M, Boshuizen HC, Ros MM, Casagrande C, Tjønneland A, Olsen A, Overvad K, Thorlacius-Ussing O (2009) Fruit, vegetables, and colorectal cancer risk: the European Prospective Investigation into Cancer and Nutrition. Am J Clin Nutr 89(5):1441–1452

van Meerloo J, Kaspers GJ, Cloos J (2011) Cell sensitivity assays: the MTT assay. Cancer Cell Cult Methods Protoc 731:237–245

Verhoeven DT, Verhagen H, Goldbohm RA, van den Brandt PA, van Poppel G (1997) A review of mechanisms underlying anticarcinogenicity by brassica vegetables. Chem Biol Interact 103(2):79–129

Vig AP, Rampal G, Thind TS, Arora S (2009) Bio-protective effects of glucosinolates—a review. LWT Food Sci Technol 42(10):1561–1572

Wang X, Sharma RK, Gupta A, George V, Thomas AJ, Falcone T, Agarwal A (2003) Alterations in mitochondria membrane potential and oxidative stress in infertile men: a prospective observational study. Fertil Steril 80:844–850

Wei J, Liu M, Liu H, Wang H, Wang F, Zhang Y, Han L, Lin X (2013) Oleanolic acid arrests cell cycle and induces apoptosis via ROS-mediated mitochondrial depolarization and lysosomal membrane permeabilization in human pancreatic cancer cells. J Appl Toxicol 33(8):756–765

White JG, Amos WB, Fordham M (1987) An evaluation of confocal versus conventional imaging of biological structures by fluorescence light microscopy. J Cell Biol 105(1):41–48

Wittstock U, Halkier BA (2002) Glucosinolate research in the Arabidopsis era. Trends Plant Sci 7(6):263–270

Xiao D, Srivastava SK, Lew KL, Zeng Y, Hershberger P, Johnson CS, Trump DL, Singh SV (2003) Allyl isothiocyanate, a constituent of cruciferous vegetables, inhibits proliferation of human prostate cancer cells by causing G2/M arrest and inducing apoptosis. Carcinogenesis 24(5):891–897

Yang J, Liu X, Bhalla K, Kim CN, Ibrado AM, Cai J, Peng TI, Jones DP, Wang X (1997) Prevention of apoptosis by Bcl-2: release of cytochrome c from mitochondria blocked. Science 275(5303):1129–1132

Zhang Y (2010) Allyl isothiocyanate as a cancer chemopreventive phytochemical. Mol Nutr Food Res 54(1):127–135

Zhang Y, Callaway EC (2002) High cellular accumulation of sulphoraphane, a dietary anticarcinogen is followed by rapid transporter-mediated export as a glutathione conjugate. Biochem J 364(Pt 1):301
Acknowledgements
Present work was funded by the Department of Science and Technology (DST) Promotion of University Research and Scientific Excellence (PURSE) and the UPE programme of University Grants Commission (UGC), New Delhi.
About this article
Cite this article
Bassan, P., Bhushan, S., Kaur, T. et al. Extraction, profiling and bioactivity analysis of volatile glucosinolates present in oil extract of Brassica juncea var. raya. Physiol Mol Biol Plants 24, 399–409 (2018). https://doi.org/10.1007/s12298-018-0509-4
Received:

Revised:

Accepted:

Published:

Issue Date:
Keywords
Brassica juncea Glucosinolates

Isothiocyantes

ROS

MMP

GC–MS