Abstract
In recent years, due to the rise in food consumption, much of the attention has been focused to increase the yield of the agricultural crops which resulted in compromised nutritional quality. Efforts have to be undertaken to enhance the nutritional attributes of legumes, cereals and staple food crops by increasing amino acids and mineral content. In the present study, we evaluated a protoplast fusant (H. lixii MTCC 5659) for its ability to enhance nutritional value and defence activity in chickpea. Essential amino acids; methionine (9.82 mg kg−1 dw), cysteine (2.61 mg kg−1 dw), glycine (11.34 mg kg−1 dw), valine (9.26 mg kg−1 dw), and non-essential amino acids; aspartic acid (39.19 mg kg−1 dw) and serine (17.53 mg kg−1 dw) were significantly higher in seeds of fusant inoculated chickpea. Fusant significantly improved accumulation of mineral nutrients i.e. Cu (157.73 mg kg−1 dw), Co (0.06 mg kg−1 dw), Ni (1.85 mg kg−1 dw), Zn (157.73 mg kg−1 dw) and S (16.29 mg kg−1 dw) in seeds. Biocontrol and defence activities of chickpea increased from 20 to 35% in fusant inoculated plants suggesting its potential to ameliorate biotic stress. To the best of our knowledge, this is the first report of an increase in amino acids and mineral content of chickpea by fusant inoculation.
Access options
Buy single article
Instant access to the full article PDF.
USD 39.95
Price includes VAT (USA)
Tax calculation will be finalised during checkout.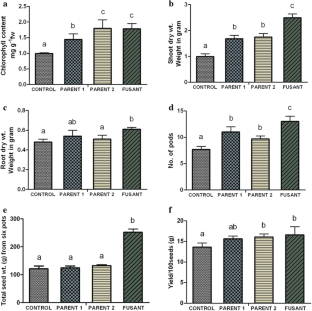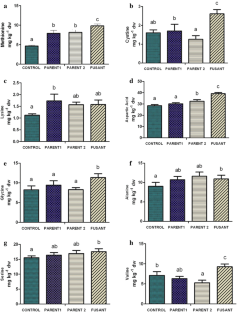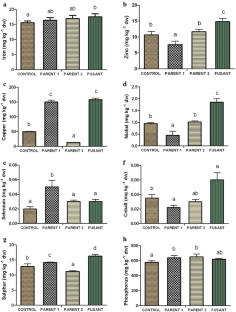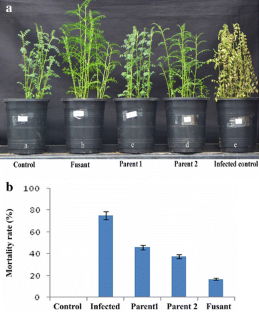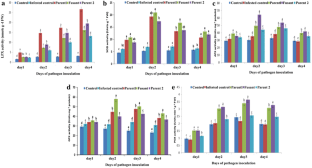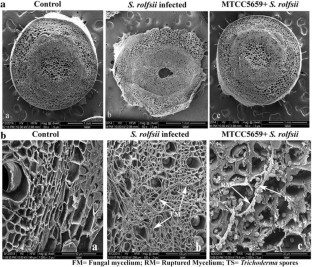 References
Abeygunawardena DVW, Wood RKS (1957) Factors affecting the germination of scleotia and mycelial growth of Sclerotium rolfsii. Trans Br Mycol Soc 40:221–231

Ahmed ME, Fatma NT (2007) Intra-strain crossing in Trichoderma harzianum via protoplast fusion to enhance chitinase productivity and biocontrol activity. Arab J Biotech 10(233):240

Beauchamp C, Fridovich I (1971) Superoxide dismutase: improved assays and an assay applicable to acrylamide gels. Anal Biochem 44:276–287

Bidlingmeyer BA, Cohen SA, Tarvin TL (1984) Rapid analysis of amino acids using pre-column derivatization. J Chromatogr 336:93–104

Brotman Y et al (2013) Trichoderma-plant root colonization: escaping early plant defense responses and activation of the antioxidant machinery for saline stress tolerance. PLoS Path 9:e1003221. https://doi.org/10.1371/journal.ppat.1003221

Contreras-Cornejo HA, Macias-Rodriguez L, Del-Val E, Larsen J (2016) Ecological functions of Trichoderma spp. and their secondary metabolites in the rhizosphere: interactions with plants. FEMS Microbiol Ecol. https://doi.org/10.1093/femsec/fiw036

de Santiago A, Quintero JM, Aviles M, Delgado A (2011) Effect of Trichoderma asperellum strain T34 on iron, copper, manganese, and zinc uptake by wheat grown on a calcareous medium. Plant Soil 342:97–104. https://doi.org/10.1007/s11104-010-0670-1

Dicko MH, Gruppen H, Barro C, Traore AS, van Berkel WJ, Voragen AG (2005) Impact of phenolic compounds and related enzymes in sorghum varieties for resistance and susceptibility to biotic and abiotic stresses. J Chem Ecol 31:2671–2688. https://doi.org/10.1007/s10886-005-7619-5

Dwivedi S et al (2010) Arsenic affects mineral nutrients in grains of various Indian rice (Oryza sativa L.) genotypes grown on arsenic-contaminated soils of West Bengal. Protoplasma 245:113–124. https://doi.org/10.1007/s00709-010-0151-7

Fahmi A, Al-Talhi AD, Hassan MM (2012) Protoplast fusion enhances antagonistic activity in Trichoderma spp. Nat Sci 10:120–126

Gegios A et al (2010) Children consuming cassava as a staple food are at risk for inadequate zinc, iron, and vitamin A intake. Plant Foods Hum Nut 65:64–70. https://doi.org/10.1007/s11130-010-0157-5

Gill SS, Tuteja N (2010) Reactive oxygen species and antioxidant machinery in abiotic stress tolerance in crop plants. Plant Physiol Biochem 48:909–930. https://doi.org/10.1016/j.plaphy.2010.08.016

Hanson LE, Howell CR (2002) Biocontrol efficacy and other characteristics of protoplast fusants between Trichoderma koningii and T. virens. Mycol Res 106:321–328

Heath RL, Packer L (1968) Photoperoxidation in isolated chloroplasts. I. Kinetics and stoichiometry of fatty acid peroxidation. Arch Biochem Biophys 125:189–198

Hefferon KL (2015) Nutritionally enhanced food crops; progress and perspectives. Int J Mol Sci 16:3895–3914. https://doi.org/10.3390/ijms16023895

Jackson ML (1967) Soil chemical analysis. Prentice-Hall of India Pvt. Ltd, New Delhi

Kowsari M, Motallebi M, Zamani RM (2014) Construction of new GFP-tagged fusants for Trichoderma harzianum with enhanced biocontrol activity. J Plant Prot Res 54:122–131

Lamdan NL, Shalaby S, Ziv T, Kenerley CM, Horwitz BA (2015) Secretome of Trichoderma interacting with maize roots: role in induced systemic resistance. Mol Cell Proteomics 14:1054–1063. https://doi.org/10.1074/mcp.M114.046607

Lavania M, Chauhan PS, Chauhan SV, Singh HB, Nautiyal CS (2006) Induction of plant defense enzymes and phenolics by treatment with plant growth-promoting rhizobacteria Serratia marcescens NBRI1213. Curr Microbiol 52:363–368. https://doi.org/10.1007/s00284-005-5578-2

Mallick CP, Singh MB (1980) Plant enzymology and histoenzymology, vol 286. Kalyani Publishers, New Delhi

Mehetre S, Mukherjee P (2015) Trichoderma improves nutrient use efficiency in crop plants. In: Rakshit A, Singh HB, Sen A (eds) Nutrient use efficiency: from basics to advances. Springer India, New Delhi, pp 173–180. https://doi.org/10.1007/978-81-322-2169-2_11

Mishra A, Nautiyal CS (2009) Functional diversity of the microbial community in the rhizosphere of chickpea grown in diesel fuel-spiked soil amended with Trichoderma ressei using sole-carbon-source utilization profiles. World J Microbiol Biotechnol 25:1175–1180. https://doi.org/10.1007/s11274-009-9998-1

Mishra A, Nautiyal C (2014) Novel recombinant strain of trichoderma useful for enhancing nutritional value and growth of plants. US 20140308748 A1

Mishra BK, Mishra RK, Mishra RC, Tiwari AK, Yadav RS, Dikshit A (2011) Biocontrol efficacy of Trichoderma viride isolates against fungal plant pathogens causing disease in Vigna radiate L. Arch App Sci Res 3:361–369

Mukherjee PK, Nautiyal CS, Mukhopadhyay AN (2008) Molecular mechanisms of biocontrol by Trichoderma spp. In: Molecular mechanisms of plant and microbe coexistence, pp 243–262

Munees A, Kibret M (2014) Mechanisms and applications of plant growth promoting rhizobacteria: current perspective. J King Saud Univ Sci 26:1–20

Nakano Y, Asada K (1981) Hydrogen peroxide is scavenged by ascorbate-specific peroxidase in spinach chloroplasts. Plant Cell Physiol 22:867–880

Naveed M, Mitter B, Reichenauer TG, Wieczorek K, Sessitsch A (2014) Increased drought stress resilience of maize through endophytic colonization by Burkholderia phytofirmans PsJN and Enterobacter sp. FD17. Environ Exp Bot 97:30–39. https://doi.org/10.1016/j.envexpbot.2013.09.014

Ojaghian MR, Wang L, Cui ZQ, Yang CL, Tao ZY, Xie GL (2014) Antifungal and SAR potential of crude extracts derived from neem and ginger against storage carrot rot caused by Sclerotinia sclerotiorum. Ind Crop Prod 55:130–139. https://doi.org/10.1016/j.indcrop.2014.02.012

Pathan AK, Bond J, Gaskin RE (2008) Sample preparation for scanning electron microscopy of plant surfaces—horses for courses. Micron 39:1049–1061

Patil NS, Patil SM, Govindwar SP, Jadhav JP (2015) Molecular characterization of intergeneric hybrid between Aspergillus oryzae and Trichoderma harzianum by protoplast fusion. J Appl Microbiol 118:390–398. https://doi.org/10.1111/jam.12711

Rifai MA (1969) A revision of the genus Trichoderma. Mycol Pap 116:1–56

Saxena A, Raghuwanshi R, Singh HB (2015) Trichoderma species mediated differential tolerance against biotic stress of phytopathogens in Cicer arietinum L. J Basic Microbiol 55:195–206. https://doi.org/10.1002/jobm.201400317

Singh A, Sarma BK, Upadhyay RS, Singh HB (2013) Compatible rhizosphere microbes mediated alleviation of biotic stress in chickpea through enhanced antioxidant and phenylpropanoid activities. Microbiol Res 168:33–40. https://doi.org/10.1016/j.micres.2012.07.001

Tripathi P, Singh PC, Mishra A, Tripathi RD, Nautiyal CS (2015) Trichoderma inoculation augments grain amino acids and mineral nutrients by modulating arsenic speciation and accumulation in chickpea (Cicer arietinum L.). Ecotoxicol Environ Saf 117:72–80. https://doi.org/10.1016/j.ecoenv.2014.10.027

Verma JP, Yadav J, Tiwari KN, Jaiswal DK (2014) Evaluation of plant growth promoting activities of microbial strains and their effect on growth and yield of chickpea (Cicer arietinum L.) in India. Soil Biol Biochem 70:33–37. https://doi.org/10.1016/j.soilbio.2013.12.001

Wellburn AR (1994) The spectral determination of chlorophylls a and b, as well as total carotenoids, using various solvents with spectrophotometers of different resolution. J Plant Physiol 144:307–313

Yadav et al (2017) Compatible rhizosphere-competent microbial consortium adds value to the nutritional quality in edible parts of chickpea. J Agric Food Chem 65:6122–6130
Acknowledgement
Work was supported by Council of Scientific and Industrial Research Grant BSC101, New Delhi, India.
Electronic supplementary material
Below is the link to the electronic supplementary material.
. Effect of Trichoderma parental strains and its fusant inoculation on chickpea plant growth promotion (TIFF 1439 kb)
Biocontrol efficacy of parents and fusant Trichoderma spp. against S. rolfsii (a) control (b) with fusant (c) with parent1 (d) with parent 2 (TIFF 753 kb)
About this article
Cite this article
Mishra, A., Nautiyal, C.S. A novel Trichoderma fusant for enhancing nutritional value and defence activity in chickpea. Physiol Mol Biol Plants 24, 411–422 (2018). https://doi.org/10.1007/s12298-017-0500-5
Received:

Revised:

Accepted:

Published:

Issue Date:
Keywords
Protoplast fusant

Trichoderma

Amino acids

Nutritional value

Biocontrol